At the end of 2019, there were 204 superannuation funds and 596,000 SMSFs in Australia. The super funds were managing assets of $2.9 trillion across 26.3 million accounts. (APRA Statistics, December quarter 2019). The number of funds versus the size of the market result in some significant variation for both investment returns and management costs. It is broadly agreed that a degree of consolidation is desired:
to reduce the cost to serve for members
to improve the efficiency and consistency of return across the superannuation industry
Assuming mergers will continue to happen, this article discusses some of the key considerations involved in merging super funds and provides an approach framework.
In addition to the 2 factors listed above, the pressure to consolidate super funds has also been accelerated by:
Hayne Royal Commission into Misconduct in the Banking, Superannuation and Financial Services Industry
Productivity Commission's review of the efficiency and competitiveness of the super system
Increased regulation, prudential oversight and cost to play (e.g. SuperStream messaging)
The impacts of the COVID-19 Coronavirus on jobs, service industries and the economy
The trustees of super funds are obligated to ensure their actions are in the best interests of members.
Tangible benefits of a merger between 2 super funds generally include:
Reducing costs associated with member administration and overall fund operating costs
Improving value via lower cost or more comprehensive insurance
Improving investment outcomes through scale and the pooling of talent
Improving member services and engagement opportunities
In addition to the tangible benefits, a potential merger between super funds could also result in some of the following strategic or intangible benefits:
Delivering the scale required for access to certain types of investment opportunity
Obtaining exposure to new member cohorts (i.e. age, industry, occupation)
Expanding the geographic area in which the fund operates
Expanding the breadth of skills available to the fund by combining executive teams and boards
Broadening the range of products available to members
Diversifying exposure to defined benefit schemes
There will be a number of strategic decisions that will influence the super fund merger and will need to be decided up front.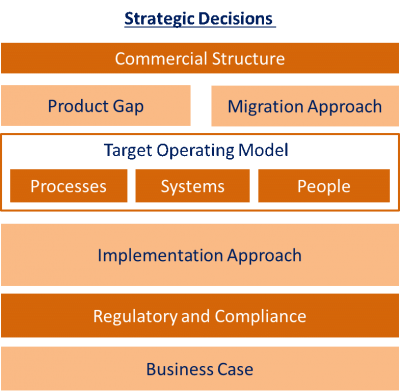 A brief discussion of the key strategic decisions is provided below including the sorts of questions you will need to answer during due diligence and planning:
Commercial structure – what is the trustee structure? Will you use an outsourced super fund administrator?
Product gap – what is the difference in the products of the funds being merged?
Migration approach – what migration approach will you use? Will you use an SFT (Successor Fund Transfer) approach? Will you use an outsourced super fund administrator to perform the migration?
Target operating model (which is comprised of Processes, Systems, People)
Processes – what does the target process model look like? Are there many new processes required?
Systems – what does the target systems architecture look like? How many new interfaces are required? How much additional infrastructure is required?
People – what does the target organisation structure look like? Are there any impacts other than in operations?
Implementation approach – should you implement by fund, by product, by geography, by adviser group etc? Should you do a big bang implementation or is this too much of an impact to BAU (Business As Usual)? How many people need to be trained and when? What will be the business outage window?
Regulatory and compliance – obtain trustee approval to the merger. Obtain APRA approval to the merger. Inform other impacted parties including members, employees, employers, payroll providers, gateways, the ATO etc
Business case – determine migration cost, determine target operating costs and then confirm if business case stacks up
Seven Consulting's approach for super fund mergers is illustrated in the diagram below: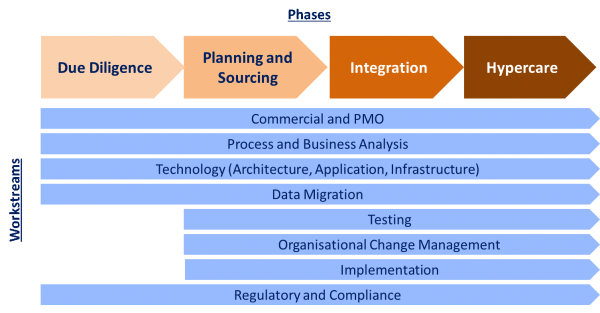 We recommend that the integration program be divided into 4 phases:
Due diligence – do enough analysis to determine if the deal is viable, has a valid business case and is in principle, agreed by all key parties
Planning and sourcing – confirm all the scoping and planning assumptions. Prepare a detailed estimate and plan of the migration program. Negotiate with key vendors
Integration – undertake the migration program including designing the target operating model and building the data migration processes. Plan and practise the implementation
Hypercare – once the initial migration has occurred, manage all the issues/defects/risks that come up until business operations returns to an acceptable level of exceptions
As a starting proposition to be reviewed by scenario, we recommend breaking up the integration program into 8 workstreams which span the various phases:
Commercial and PMO stream – which manages the deal, the integration program and stakeholders
Process and business analysis stream – which specifies all product gaps, process gaps, reporting gaps and letters requirements
Technology stream – which manages the design/build/test of any changes required to the technology solution including online portals, interfaces, core registry, other systems
Data migration stream – which manages the design/build/test of the data migration of members, employers, accounts, balances, inflight transactions
Testing stream – which manages the test preparation and execution of integration testing, end-to-end testing, user acceptance testing and performance testing
Organisational change management stream – which determines the organisational change impacts, prepares the training materials, delivers the training, manages stakeholder and employee communications
Implementation stream – which prepare detailed business implementation plans and runsheets, manages dress rehearsals, prepares go/no go checklists, monitors go/no go readiness prior to implementation, manages implementation weekend
Regulatory and compliance stream – manage relationships with regulators (e.g. APRA), ensure program compliance
In conclusion, we expect the level of super fund merger activity to increase as businesses start to recover from the impact of the COVID-19 Coronavirus and government restrictions. As described in this article, undertaking a super fund merger is not a trivial exercise and requires careful planning across a range of dimensions.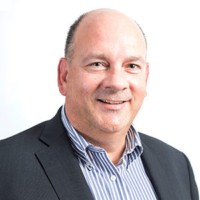 by Alex Massie