Seven Consulting & Westfield Matildas
On 31st October 2017, Seven Consulting announced a three-year official partnership with the Westfield Matildas.
We were moved into action upon reading an article about the disparity in sports sponsorship between men and women competitions and so we embarked on this mission to find out how we could do more to close the gap.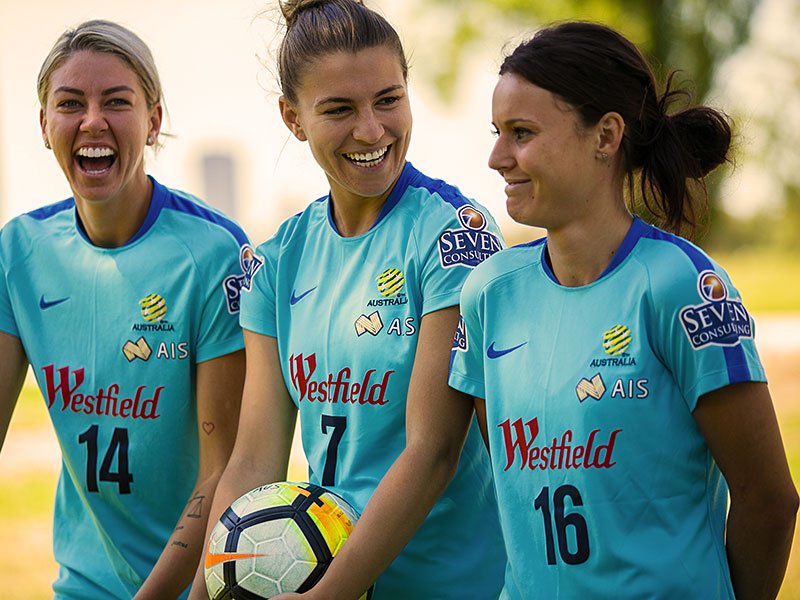 The new Seven / Matildas logo on their training kit.

Seven Consulting are passionate and committed in our support of the Westfield Matildas. We find their continued personal efforts to perform at a world-class level, in particular their recent victories over the USA, Japan and Brazil to win the 2017 Tournament of Nations, to be inspiring both for us and for a new generation of footballers.
With this in mind, we are also looking to share some unique experiences with our clients, staff members and friends, including joining us in supporting the Westfield Matildas at their home games as our guests.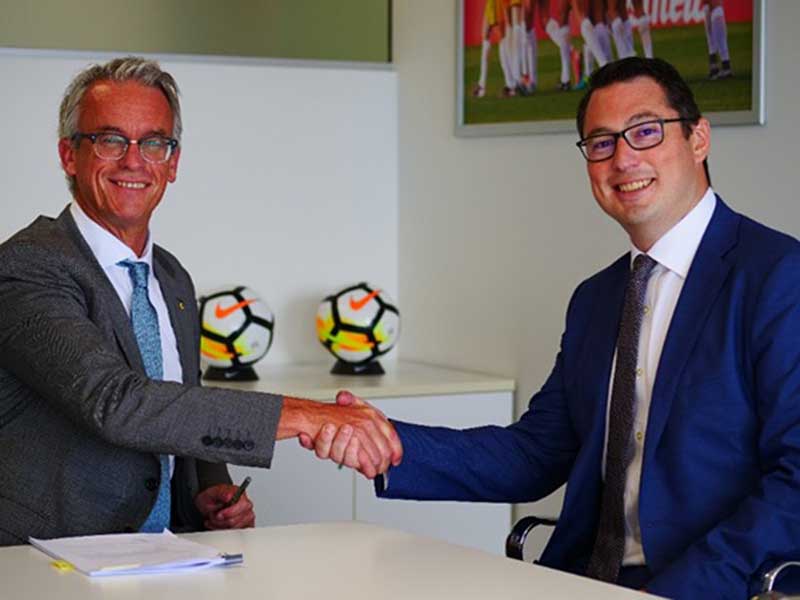 FFA Chief Executive, David Gallop and Seven Consulting Managing Director, Gareth James
The Westfield Matildas are a young, vibrant team, growing in popularity heading into the 2018 Asian Cup in Jordan, 2019 FIFA Women's World Cup in France and Tokyo 2020 Summer Olympics, over the next three years. In addition, Football is the largest participation sport in Australia and the FFA has announced a bid, with support from the Australian Government, for the 2023 FIFA Women's World Cup. We will work with the FFA to support them in this bid.
Did you know?
Facts about the Westfield Matildas
The Westfield Matildas are now the #6 ranked team in the world.
The Westfield Matildas just won the Tournament of Nations in the USA, beating Japan, Brazil and the World No. 1, USA.
Sam Kerr has just been announced as the Women's Health Australian Sports Woman of the Year and Female Player of the Year in National Women's Soccer League (USA).
The Westfield Matildas two recent matches against Brazil had a combined attendance of 32,000, setting two Australian attendance records, including a sell-out in Penrith's Pepper Stadium.
Star Matildas, Lydia Williams, Tameka Butt and Elise Kellond-Knight have joined Seven Consulting as paid interns.

Intern – Tameka Yallop

Intern – Elise Kellond-Knight