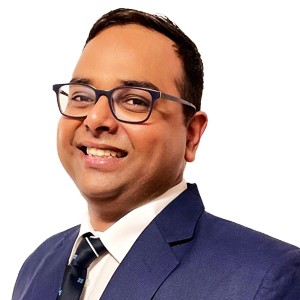 Akhilesh Das
Senior Project Manager
---
Areas Of Expertise:
Project Management
Cloud Migration
Data Migration
Telcom OSS Transformation
---
Education:
Bachelor of Engineering (Electronics & Communications), Visvesvaraya Technological University (VTU), India
Post Graduate Diploma (International Business Strategy), Indian Institute of Foreign Trade, India
---
About Akhilesh Das
Akhilesh is an experienced, logical, data-driven & outcome focused Project and Delivery management professional with cross segment multi-channel delivery experience varying from Telecommunications, Product (Websites and Mobile Apps) Development, Digital Transformation, Data & Cloud Migration. He is adept at identifying customer pain points and providing robust and future proof solutions by focusing on delivering key outcomes, building exceptional teams, strategic decision making and quickly adapting to new learnings.
---
What Akhilesh brings
A natural leader who is adept at providing direction and program leadership to multiple teams.
Adept at Identifying, monitoring, and implementing controls to mitigate key risks on the project.
Ability to build high-performing teams by following servant leadership, mentoring, and coaching teams.
Experienced in strategic decision making in a fast-paced environment delivering complex end to end business and technology projects with creative business solutions, leveraging diverse methodologies across.
---
Key Clients:
NSW Department of Communities & Justice
Royal New Zealand Navy
ATOS Australia
George Weston Foods
Royal Australian Navy
Vodafone Enterprise UK
CNT Ecuador
AT&T
British Telecom
Amdocs
---
Key Achievements:
As Senior Project Manager/Engagement Manager on engagement at NSW Department of Communities and Justice, Akhilesh successfully delivered application upgrades for apps built on Pega with multiple integrations and started the migration to Pega cloud for these applications from on-prem. (budget ~$6M) for the NSW Department of Communities & Justice, he generated $800k worth Change Requests by identifying opportunities for customer value addition. He managed and led a team of 7 seven resources with a mix of onshore and offshore resources and engaged with senior stakeholders within Atos and within DCJ during the lifecycle of the project. Akhilesh helped DCJ identify new opportunities to solve few of their current operational problems which led to $15M of new projects. He was presented with Gold Accolade for outstanding customer support.
---
As Senior Project Manager/Engagement Manager at George Weston, Akhilesh delivered 5 Key Strategic SaaS Projects worth $2M in total for George Weston which helped improve GWF's operational efficiency by reducing their OPEX by 20%. He identified and implemented 10 key process improvements helping the team to improve its agile delivery capability by helping them improving their quality and velocity by 30%. Akhilesh led a Product Development team as a Scrum Master in which Akhilesh, built up, coached & upskilled Product Development team of 5 freshers based in Sydney & Malaysia to develop and deliver a proprietary product using Scrum Methodology and Agile Software Development Methodology.
---
As Senior Project Manager/Engagement Manager at the Royal New Zealand Navy, Akhilesh Delivered 3 SAP Integration projects worth $1M, which helped improve the operational efficiency by 30%. He managed the team that worked on implementation of the new SaaS based Product and engaged with Senior stakeholders within partners and Royal New Zealand Navy ensuring proactive risk and issues identification, communication and mitigation and providing an integrative view of various project metrics through different project status reports to enable better decision making. Akhilesh also delivered 5 Application Development projects worth $3M in total which in turn helped improve the OPEX for Royal Australian Navy by 40%. He streamlined processes considering lessons learnt and current trends helping improve efficiency by 30%.
---
As Senior Project Manager/Program Manager at Vodafone Enterprise UK, Akhilesh delivered the OSS transformation and Data Migration projects worth $15M with a diverse geographical team of about 50 members. He engaged with multiple stakeholder and customer teams in order to identify the correct data source, building strategies with technical teams to ensure appropriate data cleansing strategies so as to improve the efficiency of the ETL process by 30% release on release. Akhilesh reduced the migrated data delivery issues to production by 50% pushing the adoption of Agile Practices, reduced issues internal team issues 70%, by identifying and improving the key communication issues and handover processes between application teams. He was awarded $500 USD special bonus in June 2017 for managing UAT and Postproduction Support team at Vodafone Premises.
---
As Senior Project Manager/Program Manager at CNT Ecuador, Akhilesh delivered BSS and OSS transformation and Data Migration projects for CNT Ecuador worth $12M with a diverse geographical team of about 50 members. He led a cross functional team of 15 members onsite and was given an award for outstanding support at customer site for over 4 months supporting UAT and postproduction activities, overcame the language barrier by identifying resources who could be trained in Spanish so as to directly communicate with customer thereby leading to reduction of 35% of issues which were being logged in due to miscommunication due improper translation.
---
As Senior Project Manager/Program Manager at Tom Brazil, Akhilesh Successfully led and managed a team of 15 testers to deliver 8 high-quality software releases, resulting in zero production defects for the last four software releases. He achieved an increase of 10% in efficiency and productivity per release by defining processes for Knowledge Sharing within the team, thereby creating zero dependencies. Akhilesh was awarded $500 USD special bonus for Delivering High Quality releases with 0 Production Defects for TIM Brazil in July 2012.
---
As Senior Project Manager/Program Manager at AT&T, Akhilesh successfully led and managed a team of 55 testers to deliver 12 high-quality software releases for AT&T, resulting in zero production defects for the last four software releases. He reduced the production defects by 25% within a year, by setting up procedures for Root Cause Analysis for Production Defects and Implementation of Lesson Learned and created 3 process documents which helped in defining critical business process for their Broadband customers. He was also awarded with Certificate of Appreciation as "Mr. Round the clock" by AT&T Management for providing continuous 24 hours testing support over multiple releases in 2010.
---
Other Team Members
Declan Boylan

General

2020-01-15T02:30:38+11:00

Gareth James

General

2021-01-19T11:29:58+11:00

Connie McKeage

Zeus Lara

2021-03-09T10:14:51+11:00

Hugh Harley

Zeus Lara

2020-04-01T04:18:49+11:00

Alisdair Brown

Zeus Lara

2021-03-23T14:24:31+11:00

Julie Laoit

Zeus Lara

2021-12-23T18:04:41+11:00

Rob Thomsett

General

2021-04-06T12:29:29+11:00

Louise Ford

General

2020-01-15T03:08:18+11:00

Aaron Simonsen

Zeus Lara

2022-06-01T10:21:21+11:00

Aileen Robes

Zeus Lara

2022-03-01T10:17:06+11:00

Akhilesh Das

Zeus Lara

2022-05-26T08:45:54+11:00

Alan Alehashemi

Zeus Lara

2022-06-21T16:50:57+11:00

Alan Madani

General

2020-07-24T03:51:19+11:00

Alex Massie

General

2022-06-07T16:31:55+11:00

Alexander Rivkin

Zeus Lara

2022-02-22T15:04:22+11:00

Ali Pahlavan

General

2021-09-21T15:39:39+11:00

Amanda Walker

Zeus Lara

2021-09-21T15:43:38+11:00

Anders Madsen

Zeus Lara

2021-08-31T17:57:29+11:00

Andrew Cheesman

Zeus Lara

2021-03-23T12:46:37+11:00

Andrew Coley

Zeus Lara

2021-12-21T12:36:47+11:00

Anna Linfield-Kent

Zeus Lara

2022-03-22T16:18:24+11:00

Barbara Read

General

2021-10-12T09:11:19+11:00

Benn Salier

Zeus Lara

2021-07-06T13:45:00+11:00

Bita Bagheri

General

2021-03-02T14:12:11+11:00

Caroline Lees

Zeus Lara

2021-10-12T09:08:24+11:00

Cathy Baldwin

General

2021-01-19T16:55:52+11:00

Chika Nnadiekwe

Zeus Lara

2022-06-07T14:43:22+11:00

Chris Sykes

General

2022-05-26T12:50:02+11:00

David Johnson

General

2022-06-01T10:43:16+11:00

David Mansfield

Zeus Lara

2021-08-12T17:45:38+11:00

Deanna Edwards

Zeus Lara

2021-04-07T16:38:54+11:00

Derek Oldham

Zeus Lara

2022-06-21T17:02:11+11:00

Edward Rudnicki

Zeus Lara

2021-09-28T10:10:11+11:00

Elise Kellond-Knight

Zeus Lara

2019-07-04T22:47:54+11:00

Ericson Bagunas

General

2020-10-01T05:06:36+11:00

Eugene O'Connell

Zeus Lara

2022-03-22T16:14:36+11:00

Fritzie Ligeralde

Zeus Lara

2021-08-17T15:41:14+11:00

Gennaro Abignano

Zeus Lara

2022-06-07T14:42:35+11:00

Gilbert Wong

Zeus Lara

2022-05-25T12:27:00+11:00

Guru Swaminathan

General

2020-10-13T05:04:12+11:00

Hardik Lakhani

Zeus Lara

2022-03-08T16:33:18+11:00

Hayley Weir

Zeus Lara

2022-03-01T12:16:09+11:00

Helen Argitis

Zeus Lara

2022-05-26T12:13:35+11:00

Ian Salvador

Zeus Lara

2022-06-14T17:51:51+11:00

Ian Thomson

Zeus Lara

2022-02-04T02:04:24+11:00

Igor Vieira

Zeus Lara

2022-06-01T14:29:13+11:00

Jason Kwong

Zeus Lara

2022-05-10T17:14:15+11:00

Jerry Cobb

General

2020-11-06T00:49:28+11:00

Joanna Carlos

Zeus Lara

2022-02-15T17:48:05+11:00

Jochebed Diaz

General

2020-12-15T05:31:11+11:00

Johaimah Garrido

Zeus Lara

2021-03-16T10:08:35+11:00

John Middlemist

Zeus Lara

2021-07-21T12:11:54+11:00

Jon Kralevski

Zeus Lara

2022-05-26T09:46:48+11:00

Joseph Stanley

Zeus Lara

2022-06-07T14:39:52+11:00

Jovilyn Magtoto

Zeus Lara

2021-03-02T18:19:47+11:00

Joyce Ann Vecinal

Zeus Lara

2021-12-17T10:33:04+11:00

Julia Nicole Justo

Zeus Lara

2022-06-07T14:41:03+11:00

Katherine Whiteside

General

2022-03-01T16:01:33+11:00

Krishnaraj Arumugam

Zeus Lara

2020-06-30T04:59:15+11:00

Kunal Parikh

Zeus Lara

2022-01-25T11:49:10+11:00

Louigi Gardiola

Zeus Lara

2022-06-07T14:40:52+11:00

Louise White

General

2021-05-11T16:20:05+11:00

Lousiene Samonte

General

2022-06-08T12:48:13+11:00

Maddison Schmid

Zeus Lara

2022-05-17T17:07:32+11:00

Mark McAdam

General

2021-05-11T12:52:35+11:00

Mark Millen

Zeus Lara

2022-06-14T17:42:15+11:00

Mariam Kohani

Zeus Lara

2021-07-13T12:09:45+11:00

Marianne Dinsay

Zeus Lara

2022-06-07T14:41:57+11:00

Matthew Knight

Zeus Lara

2022-06-21T16:48:38+11:00

Michael Baylon

Zeus Lara

2021-08-25T16:48:12+11:00

Michael Bryant

General

2022-03-15T16:26:44+11:00

Michael Stark

Zeus Lara

2021-06-08T10:58:59+11:00

Mike Stockley

Zeus Lara

2020-01-22T04:45:51+11:00

Mohammad Ramezani

General

2022-05-26T10:27:01+11:00

Muhammad Sauood Ur Rauf

General

2022-05-05T09:16:00+11:00

Nevil Cope

General

2020-01-14T04:11:02+11:00

Nick Rodwell

Zeus Lara

2022-06-07T15:08:23+11:00

Nicole Hatten

Zeus Lara

2022-03-22T16:18:26+11:00

Niloofar Fardanesh

General

2022-05-05T11:05:15+11:00

Oliver Stevenson

Zeus Lara

2022-06-01T13:51:22+11:00

Parastoo Mousavi

Zeus Lara

2022-05-10T17:01:14+11:00

Paul Bernard

Zeus Lara

2022-02-04T02:19:40+11:00

Paul Kirschner

General

2022-02-04T02:26:06+11:00

Peter Boylan

General

2021-07-06T12:52:31+11:00

Peter Philpott

General

2022-05-26T09:27:35+11:00

Rahul Kaushal

Zeus Lara

2022-04-05T13:17:26+11:00

Rick Myburgh

Zeus Lara

2022-04-19T12:23:07+11:00

Rinku Razdan

General

2021-06-15T09:38:48+11:00

Robert Caminiti

General

2020-10-07T04:02:43+11:00

Robert Crossman

General

2022-03-08T14:18:21+11:00

Rohini Verma

Zeus Lara

2021-04-13T12:23:02+11:00

Rohit Satija

Zeus Lara

2022-06-21T18:03:17+11:00

Roxane Montierro

Zeus Lara

2020-12-15T06:30:55+11:00

Sanjay Narayan

Zeus Lara

2022-02-04T02:35:09+11:00

Saurabh Kundi

Zeus Lara

2022-06-14T17:33:05+11:00

Sheryll Nones

Zeus Lara

2021-12-23T18:09:26+11:00

Shiraan Fernando

Zeus Lara

2022-05-10T16:56:16+11:00

Sosha Jabbary

General

2022-02-22T14:47:15+11:00

Sreekanth Badam

Zeus Lara

2021-04-27T17:36:06+11:00

Stephen Curtis

Zeus Lara

2021-05-11T12:16:32+11:00

Syed Hussain

Zeus Lara

2022-02-04T16:04:13+11:00

Tameka Yallop

General

2022-03-08T16:41:26+11:00

Thuc Linh Nguyen Phan

Zeus Lara

2022-06-07T14:41:52+11:00

Tony Calusic

Zeus Lara

2022-06-07T14:55:59+11:00

Vanessa Vella

General

2021-12-14T12:11:12+11:00

Winona Astian Thian

Zeus Lara

2021-05-11T10:29:59+11:00

Yanmin Chen

Zeus Lara

2022-03-08T16:40:11+11:00

Zach Barnetby

Zeus Lara

2022-06-24T11:08:22+11:00