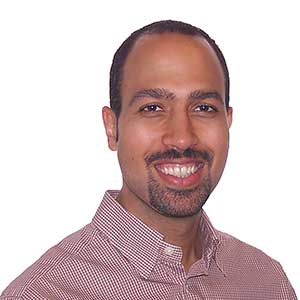 Alan Madani
PMO Lead
---
Areas Of Expertise
PMO setup
Analysis & Reporting
Scheduling
Resource Planning
Governance Framework
PMO processes & Templates
Data Analysis
Agile
---
Education
Bachelor of Science – Industrial Engineering
ITIL Qualified
Certified Scrum Product Owner (PSPO)
Certified Scrum Master (CSM)
Prince 2
Certified SAFe® 4 Agilist
---
Key Clients
Woolworths
TAFE NSW
TOSAN
Sina Bank
---
About Alan Madani
Alan is an experienced Master Scheduler with 8+ years' experience within IT, digital banking and financial services. He has provided PMO and Scheduling services for multiple large programs and is a versatile professional with diversified skills across PMO and Project Management.  
Alan is highly skilled in using MS Project and has significant experience in project and program planning.  
---
What Alan brings
Rigorous Analytical ability, process improvement skills.

Highly experienced in project governance, frameworks, principals, tools and end to end financial reporting & analysis, risk and issue management.

Demonstrated experience in creating prog

ram dashboard and status report

 templates, including analytical graphs for financial or status for 

different

 level of audiences.

 

Skills

 and experience in 

several

 PMO tools including MS Project, HP PPM and EPM

.

 
---
Key Achievements
As PMO Lead at Woolworths, Alan was responsible for overseeing the governance of three Infrastructure multi-year programs ($120m in total value). Responsibility included, Financial Management, Risks and Issues Management, Resource Management, CR Management and Reporting. He established a comprehensive financial dashboard for the program and project managers in order to provide a better view of the program so proactive/timely decisions can be made. 
---
As PMO services provider at Woolworths Alan had responsibility for reviewing risks and issues register, project change control register and preparing program and project status reports for Stores Wi-Fi Uplift program which led to the replacement of the old legacy Wi-Fi access points with a new solution across all 2500 stores across the entire group. 
---
As Program Coordinator at Woolworths, Alan provided governance control and financial tracking/reporting for their Enterprise Mobility Management program. This was an agile program to design, build, implement and operationalise a new enterprise mobility management platform (Airwatch) which replaced the legacy platform across the entire Woolworths Group in Australia and New Zealand.
---
As Master Scheduler at TAFE NSW, Alan managed scheduling for the 'One TAFE' portfolio which was moving towards Agile in a rapidly evolving environment. He successfully established MS Project Server for the portfolio and established a Master Schedule for all programs and projects within the highly complex portfolio. This included all critical dependency management.  For One TAFE portfolio, Alan successfully implemented SharePoint to manage project documents, and risks, issues and status reporting across the portfolio. He also successfully rolled out governance standards for managing reporting and communication. Alan worked closely with the PMO in creating and implementing project documentation templates, status reports, steering committee packs, project briefs, budgets forecasts, and traceability matrix. 
---
As PMO Analyst, At TOSAN, Alan managed highly complex schedules for several Core Banking Transformation Programs. A number of scheduling and resource planning functions consisted of annual programs divided into two six-month Major Releases. Each Major Releases contained multiple large-scale projects including New Product Development (NPD), BAU projects, and Infrastructure Improvements. Alan also managed the reporting for senior executives across TOSAN, Deloitte, and Clients.  Alan also implemented governance processes to ensure adherence to Service Level Agreements for banking transformation programs. He utilized appropriate project management methodologies across the portfolio to ensure change adoption was facilitated seamlessly. 
---
As a Master Scheduler, At TOSAN, Alan established and managed a variety of progress reports on schedule performance utilizing PERT and Gantt Charts, RAG status reports, Critical Path Method and Finish Variances. He also prepared and managed project tracking and accounting reports to ensure that projects were delivered on time and budget. In addition to this, Alan performed dependency management function across the programs.  Alan also successfully implemented Agile Earned Value Analysis (AgileEVM) techniques for tracking the progress of software projects using Release Burndown Chart. Alan also trained more than 100 new employees in the Scrum Agile methodology, Project Management frameworks, and Release & Deployment management. He was awarded Best Trainer within TOSAN 4 years in a row. During his time at TOSAN, Alan implemented Agile project management and scrum practices across 15 software development teams, which led to more regular higher quality releases and increased customer satisfaction via the creation of a release policy and standards document .
---
As a Project Coordinator, at Sina Bank, Alan created and maintained comprehensive project documentation and reports. He managed project definitions and budgets. He also ensured all critical Risks & Issues were reported to program executive team. 
---
Other Team Members
Declan Boylan

General

2020-01-15T02:30:38+11:00

Gareth James

General

2021-01-19T11:29:58+11:00

Connie McKeage

Zeus Lara

2021-03-09T10:14:51+11:00

Hugh Harley

Zeus Lara

2020-04-01T04:18:49+11:00

Mike Stockley

Zeus Lara

2022-08-30T12:56:19+11:00

Julie Laoit

Zeus Lara

2022-07-19T09:10:59+11:00

Rob Thomsett

General

2021-04-06T12:29:29+11:00

Louise Ford

General

2020-01-15T03:08:18+11:00

Aaron Simonsen

Zeus Lara

2022-08-30T11:02:06+11:00

Akhilesh Das

Zeus Lara

2022-08-23T10:36:06+11:00

Alan Alehashemi

Zeus Lara

2022-07-19T09:07:40+11:00

Alan Madani

General

2020-07-24T03:51:19+11:00

Alex Massie

General

2022-06-07T16:31:55+11:00

Alexander Rivkin

Zeus Lara

2022-02-22T15:04:22+11:00

Ali Pahlavan

General

2021-09-21T15:39:39+11:00

Alisdair Brown

Zeus Lara

2022-08-30T09:51:38+11:00

Amanda Walker

Zeus Lara

2022-08-09T10:18:22+11:00

Anders Madsen

Zeus Lara

2022-08-02T17:55:11+11:00

Andrew Cheesman

Zeus Lara

2022-08-09T12:17:42+11:00

Andrew Coley

Zeus Lara

2021-12-21T12:36:47+11:00

Ann Mica Mae Lim

Zeus Lara

2022-08-02T10:15:38+11:00

Anna Linfield-Kent

Zeus Lara

2022-08-23T11:14:16+11:00

Barbara Read

General

2021-10-12T09:11:19+11:00

Benn Salier

Zeus Lara

2021-07-06T13:45:00+11:00

Bita Bagheri

General

2021-03-02T14:12:11+11:00

Caroline Lees

Zeus Lara

2021-10-12T09:08:24+11:00

Cathy Baldwin

General

2021-01-19T16:55:52+11:00

Chika Nnadiekwe

Zeus Lara

2022-08-17T09:57:56+11:00

Chris Sykes

General

2022-05-26T12:50:02+11:00

David Johnson

General

2022-06-01T10:43:16+11:00

David Mansfield

Zeus Lara

2022-09-06T15:52:27+11:00

David Welekwe

Zeus Lara

2022-08-30T14:34:08+11:00

Deanna Edwards

Zeus Lara

2021-04-07T16:38:54+11:00

Derek Oldham

Zeus Lara

2022-06-21T17:02:11+11:00

Edward Rudnicki

Zeus Lara

2021-09-28T10:10:11+11:00

Elise Kellond-Knight

Zeus Lara

2019-07-04T22:47:54+11:00

Eugene O'Connell

Zeus Lara

2022-03-22T16:14:36+11:00

Francis Aseron

Zeus Lara

2022-08-30T13:27:30+11:00

Fritzie Ligeralde

Zeus Lara

2021-08-17T15:41:14+11:00

Gennaro Abignano

Zeus Lara

2022-06-07T14:42:35+11:00

Gilbert Wong

Zeus Lara

2022-05-25T12:27:00+11:00

Guru Swaminathan

General

2022-09-06T15:42:26+11:00

Hardik Lakhani

Zeus Lara

2022-03-08T16:33:18+11:00

Hayley Weir

Zeus Lara

2022-03-01T12:16:09+11:00

Helen Argitis

Zeus Lara

2022-05-26T12:13:35+11:00

Ian Salvador

Zeus Lara

2022-06-14T17:51:51+11:00

Ian Thomson

Zeus Lara

2022-02-04T02:04:24+11:00

Ibrahim Dani

Zeus Lara

2022-08-04T12:36:58+11:00

Igor Vieira

Zeus Lara

2022-06-28T16:45:19+11:00

Jason Kwong

Zeus Lara

2022-05-10T17:14:15+11:00

Jerry Cobb

General

2022-06-28T15:49:32+11:00

Joanna Carlos

Zeus Lara

2022-02-15T17:48:05+11:00

Jochebed Diaz

General

2022-09-06T10:06:46+11:00

Johaimah Garrido

Zeus Lara

2021-03-16T10:08:35+11:00

John Middlemist

Zeus Lara

2021-07-21T12:11:54+11:00

Jon Kralevski

Zeus Lara

2022-05-26T09:46:48+11:00

Joseph Stanley

Zeus Lara

2022-06-07T14:39:52+11:00

Jovilyn Magtoto

Zeus Lara

2022-08-02T13:27:08+11:00

Julia Nicole Justo

Zeus Lara

2022-08-17T09:58:15+11:00

Katherine Whiteside

General

2022-03-01T16:01:33+11:00

Kunal Parikh

Zeus Lara

2022-01-25T11:49:10+11:00

Lithika Vinu

Zeus Lara

2022-08-30T14:14:47+11:00

Louigi Gardiola

Zeus Lara

2022-08-17T10:40:37+11:00

Louise White

General

2021-05-11T16:20:05+11:00

Lousiene Samonte

General

2022-08-30T14:27:05+11:00

Maddison Schmid

Zeus Lara

2022-08-17T10:32:19+11:00

Mark McAdam

General

2021-05-11T12:52:35+11:00

Mark Millen

Zeus Lara

2022-08-30T12:47:06+11:00

Mariam Kohani

Zeus Lara

2022-07-19T09:57:04+11:00

Marianne Dinsay

Zeus Lara

2022-06-07T14:41:57+11:00

Matthew Knight

Zeus Lara

2022-06-21T16:48:38+11:00

Melissa Trenerry

Zeus Lara

2022-08-08T13:14:40+11:00

Michael Baylon

Zeus Lara

2021-08-25T16:48:12+11:00

Michael Bryant

General

2022-08-09T11:38:32+11:00

Mohammad Ramezani

General

2022-07-13T16:18:36+11:00

Muhammad Sauood Ur Rauf

General

2022-08-30T14:20:48+11:00

Nevil Cope

General

2022-08-30T14:24:26+11:00

Nick Rodwell

Zeus Lara

2022-07-14T11:47:55+11:00

Nicole Hatten

Zeus Lara

2022-03-22T16:18:26+11:00

Niloofar Fardanesh

General

2022-05-05T11:05:15+11:00

Ninia Ortile

Zeus Lara

2022-07-13T14:46:48+11:00

Oliver Stevenson

Zeus Lara

2022-06-01T13:51:22+11:00

Parastoo Mousavi

Zeus Lara

2022-05-10T17:01:14+11:00

Paul Bernard

Zeus Lara

2022-02-04T02:19:40+11:00

Paul Kirschner

General

2022-02-04T02:26:06+11:00

Peter Boylan

General

2021-07-06T12:52:31+11:00

Peter Philpott

General

2022-08-17T10:37:32+11:00

Rahul Kaushal

Zeus Lara

2022-08-03T10:22:38+11:00

Rajiv Boddupalli

Zeus Lara

2022-08-30T12:46:45+11:00

Robert Caminiti

General

2020-10-07T04:02:43+11:00

Robert Crossman

General

2022-03-08T14:18:21+11:00

Rohini Verma

Zeus Lara

2021-04-13T12:23:02+11:00

Rohit Satija

Zeus Lara

2022-07-04T15:02:01+11:00

Roxane Montierro

Zeus Lara

2020-12-15T06:30:55+11:00

Sanjay Narayan

Zeus Lara

2022-02-04T02:35:09+11:00

Saurabh Kundi

Zeus Lara

2022-06-14T17:33:05+11:00

Sheryll Nones

Zeus Lara

2021-12-23T18:09:26+11:00

Shiraan Fernando

Zeus Lara

2022-05-10T16:56:16+11:00

Sreekanth Badam

Zeus Lara

2022-07-05T18:56:56+11:00

Stephen Curtis

Zeus Lara

2022-08-30T11:03:53+11:00

Syed Hussain

Zeus Lara

2022-02-04T16:04:13+11:00

Tameka Yallop

General

2022-03-08T16:41:26+11:00

Tanvi Mahajan

Zeus Lara

2022-08-17T10:28:07+11:00

Thuc Linh Nguyen Phan

Zeus Lara

2022-06-07T14:41:52+11:00

Tony Calusic

Zeus Lara

2022-08-01T16:52:17+11:00

Vanessa Vella

General

2021-12-14T12:11:12+11:00

Winona Astian Thian

Zeus Lara

2022-08-17T09:52:28+11:00

Yanmin Chen

Zeus Lara

2022-03-08T16:40:11+11:00

Zach Barnetby

Zeus Lara

2022-06-24T11:08:22+11:00