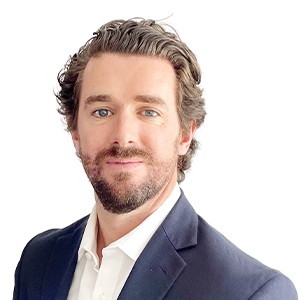 Andrew Coley
PMO Director
---
Areas Of Expertise:
Strategy
Finance
Project Delivery
Business Transformation
---
Education:
Bachelor of Accounting, The University of Sheffield
Chartered Accountant (ACA)
---
About Andrew Coley
Andrew is a committed, high performing and personable professional. He has experience in defining strategic direction, development of roadmaps and execution frameworks to maximise return on project investment. Pre-vious roles include Divisional Transformation office which involved developing strategic prioritisation frame-works within transformation and customer remediation projects, developing methodologies to ensure resources and funding are aligned to the focus on delivery execution.
---
What Andrew brings
Ability to lead high performing teams.
Excellent executive level communication skills with ability to deliver key messages to senior leadership.
An inclusive leader committed to ongoing learning and personal and team development.
Driven problem solver.
Passionate to use analytics to deliver strategic commercially focused outcomes.
---
Key Clients:
Coca Cola
PricewaterhouseCoopers (PwC)
Westpac
HSBC
IAG
Universal Music Australia
KPMG
---
Key Achievements:
As PMO Director at Coca-Cola, post a take-over of the Australian business by the Coca-Cola Europe, Andrew was responsible for establish and creating operating rhythms to ensure timely accurate report-ing and information flow between the different business units. This included aligning reporting timings, ensure consistent reporting for various geographies and across a matrix structure. RAID framework re-view across all the projects throughout the transition to ensure that the risk framework was being effec-tively implemented and managed.
---
As Consultant at PwC, Andrew Coley managed the development of a delivery implementation model for the Risk Division of an Insurance company. He was responsible for the creation of the delivery ap-proach and supporting Governance model for the Division. This methodology and model enabled deci-sion makers to have clear view of sight of all upcoming initiatives and through the approach develop-ment of 180 day plan. To develop this, a prioritisation framework was established, aligning to key princi-ples and strategic direction. This ensures that the greatest priorities are delivered in the quickest timeframe achieving the greatest benefit to the business. Clearly defined ways of working model was established to ensure that all stakeholders have clear responsibilities, activities and accountabilities de-fined through the project lifecycle.
---
As Director of Transformation Office, Business at Westpac, Andrew led the Divisional Project Manage-ment Office for governance and monitoring of the Business Division transformation portfolio (c.$250M across 30 projects). The team of 12 FTE was responsible for clearly defined roadmap of initiatives, suc-cessful implementation of roadmap and prioritisation and scheduling of key initiatives through focused personnel and financial resources. He implemented the strategic portfolio governance that enables ef-fective Executive Team decision making on strategic optionality, through robust forward planning and alignment to strategic roadmap, and the effective governance of the CTO and wider Business Division project portfolio, ensuring alignment to Group methodology requirements, including clearly defined Risks, Issues and Action plans for resolution and a capability training and uplift stream to improve quality control.
---
He was responsible for the Quarterly Business Review process for Business banking to prioritise and al-locate funding and resources across on divisional transformation priorities. This included but not limited to presenting Board and Group Executives a three-year roadmap of outcomes and initiatives to drive those outcomes with clearly defined KPIs. Other responsibilities included workforce planning (>400 FTE) and management including leadership of recruitment approval process for transformation re-sources across Business Division, monitor and allocation of the limited supply of Subject Matter Experts and Secretariat for Business Division Project Approval and Customer Forums.
---
As Business Solutions Manager at Westpac, Andrew was responsible for business case modelling, build and development to present at approval forum across all business banking product and department. This involved development of financial modelling for all business banking projects, from payment, lend-ing and digital initiatives. Developing competitor review and establishing success roadmaps to ensure post implementation adoption. Development of viability, desirability and feasibility of all new pipeline ini-tiatives. In order to achieve this goal a large amount of stakeholder management and engagement is re-quired as well as an ability to work in a dynamic constantly evolving environment. Development of as-sumptions and scenarios associated against various strategic investments, this also included providing analysis of functionality being delivered, the corresponding benefits attached, associated costs, under-standing high level requirements and work with IT and the project team to develop high level cost esti-mates to support the prioritisation process.
---
As Project Finance Manager at Westpac, Andrew was responsible for the projects financial planning, forecasting, governance and financial analysis of the Business Banking Service Revolution Portfolio. The portfolio consisted of 20 projects with an investment spend of $80m. Due to the size and nature of these projects additional Governance is required involving Executive Manager exposure.
---
As Commercial & Finance Manager at Universal Music Australia, Andrew developed the financial mod-elling to assess the impact of different decisions, including campaign analysis, P&L feasibilities and prof-itability statements. Including the development of the marketing and sales forecasting tools and develop-ing a sales pricing strategy aligned to maximising revenue and minimising costs.
---
As Advisory Assistant Manager and Auditor at KPMG, Andrew worked predominately in the Transac-tions & Restructuring and Risk Consulting service line. He gained vast experience such as the reporting accountant on a number of transactions, performing working capital reviews and transactional due dili-gence.
---
Other Team Members
Declan Boylan

General

2020-01-15T02:30:38+11:00

Gareth James

General

2021-01-19T11:29:58+11:00

Connie McKeage

Zeus Lara

2021-03-09T10:14:51+11:00

Hugh Harley

Zeus Lara

2020-04-01T04:18:49+11:00

Michael Blomfield

Zeus Lara

2023-02-14T10:26:26+11:00

Temre Green

Zeus Lara

2022-11-23T10:52:41+11:00

Mike Stockley

Zeus Lara

2022-08-30T12:56:19+11:00

Julie Laoit

Zeus Lara

2022-07-19T09:10:59+11:00

Rob Thomsett

General

2023-01-31T17:26:36+11:00

Louise Ford

General

2020-01-15T03:08:18+11:00

Aaron Simonsen

Zeus Lara

2022-08-30T11:02:06+11:00

Akhilesh Das

Zeus Lara

2022-11-08T10:09:51+11:00

Alan Alehashemi

Zeus Lara

2022-07-19T09:07:40+11:00

Alex Massie

General

2023-05-09T15:42:17+11:00

Alexander Rivkin

Zeus Lara

2023-03-28T15:40:59+11:00

Alexandra Marie Tan

Zeus Lara

2023-03-14T15:15:24+11:00

Ali Pahlavan

General

2023-05-17T01:57:15+11:00

Alisdair Brown

Zeus Lara

2022-08-30T09:51:38+11:00

Amanda Walker

Zeus Lara

2023-06-06T11:10:57+11:00

Anders Madsen

Zeus Lara

2022-08-02T17:55:11+11:00

Andrew Cheesman

Zeus Lara

2022-08-09T12:17:42+11:00

Andrew Coley

Zeus Lara

2021-12-21T12:36:47+11:00

Anish Joshi

Zeus Lara

2023-04-04T15:04:09+11:00

Ann Mica Mae Lim

Zeus Lara

2023-05-11T14:08:40+11:00

Anna Linfield-Kent

Zeus Lara

2023-03-14T16:25:51+11:00

Barbara Read

General

2023-04-27T09:42:19+11:00

Benn Salier

Zeus Lara

2021-07-06T13:45:00+11:00

Bita Bagheri

General

2021-03-02T14:12:11+11:00

Blake Dahlen

Zeus Lara

2023-02-23T09:47:16+11:00

Callum Dodd

Zeus Lara

2022-11-23T11:00:39+11:00

Caroline Lees

Zeus Lara

2023-01-17T10:29:22+11:00

Cathy Baldwin

General

2021-01-19T16:55:52+11:00

Chika Nnadiekwe

Zeus Lara

2023-03-28T15:27:26+11:00

Chris Sykes

General

2022-05-26T12:50:02+11:00

Cliff Blakley

Zeus Lara

2023-05-11T13:52:16+11:00

David Johnson

General

2022-06-01T10:43:16+11:00

David Mansfield

Zeus Lara

2023-02-14T10:37:32+11:00

Deanna Edwards

Zeus Lara

2023-03-28T15:46:04+11:00

Derek Oldham

Zeus Lara

2023-05-09T15:38:58+11:00

Elise Kellond-Knight

Zeus Lara

2019-07-04T22:47:54+11:00

Ellen Misador

Zeus Lara

2023-03-14T15:30:57+11:00

Eugene O'Connell

Zeus Lara

2022-03-22T16:14:36+11:00

Francis Aseron

Zeus Lara

2023-02-24T09:56:24+11:00

Fritzie Ligeralde

Zeus Lara

2021-08-17T15:41:14+11:00

Gilbert Wong

Zeus Lara

2022-05-25T12:27:00+11:00

Guru Swaminathan

General

2023-05-26T16:16:29+11:00

Hardik Lakhani

Zeus Lara

2022-03-08T16:33:18+11:00

Hayley Weir

Zeus Lara

2022-03-01T12:16:09+11:00

Helen Argitis

Zeus Lara

2022-05-26T12:13:35+11:00

Ian Salvador

Zeus Lara

2022-06-14T17:51:51+11:00

Ian Thomson

Zeus Lara

2023-04-27T09:46:51+11:00

Ibrahim Dani

Zeus Lara

2023-05-09T15:33:59+11:00

Igor Vieira

Zeus Lara

2022-06-28T16:45:19+11:00

Jerry Cobb

General

2022-06-28T15:49:32+11:00

Joanna Carlos

Zeus Lara

2022-02-15T17:48:05+11:00

Jochebed Diaz

General

2022-11-16T12:53:12+11:00

Johaimah Garrido

Zeus Lara

2021-03-16T10:08:35+11:00

John Middlemist

Zeus Lara

2021-07-21T12:11:54+11:00

Jovilyn Magtoto

Zeus Lara

2022-08-02T13:27:08+11:00

Julia Nicole Justo

Zeus Lara

2023-02-23T08:34:34+11:00

Katherine Whiteside

General

2022-11-30T17:42:36+11:00

Kunal Parikh

Zeus Lara

2022-01-25T11:49:10+11:00

Lauren Grouse

Zeus Lara

2023-06-06T11:56:05+11:00

Louigi Gardiola

Zeus Lara

2023-02-23T08:31:20+11:00

Louise White

General

2021-05-11T16:20:05+11:00

Lousiene Samonte

General

2022-08-30T14:27:05+11:00

Maddison Schmid

Zeus Lara

2023-05-11T09:35:43+11:00

Mariam Kohani

Zeus Lara

2022-07-19T09:57:04+11:00

Marian Joyce Makalintal

Zeus Lara

2023-03-14T15:51:17+11:00

Marianne Dinsay

Zeus Lara

2023-02-23T08:32:42+11:00

Mark McAdam

General

2023-05-03T12:09:06+11:00

Mark Millen

Zeus Lara

2022-08-30T12:47:06+11:00

Matthew Knight

Zeus Lara

2023-02-23T08:32:48+11:00

Melanie Northrop

Zeus Lara

2023-01-31T17:06:41+11:00

Melody Framp

Zeus Lara

2023-05-09T16:20:00+11:00

Melody Tuazon

Zeus Lara

2023-05-09T15:59:40+11:00

Michael Bryant

General

2022-08-09T11:38:32+11:00

Mohammad Ramezani

General

2022-07-13T16:18:36+11:00

Muhammad Sauood Ur Rauf

General

2022-08-30T14:20:48+11:00

Nevil Cope

General

2022-08-30T14:24:26+11:00

Niall Burke

Zeus Lara

2022-10-11T13:16:07+11:00

Nick Rodwell

Zeus Lara

2022-07-14T11:47:55+11:00

Nicole Hatten

Zeus Lara

2022-03-22T16:18:26+11:00

Ninia Ortile

Zeus Lara

2022-10-11T14:26:40+11:00

Pablo Andres Cordova Baya

Zeus Lara

2023-02-23T08:48:38+11:00

Parastoo Mousavi

Zeus Lara

2022-12-13T10:24:00+11:00

Paul Bernard

Zeus Lara

2022-02-04T02:19:40+11:00

Paul Kirschner

General

2022-02-04T02:26:06+11:00

Peter Boylan

General

2023-03-14T16:22:42+11:00

Peter Philpott

General

2022-11-08T10:05:47+11:00

Rahul Kaushal

Zeus Lara

2022-08-03T10:22:38+11:00

Rajiv Boddupalli

Zeus Lara

2022-12-13T09:44:21+11:00

Robert Caminiti

General

2020-10-07T04:02:43+11:00

Robert Crossman

General

2022-03-08T14:18:21+11:00

Rohini Verma

Zeus Lara

2021-04-13T12:23:02+11:00

Rohit Satija

Zeus Lara

2023-05-09T15:27:58+11:00

Roxane Montierro

Zeus Lara

2020-12-15T06:30:55+11:00

Sanjay Narayan

Zeus Lara

2023-02-14T11:09:04+11:00

Saurabh Kundi

Zeus Lara

2023-02-23T08:26:14+11:00

Shiraan Fernando

Zeus Lara

2023-03-14T15:07:49+11:00

Shruthi Srinivas

Zeus Lara

2023-02-07T09:53:04+11:00

Sreekanth Badam

Zeus Lara

2022-11-09T17:14:36+11:00

Stephen Curtis

Zeus Lara

2023-05-30T09:22:30+11:00

Tameka Yallop

General

2022-03-08T16:41:26+11:00

Tanvi Mahajan

Zeus Lara

2023-03-28T15:21:57+11:00

Through Zhu

Zeus Lara

2023-02-23T10:21:23+11:00

Thuc Linh Nguyen Phan

Zeus Lara

2023-05-30T09:39:47+11:00

Tony Calusic

Zeus Lara

2022-08-01T16:52:17+11:00

Vanessa Vella

General

2021-12-14T12:11:12+11:00

Winona Astian Thian

Zeus Lara

2023-02-23T08:34:19+11:00

Yanmin Chen

Zeus Lara

2022-03-08T16:40:11+11:00

Zach Barnetby

Zeus Lara

2022-06-24T11:08:22+11:00