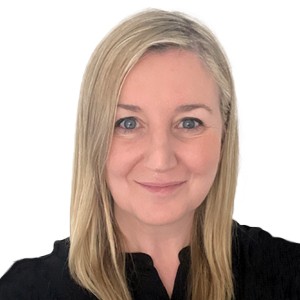 Bronagh Stewart
Program Manager
---
Areas Of Expertise:
People and stakeholder management skills
Vendor Management
Leading and Coaching teams
Program and Project delivery
Strategic and Operational planning
---
Education:
Master of Science in Computing and Information Technology
Bachelor of Honors in Modern and Contemporary History
Bachelor of Honors in Geailge
---
About Bronagh
Bronagh is an IT Delivery Executive, with over 14 years' experience in client-focused delivery of complex IT programs and managing technology delivery accounts.
With strong relationship building, program management, interpersonal and motivational skills, Bronagh has a proven track record of delivering large programs of work using leadership and management skills.
---
What Bronagh brings
Proven track record of delivering large programs of work using leadership and management skills
Client-focused attitude ensuring the development of strong, proactive relationships.
Successfully builds integrated and driven delivery teams.
Proven track record in developing trusted working relationships with C level stakeholders.
---
Key Clients:
GrainCorp
Vodafone
Department of Immigration and Citizenship
Tabcorp
UK Delivery Centers
Norwich Union
CLS Bank
---
Key Achievements:
As Program Manager for GrainCorp, Bronagh managed an IT delivery team developing and supporting key IT systems. Bronagh transformed a troubled account team into a cohesive delivery team by building an account plan that the delivery team supported and introduced distributed Agile project methodology across local client teams as well as the offshore development team
---
As Program Manager for Vodafone, Bronagh acted as a single point of contact for all development and maintenance services at Vodafone, across CRM, Billing, Provisioning and Mediation systems. Accountability for $36M budget, Bronagh successfully lead an internal transformation program (300 staff) resulting from an IT re-organisation within the client. Improving the Gross Profit through the transition and transformation of roles and responsibilities from local to offshore delivery streams and reducing project cost by18%. Bronagh also developed a five year account career path for delivery teams allowing high performers to be retained in the account team, resulting in improved attrition (10% over 2 years) and improved client-specific industry knowledge of the delivery team.
---
As Program Manager for the Department of Immigration and Citizenship (DIAC), Bronagh managed the digital development team and test team for the Visa application portal using rule engine technology and sophisticated risk based rules algorithms. Bronagh developed a detailed project schedule, implementation plan, scope document and costing of a fixed price $24M program. She co-wrote and developed the proposal for the RFP and set-up the delivery structures from scratch, including hiring personnel, set-up office equipment, implemented governance models and reporting, set-up a PMO function and managed the installation of infrastructure for development, test and production environments. Once in the execution phase, Bronagh had end to end responsibility of 10 development team and 4 test team, with a total of 100 staff.
---
As Program Manager at Tabcorp, Bronagh managed the bid team to respond to a $2M tender at Tabcorp. After delivering the winning proposal, Bronagh went on to become the Program Manager for the Tabcorp Customer Service Systems replacement and Integration to back-office program. Bronagh delivered the program within time and budget and achieved a fully integrated system, increasing loyalty with Tabcorp casino customers as well as increased revenue across the existing customer base. Bronagh managed a data team, business analysis and SME on the back-office system as well as developers.
---
As Senior Project Manager for Vodafone, Bronagh managed the defect management process for the core systems replacement program of CRM, Billing, Provisioning, Middleware, and Mediation within Vodafone. Bronagh introduced the concept of end-customer impact, to properly quantify the impact of defects and issues of the various systems to the end customer thereby allowing the project owner to make critical go/no-go decisions, allowing for prioritisation of developers, testers and environments for defect resolution.
---
As Business Operations Manager for UK Delivery Centers, Bronagh was accountable for all aspects of the operations of four IT delivery centers. This involved the ability to run four highly profitable delivery centers of a total of 275 staff concurrently. Bronagh managed the P&L for the delivery centers totaling GDP39M and transformed inconsistent project delivery through the implementation of formal project methodologies based on Prince2 with strict SLAs and KPIs management. She improved the Customer Satisfaction Score by 14% through improved delivery and formal governance frameworks and facilitated various Steering Committee meetings with CIOs and CTOs from clients. Bronagh managed the bid teams for RFI and RFP responses and set-up integrated PMO function including finance, reporting, and resource management. Including executive-level reporting to senior executives.
---
As Senior Project Manager for Norwich Union, Norwich – Insurance, Bronagh managed a program of work to enable the client to meet regulatory obligations. Bronagh project managed the reattribution program which released GBP$1.4B working capital for Norwich Union Life strengthening the balance sheet and enabling Norwich Union to meet its regulatory capital requirements. She also managed a team of 10 FTE who designed, set-up and managed the day to day running of a 50 FTE temporary back-office department dealing with complex policyholder enquiries, process, and technical issues for all the 1.4m policyholders who participated in the reattribution.
---
As a Senior Project Manager for IBM UK, Bronagh was seconded to IBM Belgium to take on a strategically important troubled project for IBM Belgium, Continuous Linked Settlement Bank – Foreign Currencies Clearing House for Central Banks. This was a global initiative to reduce foreign exchange settlement risk by settling both legs of foreign exchange transaction simultaneously for Seven Major currencies. Bronagh managed a GBP 5M Project to implement the middleware integration components for the settlement systems connecting seven Central Banks, including an additional GBP 1.5M of integration-testing services. Through rigorous management of delivery and scope, Bronagh turned around a loss-making project into a project that delivered gross profit at 10% ahead of plan, through the delivery of fixed price project components ahead of schedule.
---
Other Team Members
Declan Boylan

General

2020-01-15T02:30:38+00:00

Gareth James

General

2020-01-15T02:46:06+00:00

Rob Thomsett

General

2020-02-07T05:09:23+00:00

Louise Ford

General

2020-01-15T03:08:18+00:00

Laury MacPherson

General

2018-04-23T07:39:51+00:00

Alan Madani

General

2020-07-24T03:51:19+00:00

Alex Massie

General

2020-06-19T01:51:58+00:00

Ali Pahlavan

General

2020-07-09T06:29:03+00:00

Andrew Cheesman

Zeus Lara

2020-08-23T23:37:35+00:00

Andrew McDonagh

General

2020-09-03T05:49:48+00:00

Andrew Moghaddam

General

2020-01-10T03:36:32+00:00

Barbara Read

General

2020-01-10T04:13:14+00:00

Benn Salier

Zeus Lara

2020-07-29T01:44:59+00:00

Berna Akdeniz

General

2018-04-23T07:40:38+00:00

Bita Bagheri

General

2020-11-09T02:42:28+00:00

Brett Krieger

Zeus Lara

2020-08-05T03:12:17+00:00

Bronagh Stewart

Zeus Lara

2020-08-10T02:09:42+00:00

Bruce Denson

General

2020-03-19T00:59:30+00:00

Cathy Baldwin

General

2020-01-21T03:46:49+00:00

Chris Sykes

General

2020-03-05T00:14:43+00:00

David Johnson

General

2020-01-15T02:05:16+00:00

Donalito Jr. Bales

Zeus Lara

2020-05-28T05:04:09+00:00

Duncan Hewitt

General

2020-03-05T00:20:23+00:00

Ericson Bagunas

General

2020-10-01T05:06:36+00:00

Gilbert Wong

General

2018-05-24T23:55:47+00:00

Grace Tran

General

2020-04-27T06:07:30+00:00

Guru Swaminathan

General

2020-10-13T05:04:12+00:00

Jackie Lou J. Belano

General

2020-10-07T03:28:39+00:00

Jeroen Lubbers

Zeus Lara

2020-11-23T23:30:58+00:00

Jerry Cobb

General

2020-11-06T00:49:28+00:00

Joanna Carlos

Zeus Lara

2020-09-14T00:37:15+00:00

Joanne Carla S. Sebuc

General

2020-10-26T23:49:00+00:00

Jochebed Diaz

General

2020-07-24T03:53:17+00:00

John Mitchell

General

2020-07-22T01:01:54+00:00

Katherine Whiteside

General

2020-07-02T06:55:12+00:00

Krishnaraj Arumugam

Zeus Lara

2020-06-30T04:59:15+00:00

Louise White

General

2020-04-23T06:17:12+00:00

Lousiene Samonte

General

2020-04-01T03:22:19+00:00

Mark Cumming

General

2020-04-30T04:58:27+00:00

Mark McAdam

General

2020-08-24T01:07:53+00:00

Maryam Kohani

Zeus Lara

2020-03-03T05:24:20+00:00

Michael Baylon

General

2018-07-18T02:59:28+00:00

Michael Bryant

General

2020-09-25T02:15:23+00:00

Mohammad Ramezani

General

2020-01-14T03:38:39+00:00

Muhammad Sauood Ur Rauf

General

2020-10-06T00:12:22+00:00

Nadja Schulze

General

2020-05-29T06:16:06+00:00

Nevil Cope

General

2020-01-14T04:11:02+00:00

Niloofar Fardanesh

General

2020-09-29T01:07:43+00:00

Parastoo Mousavi

Zeus Lara

2020-09-08T00:31:28+00:00

Paul Kirschner

General

2020-01-14T04:38:37+00:00

Peter Boylan

General

2020-09-01T23:46:32+00:00

Peter Philpott

General

2020-10-30T03:09:29+00:00

Pritika Osland

Zeus Lara

2020-09-23T00:05:43+00:00

Rinku Razdan

General

2020-11-11T06:29:00+00:00

Robert Caminiti

General

2020-10-07T04:02:43+00:00

Robert Crossman

General

2020-01-15T04:30:20+00:00

Roxane Montierro

Zeus Lara

2020-11-17T22:20:14+00:00

Satya Sharma

General

2020-08-17T06:10:30+00:00

Shane Moore

General

2020-04-23T06:10:08+00:00

Sharon Tannenbaum

Zeus Lara

2020-10-13T00:59:01+00:00

Shiraan Fernando

Zeus Lara

2020-08-24T00:34:31+00:00

Sosha Jabbary

General

2020-11-18T06:56:36+00:00

Steve Baxter

Zeus Lara

2020-11-05T05:51:05+00:00

Syed Hussain

Zeus Lara

2020-10-07T04:48:38+00:00

Tameka Yallop

General

2019-04-29T04:29:36+00:00

Vanessa Vella

General

2020-04-15T01:08:38+00:00

Venice Gordula

Zeus Lara

2020-10-21T03:01:02+00:00

Yanmin Chen

General

2018-07-18T02:55:46+00:00