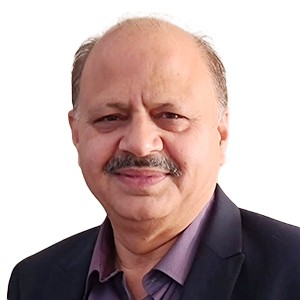 Deepak Chaturvedi
Procurement Program Director
---
Areas Of Expertise:
Procurement & Supply Chain Management
---
Education:
Master of Business Administration in Finance – Institute of Management Technology
---
About Deepak Chaturvedi
Deepak is a seasonal Procurement Program Director with a record of consistent successful delivery within complex programs over a vast range of industries across Australia, Asia Pacific and the Middle East. With 16 years' experience in Procurement, leading negotiations of End User License Agreements ($125M), delivering successful solutions for complex IT Outsourcing contracts ($200M) and achieved sustainable cost reductions of $100M upwards from War on Waste initiatives. He effectively multi-task and manages workload and workflow in a complex environment by exhibiting a strong focus to detail, while maintaining a flexible and resourceful approach.
---
What Deepak brings
Demonstrated experience in stakeholder engagement at C level.
Proven experience in leading Procurement Transformations.
Innovation in Procurement.
Skills and experience with negotiations and cost reductions.
Provides a resourceful and flexible approach.
---
Key Clients:
Indosat Ooredoo Indonesia
Ooredoo Group Qatar
Nokia Siemens Networks Australia
Nokia Siemens Networks India
IBM Global Services India
Ericsson India
---
Key Achievements:
As Senior Vice President – Sourcing for Indosat Ooredoo, Deepak was responsible for effective and sustainable management of all strategic sourcing initiatives for all direct and indirect categories with an annual spend of over $500M, additionally leading the team of Category Managers and Contract Managers delivering e2e sourcing capabilities, including the developing and implementing Annual Operating Plan (AOP), Annual Sourcing Plan (ASP) & Categories' Strategies, managing end to end Tender/RFx process, improving business processes and developing contracts and their executions. Deepak also effectively led the procurement transformation under Project Optimus Prime in addition to managing the Project Aspire over a multi-year complex project for Managed services and Network Operations valued to $600M, achieving savings of $65M over five years.
---
As Assistant Director – IT/Transmission Network Sourcing for Ooredoo Group, Deepak provided effective provision of Sourcing Performance Management – driving category strategies, identifying cost reduction and avoidance opportunities as well as implement savings. Deepak contributed to the growth and success of the organisation by efficiently managing the IT and Transmission Network sourcing for all Ooredoo Group Companies which spread in 10 countries in Asia, Middle East and Africa.
---
As Head of Procurement for Nokia Siemens Networks Australia Deepak led the procurement process from inception to contract execution, overseeing the post contract executing in contract management, monitoring progress during initiation, execution, performance, renewal and expiry to ensure fulfilment for stipulated obligations. Deepak was awarded and selected for Long Term Incentive Plan, designed to boost retention, as the only sourcing professional from APAC – Presented with an award for innovation in services, because of a successful introduction of low-cost country resources to cover local sub-contractor capacities, gaining 'Excellent Contributor' rating for 5 year.
---
Other Team Members
Declan Boylan

General

2020-01-15T02:30:38+11:00

Gareth James

General

2021-01-19T11:29:58+11:00

Connie McKeage

Zeus Lara

2021-03-09T10:14:51+11:00

Annette Mackay

Zeus Lara

2021-09-14T14:42:48+11:00

Rob Thomsett

General

2021-04-06T12:29:29+11:00

Louise Ford

General

2020-01-15T03:08:18+11:00

Alan Madani

General

2020-07-24T03:51:19+11:00

Alex Massie

General

2020-06-19T01:51:58+11:00

Ali Pahlavan

General

2021-09-21T15:39:39+11:00

Amanda Walker

Zeus Lara

2021-09-21T15:43:38+11:00

Anders Madsen

Zeus Lara

2021-08-31T17:57:29+11:00

Andrew Cheesman

Zeus Lara

2021-03-23T12:46:37+11:00

Barbara Read

General

2021-07-06T12:54:04+11:00

Benn Salier

Zeus Lara

2021-07-06T13:45:00+11:00

Berna Akdeniz

Zeus Lara

2020-12-15T10:21:24+11:00

Bita Bagheri

General

2021-03-02T14:12:11+11:00

Cathy Baldwin

General

2021-01-19T16:55:52+11:00

Chika Nnadiekwe

Zeus Lara

2021-05-11T13:05:32+11:00

Chris Sykes

General

2020-03-05T00:14:43+11:00

David Johnson

General

2020-01-15T02:05:16+11:00

David Mansfield

Zeus Lara

2021-08-12T17:45:38+11:00

Deepak Chaturvedi

Zeus Lara

2021-08-09T12:19:33+11:00

Donalito Jr. Bales

Zeus Lara

2021-01-12T10:10:18+11:00

Edward Rudnicki

Zeus Lara

2021-09-21T11:58:39+11:00

Ericson Bagunas

General

2020-10-01T05:06:36+11:00

Fritzie Ligeralde

Zeus Lara

2021-08-17T15:41:14+11:00

Gilbert Wong

Zeus Lara

2020-12-15T04:26:15+11:00

Grace Tran

General

2021-07-06T13:11:24+11:00

Guru Swaminathan

General

2020-10-13T05:04:12+11:00

Ian Salvador

Zeus Lara

2021-06-01T12:54:33+11:00

Jason Kwong

Zeus Lara

2021-07-13T12:23:00+11:00

Jeroen Lubbers

Zeus Lara

2021-07-21T11:23:06+11:00

Jerry Cobb

General

2020-11-06T00:49:28+11:00

Joanna Carlos

Zeus Lara

2020-09-14T00:37:15+11:00

Jochebed Diaz

General

2020-12-15T05:31:11+11:00

John Middlemist

Zeus Lara

2021-07-21T12:11:54+11:00

Jon Kralevski

Zeus Lara

2021-08-31T18:00:32+11:00

Josh Pricken

Zeus Lara

2021-02-16T14:32:44+11:00

Julia Nicole Justo

Zeus Lara

2021-09-21T15:46:54+11:00

Julie Laoit

Zeus Lara

2021-02-16T14:33:40+11:00

Katherine Whiteside

General

2020-07-02T06:55:12+11:00

Krishnaraj Arumugam

Zeus Lara

2020-06-30T04:59:15+11:00

Louie Huang

Zeus Lara

2021-07-06T13:19:27+11:00

Louigi Gardiola

Zeus Lara

2021-02-16T14:34:48+11:00

Louise White

General

2021-05-11T16:20:05+11:00

Lousiene Samonte

General

2020-04-01T03:22:19+11:00

Mark McAdam

General

2021-05-11T12:52:35+11:00

Mariam Kohani

Zeus Lara

2021-07-13T12:09:45+11:00

Michael Baylon

Zeus Lara

2021-08-25T16:48:12+11:00

Michael Bryant

General

2021-03-09T11:37:38+11:00

Mohammad Ramezani

General

2021-08-24T10:42:52+11:00

Muhammad Sauood Ur Rauf

General

2021-05-10T12:45:04+11:00

Nadja Schulze

General

2020-05-29T06:16:06+11:00

Nevil Cope

General

2020-01-14T04:11:02+11:00

Niloofar Fardanesh

General

2020-09-29T01:07:43+11:00

Parastoo Mousavi

Zeus Lara

2021-05-18T15:46:14+11:00

Paul Bernard

Zeus Lara

2021-07-05T10:56:35+11:00

Paul Kirschner

General

2021-03-09T12:49:12+11:00

Peter Boylan

General

2021-07-06T12:52:31+11:00

Peter Patrick Boylan

Zeus Lara

2021-02-16T14:22:06+11:00

Peter Philpott

General

2020-10-30T03:09:29+11:00

Pritika Osland

Zeus Lara

2020-09-23T00:05:43+11:00

Rick Myburgh

Zeus Lara

2021-07-21T11:12:13+11:00

Rinku Razdan

General

2021-06-15T09:38:48+11:00

Robert Caminiti

General

2020-10-07T04:02:43+11:00

Robert Crossman

General

2020-01-15T04:30:20+11:00

Rohini Verma

Zeus Lara

2021-04-13T12:23:02+11:00

Roxane Montierro

Zeus Lara

2020-12-15T06:30:55+11:00

Saurabh Kundi

Zeus Lara

2021-05-11T11:54:30+11:00

Sharon Tannenbaum

Zeus Lara

2021-06-01T12:48:32+11:00

Shiraan Fernando

Zeus Lara

2021-03-09T17:04:13+11:00

Sosha Jabbary

General

2021-01-27T09:52:48+11:00

Stephen Curtis

Zeus Lara

2021-05-11T12:16:32+11:00

Steve Baxter

Zeus Lara

2021-03-23T11:07:10+11:00

Syed Hussain

Zeus Lara

2021-09-14T16:44:40+11:00

Tameka Yallop

General

2019-04-29T04:29:36+11:00

Vanessa Vella

General

2020-04-15T01:08:38+11:00

Yanmin Chen

Zeus Lara

2021-03-23T15:31:10+11:00