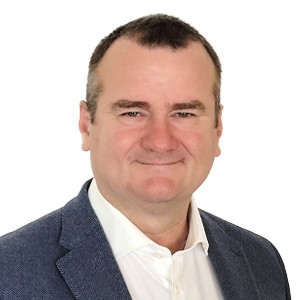 Edward Rudnicki
Program Director
---
Areas Of Expertise:
Program Management
Transformational Change
Stakeholder Management and Communications
Financial Management
---
Education:
Bachelor of Arts in Computer Studies (Accounting), University of Canberra
---
About Edward Rudnicki
Edward is an innovative senior leader with proven experience in the development, delivery, and operations of complex IT environments to drive business value. Commercially minded and well equipped to drive strategic partnerships with vendors, Edward engages stakeholders, and leads teams to drive business value and performance. Edward is visionary and adaptive by nature, he builds productive and engaging stakeholder relationships across organisations. Edward's industry experience spans information technology, telecommunications, government, and professional services sectors.
---
What Edward brings
Highly experienced in transformation initiatives in technically complex environments.
Authentic, transparent and empathetic leadership who develops and motivates high performing teams.
Ability to manage advanced stakeholder engagements with business partners and forming trusted relationships.
Creates exceptional and high performing teams, driving accountability and business impact through transparency and collaboration.
---
Key Clients:
National Broadband Network (NBN Co)
---
Key Achievements:
As General Manager – System Digital Roadmap at NBN Co, Edward successfully delivered a $200m Technology Transformation covering a broad range of technologies including infrastructure uplift, cloud migrations, data warehouse and data lake consolidation, fulfilment rationalisation, service management migration, online portal consolidation, SharePoint migration, billing, business process automation and security uplift. He established a $18m PMO consisting of 21 direct and indirect reports, including the right governance structures around preparation, delivery, financials, and value realisation. Edward re-baselined the $200m three-year program in term of timeframe, costs and benefits, reprioritising programs and initiatives to ensure business impact was reduced and the program was aligned to outcomes. He established the processes to manage the transformation program to make NBN easier to work with for customers, simplifying NBN's architecture and processes and reducing future costs of change.
---
As General Manager Technology Delivery at NBN Co, Edward managed the delivery of $20m program for Human Resources, Facilities, Finance, Billing, Data & Analytics, Network Optimisation and Network integration, including managing the governance structures to support the prioritisation and delivery of projects for the business. He managed cross functional teams consisting of 100 subject matter experts from engineering, architecture, operations and delivery. Edward created and drove a Lean Portfolio Management initiative across the entire organisation that improved Portfolio Epic readiness from 22% to 94% within a 6-month period. He established the foundation of the $200m System Digital Roadmap which led the promotion to General Manager Systems Digital Roadmap.
---
As General Manager Systems Engineering at NBN Co, Edward Led the delivery organisation consisting of an operational, engineering and delivery workforce of over 400 people around Network Build, Telstra interactions and Network lifecycle. This included managing programs in numerous domains such as Cloud Migrations, Geospatial Applications and various network technologies. He led the transformation of IT program delivery from a Waterfall delivery approach to and Agile delivery model across his team of over 400 people at NBN, increasing internal delivery efficiency by 66%. Edward operationally managed a budget of upward of $30m per FY. He managed the CAPEX and OPEX budgets of over $100m in a financial year. He increased employee engagement from 49% to 85% within a three-year period and increased his business engagement score from 5.9 to 7.8 over a two-year period, which is well above the average of 6.4 across IT.
---
As Senior Program Manager Network Planning & Design at NBN co, Edward Managed a $30m program of work to improve NBN's network construction process. The program's success led to the promotion to General Manager, System Engineering.
---
As Senior Program Manager Long Term Satellite at NBN Co, Edward delivered a $50m project that was initially red due running over budget and behind schedule. He turned the program green within months, with the technology being ready one month before satellite launch.
---
As Billing Platform Lead at NBN Co, Edward stood up the core billing platform for NBN and responsible for the ongoing design, development and maintenance of the platform that is currently billing $4b annually.
---
Other Team Members
Declan Boylan

General

2020-01-15T02:30:38+11:00

Gareth James

General

2021-01-19T11:29:58+11:00

Connie McKeage

Zeus Lara

2021-03-09T10:14:51+11:00

Hugh Harley

Zeus Lara

2020-04-01T04:18:49+11:00

Mike Stockley

Zeus Lara

2022-08-30T12:56:19+11:00

Julie Laoit

Zeus Lara

2022-07-19T09:10:59+11:00

Rob Thomsett

General

2021-04-06T12:29:29+11:00

Louise Ford

General

2020-01-15T03:08:18+11:00

Aaron Simonsen

Zeus Lara

2022-08-30T11:02:06+11:00

Akhilesh Das

Zeus Lara

2022-08-23T10:36:06+11:00

Alan Alehashemi

Zeus Lara

2022-07-19T09:07:40+11:00

Alan Madani

General

2020-07-24T03:51:19+11:00

Alex Massie

General

2022-06-07T16:31:55+11:00

Alexander Rivkin

Zeus Lara

2022-02-22T15:04:22+11:00

Ali Pahlavan

General

2021-09-21T15:39:39+11:00

Alisdair Brown

Zeus Lara

2022-08-30T09:51:38+11:00

Amanda Walker

Zeus Lara

2022-08-09T10:18:22+11:00

Anders Madsen

Zeus Lara

2022-08-02T17:55:11+11:00

Andrew Cheesman

Zeus Lara

2022-08-09T12:17:42+11:00

Andrew Coley

Zeus Lara

2021-12-21T12:36:47+11:00

Ann Mica Mae Lim

Zeus Lara

2022-08-02T10:15:38+11:00

Anna Linfield-Kent

Zeus Lara

2022-08-23T11:14:16+11:00

Barbara Read

General

2021-10-12T09:11:19+11:00

Benn Salier

Zeus Lara

2021-07-06T13:45:00+11:00

Bita Bagheri

General

2021-03-02T14:12:11+11:00

Caroline Lees

Zeus Lara

2021-10-12T09:08:24+11:00

Cathy Baldwin

General

2021-01-19T16:55:52+11:00

Chika Nnadiekwe

Zeus Lara

2022-08-17T09:57:56+11:00

Chris Sykes

General

2022-05-26T12:50:02+11:00

David Johnson

General

2022-06-01T10:43:16+11:00

David Mansfield

Zeus Lara

2022-09-06T15:52:27+11:00

David Welekwe

Zeus Lara

2022-08-30T14:34:08+11:00

Deanna Edwards

Zeus Lara

2021-04-07T16:38:54+11:00

Derek Oldham

Zeus Lara

2022-06-21T17:02:11+11:00

Edward Rudnicki

Zeus Lara

2021-09-28T10:10:11+11:00

Elise Kellond-Knight

Zeus Lara

2019-07-04T22:47:54+11:00

Eugene O'Connell

Zeus Lara

2022-03-22T16:14:36+11:00

Francis Aseron

Zeus Lara

2022-08-30T13:27:30+11:00

Fritzie Ligeralde

Zeus Lara

2021-08-17T15:41:14+11:00

Gennaro Abignano

Zeus Lara

2022-06-07T14:42:35+11:00

Gilbert Wong

Zeus Lara

2022-05-25T12:27:00+11:00

Guru Swaminathan

General

2022-09-06T15:42:26+11:00

Hardik Lakhani

Zeus Lara

2022-03-08T16:33:18+11:00

Hayley Weir

Zeus Lara

2022-03-01T12:16:09+11:00

Helen Argitis

Zeus Lara

2022-05-26T12:13:35+11:00

Ian Salvador

Zeus Lara

2022-06-14T17:51:51+11:00

Ian Thomson

Zeus Lara

2022-02-04T02:04:24+11:00

Ibrahim Dani

Zeus Lara

2022-08-04T12:36:58+11:00

Igor Vieira

Zeus Lara

2022-06-28T16:45:19+11:00

Jason Kwong

Zeus Lara

2022-05-10T17:14:15+11:00

Jerry Cobb

General

2022-06-28T15:49:32+11:00

Joanna Carlos

Zeus Lara

2022-02-15T17:48:05+11:00

Jochebed Diaz

General

2022-09-06T10:06:46+11:00

Johaimah Garrido

Zeus Lara

2021-03-16T10:08:35+11:00

John Middlemist

Zeus Lara

2021-07-21T12:11:54+11:00

Jon Kralevski

Zeus Lara

2022-05-26T09:46:48+11:00

Joseph Stanley

Zeus Lara

2022-06-07T14:39:52+11:00

Jovilyn Magtoto

Zeus Lara

2022-08-02T13:27:08+11:00

Julia Nicole Justo

Zeus Lara

2022-08-17T09:58:15+11:00

Katherine Whiteside

General

2022-03-01T16:01:33+11:00

Kunal Parikh

Zeus Lara

2022-01-25T11:49:10+11:00

Lithika Vinu

Zeus Lara

2022-08-30T14:14:47+11:00

Louigi Gardiola

Zeus Lara

2022-08-17T10:40:37+11:00

Louise White

General

2021-05-11T16:20:05+11:00

Lousiene Samonte

General

2022-08-30T14:27:05+11:00

Maddison Schmid

Zeus Lara

2022-08-17T10:32:19+11:00

Mark McAdam

General

2021-05-11T12:52:35+11:00

Mark Millen

Zeus Lara

2022-08-30T12:47:06+11:00

Mariam Kohani

Zeus Lara

2022-07-19T09:57:04+11:00

Marianne Dinsay

Zeus Lara

2022-06-07T14:41:57+11:00

Matthew Knight

Zeus Lara

2022-06-21T16:48:38+11:00

Melissa Trenerry

Zeus Lara

2022-08-08T13:14:40+11:00

Michael Baylon

Zeus Lara

2021-08-25T16:48:12+11:00

Michael Bryant

General

2022-08-09T11:38:32+11:00

Mohammad Ramezani

General

2022-07-13T16:18:36+11:00

Muhammad Sauood Ur Rauf

General

2022-08-30T14:20:48+11:00

Nevil Cope

General

2022-08-30T14:24:26+11:00

Nick Rodwell

Zeus Lara

2022-07-14T11:47:55+11:00

Nicole Hatten

Zeus Lara

2022-03-22T16:18:26+11:00

Niloofar Fardanesh

General

2022-05-05T11:05:15+11:00

Ninia Ortile

Zeus Lara

2022-07-13T14:46:48+11:00

Oliver Stevenson

Zeus Lara

2022-06-01T13:51:22+11:00

Parastoo Mousavi

Zeus Lara

2022-05-10T17:01:14+11:00

Paul Bernard

Zeus Lara

2022-02-04T02:19:40+11:00

Paul Kirschner

General

2022-02-04T02:26:06+11:00

Peter Boylan

General

2021-07-06T12:52:31+11:00

Peter Philpott

General

2022-08-17T10:37:32+11:00

Rahul Kaushal

Zeus Lara

2022-08-03T10:22:38+11:00

Rajiv Boddupalli

Zeus Lara

2022-08-30T12:46:45+11:00

Robert Caminiti

General

2020-10-07T04:02:43+11:00

Robert Crossman

General

2022-03-08T14:18:21+11:00

Rohini Verma

Zeus Lara

2021-04-13T12:23:02+11:00

Rohit Satija

Zeus Lara

2022-07-04T15:02:01+11:00

Roxane Montierro

Zeus Lara

2020-12-15T06:30:55+11:00

Sanjay Narayan

Zeus Lara

2022-02-04T02:35:09+11:00

Saurabh Kundi

Zeus Lara

2022-06-14T17:33:05+11:00

Sheryll Nones

Zeus Lara

2021-12-23T18:09:26+11:00

Shiraan Fernando

Zeus Lara

2022-05-10T16:56:16+11:00

Sreekanth Badam

Zeus Lara

2022-07-05T18:56:56+11:00

Stephen Curtis

Zeus Lara

2022-08-30T11:03:53+11:00

Syed Hussain

Zeus Lara

2022-02-04T16:04:13+11:00

Tameka Yallop

General

2022-03-08T16:41:26+11:00

Tanvi Mahajan

Zeus Lara

2022-08-17T10:28:07+11:00

Thuc Linh Nguyen Phan

Zeus Lara

2022-06-07T14:41:52+11:00

Tony Calusic

Zeus Lara

2022-08-01T16:52:17+11:00

Vanessa Vella

General

2021-12-14T12:11:12+11:00

Winona Astian Thian

Zeus Lara

2022-08-17T09:52:28+11:00

Yanmin Chen

Zeus Lara

2022-03-08T16:40:11+11:00

Zach Barnetby

Zeus Lara

2022-06-24T11:08:22+11:00