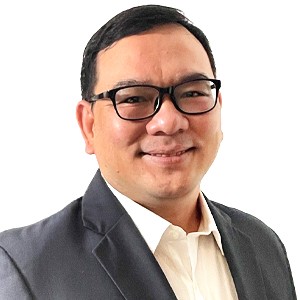 Francis Aseron
Senior PMO Consultant
---
Areas Of Expertise:
Software Development
Project Management
Stakeholder Management
---
Education:
BS Commerce, Major in Information Systems Management, University of Santo Tomas
---
About Francis Aseron
Francis has over 20 years of extensive IT experience as a developer, tester, business analyst, consultant and project management in the fields of Manufacturing and Non-Bank Finance.
---
What Francis brings
Strong strategic management and leadership skills.
Positively impacts the organization through establishing goals, implementing standards and project governance.
Adept problem solving and critical thinking skills.
Demonstrates servant leadership by empowering team and attaining desired business results.
---
Key Clients:
CVM Pawnshop and Money Changer Corp
WeServ Systems (Fuijitsu Philippines)
Northgate Arinso, UK
Panasonic Automotive Systems, GA, USA
Fujitsu America, NC USA
Dell Technologies, TX USA
---
Key Achievements:
As Digital Transformation Head at CVM Pawnshop and Money Changer Corp, Francis spearheaded digitization projects such as the development and full implementation of their POS system over 100 branches nationwide. To ensure business continuity due to the pandemic, he was also responsible in creating digital channels for their customers via chatbot and end-to-end transactional website, helping CVMP expand their digital presence in the country.
---
As a Project Manager/ Systems Applications Consultant at WeServ-Fujistu Philippines for 18 years, Francis has fulfilled numerous roles across SDLC as a developer, tester, analyst, systems implementor, consultant and project manager to various industry leading clients. Among his projects are the following:
---
As Systems Applications Consultant for Northgate Arinso, Francis was responsible for leading project development efforts in the customization of various Resource Link modules. Resource Link is a scalable web-enabled integrated suite of HR, Payroll and Pension modules that can be deployed in any combination depending on client specifications. Specifically for this project, Francis was part of the customization effort of the Calculate Weekly Pay Rate from Annual Grade Spot Salary for Greene King Brewing and Retail Ltd, RTI Termination for Serco Group Ltd, BARP/ BARPA Pension Scheme Utility for British Airways, and GL File Split for Merseyrail Electric Ltd.
---
As Systems Applications Consultant for Panasonic Automotive Systems, Francis was sent onshore to the client's head office in Georgia for the ground-up development of their Consignment Stock project. This project integrates multiple systems within the Panasonic ecosystem via EDI to handle. Francis was part of the creation of the functional specification, development and testing, and full implementation of the project.
---
As Build Support for Fujitsu America in North Carolina, Francis spearheaded the onshore team that improved and performed the build processes needed to update various environments used for testing and implementation via virtual machines.
---
As Systems Applications Consultant for Dell Computers, Francis was sent onshore to the client's head office in Texas for their Glovia customization and client support. He was responsible for gathering information from key stakeholders and created High Level and Detail Design specifications. With his team, he also spearheaded customization and development all the way through implementation on various Dell campuses using the Vendor Finance module.
---
Other Team Members
Declan Boylan

General

2020-01-15T02:30:38+11:00

Gareth James

General

2021-01-19T11:29:58+11:00

Connie McKeage

Zeus Lara

2021-03-09T10:14:51+11:00

Hugh Harley

Zeus Lara

2020-04-01T04:18:49+11:00

Michael Blomfield

Zeus Lara

2023-02-14T10:26:26+11:00

Temre Green

Zeus Lara

2022-11-23T10:52:41+11:00

Mike Stockley

Zeus Lara

2022-08-30T12:56:19+11:00

Julie Laoit

Zeus Lara

2022-07-19T09:10:59+11:00

Rob Thomsett

General

2023-01-31T17:26:36+11:00

Louise Ford

General

2020-01-15T03:08:18+11:00

Aaron Simonsen

Zeus Lara

2022-08-30T11:02:06+11:00

Akhilesh Das

Zeus Lara

2022-11-08T10:09:51+11:00

Alan Alehashemi

Zeus Lara

2022-07-19T09:07:40+11:00

Alex Massie

General

2023-05-09T15:42:17+11:00

Alexander Rivkin

Zeus Lara

2023-03-28T15:40:59+11:00

Alexandra Marie Tan

Zeus Lara

2023-03-14T15:15:24+11:00

Ali Pahlavan

General

2023-05-17T01:57:15+11:00

Alisdair Brown

Zeus Lara

2022-08-30T09:51:38+11:00

Amanda Walker

Zeus Lara

2022-08-09T10:18:22+11:00

Anders Madsen

Zeus Lara

2022-08-02T17:55:11+11:00

Andrew Cheesman

Zeus Lara

2022-08-09T12:17:42+11:00

Andrew Coley

Zeus Lara

2021-12-21T12:36:47+11:00

Anish Joshi

Zeus Lara

2023-04-04T15:04:09+11:00

Ann Mica Mae Lim

Zeus Lara

2023-05-11T14:08:40+11:00

Anna Linfield-Kent

Zeus Lara

2023-03-14T16:25:51+11:00

Barbara Read

General

2023-04-27T09:42:19+11:00

Benn Salier

Zeus Lara

2021-07-06T13:45:00+11:00

Bita Bagheri

General

2021-03-02T14:12:11+11:00

Blake Dahlen

Zeus Lara

2023-02-23T09:47:16+11:00

Callum Dodd

Zeus Lara

2022-11-23T11:00:39+11:00

Caroline Lees

Zeus Lara

2023-01-17T10:29:22+11:00

Cathy Baldwin

General

2021-01-19T16:55:52+11:00

Chika Nnadiekwe

Zeus Lara

2023-03-28T15:27:26+11:00

Chris Sykes

General

2022-05-26T12:50:02+11:00

Cliff Blakley

Zeus Lara

2023-05-11T13:52:16+11:00

David Johnson

General

2022-06-01T10:43:16+11:00

David Mansfield

Zeus Lara

2023-02-14T10:37:32+11:00

Deanna Edwards

Zeus Lara

2023-03-28T15:46:04+11:00

Derek Oldham

Zeus Lara

2023-05-09T15:38:58+11:00

Elise Kellond-Knight

Zeus Lara

2019-07-04T22:47:54+11:00

Ellen Misador

Zeus Lara

2023-03-14T15:30:57+11:00

Eugene O'Connell

Zeus Lara

2022-03-22T16:14:36+11:00

Francis Aseron

Zeus Lara

2023-02-24T09:56:24+11:00

Fritzie Ligeralde

Zeus Lara

2021-08-17T15:41:14+11:00

Gilbert Wong

Zeus Lara

2022-05-25T12:27:00+11:00

Guru Swaminathan

General

2023-05-26T16:16:29+11:00

Hardik Lakhani

Zeus Lara

2022-03-08T16:33:18+11:00

Hayley Weir

Zeus Lara

2022-03-01T12:16:09+11:00

Helen Argitis

Zeus Lara

2022-05-26T12:13:35+11:00

Ian Salvador

Zeus Lara

2022-06-14T17:51:51+11:00

Ian Thomson

Zeus Lara

2023-04-27T09:46:51+11:00

Ibrahim Dani

Zeus Lara

2023-05-09T15:33:59+11:00

Igor Vieira

Zeus Lara

2022-06-28T16:45:19+11:00

Jerry Cobb

General

2022-06-28T15:49:32+11:00

Joanna Carlos

Zeus Lara

2022-02-15T17:48:05+11:00

Jochebed Diaz

General

2022-11-16T12:53:12+11:00

Johaimah Garrido

Zeus Lara

2021-03-16T10:08:35+11:00

John Middlemist

Zeus Lara

2021-07-21T12:11:54+11:00

Jovilyn Magtoto

Zeus Lara

2022-08-02T13:27:08+11:00

Julia Nicole Justo

Zeus Lara

2023-02-23T08:34:34+11:00

Katherine Whiteside

General

2022-11-30T17:42:36+11:00

Kunal Parikh

Zeus Lara

2022-01-25T11:49:10+11:00

Louigi Gardiola

Zeus Lara

2023-02-23T08:31:20+11:00

Louise White

General

2021-05-11T16:20:05+11:00

Lousiene Samonte

General

2022-08-30T14:27:05+11:00

Maddison Schmid

Zeus Lara

2023-05-11T09:35:43+11:00

Mariam Kohani

Zeus Lara

2022-07-19T09:57:04+11:00

Marian Joyce Makalintal

Zeus Lara

2023-03-14T15:51:17+11:00

Marianne Dinsay

Zeus Lara

2023-02-23T08:32:42+11:00

Mark McAdam

General

2023-05-03T12:09:06+11:00

Mark Millen

Zeus Lara

2022-08-30T12:47:06+11:00

Matthew Knight

Zeus Lara

2023-02-23T08:32:48+11:00

Melanie Northrop

Zeus Lara

2023-01-31T17:06:41+11:00

Melody Framp

Zeus Lara

2023-05-09T16:20:00+11:00

Melody Tuazon

Zeus Lara

2023-05-09T15:59:40+11:00

Michael Bryant

General

2022-08-09T11:38:32+11:00

Mohammad Ramezani

General

2022-07-13T16:18:36+11:00

Muhammad Sauood Ur Rauf

General

2022-08-30T14:20:48+11:00

Nevil Cope

General

2022-08-30T14:24:26+11:00

Niall Burke

Zeus Lara

2022-10-11T13:16:07+11:00

Nick Rodwell

Zeus Lara

2022-07-14T11:47:55+11:00

Nicole Hatten

Zeus Lara

2022-03-22T16:18:26+11:00

Ninia Ortile

Zeus Lara

2022-10-11T14:26:40+11:00

Pablo Andres Cordova Baya

Zeus Lara

2023-02-23T08:48:38+11:00

Parastoo Mousavi

Zeus Lara

2022-12-13T10:24:00+11:00

Paul Bernard

Zeus Lara

2022-02-04T02:19:40+11:00

Paul Kirschner

General

2022-02-04T02:26:06+11:00

Peter Boylan

General

2023-03-14T16:22:42+11:00

Peter Philpott

General

2022-11-08T10:05:47+11:00

Rahul Kaushal

Zeus Lara

2022-08-03T10:22:38+11:00

Rajiv Boddupalli

Zeus Lara

2022-12-13T09:44:21+11:00

Robert Caminiti

General

2020-10-07T04:02:43+11:00

Robert Crossman

General

2022-03-08T14:18:21+11:00

Rohini Verma

Zeus Lara

2021-04-13T12:23:02+11:00

Rohit Satija

Zeus Lara

2023-05-09T15:27:58+11:00

Roxane Montierro

Zeus Lara

2020-12-15T06:30:55+11:00

Sanjay Narayan

Zeus Lara

2023-02-14T11:09:04+11:00

Saurabh Kundi

Zeus Lara

2023-02-23T08:26:14+11:00

Shiraan Fernando

Zeus Lara

2023-03-14T15:07:49+11:00

Shruthi Srinivas

Zeus Lara

2023-02-07T09:53:04+11:00

Sreekanth Badam

Zeus Lara

2022-11-09T17:14:36+11:00

Stephen Curtis

Zeus Lara

2023-05-30T09:22:30+11:00

Tameka Yallop

General

2022-03-08T16:41:26+11:00

Tanvi Mahajan

Zeus Lara

2023-03-28T15:21:57+11:00

Through Zhu

Zeus Lara

2023-02-23T10:21:23+11:00

Thuc Linh Nguyen Phan

Zeus Lara

2023-05-30T09:39:47+11:00

Tony Calusic

Zeus Lara

2022-08-01T16:52:17+11:00

Vanessa Vella

General

2021-12-14T12:11:12+11:00

Winona Astian Thian

Zeus Lara

2023-02-23T08:34:19+11:00

Yanmin Chen

Zeus Lara

2022-03-08T16:40:11+11:00

Zach Barnetby

Zeus Lara

2022-06-24T11:08:22+11:00