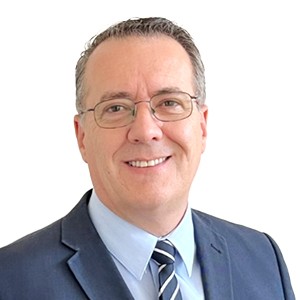 Ian Thomson
Program Director
---
Areas Of Expertise:
Large Scale IT Project Management
Complex Program Management
Business Transformations
IT Transformation Leadership
Subcontract Management
Crisis Management
Project Recovery and Remediation
---
Education:
Bachelor of Applied Science (Industrial Maths & Computing), Charles Sturt University
---
About Ian Thomson
Ian is an established and well-rounded Business and IT professional with extensive regional and global experience leading consulting services on strategic accounts including leading consulting services opportunities and large scale, complex transformation programs for a diverse customer base. Ian has an extensive record of leading and remediating situations, with a proven ability to size-up opportunities and challenges, able to adapt in complex situations that require innovative and sustainable solutions.
---
What Ian brings
Extensive experience on consulting and client sides of the business in general management, program leadership and functional lead roles.
Demonstrated experience in leading and achieving high value business development opportunities for emerging markets.
Brings a vast global consulting experience introducing structure, leading change and driving success and continuous improvement.
---
Key Clients:
Macquarie Group
TAFE NSW
BlueScope Steel
CIMIC
Telkomsel, Indonesia
Vodafone Australia
G4S
NBNCO
Astro, Malaysia
Australia Post
Telstra Corporation P/L – Telecom Australia P/L
National Australia Bank
Bhp Billiton
---
Key Achievements:
As a Program Director at Macquarie Group, Ian mobilised and is leading a multi-year portfolio program scheduling engagement for a global financial services company to enhance processes and systems for APRA compliance requirements.
---
As Program Director at TAFENSW, Ian led the TAFE NSW Student Management System project ($80M+, 200+ FTEs at peak), including completing design, build and test of the core Oracle CRM, PeopleSoft Campus and integration with TAFE existing systems. On completion of testing, Ian managed the transition of the project to TAFE NSW.
---
As Program Manager at BlueScope, Ian led the completion of the Microsoft Dynamics 365 Order to Cash project ($25M+,100 FTEs) including completion of the integration build, system integration test and User Acceptance Testing and 1st go-live dress rehearsal.
---
As Program Manager at CIMIC, Ian led an ERP Software As A Service initiative including completion of the design, configuration and build of the Oracle HCM solution ($20M+,40+ FTEs) for transformation of the global workforce processes and system for the CIMIC group.
---
As Program Director at Telkomsel Indonesia, Ian led the Amdocs Customer Experience Billing and Charging Transformation program. including formulation of the delivery approach for the multi-year program with a program investment of over USD $200M and establishment of a local consulting team for delivery of the program. Ian led the Billing transformation program from project initiation through to implementation establishing the PMO, recruitment of the onsite team, establishment of subcontractor agreements, and management of cross-functional business and IT team (300+ FTEs) for implementation of the billing system for 110m+ subscribers.
---
As Program Manager at Vodafone, Ian managed the design and development phases for replacement of the number management application. The project included analysis and mapping of existing applications to the Oracle Number management solution and resultant integrations.
---
As Senior Project Manager at G4S, Ian managed the implementation of a workforce management solution using Ortec Workforce Scheduling for the Port Philip Prison. The project delivered process and operational improvements for time and attendance management and integration with payroll.
---
As Program Manager at NBN, Ian successfully managed a series of initiatives for delivery of FTTN Build projects including managing external dependencies for FTTN projects. The projects delivered incremental solution capabilities to meet the NBN national rollout timeline.
---
As Program Director at Astro Malaysia, Ian led an Amdocs CRM and Billing Transformation program from project concept through to system test including, establishing the PMO, recruiting an onsite team and multi-sited development and test team (peak of 100+ consultants). The program objectives included upgrading of the current capabilities to the Amdocs CES 7 Suite and transformation of business processes to enable improved product offerings and customer experience improvements with a program budget of USD $25M.
---
As Program Manager at Australia Post, Ian successfully managed the BearingPoint implementation of the eParcel application which involved implementation of a bespoke J2EE application using an agile delivery approach. The project team comprised 35 consultants at peak with a project budget of over $6million.
---
As Program Manager at Telstra, Ian successfully managed two concurrent projects for implementation of Broadband order management enhancements to reduce broadband ordering costs. The value of the program was $2.5M with delivery of two releases implemented within 9 months. Ian led an agile delivery approach to enable incremental implementation of prioritized business benefits and effected the transition of the solution to the Telstra support team.
---
As Program Manager at National Australia Bank, Ian managed the design, development, system and integration test for the global data warehouse component for an IFRS data management initiative. Ian led a team of NAB and consulting staff (30 FTEs) and provided guidance on cross-project delivery risks and transition the project management to NAB.
---
As Program Manager at Bhp Billiton, The Netherlands, Ian managed a 3rd Party Managed Service provider for upgrade of Data Centre Infrastructure. The engagement included monitoring the vendor progress against performance metrics and timeline and ensuring contract compliance. The infrastructure enhancements provided cost savings and support for the IT operational initiatives.
---
Other Team Members
Declan Boylan

General

2020-01-15T02:30:38+11:00

Gareth James

General

2021-01-19T11:29:58+11:00

Connie McKeage

Zeus Lara

2021-03-09T10:14:51+11:00

Hugh Harley

Zeus Lara

2020-04-01T04:18:49+11:00

Mike Stockley

Zeus Lara

2022-08-30T12:56:19+11:00

Julie Laoit

Zeus Lara

2022-07-19T09:10:59+11:00

Rob Thomsett

General

2021-04-06T12:29:29+11:00

Louise Ford

General

2020-01-15T03:08:18+11:00

Aaron Simonsen

Zeus Lara

2022-08-30T11:02:06+11:00

Akhilesh Das

Zeus Lara

2022-08-23T10:36:06+11:00

Alan Alehashemi

Zeus Lara

2022-07-19T09:07:40+11:00

Alan Madani

General

2020-07-24T03:51:19+11:00

Alex Massie

General

2022-06-07T16:31:55+11:00

Alexander Rivkin

Zeus Lara

2022-02-22T15:04:22+11:00

Ali Pahlavan

General

2021-09-21T15:39:39+11:00

Alisdair Brown

Zeus Lara

2022-08-30T09:51:38+11:00

Amanda Walker

Zeus Lara

2022-08-09T10:18:22+11:00

Anders Madsen

Zeus Lara

2022-08-02T17:55:11+11:00

Andrew Cheesman

Zeus Lara

2022-08-09T12:17:42+11:00

Andrew Coley

Zeus Lara

2021-12-21T12:36:47+11:00

Ann Mica Mae Lim

Zeus Lara

2022-08-02T10:15:38+11:00

Anna Linfield-Kent

Zeus Lara

2022-08-23T11:14:16+11:00

Barbara Read

General

2021-10-12T09:11:19+11:00

Benn Salier

Zeus Lara

2021-07-06T13:45:00+11:00

Bita Bagheri

General

2021-03-02T14:12:11+11:00

Caroline Lees

Zeus Lara

2021-10-12T09:08:24+11:00

Cathy Baldwin

General

2021-01-19T16:55:52+11:00

Chika Nnadiekwe

Zeus Lara

2022-08-17T09:57:56+11:00

Chris Sykes

General

2022-05-26T12:50:02+11:00

David Johnson

General

2022-06-01T10:43:16+11:00

David Mansfield

Zeus Lara

2022-09-06T15:52:27+11:00

David Welekwe

Zeus Lara

2022-08-30T14:34:08+11:00

Deanna Edwards

Zeus Lara

2021-04-07T16:38:54+11:00

Derek Oldham

Zeus Lara

2022-06-21T17:02:11+11:00

Edward Rudnicki

Zeus Lara

2021-09-28T10:10:11+11:00

Elise Kellond-Knight

Zeus Lara

2019-07-04T22:47:54+11:00

Eugene O'Connell

Zeus Lara

2022-03-22T16:14:36+11:00

Francis Aseron

Zeus Lara

2022-08-30T13:27:30+11:00

Fritzie Ligeralde

Zeus Lara

2021-08-17T15:41:14+11:00

Gennaro Abignano

Zeus Lara

2022-06-07T14:42:35+11:00

Gilbert Wong

Zeus Lara

2022-05-25T12:27:00+11:00

Guru Swaminathan

General

2022-09-06T15:42:26+11:00

Hardik Lakhani

Zeus Lara

2022-03-08T16:33:18+11:00

Hayley Weir

Zeus Lara

2022-03-01T12:16:09+11:00

Helen Argitis

Zeus Lara

2022-05-26T12:13:35+11:00

Ian Salvador

Zeus Lara

2022-06-14T17:51:51+11:00

Ian Thomson

Zeus Lara

2022-02-04T02:04:24+11:00

Ibrahim Dani

Zeus Lara

2022-08-04T12:36:58+11:00

Igor Vieira

Zeus Lara

2022-06-28T16:45:19+11:00

Jason Kwong

Zeus Lara

2022-05-10T17:14:15+11:00

Jerry Cobb

General

2022-06-28T15:49:32+11:00

Joanna Carlos

Zeus Lara

2022-02-15T17:48:05+11:00

Jochebed Diaz

General

2022-09-06T10:06:46+11:00

Johaimah Garrido

Zeus Lara

2021-03-16T10:08:35+11:00

John Middlemist

Zeus Lara

2021-07-21T12:11:54+11:00

Jon Kralevski

Zeus Lara

2022-05-26T09:46:48+11:00

Joseph Stanley

Zeus Lara

2022-06-07T14:39:52+11:00

Jovilyn Magtoto

Zeus Lara

2022-08-02T13:27:08+11:00

Julia Nicole Justo

Zeus Lara

2022-08-17T09:58:15+11:00

Katherine Whiteside

General

2022-03-01T16:01:33+11:00

Kunal Parikh

Zeus Lara

2022-01-25T11:49:10+11:00

Lithika Vinu

Zeus Lara

2022-08-30T14:14:47+11:00

Louigi Gardiola

Zeus Lara

2022-08-17T10:40:37+11:00

Louise White

General

2021-05-11T16:20:05+11:00

Lousiene Samonte

General

2022-08-30T14:27:05+11:00

Maddison Schmid

Zeus Lara

2022-08-17T10:32:19+11:00

Mark McAdam

General

2021-05-11T12:52:35+11:00

Mark Millen

Zeus Lara

2022-08-30T12:47:06+11:00

Mariam Kohani

Zeus Lara

2022-07-19T09:57:04+11:00

Marianne Dinsay

Zeus Lara

2022-06-07T14:41:57+11:00

Matthew Knight

Zeus Lara

2022-06-21T16:48:38+11:00

Melissa Trenerry

Zeus Lara

2022-08-08T13:14:40+11:00

Michael Baylon

Zeus Lara

2021-08-25T16:48:12+11:00

Michael Bryant

General

2022-08-09T11:38:32+11:00

Mohammad Ramezani

General

2022-07-13T16:18:36+11:00

Muhammad Sauood Ur Rauf

General

2022-08-30T14:20:48+11:00

Nevil Cope

General

2022-08-30T14:24:26+11:00

Nick Rodwell

Zeus Lara

2022-07-14T11:47:55+11:00

Nicole Hatten

Zeus Lara

2022-03-22T16:18:26+11:00

Niloofar Fardanesh

General

2022-05-05T11:05:15+11:00

Ninia Ortile

Zeus Lara

2022-07-13T14:46:48+11:00

Oliver Stevenson

Zeus Lara

2022-06-01T13:51:22+11:00

Parastoo Mousavi

Zeus Lara

2022-05-10T17:01:14+11:00

Paul Bernard

Zeus Lara

2022-02-04T02:19:40+11:00

Paul Kirschner

General

2022-02-04T02:26:06+11:00

Peter Boylan

General

2021-07-06T12:52:31+11:00

Peter Philpott

General

2022-08-17T10:37:32+11:00

Rahul Kaushal

Zeus Lara

2022-08-03T10:22:38+11:00

Rajiv Boddupalli

Zeus Lara

2022-08-30T12:46:45+11:00

Robert Caminiti

General

2020-10-07T04:02:43+11:00

Robert Crossman

General

2022-03-08T14:18:21+11:00

Rohini Verma

Zeus Lara

2021-04-13T12:23:02+11:00

Rohit Satija

Zeus Lara

2022-07-04T15:02:01+11:00

Roxane Montierro

Zeus Lara

2020-12-15T06:30:55+11:00

Sanjay Narayan

Zeus Lara

2022-02-04T02:35:09+11:00

Saurabh Kundi

Zeus Lara

2022-06-14T17:33:05+11:00

Sheryll Nones

Zeus Lara

2021-12-23T18:09:26+11:00

Shiraan Fernando

Zeus Lara

2022-05-10T16:56:16+11:00

Sreekanth Badam

Zeus Lara

2022-07-05T18:56:56+11:00

Stephen Curtis

Zeus Lara

2022-08-30T11:03:53+11:00

Syed Hussain

Zeus Lara

2022-02-04T16:04:13+11:00

Tameka Yallop

General

2022-03-08T16:41:26+11:00

Tanvi Mahajan

Zeus Lara

2022-08-17T10:28:07+11:00

Thuc Linh Nguyen Phan

Zeus Lara

2022-06-07T14:41:52+11:00

Tony Calusic

Zeus Lara

2022-08-01T16:52:17+11:00

Vanessa Vella

General

2021-12-14T12:11:12+11:00

Winona Astian Thian

Zeus Lara

2022-08-17T09:52:28+11:00

Yanmin Chen

Zeus Lara

2022-03-08T16:40:11+11:00

Zach Barnetby

Zeus Lara

2022-06-24T11:08:22+11:00