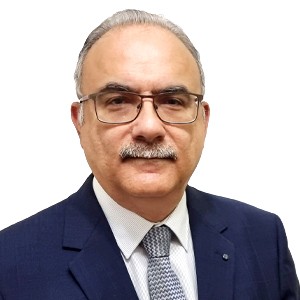 Ibrahim Dani
PMO Manager
---
Areas Of Expertise:
Program management
portfolio management
PMO establishment and operation
---
Education:
Master of Business Administration, University of Strathclyde
Master of Information Technology, University of Wollongong
Graduate Diploma in Technology Management, Deakin University
---
About Ibrahim Dani
Ibrahim is an accomplished business leader with extensive experience in managing programs and leading professional teams. He has established and led PMOs, enhanced governance and delivery frameworks, optimised operational performance, negotiated successful partnerships across business units, internal delivery teams, and external service providers.
---
What Ibrahim brings
Experience in the establishment of PMO practices.
Strategy, design, development and support of program and project management solutions to ensure successful business outcomes.
Strong influencing skills and ability to drive organisational change.
Ability to build and lead teams (onshore and offshore) at high performance levels and in complex environments.
---
Key Clients:
NSW Department of Communities and Justice
NSW Department of Customer Service
Exceed IT
Optus
Abu Dhabi Investment Authority
Macquarie Bank
---
Key Achievements:
As PMO Director at NSW Department of Communities and Justice (DCJ), Ibrahim led the PMO for the major transformation program "Process and Technology Harmonisation" (PaTH). This is a multi-year $200m+ program to harmonise the ERP systems across multiple NSW Government Agencies. Ibrahim stabilised the PMO operations and updated the Governance model of the PaTH Program to fit the changing needs of DCJ and related agencies. Ibrahim led the Commercial and Financial teams of the PaTH Program in addition to the support teams for Program Management, Risk Management, Scheduling and Reporting activities.
---
As Portfolio Manager at NSW Department of Customer Service (DCS), Ibrahim established and operated the governance, monitoring, and reporting framework of a major Business Transformation Program for the Better Regulation Division. The multi-year program will digitise the Regulators activities across multiple NSW Government Agencies through a new digital platform together with multiple dashboards to provide data analytics and single views across multiple areas.
---
As PMO Consultant at Exceed IT Ibrahim established a fit-for-purpose PMO and built their PM capability. He developed a Project Management Framework with relevant templates and established decision-making and reporting forums and also recruited a team of Project Managers and a Head of PMO who took over the PMO team and practices.
---
As Director Business Delivery at Optus, Ibrahim Led the Business Delivery unit which consisted of three large teams of Project/Program Managers, Change Managers and Business Analysts which deliver the strategic programs across Optus. He consistently achieved the business unit operational expenses (OPEX) target while maintaining a responsive and proficient Program Delivery work force. Ibrahim sponsored the development of Competency Frameworks to align the seniority levels of Program Managers, Business Analysts and Change Managers to the organisation's job grades. He also founded Communities of Practice (CoPs) to evolve the team capabilities and respond to the growing needs of business. The CoPs attract internal and external thought leaders to share their experiences. Ibrahim also increased his team's engagement score by more than 15 points in the period between Oct-2019 to Oct-2020, the period that witnessed the peak of COVID19 disruptions of ways of working and sustained the right balance of contingent (contractor) and permanent resource base to maintain both: efficient resource allocation and effective delivery execution. In collaboration with a Seven Consulting team, he co-designed and established an Enterprise PMO (ePMO) complete with organisational structure and pillars for portfolio & risk management, governance & reporting, and quality & frameworks, plus pools of delivery managers, change managers, and business analysts.
---
As Associate Director Delivery Governance at Optus, Ibrahim established and operated a Delivery Governance Office to drive the Financial Governance of Capital Programs, including yearly framing and budget allocation, yearly and quarterly prioritisation, approval, tracking and reporting processes of the Optus Consumer Strategic Programs. His role included the review, analysis, and reporting to the C-level the capital programs status and financial trends to make informed strategic and operational decisions. Ibrahim designed, implemented, and ran an effective 'idea to project' framework including framing & sizing, estimation, prioritisation, and funding. He setup a Program Management Practice Excellence team and ensured continuous improvement of the end-to-end programme management framework and guidelines including training, auditing, and running post implementation reviews (PIRs). Ibrahim established a Product and Project Quality Management framework and set up a Business Testing Assurance Team, accountable for user testing and business readiness of major program outcomes, crafted Vendor tracking and performance management system to assist Program Managers in engaging the right vendor with the right attributes, and enabled, facilitated, and influenced the yearly planning and prioritisation of the Capital Programs Portfolio across all business units.
---
As Business Program Manager at Optus, Ibrahim successfully delivered the Big Data Business Program. He established the program governance structure, scope, budget, timeline, and funding requirements of the Business Stream of a major Big Data Program.
---
As Business Program Manager at Optus, Ibrahim planned and delivered the Prepaid Online Activation Program. His responsibilities involved planning, mobilising, and delivering the end-to-end program to introduce online activation capability for the Prepaid business, as part of the Digital First initiative. The program included building an interface with the DVS, the Government ID Verification System to allow end users to activate their new prepaid service online.
---
As Program Manager/PMO Lead at Abu Dhabi Investment Authority, Ibrahim Managed multiple projects and programs ranging from 3 to 20+ months, with multi-million US Dollars budgets, and with various team sizes including internal and external vendor resources. He orchestrated difficult decisions to stop-loss ailing projects and revive troubled ones, crafted a project prioritisation framework (an abridged version of this framework was published with the title "Cost-Benefit paralysis" in PMI Magazine PM Network, v.28, issue 11, November 2014), energised Project Managers and their teams to produce superior results evidenced in improved scheduling and risk management activities leading to more projects completing on time, and revised IT-PMO guidelines and fine-tuned project management templates.
---
As Service Delivery Manager – IT Department at Abu Dhabi Investment Authority, Ibrahim established the framework and templates for Service Level Agreements (SLA) and Operational Level Agreements (OLA), he laid the groundwork for SLA cycle and seeded a continuous improvement process and improved service provision by establishing agreed SLA targets to manage business expectations. Ibrahim improved the visibility of service levels by establishing an SLA Reporting cycle and ensured continuous improvement by introducing yearly stretched goals of new SLAs.
---
As Project Manager – IT Department at Abu Dhabi Investment Authority, Ibrahim managed multiple projects, owned the relationship with the Fixed Income Department, and led the support team of their systems. In addition, he served as a key member on various task forces for technology and process reviews, such as leading a task force to assess and recommend a middleware technology. He embedded a technical team within the Fixed Income business to enhance support responsiveness, advised and influenced the establishing of the IT Programme Management Office (IT-PMO), revised the internal 'Application Selection & Implementation Methodology' to align it to the ITIL Service Management framework, and established Test Management Function and Testing guidelines, work practices and templates.
---
As Project Manager – Macquarie Bank in Sydney, Ibrahim managed the Project to migrate the Bank's Commercial Leasing and Property Investment Businesses from their legacy system to an advanced, vendor implemented lending system. Ibrahim continued as the leader of the support team for the Asset & Infrastructure Group (AIG) and acted as a key member in the group that managed the Y2K migration and compliance projects.
---
Other Team Members
Declan Boylan

General

2020-01-15T02:30:38+11:00

Gareth James

General

2021-01-19T11:29:58+11:00

Connie McKeage

Zeus Lara

2021-03-09T10:14:51+11:00

Hugh Harley

Zeus Lara

2020-04-01T04:18:49+11:00

Michael Blomfield

Zeus Lara

2023-02-14T10:26:26+11:00

Temre Green

Zeus Lara

2022-11-23T10:52:41+11:00

Mike Stockley

Zeus Lara

2022-08-30T12:56:19+11:00

Julie Laoit

Zeus Lara

2022-07-19T09:10:59+11:00

Rob Thomsett

General

2023-01-31T17:26:36+11:00

Louise Ford

General

2020-01-15T03:08:18+11:00

Aaron Simonsen

Zeus Lara

2022-08-30T11:02:06+11:00

Akhilesh Das

Zeus Lara

2022-11-08T10:09:51+11:00

Alan Alehashemi

Zeus Lara

2022-07-19T09:07:40+11:00

Alex Massie

General

2023-05-09T15:42:17+11:00

Alexander Rivkin

Zeus Lara

2023-03-28T15:40:59+11:00

Alexandra Marie Tan

Zeus Lara

2023-03-14T15:15:24+11:00

Ali Pahlavan

General

2023-05-17T01:57:15+11:00

Alisdair Brown

Zeus Lara

2022-08-30T09:51:38+11:00

Amanda Walker

Zeus Lara

2022-08-09T10:18:22+11:00

Anders Madsen

Zeus Lara

2022-08-02T17:55:11+11:00

Andrew Cheesman

Zeus Lara

2022-08-09T12:17:42+11:00

Andrew Coley

Zeus Lara

2021-12-21T12:36:47+11:00

Anish Joshi

Zeus Lara

2023-04-04T15:04:09+11:00

Ann Mica Mae Lim

Zeus Lara

2023-05-11T14:08:40+11:00

Anna Linfield-Kent

Zeus Lara

2023-03-14T16:25:51+11:00

Barbara Read

General

2023-04-27T09:42:19+11:00

Benn Salier

Zeus Lara

2021-07-06T13:45:00+11:00

Bita Bagheri

General

2021-03-02T14:12:11+11:00

Blake Dahlen

Zeus Lara

2023-02-23T09:47:16+11:00

Callum Dodd

Zeus Lara

2022-11-23T11:00:39+11:00

Caroline Lees

Zeus Lara

2023-01-17T10:29:22+11:00

Cathy Baldwin

General

2021-01-19T16:55:52+11:00

Chika Nnadiekwe

Zeus Lara

2023-03-28T15:27:26+11:00

Chris Sykes

General

2022-05-26T12:50:02+11:00

Cliff Blakley

Zeus Lara

2023-05-11T13:52:16+11:00

David Johnson

General

2022-06-01T10:43:16+11:00

David Mansfield

Zeus Lara

2023-02-14T10:37:32+11:00

Deanna Edwards

Zeus Lara

2023-03-28T15:46:04+11:00

Derek Oldham

Zeus Lara

2023-05-09T15:38:58+11:00

Elise Kellond-Knight

Zeus Lara

2019-07-04T22:47:54+11:00

Ellen Misador

Zeus Lara

2023-03-14T15:30:57+11:00

Eugene O'Connell

Zeus Lara

2022-03-22T16:14:36+11:00

Francis Aseron

Zeus Lara

2023-02-24T09:56:24+11:00

Fritzie Ligeralde

Zeus Lara

2021-08-17T15:41:14+11:00

Gilbert Wong

Zeus Lara

2022-05-25T12:27:00+11:00

Guru Swaminathan

General

2023-05-26T16:16:29+11:00

Hardik Lakhani

Zeus Lara

2022-03-08T16:33:18+11:00

Hayley Weir

Zeus Lara

2022-03-01T12:16:09+11:00

Helen Argitis

Zeus Lara

2022-05-26T12:13:35+11:00

Ian Salvador

Zeus Lara

2022-06-14T17:51:51+11:00

Ian Thomson

Zeus Lara

2023-04-27T09:46:51+11:00

Ibrahim Dani

Zeus Lara

2023-05-09T15:33:59+11:00

Igor Vieira

Zeus Lara

2022-06-28T16:45:19+11:00

Jerry Cobb

General

2022-06-28T15:49:32+11:00

Joanna Carlos

Zeus Lara

2022-02-15T17:48:05+11:00

Jochebed Diaz

General

2022-11-16T12:53:12+11:00

Johaimah Garrido

Zeus Lara

2021-03-16T10:08:35+11:00

John Middlemist

Zeus Lara

2021-07-21T12:11:54+11:00

Jovilyn Magtoto

Zeus Lara

2022-08-02T13:27:08+11:00

Julia Nicole Justo

Zeus Lara

2023-02-23T08:34:34+11:00

Katherine Whiteside

General

2022-11-30T17:42:36+11:00

Kunal Parikh

Zeus Lara

2022-01-25T11:49:10+11:00

Louigi Gardiola

Zeus Lara

2023-02-23T08:31:20+11:00

Louise White

General

2021-05-11T16:20:05+11:00

Lousiene Samonte

General

2022-08-30T14:27:05+11:00

Maddison Schmid

Zeus Lara

2023-05-11T09:35:43+11:00

Mariam Kohani

Zeus Lara

2022-07-19T09:57:04+11:00

Marian Joyce Makalintal

Zeus Lara

2023-03-14T15:51:17+11:00

Marianne Dinsay

Zeus Lara

2023-02-23T08:32:42+11:00

Mark McAdam

General

2023-05-03T12:09:06+11:00

Mark Millen

Zeus Lara

2022-08-30T12:47:06+11:00

Matthew Knight

Zeus Lara

2023-02-23T08:32:48+11:00

Melanie Northrop

Zeus Lara

2023-01-31T17:06:41+11:00

Melody Framp

Zeus Lara

2023-05-09T16:20:00+11:00

Melody Tuazon

Zeus Lara

2023-05-09T15:59:40+11:00

Michael Bryant

General

2022-08-09T11:38:32+11:00

Mohammad Ramezani

General

2022-07-13T16:18:36+11:00

Muhammad Sauood Ur Rauf

General

2022-08-30T14:20:48+11:00

Nevil Cope

General

2022-08-30T14:24:26+11:00

Niall Burke

Zeus Lara

2022-10-11T13:16:07+11:00

Nick Rodwell

Zeus Lara

2022-07-14T11:47:55+11:00

Nicole Hatten

Zeus Lara

2022-03-22T16:18:26+11:00

Ninia Ortile

Zeus Lara

2022-10-11T14:26:40+11:00

Pablo Andres Cordova Baya

Zeus Lara

2023-02-23T08:48:38+11:00

Parastoo Mousavi

Zeus Lara

2022-12-13T10:24:00+11:00

Paul Bernard

Zeus Lara

2022-02-04T02:19:40+11:00

Paul Kirschner

General

2022-02-04T02:26:06+11:00

Peter Boylan

General

2023-03-14T16:22:42+11:00

Peter Philpott

General

2022-11-08T10:05:47+11:00

Rahul Kaushal

Zeus Lara

2022-08-03T10:22:38+11:00

Rajiv Boddupalli

Zeus Lara

2022-12-13T09:44:21+11:00

Robert Caminiti

General

2020-10-07T04:02:43+11:00

Robert Crossman

General

2022-03-08T14:18:21+11:00

Rohini Verma

Zeus Lara

2021-04-13T12:23:02+11:00

Rohit Satija

Zeus Lara

2023-05-09T15:27:58+11:00

Roxane Montierro

Zeus Lara

2020-12-15T06:30:55+11:00

Sanjay Narayan

Zeus Lara

2023-02-14T11:09:04+11:00

Saurabh Kundi

Zeus Lara

2023-02-23T08:26:14+11:00

Shiraan Fernando

Zeus Lara

2023-03-14T15:07:49+11:00

Shruthi Srinivas

Zeus Lara

2023-02-07T09:53:04+11:00

Sreekanth Badam

Zeus Lara

2022-11-09T17:14:36+11:00

Stephen Curtis

Zeus Lara

2023-05-30T09:22:30+11:00

Tameka Yallop

General

2022-03-08T16:41:26+11:00

Tanvi Mahajan

Zeus Lara

2023-03-28T15:21:57+11:00

Through Zhu

Zeus Lara

2023-02-23T10:21:23+11:00

Thuc Linh Nguyen Phan

Zeus Lara

2023-05-30T09:39:47+11:00

Tony Calusic

Zeus Lara

2022-08-01T16:52:17+11:00

Vanessa Vella

General

2021-12-14T12:11:12+11:00

Winona Astian Thian

Zeus Lara

2023-02-23T08:34:19+11:00

Yanmin Chen

Zeus Lara

2022-03-08T16:40:11+11:00

Zach Barnetby

Zeus Lara

2022-06-24T11:08:22+11:00