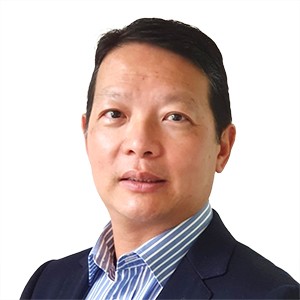 Jason Kwong
Program Manager
---
Areas Of Expertise:
Program/Project Delivery
Portfolio Management
Integrated Roadmap
Senior Stakeholder Management
Vendor Management
Team Management
---
Education:
Master of Business Administration (MBA) – Otago University
BSc. (Computer Science) – Victoria University of Wellington
---
About Jason Kwong
Jason is a senior IT leader with over 25-year experience in Banking, Financial Services, Insurance, Utilities, Consulting and Government. An experienced Program Manager in successfully delivering business transformation programs for organisations, using agile and traditional methods, to improve customer services, to streamline operations, to increase profit and to address operational risks. Jason is a strategist with solid experience in developing and managing integrated business & technology roadmap and customer journey.
---
What Jason brings
Rigorous Analytical ability, process improvement skills.
Proven ability in successfully delivering transformation programs covering both Business and Technology using agile and traditional methods.
Strategic thinker with solid experience in developing integrated roadmaps and customer journeys.
Vast experience in both internal and external stakeholder & vendor management with large corporations.
---
Key Clients:
Suncorp
Energy Australia
Australia and New Zealand Bank (ANZ)
National Australia Bank (NAB)
---
Key Achievements:
As Program Manager for Suncorp, Jason led a cross functional IT and Business team to re-imagine end-to-end customer journeys covering different products, claim types, touchpoints, systems and channels to address 150 pain points and to enhance customer experience by using digital, artificial intelligence, automation and system integration. Jason also developed delivery roadmap to realise the future state of customer journeys. The team received Suncorp Shine Award for their achievements. In addition, Jason owned and managed a customer centric program with multiple cross-functional Agile teams covering both business and technology changes to transform sales and service and claims Contact Centre operations with the use of Artificial Intelligence (Google-AI) integrated in real time with the core Contact Centre platform (Genesys) and backend systems through APIs , automating 6M customer calls per annum. Jason also delivered a program to implement a hybrid cloud Verint Call Recording system with integration to Genesys in three months by using Agile methodology and migrated 8,000 agents in Australia and New Zealand from NICE to Verint.
---
As Program Manager at Energy Australia, Jason successfully delivered the Contact Centre transformation program by leading a tribe with multiple squads to enhance customer and contact centre agents experience, to improve sales & services and to increase organisational profit – Budget $10M, Onshore and offshore end users 1,800. Jason managed business engagements and priortised 20 initiatives per year, created and led a high performing team of twelve direct reports and five major vendors. He set the contact centre technology platform direction by managing and delivering the integrated business and technology roadmap and Omni Channel Strategy to enhance customer experience and to improve sales and service. Jason managed business and technology stakeholders at executive/senior management level, successfully changing the dynamic of steering committee from tactical to strategic, exercised influencing skill to drive decision making. Built strategic and effective relationships with stakeholders and became their trusted partner, developed annual program delivery plan and sought budgetary approvals and established and executed Program governance framework.
---
As Program Manager at ANZ, Jason successfully delivered a business transformation program $10M, 30 core team members in aggressive timeframe and on budget. Jason transformed and centralised Retail Banking Teller & Payments Systems for four Asia countries (2,000 users in 16 branches) with the use of Agile practices, improving processes, enhancing customer services, enabling country-wide shared services, addressing operational risk and reducing annual IT operational cost. He built new infrastructure and uplifted in-country network capacity, revised operating model, developed business solutions and executed Organisation Change Management and chaired Program Control Group meetings with COOs and Heads of IT.
---
As Program Manager for NAB, Jason owned and managed a transformation program with multiple Agile squads to deliver a brand new strategic integrated mass payments application and infrastructure for NAB Australia. Jason laid the foundation for the New Payments Platform by implementing a new payments application (Global PayPlus), integration layer, data store and infrastructure that were integrated with 20 existing systems. The platform processed AUD multi-billion inter-bank payments in near real-time per day. Jason managed senior management stakeholders, participated and prepared presentation for the Project Advisory Board meetings and chaired governance meetings with senior management of Service Providers. Budget $30M, team size: 80.
---
As Program Manager for ANZ, Jason owned and managed a transformation program to deliver a brand new strategic real-time integrated SWIFT and high value Payments platform for ANZ Asia regional offices. The platform integrated in real-time with international SWIFT gateway, domestic Central Bank settlement systems and internal ANZ core banking system, AML system and Data Warehouse. Jason revised operating model, developed business solutions and executed Change Management for business implementation, simplified processes, addressed operational risk and developed controls to meet compliance requirements, obtained local Monetary Authority approvals for implementation and chaired Program Steering Committee meetings and managed stakeholder of COOs and IT Senior Management. He developed and owned Business Cases and realised post-implementation benefits. Budget $12M, team size: 12 direct reports.
---
As Portfolio Manager at ANZ, Jason managed the delivery of business requests across allocated business portfolio of Group functions. He shaped the priorities of requests with Business and Technology stakeholders, optimised resource allocation to meet the demand of Business and formulated portfolio delivery plan. Jason also managed the portfolio consisting of Business Intelligence, Data Analytics, Intranet, HR/Payroll, Finance applications and Risk Management applications.
---
Other Team Members
Declan Boylan

General

2020-01-15T02:30:38+11:00

Gareth James

General

2021-01-19T11:29:58+11:00

Connie McKeage

Zeus Lara

2021-03-09T10:14:51+11:00

Annette Mackay

Zeus Lara

2021-09-28T10:09:13+11:00

Rob Thomsett

General

2021-04-06T12:29:29+11:00

Aaron Simonsen

Zeus Lara

2021-10-19T10:15:23+11:00

Louise Ford

General

2020-01-15T03:08:18+11:00

Alan Madani

General

2020-07-24T03:51:19+11:00

Alex Massie

General

2020-06-19T01:51:58+11:00

Ali Pahlavan

General

2021-09-21T15:39:39+11:00

Amanda Walker

Zeus Lara

2021-09-21T15:43:38+11:00

Anders Madsen

Zeus Lara

2021-08-31T17:57:29+11:00

Andrew Cheesman

Zeus Lara

2021-03-23T12:46:37+11:00

Barbara Read

General

2021-10-12T09:11:19+11:00

Benn Salier

Zeus Lara

2021-07-06T13:45:00+11:00

Berna Akdeniz

Zeus Lara

2020-12-15T10:21:24+11:00

Bita Bagheri

General

2021-03-02T14:12:11+11:00

Cathy Baldwin

General

2021-01-19T16:55:52+11:00

Chika Nnadiekwe

Zeus Lara

2021-05-11T13:05:32+11:00

Chris Sykes

General

2020-03-05T00:14:43+11:00

David Johnson

General

2020-01-15T02:05:16+11:00

David Mansfield

Zeus Lara

2021-08-12T17:45:38+11:00

Deepak Chaturvedi

Zeus Lara

2021-08-09T12:19:33+11:00

Donalito Jr. Bales

Zeus Lara

2021-01-12T10:10:18+11:00

Edward Rudnicki

Zeus Lara

2021-09-28T10:10:11+11:00

Ericson Bagunas

General

2020-10-01T05:06:36+11:00

Fritzie Ligeralde

Zeus Lara

2021-08-17T15:41:14+11:00

Gilbert Wong

Zeus Lara

2020-12-15T04:26:15+11:00

Grace Tran

General

2021-07-06T13:11:24+11:00

Guru Swaminathan

General

2020-10-13T05:04:12+11:00

Helen Argitis

Zeus Lara

2021-10-20T11:36:27+11:00

Ian Salvador

Zeus Lara

2021-06-01T12:54:33+11:00

Jason Kwong

Zeus Lara

2021-07-13T12:23:00+11:00

Jeroen Lubbers

Zeus Lara

2021-07-21T11:23:06+11:00

Jerry Cobb

General

2020-11-06T00:49:28+11:00

Joanna Carlos

Zeus Lara

2020-09-14T00:37:15+11:00

Jochebed Diaz

General

2020-12-15T05:31:11+11:00

John Middlemist

Zeus Lara

2021-07-21T12:11:54+11:00

Jon Kralevski

Zeus Lara

2021-08-31T18:00:32+11:00

Josh Pricken

Zeus Lara

2021-02-16T14:32:44+11:00

Julia Nicole Justo

Zeus Lara

2021-09-21T15:46:54+11:00

Julie Laoit

Zeus Lara

2021-02-16T14:33:40+11:00

Katherine Whiteside

General

2020-07-02T06:55:12+11:00

Krishnaraj Arumugam

Zeus Lara

2020-06-30T04:59:15+11:00

Louie Huang

Zeus Lara

2021-07-06T13:19:27+11:00

Louigi Gardiola

Zeus Lara

2021-02-16T14:34:48+11:00

Louise White

General

2021-05-11T16:20:05+11:00

Lousiene Samonte

General

2020-04-01T03:22:19+11:00

Mark McAdam

General

2021-05-11T12:52:35+11:00

Mariam Kohani

Zeus Lara

2021-07-13T12:09:45+11:00

Michael Baylon

Zeus Lara

2021-08-25T16:48:12+11:00

Michael Bryant

General

2021-03-09T11:37:38+11:00

Mohammad Ramezani

General

2021-08-24T10:42:52+11:00

Muhammad Sauood Ur Rauf

General

2021-05-10T12:45:04+11:00

Nadja Schulze

General

2020-05-29T06:16:06+11:00

Nevil Cope

General

2020-01-14T04:11:02+11:00

Niloofar Fardanesh

General

2020-09-29T01:07:43+11:00

Parastoo Mousavi

Zeus Lara

2021-05-18T15:46:14+11:00

Paul Bernard

Zeus Lara

2021-07-05T10:56:35+11:00

Paul Kirschner

General

2021-03-09T12:49:12+11:00

Peter Boylan

General

2021-07-06T12:52:31+11:00

Peter Patrick Boylan

Zeus Lara

2021-02-16T14:22:06+11:00

Peter Philpott

General

2020-10-30T03:09:29+11:00

Puneet Nagpal

Zeus Lara

2021-10-05T12:29:57+11:00

Rahul Kaushal

Zeus Lara

2021-10-19T10:44:02+11:00

Rick Myburgh

Zeus Lara

2021-07-21T11:12:13+11:00

Rinku Razdan

General

2021-06-15T09:38:48+11:00

Robert Caminiti

General

2020-10-07T04:02:43+11:00

Robert Crossman

General

2020-01-15T04:30:20+11:00

Rohini Verma

Zeus Lara

2021-04-13T12:23:02+11:00

Roxane Montierro

Zeus Lara

2020-12-15T06:30:55+11:00

Saurabh Kundi

Zeus Lara

2021-05-11T11:54:30+11:00

Sharon Tannenbaum

Zeus Lara

2021-06-01T12:48:32+11:00

Shiraan Fernando

Zeus Lara

2021-03-09T17:04:13+11:00

Sosha Jabbary

General

2021-01-27T09:52:48+11:00

Stephen Curtis

Zeus Lara

2021-05-11T12:16:32+11:00

Steve Baxter

Zeus Lara

2021-09-28T17:12:56+11:00

Syed Hussain

Zeus Lara

2021-09-14T16:44:40+11:00

Tameka Yallop

General

2019-04-29T04:29:36+11:00

Vanessa Vella

General

2020-04-15T01:08:38+11:00

Yanmin Chen

Zeus Lara

2021-03-23T15:31:10+11:00