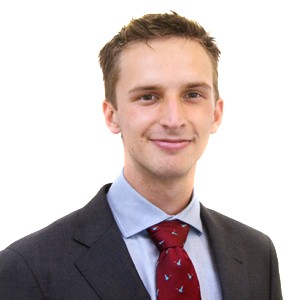 Josh Pricken
Second Year Graduate
---
Areas Of Expertise:
---
Education:
Bachelor of Project Management (Software), University of Sydney
---
About Josh Pricken
Josh Pricken has a Bachelor of Project Management majoring in Software at the University of Sydney. He is looking to utilise his Project Management skills to deliver successful projects.
---
What Josh brings
Eagerness to learn and develop.
Ability to synthesize complex information.
Strong software proficiency.
Honesty and reliability.
Ability to work collaboratively in a team environment as well as independently.
Professional communication.
---
Key Clients:
Equifax
University of Sydney
---
Key Achievements:
As Junior Project Manager at Equifax, Josh assisted in the Product Optimisation Program. He supported the designing, rolling out and maintaining a portfolio-wide scheduling and reporting solution in Smartsheets.
---
As Program Coordinator at Equifax, Josh supported the Data Center Transition program and assisted with maintaining governance standards and standing up a team to manage the data center migration of 168 Equifax applications.
---
Nominated for "One Equifax" award at Equifax in 2021 for passion about working and collaborating as one team across the business.
---
Ranked in the top 2.5% of Project Management undergraduates in 2019.
---
Project Management Capstone: Josh delivered a feasibility report of lunar colonization for the Australian Space Agency.
---
Other Team Members
Declan Boylan

General

2020-01-15T02:30:38+11:00

Gareth James

General

2021-01-19T11:29:58+11:00

Connie McKeage

Zeus Lara

2021-03-09T10:14:51+11:00

Hugh Harley

Zeus Lara

2020-04-01T04:18:49+11:00

Alisdair Brown

Zeus Lara

2021-03-23T14:24:31+11:00

Julie Laoit

Zeus Lara

2021-12-23T18:04:41+11:00

Rob Thomsett

General

2021-04-06T12:29:29+11:00

Louise Ford

General

2020-01-15T03:08:18+11:00

Aaron Simonsen

Zeus Lara

2021-10-19T10:15:23+11:00

Aileen Robes

Zeus Lara

2022-03-01T10:17:06+11:00

Alan Madani

General

2020-07-24T03:51:19+11:00

Alex Massie

General

2022-03-08T14:03:52+11:00

Alexander Rivkin

Zeus Lara

2022-02-22T15:04:22+11:00

Ali Pahlavan

General

2021-09-21T15:39:39+11:00

Amanda Walker

Zeus Lara

2021-09-21T15:43:38+11:00

Anders Madsen

Zeus Lara

2021-08-31T17:57:29+11:00

Andrew Cheesman

Zeus Lara

2021-03-23T12:46:37+11:00

Andrew Coley

Zeus Lara

2021-12-21T12:36:47+11:00

Anna Linfield-Kent

Zeus Lara

2022-03-22T16:18:24+11:00

Barbara Read

General

2021-10-12T09:11:19+11:00

Benn Salier

Zeus Lara

2021-07-06T13:45:00+11:00

Bita Bagheri

General

2021-03-02T14:12:11+11:00

Caroline Lees

Zeus Lara

2021-10-12T09:08:24+11:00

Cathy Baldwin

General

2021-01-19T16:55:52+11:00

Chelsy Kranzbuhler

Zeus Lara

2022-03-01T17:38:06+11:00

Chika Nnadiekwe

Zeus Lara

2022-01-28T08:56:40+11:00

Chris Sykes

General

2020-03-05T00:14:43+11:00

David Johnson

General

2021-12-21T16:51:17+11:00

David Mansfield

Zeus Lara

2021-08-12T17:45:38+11:00

Deanna Edwards

Zeus Lara

2021-04-07T16:38:54+11:00

Derek Oldham

Zeus Lara

2021-06-22T11:12:34+11:00

Edward Rudnicki

Zeus Lara

2021-09-28T10:10:11+11:00

Elise Kellond-Knight

Zeus Lara

2019-07-04T22:47:54+11:00

Ericson Bagunas

General

2020-10-01T05:06:36+11:00

Eugene O'Connell

Zeus Lara

2022-03-22T16:14:36+11:00

Fritzie Ligeralde

Zeus Lara

2021-08-17T15:41:14+11:00

Gennaro Abignano

Zeus Lara

2022-02-04T15:20:32+11:00

Gilbert Wong

Zeus Lara

2020-12-15T04:26:15+11:00

Guru Swaminathan

General

2020-10-13T05:04:12+11:00

Hardik Lakhani

Zeus Lara

2022-03-08T16:33:18+11:00

Hayley Weir

Zeus Lara

2022-03-01T12:16:09+11:00

Helen Argitis

Zeus Lara

2022-02-15T17:44:12+11:00

Ian Salvador

Zeus Lara

2021-06-01T12:54:33+11:00

Ian Thomson

Zeus Lara

2022-02-04T02:04:24+11:00

Igor Vieira

Zeus Lara

2022-05-11T10:15:56+11:00

Jason Kwong

Zeus Lara

2022-05-10T17:14:15+11:00

Jerry Cobb

General

2020-11-06T00:49:28+11:00

Joanna Carlos

Zeus Lara

2022-02-15T17:48:05+11:00

Jochebed Diaz

General

2020-12-15T05:31:11+11:00

Johaimah Garrido

Zeus Lara

2021-03-16T10:08:35+11:00

John Middlemist

Zeus Lara

2021-07-21T12:11:54+11:00

Jon Kralevski

Zeus Lara

2021-08-31T18:00:32+11:00

Joseph Stanley

Zeus Lara

2022-02-04T15:24:14+11:00

Josh Pricken

Zeus Lara

2022-01-25T15:52:50+11:00

Jovilyn Magtoto

Zeus Lara

2021-03-02T18:19:47+11:00

Joyce Ann Vecinal

Zeus Lara

2021-12-17T10:33:04+11:00

Julia Nicole Justo

Zeus Lara

2022-01-25T15:52:44+11:00

Katherine Whiteside

General

2022-03-01T16:01:33+11:00

Krishnaraj Arumugam

Zeus Lara

2020-06-30T04:59:15+11:00

Kunal Parikh

Zeus Lara

2022-01-25T11:49:10+11:00

Louigi Gardiola

Zeus Lara

2022-02-15T17:52:16+11:00

Louise White

General

2021-05-11T16:20:05+11:00

Lousiene Samonte

General

2020-04-01T03:22:19+11:00

Maddison Schmid

Zeus Lara

2022-05-17T17:07:32+11:00

Mark McAdam

General

2021-05-11T12:52:35+11:00

Mark Millen

Zeus Lara

2022-03-02T10:41:54+11:00

Mariam Kohani

Zeus Lara

2021-07-13T12:09:45+11:00

Marianne Dinsay

Zeus Lara

2022-02-04T15:34:24+11:00

Matthew Knight

Zeus Lara

2022-02-04T15:38:52+11:00

Michael Baylon

Zeus Lara

2021-08-25T16:48:12+11:00

Michael Bryant

General

2022-03-15T16:26:44+11:00

Michael Stark

Zeus Lara

2021-06-08T10:58:59+11:00

Mike Stockley

Zeus Lara

2020-01-22T04:45:51+11:00

Mohammad Ramezani

General

2022-05-02T14:41:28+11:00

Muhammad Sauood Ur Rauf

General

2022-05-05T09:16:00+11:00

Nevil Cope

General

2020-01-14T04:11:02+11:00

Nicole Hatten

Zeus Lara

2022-03-22T16:18:26+11:00

Niloofar Fardanesh

General

2022-05-05T11:05:15+11:00

Oliver Stevenson

Zeus Lara

2022-05-17T17:36:32+11:00

Parastoo Mousavi

Zeus Lara

2022-05-10T17:01:14+11:00

Paul Bernard

Zeus Lara

2022-02-04T02:19:40+11:00

Paul Kirschner

General

2022-02-04T02:26:06+11:00

Peter Boylan

General

2021-07-06T12:52:31+11:00

Peter Philpott

General

2020-10-30T03:09:29+11:00

Puneet Nagpal

Zeus Lara

2022-04-05T13:03:25+11:00

Rahul Kaushal

Zeus Lara

2022-04-05T13:17:26+11:00

Rick Myburgh

Zeus Lara

2022-04-19T12:23:07+11:00

Rinku Razdan

General

2021-06-15T09:38:48+11:00

Robert Caminiti

General

2020-10-07T04:02:43+11:00

Robert Crossman

General

2022-03-08T14:18:21+11:00

Rohini Verma

Zeus Lara

2021-04-13T12:23:02+11:00

Roxane Montierro

Zeus Lara

2020-12-15T06:30:55+11:00

Sanjay Narayan

Zeus Lara

2022-02-04T02:35:09+11:00

Saurabh Kundi

Zeus Lara

2021-05-11T11:54:30+11:00

Sharon Tannenbaum

Zeus Lara

2021-06-01T12:48:32+11:00

Sheryll Nones

Zeus Lara

2021-12-23T18:09:26+11:00

Shiraan Fernando

Zeus Lara

2022-05-10T16:56:16+11:00

Sosha Jabbary

General

2022-02-22T14:47:15+11:00

Sreekanth Badam

Zeus Lara

2021-04-27T17:36:06+11:00

Stephen Curtis

Zeus Lara

2021-05-11T12:16:32+11:00

Syed Hussain

Zeus Lara

2022-02-04T16:04:13+11:00

Tameka Yallop

General

2022-03-08T16:41:26+11:00

Thuc Linh Nguyen Phan

Zeus Lara

2022-02-04T15:44:13+11:00

Vanessa Vella

General

2021-12-14T12:11:12+11:00

Winona Astian Thian

Zeus Lara

2021-05-11T10:29:59+11:00

Yanmin Chen

Zeus Lara

2022-03-08T16:40:11+11:00

Zach Barnetby

Zeus Lara

2022-05-11T10:58:34+11:00