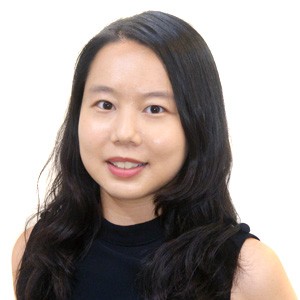 Katie Yang
Graduate
---
Areas Of Expertise:
Project Management
Strategy Consulting
Human Resources
---
Education:
Master of Commerce, Strategy Innovation and Entrepreneurship / Human Resources; University of Sydney
Bachelor of Global Business; The Chinese Culture University
Certified SAFe® 5 Agilist
---
About Katie Yang
Katie Yang has a Master of Commerce with a major in Strategy Innovation and Entrepreneurship and Human Resources. She is looking to utilise her existing knowledge of Project Management and apply it in relevant fields.
---
What Katie brings
Skills and experience in business model development, ERP/CRM Systems, market research and data analysis.
Effective planning and prioritisation skills.
Demonstrated experience in Project Management and Strategy Consulting.
Exceptional communication and collaboration skills.
Ability to think analytically and independently.
---
Key Clients:
InvoCare
Comuniteer
BackTrack
Transport for NSW
---
Key Achievements:
As Graduate at InvoCare, Katie utilised her PMO skills in data analysis, User Acceptance Testing (UAT), updating project financials and formatting project timelines.
---
As Consultant and Business Analyst at Comuniteer, Katie conducted consultations with clients to understand their business challenges, current market position, and technologies. She defined and prioritised strategic challenges and developed solutions for the challenges. Katie coordinated a team of 8 to develop a scalable consultation model to scale up the company's consultation capacity. She also provided advice to improve the company's market position and business processes based on data insights.
---
As Business Consultant and Project Lead at BackTrack, Katie reviewed BackTrack's business model, processes and discovered potential business opportunities. She worked directly with the company's senior management to design a business information system and a change management plan (HR plan) to support the business expansion in a customer-centric manner. Katie developed a scalable model with a detailed roadmap for the company to build a collaborative network that tackles youth unemployment in Australia, which will benefit approximately 2000 unemployed youth.
---
As Project Lead for Transport for NSW, Katie developed an ERP system to improve bus operation efficiency and redesigned the client's business process to improve operational capacity, efficiency and effectiveness. She designed a human-centric fleet management and customer relationship management ERP which creates benefits for existing employees and more than 5000 local citizens and other key stakeholders.
---
Other Team Members
Declan Boylan

General

2020-01-15T02:30:38+11:00

Gareth James

General

2021-01-19T11:29:58+11:00

Connie McKeage

Zeus Lara

2021-03-09T10:14:51+11:00

Annette Mackay

Zeus Lara

2021-09-28T10:09:13+11:00

Rob Thomsett

General

2021-04-06T12:29:29+11:00

Aaron Simonsen

Zeus Lara

2021-10-19T10:15:23+11:00

Louise Ford

General

2020-01-15T03:08:18+11:00

Alan Madani

General

2020-07-24T03:51:19+11:00

Alex Massie

General

2020-06-19T01:51:58+11:00

Ali Pahlavan

General

2021-09-21T15:39:39+11:00

Amanda Walker

Zeus Lara

2021-09-21T15:43:38+11:00

Anders Madsen

Zeus Lara

2021-08-31T17:57:29+11:00

Andrew Cheesman

Zeus Lara

2021-03-23T12:46:37+11:00

Barbara Read

General

2021-10-12T09:11:19+11:00

Benn Salier

Zeus Lara

2021-07-06T13:45:00+11:00

Berna Akdeniz

Zeus Lara

2020-12-15T10:21:24+11:00

Bita Bagheri

General

2021-03-02T14:12:11+11:00

Cathy Baldwin

General

2021-01-19T16:55:52+11:00

Chika Nnadiekwe

Zeus Lara

2021-05-11T13:05:32+11:00

Chris Sykes

General

2020-03-05T00:14:43+11:00

David Johnson

General

2020-01-15T02:05:16+11:00

David Mansfield

Zeus Lara

2021-08-12T17:45:38+11:00

Deepak Chaturvedi

Zeus Lara

2021-08-09T12:19:33+11:00

Donalito Jr. Bales

Zeus Lara

2021-01-12T10:10:18+11:00

Edward Rudnicki

Zeus Lara

2021-09-28T10:10:11+11:00

Ericson Bagunas

General

2020-10-01T05:06:36+11:00

Fritzie Ligeralde

Zeus Lara

2021-08-17T15:41:14+11:00

Gilbert Wong

Zeus Lara

2020-12-15T04:26:15+11:00

Grace Tran

General

2021-07-06T13:11:24+11:00

Guru Swaminathan

General

2020-10-13T05:04:12+11:00

Helen Argitis

Zeus Lara

2021-10-20T11:36:27+11:00

Ian Salvador

Zeus Lara

2021-06-01T12:54:33+11:00

Jason Kwong

Zeus Lara

2021-07-13T12:23:00+11:00

Jeroen Lubbers

Zeus Lara

2021-07-21T11:23:06+11:00

Jerry Cobb

General

2020-11-06T00:49:28+11:00

Joanna Carlos

Zeus Lara

2020-09-14T00:37:15+11:00

Jochebed Diaz

General

2020-12-15T05:31:11+11:00

John Middlemist

Zeus Lara

2021-07-21T12:11:54+11:00

Jon Kralevski

Zeus Lara

2021-08-31T18:00:32+11:00

Josh Pricken

Zeus Lara

2021-02-16T14:32:44+11:00

Julia Nicole Justo

Zeus Lara

2021-09-21T15:46:54+11:00

Julie Laoit

Zeus Lara

2021-02-16T14:33:40+11:00

Katherine Whiteside

General

2020-07-02T06:55:12+11:00

Krishnaraj Arumugam

Zeus Lara

2020-06-30T04:59:15+11:00

Louie Huang

Zeus Lara

2021-07-06T13:19:27+11:00

Louigi Gardiola

Zeus Lara

2021-02-16T14:34:48+11:00

Louise White

General

2021-05-11T16:20:05+11:00

Lousiene Samonte

General

2020-04-01T03:22:19+11:00

Mark McAdam

General

2021-05-11T12:52:35+11:00

Mariam Kohani

Zeus Lara

2021-07-13T12:09:45+11:00

Michael Baylon

Zeus Lara

2021-08-25T16:48:12+11:00

Michael Bryant

General

2021-03-09T11:37:38+11:00

Mohammad Ramezani

General

2021-08-24T10:42:52+11:00

Muhammad Sauood Ur Rauf

General

2021-05-10T12:45:04+11:00

Nadja Schulze

General

2020-05-29T06:16:06+11:00

Nevil Cope

General

2020-01-14T04:11:02+11:00

Niloofar Fardanesh

General

2020-09-29T01:07:43+11:00

Parastoo Mousavi

Zeus Lara

2021-05-18T15:46:14+11:00

Paul Bernard

Zeus Lara

2021-07-05T10:56:35+11:00

Paul Kirschner

General

2021-03-09T12:49:12+11:00

Peter Boylan

General

2021-07-06T12:52:31+11:00

Peter Patrick Boylan

Zeus Lara

2021-02-16T14:22:06+11:00

Peter Philpott

General

2020-10-30T03:09:29+11:00

Puneet Nagpal

Zeus Lara

2021-10-05T12:29:57+11:00

Rahul Kaushal

Zeus Lara

2021-10-19T10:44:02+11:00

Rick Myburgh

Zeus Lara

2021-07-21T11:12:13+11:00

Rinku Razdan

General

2021-06-15T09:38:48+11:00

Robert Caminiti

General

2020-10-07T04:02:43+11:00

Robert Crossman

General

2020-01-15T04:30:20+11:00

Rohini Verma

Zeus Lara

2021-04-13T12:23:02+11:00

Roxane Montierro

Zeus Lara

2020-12-15T06:30:55+11:00

Saurabh Kundi

Zeus Lara

2021-05-11T11:54:30+11:00

Sharon Tannenbaum

Zeus Lara

2021-06-01T12:48:32+11:00

Shiraan Fernando

Zeus Lara

2021-03-09T17:04:13+11:00

Sosha Jabbary

General

2021-01-27T09:52:48+11:00

Stephen Curtis

Zeus Lara

2021-05-11T12:16:32+11:00

Steve Baxter

Zeus Lara

2021-09-28T17:12:56+11:00

Syed Hussain

Zeus Lara

2021-09-14T16:44:40+11:00

Tameka Yallop

General

2019-04-29T04:29:36+11:00

Vanessa Vella

General

2020-04-15T01:08:38+11:00

Yanmin Chen

Zeus Lara

2021-03-23T15:31:10+11:00