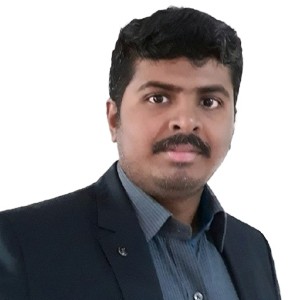 Krishnaraj Arumugam
Senior Project Manager
---
Areas Of Expertise:
Stakeholder management
Agile coaching
Project management
Resource planning and allocation
Business intelligence and reporting
Risk management
Schedule management
Strategic planning
Vendor management
Cloud migration
---
Education:
Master of Business Administration; Executive MBA
Bachelor of Engineering; Computer Science and Engineering
Project Management Institute; Certified Professional
Certified ScrumMaster
ITIL Foundation Certified
Microsoft Certified Systems Administrator
Certified Systems Engineer
---
About Krishnaraj
Krishnaraj is an experienced Senior Project Manager with over 15 years of Information Technology experience in driving enterprise-wide project management and process improvement initiatives. Bringing highly credible technical leadership to direct multi-functional project teams engaged in full system development and implementation in high tech environments. Krishnaraj is experienced in overseeing diverse teams engaged in complex projects in finance, media and telecommunication industry and has a solid understanding of agile and project management tools.
---
What Krishnaraj brings
An understanding of Traditional and Agile development methods.
Strong influencing skills and the ability to drive organisational change.
Highly experienced in project governance, frameworks, principals, tools and end to end financial reporting & analysis, risk and issue management.
Proven ability to manage stakeholder expectations and consulting with senior management on strategically important projects.
---
Key Clients:
Vodafone
Sony
Thompson Reuters
SAP
Microsoft
---
Key Achievements:
As Senior Project Manager on the fixed broadband initiative for Vodafone, Krishnaraj worked with NBN to get the networks, billing information loaded into Data warehouse as well as managing all IT applications changes. This project included applications like Siebel CRM, Teradata, SAS and other Business Intelligence applications and was successfully delivered to spawn a new line of business for fixed broadband.
---
As Senior Project Manager on the Real-time rewards project with Vodafone, Krishnaraj managed a project to streamline activation, sales and shipment data sources in a singular area without any lag in the data warehouse to create and fulfil offers in real-time. Reusable campaign structure across both the Telco company and external CLMS vendors to increase the offers throughput across all channels and speed to market. Krishnaraj and his team were able to identify the sim as soon as it was shipped, based on the location it was being sold from and target appropriate campaign offers.
---
As Senior Project Manager, Krishnaraj worked on the Genesys Project for Vodafone, a collaboration between, Vodafone, and Genesys to ensure all Call Centre related interfaces on-prem were transferred to the cloud. Managing a team of 11, this agile project was delivered successfully with monthly releases.
---
As a Senior Project Manager at Vodafone, Krishnaraj managed a project that automated the sourcing of data from different sources-Siebel (Customer Information), Oracle BRM (Billing & Revenue Management) and Tallyman (Collections data) and reconciles data to automatically send the summary, details of mismatches for reducing the TIO complaints and churn rate.
---
As Senior Project Manager at Sony Pictures Entertainment, Krishnaraj managed a project from an offshore location involving an upgrade installation of SAP BusinessObjects 4.1 with the migration of 2000+ users and 10,000+ reports from an older version in a short span of 8 weeks. Krishnaraj devised and executed a Go-live plan with user training and BAU handover to the operations team resulting in license and maintenance cost savings. This project included capacity planning for the upgraded landscape, BI software installation & configuration, migration of users, contents, and production cutover activities.
---
As Senior Datawarehouse Administrator at Thomson Reuters, Krishnaraj managed all Business Intelligence Datawarehouse related projects for various Thomson Reuters business units (Sales, Finance and Marketing) and spearheaded installation and configuration of SAP BusinessObjects server applications in development, quality control, staging and production environments. Krishnaraj successfully delivered an upgrade installation of SAP BusinessObjects removing the issues related to running on a legacy version (BO5) as a SPOC, designed and implemented a Disaster Recovery system with high availability and designed and implemented a consolidated instance of SAP BusinessObjects that involved sizing, installation and configuration of version SAP BI 4.1 system.
---
Other Team Members
Declan Boylan

General

2020-01-15T02:30:38+11:00

Gareth James

General

2021-01-19T11:29:58+11:00

Connie McKeage

Zeus Lara

2021-03-09T10:14:51+11:00

Hugh Harley

Zeus Lara

2020-04-01T04:18:49+11:00

Alisdair Brown

Zeus Lara

2021-03-23T14:24:31+11:00

Julie Laoit

Zeus Lara

2021-12-23T18:04:41+11:00

Rob Thomsett

General

2021-04-06T12:29:29+11:00

Louise Ford

General

2020-01-15T03:08:18+11:00

Aaron Simonsen

Zeus Lara

2021-10-19T10:15:23+11:00

Aileen Robes

Zeus Lara

2022-03-01T10:17:06+11:00

Alan Madani

General

2020-07-24T03:51:19+11:00

Alex Massie

General

2022-03-08T14:03:52+11:00

Alexander Rivkin

Zeus Lara

2022-02-22T15:04:22+11:00

Ali Pahlavan

General

2021-09-21T15:39:39+11:00

Amanda Walker

Zeus Lara

2021-09-21T15:43:38+11:00

Anders Madsen

Zeus Lara

2021-08-31T17:57:29+11:00

Andrew Cheesman

Zeus Lara

2021-03-23T12:46:37+11:00

Andrew Coley

Zeus Lara

2021-12-21T12:36:47+11:00

Anna Linfield-Kent

Zeus Lara

2022-03-22T16:18:24+11:00

Barbara Read

General

2021-10-12T09:11:19+11:00

Benn Salier

Zeus Lara

2021-07-06T13:45:00+11:00

Bita Bagheri

General

2021-03-02T14:12:11+11:00

Caroline Lees

Zeus Lara

2021-10-12T09:08:24+11:00

Cathy Baldwin

General

2021-01-19T16:55:52+11:00

Chelsy Kranzbuhler

Zeus Lara

2022-03-01T17:38:06+11:00

Chika Nnadiekwe

Zeus Lara

2022-01-28T08:56:40+11:00

Chris Sykes

General

2020-03-05T00:14:43+11:00

David Johnson

General

2021-12-21T16:51:17+11:00

David Mansfield

Zeus Lara

2021-08-12T17:45:38+11:00

Deanna Edwards

Zeus Lara

2021-04-07T16:38:54+11:00

Derek Oldham

Zeus Lara

2021-06-22T11:12:34+11:00

Edward Rudnicki

Zeus Lara

2021-09-28T10:10:11+11:00

Elise Kellond-Knight

Zeus Lara

2019-07-04T22:47:54+11:00

Ericson Bagunas

General

2020-10-01T05:06:36+11:00

Eugene O'Connell

Zeus Lara

2022-03-22T16:14:36+11:00

Fritzie Ligeralde

Zeus Lara

2021-08-17T15:41:14+11:00

Gennaro Abignano

Zeus Lara

2022-02-04T15:20:32+11:00

Gilbert Wong

Zeus Lara

2020-12-15T04:26:15+11:00

Guru Swaminathan

General

2020-10-13T05:04:12+11:00

Hardik Lakhani

Zeus Lara

2022-03-08T16:33:18+11:00

Hayley Weir

Zeus Lara

2022-03-01T12:16:09+11:00

Helen Argitis

Zeus Lara

2022-02-15T17:44:12+11:00

Ian Salvador

Zeus Lara

2021-06-01T12:54:33+11:00

Ian Thomson

Zeus Lara

2022-02-04T02:04:24+11:00

Igor Vieira

Zeus Lara

2022-05-11T10:15:56+11:00

Jason Kwong

Zeus Lara

2022-05-10T17:14:15+11:00

Jerry Cobb

General

2020-11-06T00:49:28+11:00

Joanna Carlos

Zeus Lara

2022-02-15T17:48:05+11:00

Jochebed Diaz

General

2020-12-15T05:31:11+11:00

Johaimah Garrido

Zeus Lara

2021-03-16T10:08:35+11:00

John Middlemist

Zeus Lara

2021-07-21T12:11:54+11:00

Jon Kralevski

Zeus Lara

2021-08-31T18:00:32+11:00

Joseph Stanley

Zeus Lara

2022-02-04T15:24:14+11:00

Josh Pricken

Zeus Lara

2022-01-25T15:52:50+11:00

Jovilyn Magtoto

Zeus Lara

2021-03-02T18:19:47+11:00

Joyce Ann Vecinal

Zeus Lara

2021-12-17T10:33:04+11:00

Julia Nicole Justo

Zeus Lara

2022-01-25T15:52:44+11:00

Katherine Whiteside

General

2022-03-01T16:01:33+11:00

Krishnaraj Arumugam

Zeus Lara

2020-06-30T04:59:15+11:00

Kunal Parikh

Zeus Lara

2022-01-25T11:49:10+11:00

Louigi Gardiola

Zeus Lara

2022-02-15T17:52:16+11:00

Louise White

General

2021-05-11T16:20:05+11:00

Lousiene Samonte

General

2020-04-01T03:22:19+11:00

Maddison Schmid

Zeus Lara

2022-05-17T17:07:32+11:00

Mark McAdam

General

2021-05-11T12:52:35+11:00

Mark Millen

Zeus Lara

2022-03-02T10:41:54+11:00

Mariam Kohani

Zeus Lara

2021-07-13T12:09:45+11:00

Marianne Dinsay

Zeus Lara

2022-02-04T15:34:24+11:00

Matthew Knight

Zeus Lara

2022-02-04T15:38:52+11:00

Michael Baylon

Zeus Lara

2021-08-25T16:48:12+11:00

Michael Bryant

General

2022-03-15T16:26:44+11:00

Michael Stark

Zeus Lara

2021-06-08T10:58:59+11:00

Mike Stockley

Zeus Lara

2020-01-22T04:45:51+11:00

Mohammad Ramezani

General

2022-05-02T14:41:28+11:00

Muhammad Sauood Ur Rauf

General

2022-05-05T09:16:00+11:00

Nevil Cope

General

2020-01-14T04:11:02+11:00

Nicole Hatten

Zeus Lara

2022-03-22T16:18:26+11:00

Niloofar Fardanesh

General

2022-05-05T11:05:15+11:00

Oliver Stevenson

Zeus Lara

2022-05-17T17:36:32+11:00

Parastoo Mousavi

Zeus Lara

2022-05-10T17:01:14+11:00

Paul Bernard

Zeus Lara

2022-02-04T02:19:40+11:00

Paul Kirschner

General

2022-02-04T02:26:06+11:00

Peter Boylan

General

2021-07-06T12:52:31+11:00

Peter Philpott

General

2020-10-30T03:09:29+11:00

Puneet Nagpal

Zeus Lara

2022-04-05T13:03:25+11:00

Rahul Kaushal

Zeus Lara

2022-04-05T13:17:26+11:00

Rick Myburgh

Zeus Lara

2022-04-19T12:23:07+11:00

Rinku Razdan

General

2021-06-15T09:38:48+11:00

Robert Caminiti

General

2020-10-07T04:02:43+11:00

Robert Crossman

General

2022-03-08T14:18:21+11:00

Rohini Verma

Zeus Lara

2021-04-13T12:23:02+11:00

Roxane Montierro

Zeus Lara

2020-12-15T06:30:55+11:00

Sanjay Narayan

Zeus Lara

2022-02-04T02:35:09+11:00

Saurabh Kundi

Zeus Lara

2021-05-11T11:54:30+11:00

Sharon Tannenbaum

Zeus Lara

2021-06-01T12:48:32+11:00

Sheryll Nones

Zeus Lara

2021-12-23T18:09:26+11:00

Shiraan Fernando

Zeus Lara

2022-05-10T16:56:16+11:00

Sosha Jabbary

General

2022-02-22T14:47:15+11:00

Sreekanth Badam

Zeus Lara

2021-04-27T17:36:06+11:00

Stephen Curtis

Zeus Lara

2021-05-11T12:16:32+11:00

Syed Hussain

Zeus Lara

2022-02-04T16:04:13+11:00

Tameka Yallop

General

2022-03-08T16:41:26+11:00

Thuc Linh Nguyen Phan

Zeus Lara

2022-02-04T15:44:13+11:00

Vanessa Vella

General

2021-12-14T12:11:12+11:00

Winona Astian Thian

Zeus Lara

2021-05-11T10:29:59+11:00

Yanmin Chen

Zeus Lara

2022-03-08T16:40:11+11:00

Zach Barnetby

Zeus Lara

2022-05-11T10:58:34+11:00