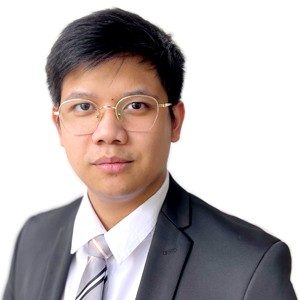 Louigi Gardiola
PMO Consultant
---
Areas Of Expertise:
---
Education:
Bachelor of Science in Business Management, De La Salle University
---
About Louigi Gardiola
Louigi is a highly motivated and resourceful PMO Consultant who is a strong communicator with excellent interpersonal skills. Louigi has a Bachelor of Science in Business Management from De La Salle University. He enjoys applying his knowledge in Project Management to contribute to the success of projects.
---
What Louigi brings
Ability to work collaboratively in a team environment as well as independently.
Strong time management skills with an ability to deliver quality work within tight deadlines.
Effective planning and prioritisation skills.
Good understanding of project reporting and governance
---
Key Clients:
Macquarie Bank
RACT
CSR Limited
Shopee Philippines Inc.
Calaboo Dairy Co.
---
Key Achievements:
As PMO Consultant in Macquarie Bank, Louigi was part of Capital End-to-End & Liquidity Future State Design's PMO Team where he provided all round support to the PMO team. Louigi was responsible for the status reporting process as well as data validation for risks & issues and resource tracking using PMO365 PPM tool. Louigi provided documentation management support as well as minute taking of meetings with key stakeholders. He assisted in the preparation of the Program's Steering Committee packs including producing high level schedule timeline.
---
As PMO Support in RACT, Louigi was part of the PMO Team. He was in charge of providing support to the PMO Team in their PMO Uplift engagement. Louigi was tasked with creating a Roadmap of Initiatives which provided a high-level view of RACT's next steps in their PMO uplift. Louigi was tasked with analysing and reviewing the proposed initiatives and created charts and diagrams to best visualize and present the recommended initiatives by Ease of Implementation and Impact of Change in the organization. He also provided support in administrative responsibilities such as minute taking for valuable Meetings and Workshops with key stakeholders of RACT. Together with the PMO Team, they were responsible with providing a report of findings and recommendations that would bring value to the PMO uplift of RACT.
---
As PMO Support at CSR Limited, Louigi was part of the Transformation Portfolio PMO Team. He was in charge of conducting the health checks for the Project Teams Sites of the portfolio, this resulted in more consistent and accurate project data across multiple sources. He created the Tools Matrix to assess and resolve project data duplication across the entire portfolio. Louigi also provided Finance support by handling the Invoice & Payment Management process of the Transformation, Technology, and Digital team. This included Purchase Orders, Goods Receipts, and Vendor Invoice Management. He also supported the Resource Management of Transformation, ensuring that the software is being used as intended and ensuring data accuracy and completeness. Louigi also created the PMO Services Site which provided stakeholders with complete access and information of the services that the PMO team provides for Transformation.
---
As Learning and Development Intern at Shopee Philippines Inc., Louigi created an automated tracker system for the team's data management which greatly reduced slack time. He also introduced process optimization techniques that increased team efficiency and managed the team's training essentials through logistics preparation and data tracking.
---
As Project Management Intern at Calaboo Dairy co., Louigi created a project management manual that served as the company's guide for volunteers. He also created and executed a training module to instill the necessary information and tools for a reliable, interactive, and sustainable dairy business.
---
As the Project Head for Sinag: Battle for the Spotlight, Louigi conceptualised and executed an entire fund-raising concert for a local beneficiary. He led the organising team in procuring and communicating with different suppliers such as food concessionaires, musical bands, judges, venues, and technical equipment needed. Through the use of his automated trackers, he was able to streamline the process flow of his organising team very efficiently. From dynamic supplier databases, to automated program flows, 3D visual layouts, and a great organizing team, these were the factors that led to the success of Louigi's project.
---
As Team Leader for Logistics and Technicals at the 11th Business Management Students' Convention, Louigi created a 3D booth design and layout to effectively visualize and prepare the booths. He directly operated the technical booths using multiple software and had real-time adjustments to the program flow. Louigi also directed all the manpower of the event to strategic locations and effectively handled the event venue.
---
Other Team Members
Declan Boylan

General

2020-01-15T02:30:38+11:00

Gareth James

General

2021-01-19T11:29:58+11:00

Connie McKeage

Julius

2021-03-09T10:14:51+11:00

Michael Blomfield

Julius

2023-02-14T10:26:26+11:00

Temre Green

Julius

2022-11-23T10:52:41+11:00

Mike Stockley

Julius

2022-08-30T12:56:19+11:00

Julie Laoit

Julius

2022-07-19T09:10:59+11:00

Rob Thomsett

General

2023-01-31T17:26:36+11:00

Louise Ford

General

2020-01-15T03:08:18+11:00

Aaron Simonsen

Julius

2023-11-13T23:52:10+11:00

Alan Alehashemi

Julius

2022-07-19T09:07:40+11:00

Alex Jahan

Julius

2023-11-14T12:14:04+11:00

Alex Massie

General

2023-11-14T12:25:43+11:00

Alexander Rivkin

Julius

2023-11-14T00:06:50+11:00

Alexandra Marie Tan

Julius

2023-07-20T17:43:15+11:00

Ali Pahlavan

General

2023-11-14T00:19:34+11:00

Alisdair Brown

Julius

2022-08-30T09:51:38+11:00

Amanda Walker

Julius

2023-11-14T12:09:46+11:00

Andrew Cheesman

Julius

2022-08-09T12:17:42+11:00

Anna Linfield-Kent

Julius

2023-11-14T11:45:20+11:00

Andrew Marshall

Julius

2023-08-29T14:02:36+11:00

Audrey Teh

Julius

2023-11-14T01:03:53+11:00

Barbara Read

General

2023-11-13T23:44:22+11:00

Bhavna Gupta

Julius

2023-11-30T01:43:24+11:00

Benn Salier

Julius

2023-10-17T17:16:47+11:00

Bita Bagheri

General

2023-08-02T22:15:49+11:00

Blake Dahlen

Julius

2023-07-20T13:58:11+11:00

Caroline Lees

Julius

2023-11-14T01:15:13+11:00

Cathy Baldwin

General

2021-01-19T16:55:52+11:00

Chris Sykes

General

2022-05-26T12:50:02+11:00

Callum Barker

Julius

2023-09-15T10:54:00+11:00

Dave Rider

Julius

2023-11-14T11:28:26+11:00

David Johnson

General

2023-06-13T11:44:41+11:00

Deanna Edwards

Julius

2023-03-28T15:46:04+11:00

Derek Oldham

Julius

2023-11-14T01:43:07+11:00

Elise Kellond-Knight

Julius

2019-07-04T22:47:54+11:00

Eliza Johnson

Julius

2023-11-14T01:52:47+11:00

Ellen Misador

Julius

2023-11-14T11:16:10+11:00

Eugene O'Connell

Julius

2023-11-14T11:03:19+11:00

Fritzie Ligeralde

Julius

2023-10-27T12:23:57+11:00

Gilbert Wong

Julius

2023-09-28T10:05:22+11:00

Guru Swaminathan

General

2023-05-26T16:16:29+11:00

Hardik Lakhani

Julius

2023-11-14T10:59:45+11:00

Hayley Weir

Julius

2023-08-29T14:56:54+11:00

Helen Argitis

Julius

2023-11-14T10:56:19+11:00

Inggrid Yapari

Julius

2023-09-05T14:17:37+11:00

Ian Salvador

Julius

2023-11-14T02:22:20+11:00

Jerry Cobb

General

2022-06-28T15:49:32+11:00

Joanna Carlos

Julius

2022-02-15T17:48:05+11:00

Jochebed Diaz

General

2023-07-27T15:46:01+11:00

Johaimah Garrido

Julius

2021-03-16T10:08:35+11:00

John Middlemist

Julius

2023-11-14T02:36:08+11:00

Jovilyn Magtoto

Julius

2022-08-02T13:27:08+11:00

Julia Nicole Justo

Julius

2023-11-14T10:49:49+11:00

Julius Labalan

Julius

2023-10-05T10:04:21+11:00

Katherine Whiteside

General

2023-11-14T10:44:56+11:00

Kunal Parikh

Julius

2022-01-25T11:49:10+11:00

Lauren Grouse

Julius

2023-11-14T10:37:06+11:00

Louigi Gardiola

Julius

2023-02-23T08:31:20+11:00

Maddison Schmid

Julius

2023-11-14T10:31:00+11:00

Mariam Kohani

Julius

2022-07-19T09:57:04+11:00

Marian Joyce Makalintal

Julius

2023-06-21T10:48:28+11:00

Marianne Dinsay

Julius

2023-11-14T10:27:12+11:00

Mark McAdam

General

2023-05-03T12:09:06+11:00

Mark Millen

Julius

2022-08-30T12:47:06+11:00

Matthew Knight

Julius

2023-11-14T10:24:09+11:00

Melody Framp

Julius

2023-11-14T10:20:38+11:00

Melody Tuazon

Julius

2023-05-09T15:59:40+11:00

Michael Bryant

General

2023-11-13T17:56:32+11:00

Mohammad Ramezani

General

2022-07-13T16:18:36+11:00

Nadja Schulze

Julius

2023-07-13T13:05:06+11:00

Nevil Cope

General

2022-08-30T14:24:26+11:00

Niall Burke

Julius

2023-11-13T17:36:58+11:00

Nick Rodwell

Julius

2023-11-13T17:46:28+11:00

Nicole Hatten

Julius

2023-11-13T17:33:35+11:00

Ninia Ortile

Julius

2022-10-11T14:26:40+11:00

Pablo Andres Cordova Baya

Julius

2023-06-21T10:48:54+11:00

Parastoo Mousavi

Julius

2023-11-13T17:25:28+11:00

Paul Kirschner

General

2022-02-04T02:26:06+11:00

Peter Boylan

General

2023-03-14T16:22:42+11:00

Peter Philpott

General

2022-11-08T10:05:47+11:00

Rachel Low

Julius

2023-09-18T12:34:26+11:00

Rajiv Boddupalli

Julius

2023-11-13T16:14:32+11:00

Robert Crossman

General

2022-03-08T14:18:21+11:00

Rohini Verma

Julius

2023-11-30T02:00:48+11:00

Rohit Satija

Julius

2023-11-13T15:37:09+11:00

Roxane Montierro

Julius

2020-12-15T06:30:55+11:00

Sanjay Narayan

Julius

2023-02-14T11:09:04+11:00

Saurabh Kundi

Julius

2023-11-13T15:08:30+11:00

Shiraan Fernando

Julius

2023-03-14T15:07:49+11:00

Shruthi Srinivas

Julius

2023-08-25T12:02:31+11:00

Sreekanth Badam

Julius

2023-11-30T03:24:02+11:00

Stephen Curtis

Julius

2023-11-13T13:01:36+11:00

Simon Chrétien

Julius

2023-09-15T11:40:55+11:00

Tameka Yallop

General

2023-08-29T16:34:12+11:00

Tanvi Mahajan

Julius

2023-11-13T12:45:18+11:00

Thuc Linh Nguyen Phan

Julius

2023-11-13T12:39:10+11:00

Tony Calusic

Julius

2023-11-13T12:21:56+11:00

Vanessa Vella

General

2023-11-30T02:22:53+11:00

Vergil De Leon

Julius

2023-09-11T10:53:30+11:00

Winona Astian Thian

Julius

2023-02-23T08:34:19+11:00

Yanmin Chen

Julius

2023-10-03T19:22:20+11:00

Zach Barnetby

Julius

2023-11-13T10:30:25+11:00