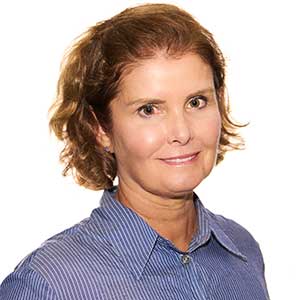 Louise White
PMO Director
---
Areas Of Expertise
Large-scale PMO set-up & Operation
Program Financial Management, Process Re-Engineering
Governance
PMO capability/ Project Delivery
---
Education
Bachelor of Economics – University of Queensland
Graduate Diploma in Computing Studies – University of Canberra
---
About Louise White
Louise is a skilled PMO Director joining Seven Consulting's Sydney Practice in 2009. She consistently applies her experience of diverse business and technical environments gained over the course of 20+ years in a variety of technical and management roles, in the delivery of programs and establishment of Project Management Office (PMO) servicing large-scale programs.
Louise has an excellent track record of producing high quality work and responding quickly and flexibly to satisfy a wide variety of stakeholders from "C" level executives through to junior project managers and analysts.
She has an ability to develop and apply the appropriate governance for an organization to facilitate oversight, transparency and consistency in a sustainable and non-disruptive manner.
---
What Louise brings
Leads by example to establish collaborative, efficient and motivated teams to deliver desired outcomes, and nurtures and coaches less experienced team members.
Able to work closely with all stakeholders to provide an accurate, truthful and well-presented reflection of progress, and proposed solutions.
Governance, project controls and process development and streamlining of existing methods to improve productivity and quality.
Development of metrics, reporting and presentations with a particular flair for quality communication and visual representation of data and information.
A thirst to enhance and streamline what she does.
---
Key Clients
Macquarie Bank
Commonwealth Bank of Australia
BPAY
BT Investment Management
Endeavour Energy
Oil Search
Transport for NSW
NSW Department of Finance, Services and Innovation
a2 Milk Company
Westpac
QBE
MLC
NSW Department of Education
ABC
First Data Australia
Qantas
Verizon Wireless USA
---
Key Achievements
As PMO Director at Macquarie Bank, Louise established a large scale PMO to support Macquarie's $150m GL replacement project mid-project (and remotely) in what was a complex, exacting and fast-moving delivery environment. Louise was able to successfully integrate with the Macquarie and Supplier teams and implement project management controls and governance that was previously lacking.
---
As PMO Director at Endeavour Energy, Louise established and operated the PMO for a 2 year $180m+ S4/HANA SAP roll-out in Australia. This large program required a full-service PMO team of 7 people operating in a multi-vendor, complex environment with delivery teams onshore and offshore to ensure there were adequate program controls, tight financial and schedule management, quality reporting and transparency while ensuring processes were streamlined and efficient. In addition to preparing Steering Committee packs, Louise prepared bi-monthly Board papers working closely with the COO.
---
As PMO Director, at a2 Milk Company, Louise established and operated the PMO for the newly formed IT department. Louise also ran the RFP process for selection of a vendor for their global ERP project.
---
As PMO Director at ABC, Louise led a small team to design and establish a corporate-wide transformation program office for the ABC's $500m technology program. Louise developed top to bottom governance for the program, designed and developed a benefits management framework, pipeline management function and full-service Portfolio Management Office.
---
As PMO Manager at QBE, Louise established and operated a global PMO for their successful SaaS (Workday) implementation for 40+ countries across 2 phases of the program.
---
Assessed reporting and governance requirements for Information Technology's portfolio of projects at the NSW Department of Education and developed templates and implementation plan for the recommendations.
---
Developed quality assurance processes, methods and tools for the NSW government (Dept. of Finance, Services & Innovation) which was rolled out to all agencies in the department for projects <$10m.
---
As PMO Manager for Transport for NSW, Louise established a full-service PMO to support a $400m+ multi-vendor outsourced infrastructure program of data centre consolidation, all new network and Transport-wide desktop roll-out. The PMO was established from scratch to align multi-level governance with schedule and financial management, scope and variation control, risk and issue management and full administrative support to delivery teams.
---
Established detailed financial tracking, reporting and CAPEX prioritization for CBA's Core Banking Program delivery team of over 850 people. Achieved widespread adoption of enhanced change control processes and automated tools which were rolled out across the Enterprise Services group. Developed self-serve reporting which significantly improved the timeliness of information and reduced the cost of providing it. Louise won a Leading Lights Award in recognition of support provided by her team.
---
As Regional Manager for Telstra's Solutions Implementation Group NSW, Louise managed a large team of project managers responsible for delivery of all NSW telco projects including projects for Westpac and Qantas as part of their major outsourcing agreements with Telstra. Fostered the development and training of a team of 130 project management staff including AIPM accreditation for many of them.
---
As Requirements Stream Lead and Product Working Group Lead at BPAY, Louise was responsible for leading the analysis and design phases of a new national payments system with the Tier 1 banks. Led the collaborative development of all business and technical requirements and secured acceptance by the 5 parties involved through intensive workshops and negotiation.
---
As EDS Delivery Lead for Credit Cards, POS and ATM systems for the CBA, Louise led all applications development projects. Facilitated the CMMi L3 accreditation for this area of EDS and had line management responsibilities for 75 IT professionals.
---
As end to end program management of the migration of 47 Tier 2 Financial institutions and over 2,400 ATMs to a new IP network – resulting in the creation of one of the largest private IP network in Australia. Implementations achieved a 98% success rate while the ATM roll-out reached a peak of 500 upgrades per month.
---
Overall management of 40+ front-end systems and all development projects for BT Investment Management (BTIM). Implemented Agile projects including a .NET development of a custom FX trading platform, automated product description factsheets and middle-office cash-flow processing.
---
Other Team Members
Declan Boylan

General

2020-01-15T02:30:38+11:00

Gareth James

General

2021-01-19T11:29:58+11:00

Connie McKeage

Zeus Lara

2021-03-09T10:14:51+11:00

Hugh Harley

Zeus Lara

2020-04-01T04:18:49+11:00

Michael Blomfield

Zeus Lara

2023-02-14T10:26:26+11:00

Temre Green

Zeus Lara

2022-11-23T10:52:41+11:00

Mike Stockley

Zeus Lara

2022-08-30T12:56:19+11:00

Julie Laoit

Zeus Lara

2022-07-19T09:10:59+11:00

Rob Thomsett

General

2023-01-31T17:26:36+11:00

Louise Ford

General

2020-01-15T03:08:18+11:00

Aaron Simonsen

Zeus Lara

2022-08-30T11:02:06+11:00

Akhilesh Das

Zeus Lara

2022-11-08T10:09:51+11:00

Alan Alehashemi

Zeus Lara

2022-07-19T09:07:40+11:00

Alex Massie

General

2023-05-09T15:42:17+11:00

Alexander Rivkin

Zeus Lara

2023-03-28T15:40:59+11:00

Alexandra Marie Tan

Zeus Lara

2023-03-14T15:15:24+11:00

Ali Pahlavan

General

2023-05-17T01:57:15+11:00

Alisdair Brown

Zeus Lara

2022-08-30T09:51:38+11:00

Amanda Walker

Zeus Lara

2023-06-06T11:10:57+11:00

Anders Madsen

Zeus Lara

2022-08-02T17:55:11+11:00

Andrew Cheesman

Zeus Lara

2022-08-09T12:17:42+11:00

Andrew Coley

Zeus Lara

2021-12-21T12:36:47+11:00

Anish Joshi

Zeus Lara

2023-04-04T15:04:09+11:00

Ann Mica Mae Lim

Zeus Lara

2023-05-11T14:08:40+11:00

Anna Linfield-Kent

Zeus Lara

2023-03-14T16:25:51+11:00

Barbara Read

General

2023-04-27T09:42:19+11:00

Benn Salier

Zeus Lara

2021-07-06T13:45:00+11:00

Bita Bagheri

General

2021-03-02T14:12:11+11:00

Blake Dahlen

Zeus Lara

2023-02-23T09:47:16+11:00

Callum Dodd

Zeus Lara

2022-11-23T11:00:39+11:00

Caroline Lees

Zeus Lara

2023-01-17T10:29:22+11:00

Cathy Baldwin

General

2021-01-19T16:55:52+11:00

Chika Nnadiekwe

Zeus Lara

2023-03-28T15:27:26+11:00

Chris Sykes

General

2022-05-26T12:50:02+11:00

Cliff Blakley

Zeus Lara

2023-05-11T13:52:16+11:00

David Johnson

General

2022-06-01T10:43:16+11:00

David Mansfield

Zeus Lara

2023-02-14T10:37:32+11:00

Deanna Edwards

Zeus Lara

2023-03-28T15:46:04+11:00

Derek Oldham

Zeus Lara

2023-05-09T15:38:58+11:00

Elise Kellond-Knight

Zeus Lara

2019-07-04T22:47:54+11:00

Ellen Misador

Zeus Lara

2023-03-14T15:30:57+11:00

Eugene O'Connell

Zeus Lara

2022-03-22T16:14:36+11:00

Francis Aseron

Zeus Lara

2023-02-24T09:56:24+11:00

Fritzie Ligeralde

Zeus Lara

2021-08-17T15:41:14+11:00

Gilbert Wong

Zeus Lara

2022-05-25T12:27:00+11:00

Guru Swaminathan

General

2023-05-26T16:16:29+11:00

Hardik Lakhani

Zeus Lara

2022-03-08T16:33:18+11:00

Hayley Weir

Zeus Lara

2022-03-01T12:16:09+11:00

Helen Argitis

Zeus Lara

2022-05-26T12:13:35+11:00

Ian Salvador

Zeus Lara

2022-06-14T17:51:51+11:00

Ian Thomson

Zeus Lara

2023-04-27T09:46:51+11:00

Ibrahim Dani

Zeus Lara

2023-05-09T15:33:59+11:00

Igor Vieira

Zeus Lara

2022-06-28T16:45:19+11:00

Jerry Cobb

General

2022-06-28T15:49:32+11:00

Joanna Carlos

Zeus Lara

2022-02-15T17:48:05+11:00

Jochebed Diaz

General

2022-11-16T12:53:12+11:00

Johaimah Garrido

Zeus Lara

2021-03-16T10:08:35+11:00

John Middlemist

Zeus Lara

2021-07-21T12:11:54+11:00

Jovilyn Magtoto

Zeus Lara

2022-08-02T13:27:08+11:00

Julia Nicole Justo

Zeus Lara

2023-02-23T08:34:34+11:00

Katherine Whiteside

General

2022-11-30T17:42:36+11:00

Kunal Parikh

Zeus Lara

2022-01-25T11:49:10+11:00

Lauren Grouse

Zeus Lara

2023-06-06T11:56:05+11:00

Louigi Gardiola

Zeus Lara

2023-02-23T08:31:20+11:00

Louise White

General

2021-05-11T16:20:05+11:00

Lousiene Samonte

General

2022-08-30T14:27:05+11:00

Maddison Schmid

Zeus Lara

2023-05-11T09:35:43+11:00

Mariam Kohani

Zeus Lara

2022-07-19T09:57:04+11:00

Marian Joyce Makalintal

Zeus Lara

2023-03-14T15:51:17+11:00

Marianne Dinsay

Zeus Lara

2023-02-23T08:32:42+11:00

Mark McAdam

General

2023-05-03T12:09:06+11:00

Mark Millen

Zeus Lara

2022-08-30T12:47:06+11:00

Matthew Knight

Zeus Lara

2023-02-23T08:32:48+11:00

Melanie Northrop

Zeus Lara

2023-01-31T17:06:41+11:00

Melody Framp

Zeus Lara

2023-05-09T16:20:00+11:00

Melody Tuazon

Zeus Lara

2023-05-09T15:59:40+11:00

Michael Bryant

General

2022-08-09T11:38:32+11:00

Mohammad Ramezani

General

2022-07-13T16:18:36+11:00

Muhammad Sauood Ur Rauf

General

2022-08-30T14:20:48+11:00

Nevil Cope

General

2022-08-30T14:24:26+11:00

Niall Burke

Zeus Lara

2022-10-11T13:16:07+11:00

Nick Rodwell

Zeus Lara

2022-07-14T11:47:55+11:00

Nicole Hatten

Zeus Lara

2022-03-22T16:18:26+11:00

Ninia Ortile

Zeus Lara

2022-10-11T14:26:40+11:00

Pablo Andres Cordova Baya

Zeus Lara

2023-02-23T08:48:38+11:00

Parastoo Mousavi

Zeus Lara

2022-12-13T10:24:00+11:00

Paul Bernard

Zeus Lara

2022-02-04T02:19:40+11:00

Paul Kirschner

General

2022-02-04T02:26:06+11:00

Peter Boylan

General

2023-03-14T16:22:42+11:00

Peter Philpott

General

2022-11-08T10:05:47+11:00

Rahul Kaushal

Zeus Lara

2022-08-03T10:22:38+11:00

Rajiv Boddupalli

Zeus Lara

2022-12-13T09:44:21+11:00

Robert Caminiti

General

2020-10-07T04:02:43+11:00

Robert Crossman

General

2022-03-08T14:18:21+11:00

Rohini Verma

Zeus Lara

2021-04-13T12:23:02+11:00

Rohit Satija

Zeus Lara

2023-05-09T15:27:58+11:00

Roxane Montierro

Zeus Lara

2020-12-15T06:30:55+11:00

Sanjay Narayan

Zeus Lara

2023-02-14T11:09:04+11:00

Saurabh Kundi

Zeus Lara

2023-02-23T08:26:14+11:00

Shiraan Fernando

Zeus Lara

2023-03-14T15:07:49+11:00

Shruthi Srinivas

Zeus Lara

2023-02-07T09:53:04+11:00

Sreekanth Badam

Zeus Lara

2022-11-09T17:14:36+11:00

Stephen Curtis

Zeus Lara

2023-05-30T09:22:30+11:00

Tameka Yallop

General

2022-03-08T16:41:26+11:00

Tanvi Mahajan

Zeus Lara

2023-03-28T15:21:57+11:00

Through Zhu

Zeus Lara

2023-02-23T10:21:23+11:00

Thuc Linh Nguyen Phan

Zeus Lara

2023-05-30T09:39:47+11:00

Tony Calusic

Zeus Lara

2022-08-01T16:52:17+11:00

Vanessa Vella

General

2021-12-14T12:11:12+11:00

Winona Astian Thian

Zeus Lara

2023-02-23T08:34:19+11:00

Yanmin Chen

Zeus Lara

2022-03-08T16:40:11+11:00

Zach Barnetby

Zeus Lara

2022-06-24T11:08:22+11:00