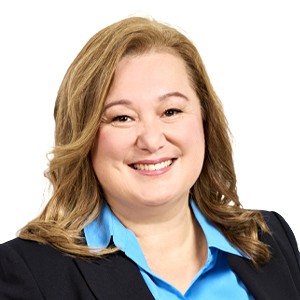 Melanie Northrop
PMO Manager
---
Areas Of Expertise:
Project Management
Portfolio & Program Delivery
---
Education:
Bachelor of Business Administration, University of Huddersfield
P30 Foundation & Practitioner
PRINCE2 Foundation & Practitioner ISEB
Management of Portfolios Foundation & Practitioner ISEB
---
About Melanie Northrop
Melanie is a strategic and emotionally intelligent Project Leader with 18+ years' extensive experience leading and overseeing the implementation of technology solutions that transform the way an organisation operates, by supporting IT projects, programs and portfolios in both waterfall and agile environments.
With a background spanning banking, wealth management and insurance, industrial automation, utilities and government in the UK and Australia, Melanie brings diverse perspectives and a solid understanding of implementations that work.
---
What Melanie brings
Highly experienced in project governance, frameworks, principals, tools and end-to-end financial reporting & analysis, and risk and issue management.
Rigorous Analytical ability, and process improvement skills.
Proven track record of openness and authenticity, that builds trust with stakeholders and collaborative solutions to settle complex technology and process problems.
Building & developing high-performance project teams.
Managing & leading multiple & diverse teams & stakeholder groups across multiple locations.
---
Key Clients:
Iress
eHealth NSW
BT Financial Group
Yokogawa Pty Ltd
Sydney Water
Lloyds Banking Group
---
Key Achievements:
As PMO Manager at Iress, Melanie conducted a program review and health check on the $30MIL Gilligan program. An assessment was undertaken of the program documentation and artifacts provided by the organisation and a series of 20 interviews was conducted with members of the leadership team and multiple Head of across Australia and the UK, which culminated in the provision of a findings and recommendations report that was accepted and approved by the board.
---
As Assistant Director, EPMO at eHealth, Melanie developed the maturity of an $892MIL portfolio of programs and projects. She established a program of work to improve and streamline EPMO processes and procedures and successfully implemented several new processes that improved program reporting and quality assurance across 14 programs and significant projects. Melanie provided leadership and direction to the EPMO team, and a strategic overview of all eHealth NSW programs and projects, including ensuring all program governance is in place and providing all program and project reporting. She supported the program budget development / approval process; and coordinated portfolio-level activities around master scheduling, inter-program dependencies, and risk and issue management, including reporting on anomalies and areas of concern
---
As Project Management Consultant, Demand Delivery at eHealth NSW, Melanie successfully implemented the Project Management Minimum Standards (PMMS) by providing training and writing the PMMS supporting documentation; this has uplifted and standardised the project management capability to ensure improved consistency of service to internal and external health partners, which includes:15 LHDs, 5 Health Organisations, 5 Pillar Organisations and 4 Specialty Networks, and has enabled a better customer experience for customers. She embeded the minimum standards through regular project health checks, providing mentoring and support to ensure appropriate adoption of the standards. Melanie led and encouraged the sharing of knowledge to facilitate learning and improve creativity through effective networking and communication within Communities of Practice meetings and collaborated with technical teams to allocate and recruit project management resources.
---
As Demand Delivery Group Manager at eHealth NSW, Melanie provided leadership and management to a team of 80 staff, consisting of Senior Project Managers, Project Managers, Project Coordinators, Business Analysts and Scrum Masters, working on over 170 projects valued from $250 to $985K. She Identified stakeholder pain points and then established and maintained positive relationships with Demand Delivery stakeholders, including Customer Account Managers, various teams within Technology & Customer Support Services and Business Management Services, which enabled her to keep abreast of demand pipeline activities to ensure that the right resources were allocated and that the project was able to be kicked off on time.
---
As Senior PMO Manager, Infrastructure Portfolio Management Support, Melanie was responsible for the development and maintenance of program standards, processes, toolsets and procedures to improve the overall maturity of the Infrastructure Portfolio (5 business transformation programs with a combined value of more than $286MIL). She managed the creation of a PMO for the Infrastructure portfolio, developing excellent working relations with all programs. She successfully led the delivery of the 'Go to Green' Initiative, which improved the maturity of all programs in the areas of program governance, risks and issues management, financial management, quality management, stakeholder management and associated governance. In a subsequent review, all programs were reported as having a higher level of maturity. Meanie created a unified standard of reporting across the infrastructure portfolio of programs, from consistent program status reports to steering committee packs. As a result, Infrastructure was recognised at the directorate level and has been used as a benchmark for other areas. Establishing and managing support functions such as planning, tracking, reporting, quality management and internal communication and providing quality assurance for project and program management deliverables to implement stricter quality control in the production of project and program documentation.
---
As IT PMO Manager on the Panorama program ($100MIL/year) at BT Financial Group, Melanie developed collaborative relationships with major stakeholders, which included senior management, program and project managers, PMO colleagues and others outside of the program. She revised the process for resource allocations to reduce overall costs to the program; ensuring that resources were included in the forecast and could not overcharge the program in Clarity. Melanie reviewed weekly reports from Project Managers and provided the weekly summary to the Executive Team and provided advice and guidance on new budget/forecasting procedures. She adapted reporting style of the program to an Agile environment.
---
As Manager, Portfolio Management Office at Yokogawa Pty Ltd, Melanie created a strategy to establish and maintained a new Portfolio Management Office to support 20 projects across three sites in Australia: Sydney, Brisbane and Perth. She successfully delivered a new PMO framework to support the Head of Project and Project Managers to ensure projects were governed effectively and controlled. Aligned Project Management Methodology to the organisation's strategic objectives and PMI Project Management Book of Knowledge (PMBoK), to define the project governance controls to be applied across multiple projects of varying size and complexity.
---
As PMO Consultant at Sydney Water, Melanie successfully updated and re-launching the change management process on several projects, which required strong stakeholder management skills to implement and manage the necessary changes. She provided ongoing management of the project approval and change control process, deputising for the Project Management Resource Manager, managing the allocation of project management and engineers to site. She also performed financial management and resource allocation support across the IT portfolio (Estimated value of $100M).
---
As Project Manager at Lloyds Banking Group, Melanie managed and led a team of 14 off-shore and on-shore resources to successfully implement 3 new portfolio services: Meeting Management Service, Mobilisation and Closure Service, and Advisory Service, which were delivered adhering to the PRINCE2-based Lloyds Banking Group Project Management Methodology. She built and managed relationships with a diverse set of stakeholders across all divisions; including Senior Management, Project and Program Managers and fellow PMO colleagues to create a best practice for the IT division.
---
As Delivery Manager at Lloyds Banking Group, Melanie and leading a new PMO support service for the Wealth & International IT Division; being accountable for PMO services across a $64MIL portfolio spread over 91 projects. She collaborated with Project and Program Managers to determine the level of PMO services to be delivered and adapt quickly and calmly to rapid changes in a dynamic environment.
---
As Portfolio Management Office Manager at Lloyds Banking Group, Melanie established a new PMO to support the 71 projects within the Wealth & International (W&I) IT division ($28MIL) and which included the provision of governance, structure, tools, processes to ensure consistency in approach. The area in which Melanie excelled was the early adoption, and promotion of new processes and procedures following the appointment of a new CEO, who was particularly focused on sound justification of project budget and expenditure, and compliance to the Sarbanes Oxley and Group IT standards.
---
Other Team Members
Declan Boylan

General

2020-01-15T02:30:38+11:00

Gareth James

General

2021-01-19T11:29:58+11:00

Connie McKeage

Zeus Lara

2021-03-09T10:14:51+11:00

Hugh Harley

Zeus Lara

2020-04-01T04:18:49+11:00

Michael Blomfield

Zeus Lara

2023-02-14T10:26:26+11:00

Temre Green

Zeus Lara

2022-11-23T10:52:41+11:00

Mike Stockley

Zeus Lara

2022-08-30T12:56:19+11:00

Julie Laoit

Zeus Lara

2022-07-19T09:10:59+11:00

Rob Thomsett

General

2023-01-31T17:26:36+11:00

Louise Ford

General

2020-01-15T03:08:18+11:00

Aaron Simonsen

Zeus Lara

2022-08-30T11:02:06+11:00

Akhilesh Das

Zeus Lara

2022-11-08T10:09:51+11:00

Alan Alehashemi

Zeus Lara

2022-07-19T09:07:40+11:00

Alex Massie

General

2023-05-09T15:42:17+11:00

Alexander Rivkin

Zeus Lara

2023-03-28T15:40:59+11:00

Alexandra Marie Tan

Zeus Lara

2023-03-14T15:15:24+11:00

Ali Pahlavan

General

2023-05-17T01:57:15+11:00

Alisdair Brown

Zeus Lara

2022-08-30T09:51:38+11:00

Amanda Walker

Zeus Lara

2022-08-09T10:18:22+11:00

Anders Madsen

Zeus Lara

2022-08-02T17:55:11+11:00

Andrew Cheesman

Zeus Lara

2022-08-09T12:17:42+11:00

Andrew Coley

Zeus Lara

2021-12-21T12:36:47+11:00

Anish Joshi

Zeus Lara

2023-04-04T15:04:09+11:00

Ann Mica Mae Lim

Zeus Lara

2023-05-11T14:08:40+11:00

Anna Linfield-Kent

Zeus Lara

2023-03-14T16:25:51+11:00

Barbara Read

General

2023-04-27T09:42:19+11:00

Benn Salier

Zeus Lara

2021-07-06T13:45:00+11:00

Bita Bagheri

General

2021-03-02T14:12:11+11:00

Blake Dahlen

Zeus Lara

2023-02-23T09:47:16+11:00

Callum Dodd

Zeus Lara

2022-11-23T11:00:39+11:00

Caroline Lees

Zeus Lara

2023-01-17T10:29:22+11:00

Cathy Baldwin

General

2021-01-19T16:55:52+11:00

Chika Nnadiekwe

Zeus Lara

2023-03-28T15:27:26+11:00

Chris Sykes

General

2022-05-26T12:50:02+11:00

Cliff Blakley

Zeus Lara

2023-05-11T13:52:16+11:00

David Johnson

General

2022-06-01T10:43:16+11:00

David Mansfield

Zeus Lara

2023-02-14T10:37:32+11:00

Deanna Edwards

Zeus Lara

2023-03-28T15:46:04+11:00

Derek Oldham

Zeus Lara

2023-05-09T15:38:58+11:00

Elise Kellond-Knight

Zeus Lara

2019-07-04T22:47:54+11:00

Ellen Misador

Zeus Lara

2023-03-14T15:30:57+11:00

Eugene O'Connell

Zeus Lara

2022-03-22T16:14:36+11:00

Francis Aseron

Zeus Lara

2023-02-24T09:56:24+11:00

Fritzie Ligeralde

Zeus Lara

2021-08-17T15:41:14+11:00

Gilbert Wong

Zeus Lara

2022-05-25T12:27:00+11:00

Guru Swaminathan

General

2023-05-26T16:16:29+11:00

Hardik Lakhani

Zeus Lara

2022-03-08T16:33:18+11:00

Hayley Weir

Zeus Lara

2022-03-01T12:16:09+11:00

Helen Argitis

Zeus Lara

2022-05-26T12:13:35+11:00

Ian Salvador

Zeus Lara

2022-06-14T17:51:51+11:00

Ian Thomson

Zeus Lara

2023-04-27T09:46:51+11:00

Ibrahim Dani

Zeus Lara

2023-05-09T15:33:59+11:00

Igor Vieira

Zeus Lara

2022-06-28T16:45:19+11:00

Jerry Cobb

General

2022-06-28T15:49:32+11:00

Joanna Carlos

Zeus Lara

2022-02-15T17:48:05+11:00

Jochebed Diaz

General

2022-11-16T12:53:12+11:00

Johaimah Garrido

Zeus Lara

2021-03-16T10:08:35+11:00

John Middlemist

Zeus Lara

2021-07-21T12:11:54+11:00

Jovilyn Magtoto

Zeus Lara

2022-08-02T13:27:08+11:00

Julia Nicole Justo

Zeus Lara

2023-02-23T08:34:34+11:00

Katherine Whiteside

General

2022-11-30T17:42:36+11:00

Kunal Parikh

Zeus Lara

2022-01-25T11:49:10+11:00

Louigi Gardiola

Zeus Lara

2023-02-23T08:31:20+11:00

Louise White

General

2021-05-11T16:20:05+11:00

Lousiene Samonte

General

2022-08-30T14:27:05+11:00

Maddison Schmid

Zeus Lara

2023-05-11T09:35:43+11:00

Mariam Kohani

Zeus Lara

2022-07-19T09:57:04+11:00

Marian Joyce Makalintal

Zeus Lara

2023-03-14T15:51:17+11:00

Marianne Dinsay

Zeus Lara

2023-02-23T08:32:42+11:00

Mark McAdam

General

2023-05-03T12:09:06+11:00

Mark Millen

Zeus Lara

2022-08-30T12:47:06+11:00

Matthew Knight

Zeus Lara

2023-02-23T08:32:48+11:00

Melanie Northrop

Zeus Lara

2023-01-31T17:06:41+11:00

Melody Framp

Zeus Lara

2023-05-09T16:20:00+11:00

Melody Tuazon

Zeus Lara

2023-05-09T15:59:40+11:00

Michael Bryant

General

2022-08-09T11:38:32+11:00

Mohammad Ramezani

General

2022-07-13T16:18:36+11:00

Muhammad Sauood Ur Rauf

General

2022-08-30T14:20:48+11:00

Nevil Cope

General

2022-08-30T14:24:26+11:00

Niall Burke

Zeus Lara

2022-10-11T13:16:07+11:00

Nick Rodwell

Zeus Lara

2022-07-14T11:47:55+11:00

Nicole Hatten

Zeus Lara

2022-03-22T16:18:26+11:00

Ninia Ortile

Zeus Lara

2022-10-11T14:26:40+11:00

Pablo Andres Cordova Baya

Zeus Lara

2023-02-23T08:48:38+11:00

Parastoo Mousavi

Zeus Lara

2022-12-13T10:24:00+11:00

Paul Bernard

Zeus Lara

2022-02-04T02:19:40+11:00

Paul Kirschner

General

2022-02-04T02:26:06+11:00

Peter Boylan

General

2023-03-14T16:22:42+11:00

Peter Philpott

General

2022-11-08T10:05:47+11:00

Rahul Kaushal

Zeus Lara

2022-08-03T10:22:38+11:00

Rajiv Boddupalli

Zeus Lara

2022-12-13T09:44:21+11:00

Robert Caminiti

General

2020-10-07T04:02:43+11:00

Robert Crossman

General

2022-03-08T14:18:21+11:00

Rohini Verma

Zeus Lara

2021-04-13T12:23:02+11:00

Rohit Satija

Zeus Lara

2023-05-09T15:27:58+11:00

Roxane Montierro

Zeus Lara

2020-12-15T06:30:55+11:00

Sanjay Narayan

Zeus Lara

2023-02-14T11:09:04+11:00

Saurabh Kundi

Zeus Lara

2023-02-23T08:26:14+11:00

Shiraan Fernando

Zeus Lara

2023-03-14T15:07:49+11:00

Shruthi Srinivas

Zeus Lara

2023-02-07T09:53:04+11:00

Sreekanth Badam

Zeus Lara

2022-11-09T17:14:36+11:00

Stephen Curtis

Zeus Lara

2023-05-30T09:22:30+11:00

Tameka Yallop

General

2022-03-08T16:41:26+11:00

Tanvi Mahajan

Zeus Lara

2023-03-28T15:21:57+11:00

Through Zhu

Zeus Lara

2023-02-23T10:21:23+11:00

Thuc Linh Nguyen Phan

Zeus Lara

2023-05-30T09:39:47+11:00

Tony Calusic

Zeus Lara

2022-08-01T16:52:17+11:00

Vanessa Vella

General

2021-12-14T12:11:12+11:00

Winona Astian Thian

Zeus Lara

2023-02-23T08:34:19+11:00

Yanmin Chen

Zeus Lara

2022-03-08T16:40:11+11:00

Zach Barnetby

Zeus Lara

2022-06-24T11:08:22+11:00