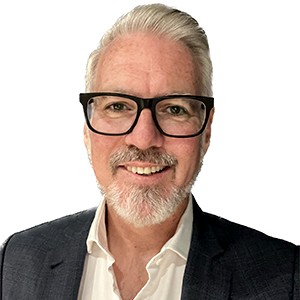 Michael Blomfield
Chief Customer Officer /
Senior Program Director
---
Areas Of Expertise:
Strategy Development
Program Management
Business Transformation
---
Education:
Bachelor of Arts (Communication Studies), University of Western Sydney
---
About Michael Blomfield
Michael is a highly successful financial services innovator, senior executive and non-executive director with genuine global experience across Asia, North America, the UK and Europe, South Africa and Australia. He has enormous strategy development, project and program leadership and operational execution experience in a wide range of businesses as a CEO, a senior executive, a director and an adviser. Michael is an excellent and experienced values-driven executive leader of all sizes of team from small to very large, and a passionate advocate for consumers and retail investors.
---
What Michael brings
Strong customer focus and belief in working collaboratively with the business to ensure the best outcomes are achieved.
Building and leading happy, high performing teams, both large and small.
Executive level experience managing large scale consulting organisations and respective client programs (outcomes, financials, people and operations).
Driver of operational efficiency that serves to enable businesses.
---
Key Clients:
Iress
Investment Trends
MF Global
Commonwealth Bank of Australia
---
Key Achievements:
As Group Executive and Chief Commercial Officer at Iress, Michael was responsible for ~AUD$550m in revenues and ~500 people across Australia, UK, North America, South Africa and Asia. He initiated and sponsored a ground up change program restructuring the business to give strong client focus and implementing a global sales and service methodology for revenue growth.
---
As CEO at Investment Trends, Michael managed Australia's leading independent quantitative research company (~35 staff) which provided deep insights research for the wealth management industry across Australia, the UK, USA, Singapore, Hong Kong, Spain, Germany and France. Michael designed and implemented a new operating model for the business, built on Agile methodology, that transformed the way the firm's work was delivered, significantly increasing capacity while driving up staff satisfaction and tenure.
---
Working as an independent consultant, Michael was the Executive Sponsor of the Commonwealth Bank of Australia's (CBA's) Asian Core Banking System implementation. He took over this large (200 person+) project when in red status and delivered on time and budget. He also led the CBA's County Banking Supervisory Committee, was the Executive Sponsor of CBA's Asian Mobile Banking project, and authored CBA's Asia strategy for the International Financial Services Division in 2012, 2013 and 2014.
---
As Managing Director at MF Global, Michael was responsible for the firm's presence in Australia, Singapore (APAC Head Office), Hong Kong, Taiwan, Mainland China, India, Dubai, Japan and Mauritius – in excess of 1,000 people, with annual revenues of ~USD400m. He took over this role at a time when the business was in dispute with multiple regulators, and restored positive relationships and a strong risk and compliance culture. Michael transitioned the business model from an institutional agency broker "eat what you kill" operation to a mid-tier investment bank. He managed all of these businesses into and through administration, liquidation or sale when the US-based parent holding company filed for Chapter 11 protection in October 2011.
---
As Senior Adviser to the Group Executive, International Financial Services at Commonwealth Bank of Australia, Michael provided independent consulting, project management, executive coaching and M&A oversight for CBA's Asia investments and subsidiaries. Michael led the establishment of CBA's County Banking business of 15 separate stand-alone banks in 15 Tier 3 cities across Henan and Hebei provinces, leading every aspect of the program from government and regulatory liaison right through to site selection and fit-out. In addition, Michael led three separate projects to restructure three banks into SME banking specialists – one in Indonesia and two in China. These were whole of organization change programs with project teams of around 50, impacting credit decisioning and core banking systems, thousands of staff and millions of clients. All three of these banks are now recognized as market leaders in SME banking.
---
As Executive General Manager at Commonwealth Bank of Australia, Michael was responsible for the SME banking business. He successfully returned the business to >30% pa growth in 18 months, moved client satisfaction from the worst in the industry to second, moved staff satisfaction from the worst in the CBA to top decile. He designed and implemented a revolutionary client engagement and business operation model, improving staff productivity by 80%. He was also a Director of the Commonwealth Bank Foundation, a Founding member of the Bank's Diversity Council, and Executive Steering Committee member for a wide range of projects, including Core Banking, CommBiz (CBA's business banking platform), the Branch Re-design Program and the Group-wide single sign-on project.
---
As General Manager at Commonwealth Bank of Australia, Michael was the responsible executive for Equities Division of the Bank, which generated ~$300 million in annual revenues from a diverse range of Equities businesses, including CommSec. He grew CommSec's PBT from AUD16m to AUD150m, cemented CommSec as the dominant retail broker in Australia. During his time, he acquired TD Waterhouse Australia (including Charles Schwab Australia), AOT Stockbroking and Neville Ward Direct. Through executive sponsorship of a wide array of projects, Michael developed to maturity what was at the time Australia's most technologically sophisticated online business.
---
Other Team Members
Declan Boylan

General

2020-01-15T02:30:38+11:00

Gareth James

General

2021-01-19T11:29:58+11:00

Connie McKeage

Julius

2021-03-09T10:14:51+11:00

Michael Blomfield

Julius

2023-02-14T10:26:26+11:00

Temre Green

Julius

2022-11-23T10:52:41+11:00

Mike Stockley

Julius

2022-08-30T12:56:19+11:00

Julie Laoit

Julius

2022-07-19T09:10:59+11:00

Rob Thomsett

General

2023-01-31T17:26:36+11:00

Louise Ford

General

2020-01-15T03:08:18+11:00

Aaron Simonsen

Julius

2022-08-30T11:02:06+11:00

Alan Alehashemi

Julius

2022-07-19T09:07:40+11:00

Alex Jahan

Julius

2022-12-13T10:15:47+11:00

Alex Massie

General

2023-05-09T15:42:17+11:00

Alexander Rivkin

Julius

2023-03-28T15:40:59+11:00

Alexandra Marie Tan

Julius

2023-07-20T17:43:15+11:00

Ali Pahlavan

General

2023-08-03T11:39:33+11:00

Alisdair Brown

Julius

2022-08-30T09:51:38+11:00

Amanda Walker

Julius

2023-06-06T11:10:57+11:00

Anders Madsen

Julius

2022-08-02T17:55:11+11:00

Andrew Cheesman

Julius

2022-08-09T12:17:42+11:00

Andrew Coley

Julius

2021-12-21T12:36:47+11:00

Anish Joshi

Julius

2023-04-04T15:04:09+11:00

Ann Mica Mae Lim

Julius

2023-05-11T14:08:40+11:00

Anna Linfield-Kent

Julius

2023-03-14T16:25:51+11:00

Andrew Marshall

Julius

2023-08-29T14:02:36+11:00

Audrey Teh

Julius

2023-06-13T10:54:02+11:00

Barbara Read

General

2023-04-27T09:42:19+11:00

Bhavna Gupta

Julius

2023-08-25T16:07:45+11:00

Benn Salier

Julius

2021-07-06T13:45:00+11:00

Bita Bagheri

General

2023-08-02T22:15:49+11:00

Blake Dahlen

Julius

2023-07-20T13:58:11+11:00

Callum Dodd

Julius

2022-11-23T11:00:39+11:00

Caroline Lees

Julius

2023-01-17T10:29:22+11:00

Cathy Baldwin

General

2021-01-19T16:55:52+11:00

Chris Sykes

General

2022-05-26T12:50:02+11:00

Callum Barker

Julius

2023-09-15T10:54:00+11:00

Dave Rider

Julius

2022-02-04T01:57:49+11:00

David Johnson

General

2023-06-13T11:44:41+11:00

David Mansfield

Julius

2023-02-14T10:37:32+11:00

Deanna Edwards

Julius

2023-03-28T15:46:04+11:00

Derek Oldham

Julius

2023-05-09T15:38:58+11:00

Elise Kellond-Knight

Julius

2019-07-04T22:47:54+11:00

Eliza Johnson

Julius

2023-07-20T12:18:49+11:00

Ellen Misador

Julius

2023-07-20T15:42:42+11:00

Eugene O'Connell

Julius

2022-03-22T16:14:36+11:00

Fritzie Ligeralde

Julius

2021-08-17T15:41:14+11:00

Gilbert Wong

Julius

2023-09-28T10:05:22+11:00

Guru Swaminathan

General

2023-05-26T16:16:29+11:00

Hardik Lakhani

Julius

2022-03-08T16:33:18+11:00

Hayley Weir

Julius

2023-08-29T14:56:54+11:00

Helen Argitis

Julius

2022-05-26T12:13:35+11:00

Inggrid Yapari

Julius

2023-09-05T14:17:37+11:00

Ian Salvador

Julius

2022-06-14T17:51:51+11:00

Ian Thomson

Julius

2023-06-13T10:25:34+11:00

Jerry Cobb

General

2022-06-28T15:49:32+11:00

Joanna Carlos

Julius

2022-02-15T17:48:05+11:00

Jochebed Diaz

General

2023-07-27T15:46:01+11:00

Johaimah Garrido

Julius

2021-03-16T10:08:35+11:00

John Middlemist

Julius

2023-07-13T11:20:18+11:00

Jovilyn Magtoto

Julius

2022-08-02T13:27:08+11:00

Julia Nicole Justo

Julius

2023-02-23T08:34:34+11:00

Julius Labalan

Julius

2023-09-19T11:03:24+11:00

Katherine Whiteside

General

2022-11-30T17:42:36+11:00

Kunal Parikh

Julius

2022-01-25T11:49:10+11:00

Lauren Grouse

Julius

2023-06-15T15:40:06+11:00

Louigi Gardiola

Julius

2023-02-23T08:31:20+11:00

Louise White

General

2021-05-11T16:20:05+11:00

Maddison Schmid

Julius

2023-05-11T09:35:43+11:00

Mariam Kohani

Julius

2022-07-19T09:57:04+11:00

Marian Joyce Makalintal

Julius

2023-06-21T10:48:28+11:00

Marianne Dinsay

Julius

2023-02-23T08:32:42+11:00

Mark McAdam

General

2023-05-03T12:09:06+11:00

Mark Millen

Julius

2022-08-30T12:47:06+11:00

Matthew Knight

Julius

2023-02-23T08:32:48+11:00

Melanie Northrop

Julius

2023-01-31T17:06:41+11:00

Melody Framp

Julius

2023-06-13T11:17:39+11:00

Melody Tuazon

Julius

2023-05-09T15:59:40+11:00

Michael Bryant

General

2022-08-09T11:38:32+11:00

Mohammad Ramezani

General

2022-07-13T16:18:36+11:00

Nadja Schulze

Julius

2023-07-13T13:05:06+11:00

Nevil Cope

General

2022-08-30T14:24:26+11:00

Niall Burke

Julius

2022-10-11T13:16:07+11:00

Nick Rodwell

Julius

2023-06-13T10:21:33+11:00

Nicole Hatten

Julius

2023-07-04T16:34:47+11:00

Ninia Ortile

Julius

2022-10-11T14:26:40+11:00

Pablo Andres Cordova Baya

Julius

2023-06-21T10:48:54+11:00

Parastoo Mousavi

Julius

2022-12-13T10:24:00+11:00

Paul Kirschner

General

2022-02-04T02:26:06+11:00

Peter Boylan

General

2023-03-14T16:22:42+11:00

Peter Philpott

General

2022-11-08T10:05:47+11:00

Rachel Low

Julius

2023-09-18T12:34:26+11:00

Rahul Kaushal

Julius

2023-08-03T10:44:21+11:00

Rajiv Boddupalli

Julius

2022-12-13T09:44:21+11:00

Robert Caminiti

General

2020-10-07T04:02:43+11:00

Robert Crossman

General

2022-03-08T14:18:21+11:00

Rohini Verma

Julius

2021-04-13T12:23:02+11:00

Rohit Satija

Julius

2023-08-29T15:13:11+11:00

Roxane Montierro

Julius

2020-12-15T06:30:55+11:00

Sanjay Narayan

Julius

2023-02-14T11:09:04+11:00

Saurabh Kundi

Julius

2023-02-23T08:26:14+11:00

Shiraan Fernando

Julius

2023-03-14T15:07:49+11:00

Shruthi Srinivas

Julius

2023-08-25T12:02:31+11:00

Sreekanth Badam

Julius

2022-11-09T17:14:36+11:00

Stephen Curtis

Julius

2023-05-30T09:22:30+11:00

Simon Chrétien

Julius

2023-09-15T11:40:55+11:00

Tameka Yallop

General

2023-08-29T16:34:12+11:00

Tanvi Mahajan

Julius

2023-03-28T15:21:57+11:00

Thuc Linh Nguyen Phan

Julius

2023-05-30T09:39:47+11:00

Tony Calusic

Julius

2022-08-01T16:52:17+11:00

Vanessa Vella

General

2021-12-14T12:11:12+11:00

Vergil De Leon

Julius

2023-09-11T10:53:30+11:00

Winona Astian Thian

Julius

2023-02-23T08:34:19+11:00

Yanmin Chen

Julius

2023-09-28T10:13:11+11:00

Zach Barnetby

Julius

2023-06-16T17:32:20+11:00