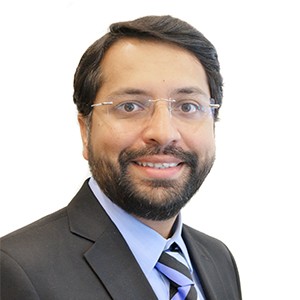 Muhammad Sauood Ur Rauf
PMO Lead
---
Areas Of Expertise
Project & Program Scheduling
Analysis & Reporting
Financial Management
RAID Log Management
PMO Setup
Project Management
---
Education
Master of Business Administration
Bachelor of Computer Science
Diploma in Leadership and Management
Certified Project Management Professional (PMP)
Certified P3O foundation
Certified Leading SAFe Professional
Certified SAP Professional
---
About Muhammad Sauood Ur Rauf
Muhammad is a skilled PMO Consultant who joined Seven Consulting's Sydney practice in November 2017. He brings in excess of 14 years of experience in PMO and project management for public and private sector projects, delivering results in large IT transformation projects and programs.
---
What Muhammad brings
Strong communication, project reporting and documentation skills.
Strong Program Financial Management experience
Strong RAID Management skills.
Stakeholder management and program status reporting experience.
Traditional, agile and hybrid project management methodologies.
---
Key Clients:
Commonwealth Bank of Australia (CBA)
Australian Stock Exchange (ASX)
Lendlease International Property & Insurance Group.
Federal Board of Revenue, Pakistan
Ministry of Health, Provincial Government, Pakistan
Securities Exchange Commission of Pakistan
World Bank, Pakistan Mission
Ministry of Education, Government of Pakistan
Auditor and Accountant General Pakistan
Ministry of Finance, Government of Pakistan
Pakistan Customs
Asian Development Bank
United Nations Development Program
---
Key Achievements
As PMO Consultant at CBA, Muhammad worked on a key remediation program, developing and maintaining its master schedule, maintaining financial trackers, RAID log and project status reporting. He has been instrumental in putting the program on track for Group Delivery Framework (GDF) compliance. Muhammad played a key role in setting up governance around Program schedule, financial management and Risks and issues management. He has also facilitated the streams risks meetings to discuss key risks and issues faced by the program. He has played a fundamental role in various iteration of Program planning workshops. Muhammad setup KANBAN board for the Executive Scrum and facilitated Executive Scrum meetings.
---
As Master Scheduler at ASX, Muhammad worked with ASX on its CHESS, DLT project, which is first large-scale implementation of block chain technology across the world. Muhammad has been instrumental in introducing and spearheading scoping exercise for the project and its streams. Muhammad is providing valuable services in setting up end-to-end schedule across 15 streams involving complex interdependencies. The schedule is flexible enough to cater the hybrid (agile & waterfall) methodology and effectively tracks the key milestones across the project and authored Schedule Management plan to effectively maintain the schedule for the lifecycle of the project. Muhammad also helped developing Project Management Plan, RACI Matrix and other important artefacts for the project.
---
As Master Scheduler at CBA, Muhammad worked in the separation program. This program was aimed at the demerger of the bank's business operations. Muhammad was part of master scheduling team and was responsible for schedule management across twenty sub streams of finance and HRMS. Muhammad played a pivotal role in improving scheduling structure, working with business teams for schedule creation and recommendations for improving health of global schedule.
---
As Master Scheduler at Lendlease, Muhammad worked in the Coral project at Lendlease to help setup the company's first implementation of Microsoft Project online based schedule for distributed project teams across Lendlease offices in U.K, Asia, US and Australia. Muhammad was instrumental in setting up centralised scheduling environment across teams in different geographical regions to help maintain a unified schedule with distributed access.
---
As Master Scheduler at Lendlease, Muhammad worked as a master scheduler on the Lendlease Issac Project. The project transformed the sales operations by replacing Issac system with Salesforce. The project was rolled out in two phases with separate schedules and critical path. Muhammad provided tremendous schedule uplift to the program improving schedule health from 30% to 87%.
---
As a scheduler for the implementation of general insurance management system, Muhammad helped developed a project management plan and master schedule across different streams. This included development of governance framework, structure and procedures to support project implementation and delivery.
---
One stop shop project; This project was aimed at bringing integration and providing one window solution for company registration, tax registration and registration with department for superannuation benefits. This project involved complex business scenarios to integrate various technologies. Muhammad helped setup project reporting and master schedules for different streams. The project was the first of its kind and helped the business community to register their business through a single window under one umbrella.
---
SEMP (System for Electronic Monitoring of Production) – This project was executed for recording the production of cement bags and sending back data to a central server for monitoring sales tax evasion. The system involved programming of counting sensors and integrating it with android based solution to send data to the servers. The project involved over 500 sites and training of staff to deploy and maintain sensors. Muhammad helped build a command and control centre to monitor project implementation and rollout, post rollout issues and resolution.
---
Human resource transformation program for over 24000 employees. Muhammad developed and maintained the master schedule as well as acted as PMO lead for the project. The project transformed the departmental working of FBR and its functions across more than 300 client sides.
---
Other Team Members
Declan Boylan

General

2020-01-15T02:30:38+11:00

Gareth James

General

2021-01-19T11:29:58+11:00

Connie McKeage

Zeus Lara

2021-03-09T10:14:51+11:00

Hugh Harley

Zeus Lara

2020-04-01T04:18:49+11:00

Michael Blomfield

Zeus Lara

2023-02-14T10:26:26+11:00

Temre Green

Zeus Lara

2022-11-23T10:52:41+11:00

Mike Stockley

Zeus Lara

2022-08-30T12:56:19+11:00

Julie Laoit

Zeus Lara

2022-07-19T09:10:59+11:00

Rob Thomsett

General

2023-01-31T17:26:36+11:00

Louise Ford

General

2020-01-15T03:08:18+11:00

Aaron Simonsen

Zeus Lara

2022-08-30T11:02:06+11:00

Akhilesh Das

Zeus Lara

2022-11-08T10:09:51+11:00

Alan Alehashemi

Zeus Lara

2022-07-19T09:07:40+11:00

Alex Massie

General

2023-05-09T15:42:17+11:00

Alexander Rivkin

Zeus Lara

2023-03-28T15:40:59+11:00

Alexandra Marie Tan

Zeus Lara

2023-03-14T15:15:24+11:00

Ali Pahlavan

General

2023-05-17T01:57:15+11:00

Alisdair Brown

Zeus Lara

2022-08-30T09:51:38+11:00

Amanda Walker

Zeus Lara

2022-08-09T10:18:22+11:00

Anders Madsen

Zeus Lara

2022-08-02T17:55:11+11:00

Andrew Cheesman

Zeus Lara

2022-08-09T12:17:42+11:00

Andrew Coley

Zeus Lara

2021-12-21T12:36:47+11:00

Anish Joshi

Zeus Lara

2023-04-04T15:04:09+11:00

Ann Mica Mae Lim

Zeus Lara

2023-05-11T14:08:40+11:00

Anna Linfield-Kent

Zeus Lara

2023-03-14T16:25:51+11:00

Barbara Read

General

2023-04-27T09:42:19+11:00

Benn Salier

Zeus Lara

2021-07-06T13:45:00+11:00

Bita Bagheri

General

2021-03-02T14:12:11+11:00

Blake Dahlen

Zeus Lara

2023-02-23T09:47:16+11:00

Callum Dodd

Zeus Lara

2022-11-23T11:00:39+11:00

Caroline Lees

Zeus Lara

2023-01-17T10:29:22+11:00

Cathy Baldwin

General

2021-01-19T16:55:52+11:00

Chika Nnadiekwe

Zeus Lara

2023-03-28T15:27:26+11:00

Chris Sykes

General

2022-05-26T12:50:02+11:00

Cliff Blakley

Zeus Lara

2023-05-11T13:52:16+11:00

David Johnson

General

2022-06-01T10:43:16+11:00

David Mansfield

Zeus Lara

2023-02-14T10:37:32+11:00

Deanna Edwards

Zeus Lara

2023-03-28T15:46:04+11:00

Derek Oldham

Zeus Lara

2023-05-09T15:38:58+11:00

Elise Kellond-Knight

Zeus Lara

2019-07-04T22:47:54+11:00

Ellen Misador

Zeus Lara

2023-03-14T15:30:57+11:00

Eugene O'Connell

Zeus Lara

2022-03-22T16:14:36+11:00

Francis Aseron

Zeus Lara

2023-02-24T09:56:24+11:00

Fritzie Ligeralde

Zeus Lara

2021-08-17T15:41:14+11:00

Gilbert Wong

Zeus Lara

2022-05-25T12:27:00+11:00

Guru Swaminathan

General

2023-05-26T16:16:29+11:00

Hardik Lakhani

Zeus Lara

2022-03-08T16:33:18+11:00

Hayley Weir

Zeus Lara

2022-03-01T12:16:09+11:00

Helen Argitis

Zeus Lara

2022-05-26T12:13:35+11:00

Ian Salvador

Zeus Lara

2022-06-14T17:51:51+11:00

Ian Thomson

Zeus Lara

2023-04-27T09:46:51+11:00

Ibrahim Dani

Zeus Lara

2023-05-09T15:33:59+11:00

Igor Vieira

Zeus Lara

2022-06-28T16:45:19+11:00

Jerry Cobb

General

2022-06-28T15:49:32+11:00

Joanna Carlos

Zeus Lara

2022-02-15T17:48:05+11:00

Jochebed Diaz

General

2022-11-16T12:53:12+11:00

Johaimah Garrido

Zeus Lara

2021-03-16T10:08:35+11:00

John Middlemist

Zeus Lara

2021-07-21T12:11:54+11:00

Jovilyn Magtoto

Zeus Lara

2022-08-02T13:27:08+11:00

Julia Nicole Justo

Zeus Lara

2023-02-23T08:34:34+11:00

Katherine Whiteside

General

2022-11-30T17:42:36+11:00

Kunal Parikh

Zeus Lara

2022-01-25T11:49:10+11:00

Louigi Gardiola

Zeus Lara

2023-02-23T08:31:20+11:00

Louise White

General

2021-05-11T16:20:05+11:00

Lousiene Samonte

General

2022-08-30T14:27:05+11:00

Maddison Schmid

Zeus Lara

2023-05-11T09:35:43+11:00

Mariam Kohani

Zeus Lara

2022-07-19T09:57:04+11:00

Marian Joyce Makalintal

Zeus Lara

2023-03-14T15:51:17+11:00

Marianne Dinsay

Zeus Lara

2023-02-23T08:32:42+11:00

Mark McAdam

General

2023-05-03T12:09:06+11:00

Mark Millen

Zeus Lara

2022-08-30T12:47:06+11:00

Matthew Knight

Zeus Lara

2023-02-23T08:32:48+11:00

Melanie Northrop

Zeus Lara

2023-01-31T17:06:41+11:00

Melody Framp

Zeus Lara

2023-05-09T16:20:00+11:00

Melody Tuazon

Zeus Lara

2023-05-09T15:59:40+11:00

Michael Bryant

General

2022-08-09T11:38:32+11:00

Mohammad Ramezani

General

2022-07-13T16:18:36+11:00

Muhammad Sauood Ur Rauf

General

2022-08-30T14:20:48+11:00

Nevil Cope

General

2022-08-30T14:24:26+11:00

Niall Burke

Zeus Lara

2022-10-11T13:16:07+11:00

Nick Rodwell

Zeus Lara

2022-07-14T11:47:55+11:00

Nicole Hatten

Zeus Lara

2022-03-22T16:18:26+11:00

Ninia Ortile

Zeus Lara

2022-10-11T14:26:40+11:00

Pablo Andres Cordova Baya

Zeus Lara

2023-02-23T08:48:38+11:00

Parastoo Mousavi

Zeus Lara

2022-12-13T10:24:00+11:00

Paul Bernard

Zeus Lara

2022-02-04T02:19:40+11:00

Paul Kirschner

General

2022-02-04T02:26:06+11:00

Peter Boylan

General

2023-03-14T16:22:42+11:00

Peter Philpott

General

2022-11-08T10:05:47+11:00

Rahul Kaushal

Zeus Lara

2022-08-03T10:22:38+11:00

Rajiv Boddupalli

Zeus Lara

2022-12-13T09:44:21+11:00

Robert Caminiti

General

2020-10-07T04:02:43+11:00

Robert Crossman

General

2022-03-08T14:18:21+11:00

Rohini Verma

Zeus Lara

2021-04-13T12:23:02+11:00

Rohit Satija

Zeus Lara

2023-05-09T15:27:58+11:00

Roxane Montierro

Zeus Lara

2020-12-15T06:30:55+11:00

Sanjay Narayan

Zeus Lara

2023-02-14T11:09:04+11:00

Saurabh Kundi

Zeus Lara

2023-02-23T08:26:14+11:00

Shiraan Fernando

Zeus Lara

2023-03-14T15:07:49+11:00

Shruthi Srinivas

Zeus Lara

2023-02-07T09:53:04+11:00

Sreekanth Badam

Zeus Lara

2022-11-09T17:14:36+11:00

Stephen Curtis

Zeus Lara

2023-05-30T09:22:30+11:00

Tameka Yallop

General

2022-03-08T16:41:26+11:00

Tanvi Mahajan

Zeus Lara

2023-03-28T15:21:57+11:00

Through Zhu

Zeus Lara

2023-02-23T10:21:23+11:00

Thuc Linh Nguyen Phan

Zeus Lara

2023-05-30T09:39:47+11:00

Tony Calusic

Zeus Lara

2022-08-01T16:52:17+11:00

Vanessa Vella

General

2021-12-14T12:11:12+11:00

Winona Astian Thian

Zeus Lara

2023-02-23T08:34:19+11:00

Yanmin Chen

Zeus Lara

2022-03-08T16:40:11+11:00

Zach Barnetby

Zeus Lara

2022-06-24T11:08:22+11:00