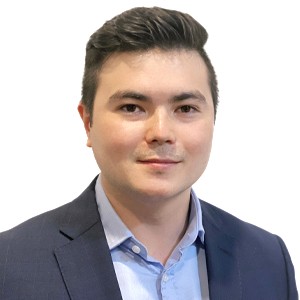 Oliver Stevenson
PMO Specialist (Scheduler/Planner) – (Fast Track)
---
Areas Of Expertise:
Project Management
Scheduling
---
Education:
Bachelor of Business Administration
Master of Cyber Security Analysis
---
About Oliver Stevenson
Oliver is an enthusiastic scheduler and project officer, with experience in the fields of IT and IT Project Management. He is able to build strong relationships with project managers and their stakeholders and has excellent communication skills. He is a collaborative team player, but also comfortable working independently. Oliver is analytical and technical and enjoy sharing his knowledge with others.
---
What Oliver brings
Strong interpersonal and communications skills.
Experienced at planning and coordinating multiple simultaneous projects, identifying risks, dependencies, and roadblocks, estimating timeframes, scheduling, and establishing milestones.
Proficient with MS-Project, Microsoft Office, SharePoint and Visio.
Ability to work well under pressure and deliver to deadlines.
---
Key Clients:
---
Key Achievements:
As the Master Scheduler for the ATO Cyber Resilience Program, Oliver managed the Master schedule for multiple projects within the program. This involved; creating strong relationships with PM's, ensuring that any dependencies and interdependencies within projects were identified, risks were called out early to be managed in the risk register, tasks were updated weekly and ensuring that the necessary governance was captured. Other responsibilities involved supporting Program and PMs with status reports, management and secretariate of the Cyber Resilience Technical Working Group and SharePoint Administration.
---
As a Digital Forensics Officer within the ATO Digital Forensics team, Oliver conducted internal and external investigations across a multi-agency ecosystem. Oliver was responsible with the processing of evidence and ensuring that investigators were able to access and view data for their cases. This required to continual training in a range of tools and procedures to collect data. Oliver wrote up procedures for onboarding and investigator assistance to support his team.
---
As a Tester within the ATO Income Tax and Platform Support, Oliver employed SCRUM methodology and designed and implemented test cases during sprints. Oliver was a strong collaborator and effectively worked with and support his teammates during sprints.
---
Other Team Members
Declan Boylan

General

2020-01-15T02:30:38+11:00

Gareth James

General

2021-01-19T11:29:58+11:00

Connie McKeage

Zeus Lara

2021-03-09T10:14:51+11:00

Hugh Harley

Zeus Lara

2020-04-01T04:18:49+11:00

Mike Stockley

Zeus Lara

2022-08-30T12:56:19+11:00

Julie Laoit

Zeus Lara

2022-07-19T09:10:59+11:00

Rob Thomsett

General

2021-04-06T12:29:29+11:00

Louise Ford

General

2020-01-15T03:08:18+11:00

Aaron Simonsen

Zeus Lara

2022-08-30T11:02:06+11:00

Akhilesh Das

Zeus Lara

2022-08-23T10:36:06+11:00

Alan Alehashemi

Zeus Lara

2022-07-19T09:07:40+11:00

Alan Madani

General

2020-07-24T03:51:19+11:00

Alex Massie

General

2022-06-07T16:31:55+11:00

Alexander Rivkin

Zeus Lara

2022-02-22T15:04:22+11:00

Ali Pahlavan

General

2021-09-21T15:39:39+11:00

Alisdair Brown

Zeus Lara

2022-08-30T09:51:38+11:00

Amanda Walker

Zeus Lara

2022-08-09T10:18:22+11:00

Anders Madsen

Zeus Lara

2022-08-02T17:55:11+11:00

Andrew Cheesman

Zeus Lara

2022-08-09T12:17:42+11:00

Andrew Coley

Zeus Lara

2021-12-21T12:36:47+11:00

Ann Mica Mae Lim

Zeus Lara

2022-08-02T10:15:38+11:00

Anna Linfield-Kent

Zeus Lara

2022-08-23T11:14:16+11:00

Barbara Read

General

2021-10-12T09:11:19+11:00

Benn Salier

Zeus Lara

2021-07-06T13:45:00+11:00

Bita Bagheri

General

2021-03-02T14:12:11+11:00

Caroline Lees

Zeus Lara

2021-10-12T09:08:24+11:00

Cathy Baldwin

General

2021-01-19T16:55:52+11:00

Chika Nnadiekwe

Zeus Lara

2022-08-17T09:57:56+11:00

Chris Sykes

General

2022-05-26T12:50:02+11:00

David Johnson

General

2022-06-01T10:43:16+11:00

David Mansfield

Zeus Lara

2022-09-06T15:52:27+11:00

David Welekwe

Zeus Lara

2022-08-30T14:34:08+11:00

Deanna Edwards

Zeus Lara

2021-04-07T16:38:54+11:00

Derek Oldham

Zeus Lara

2022-06-21T17:02:11+11:00

Edward Rudnicki

Zeus Lara

2021-09-28T10:10:11+11:00

Elise Kellond-Knight

Zeus Lara

2019-07-04T22:47:54+11:00

Eugene O'Connell

Zeus Lara

2022-03-22T16:14:36+11:00

Francis Aseron

Zeus Lara

2022-08-30T13:27:30+11:00

Fritzie Ligeralde

Zeus Lara

2021-08-17T15:41:14+11:00

Gennaro Abignano

Zeus Lara

2022-06-07T14:42:35+11:00

Gilbert Wong

Zeus Lara

2022-05-25T12:27:00+11:00

Guru Swaminathan

General

2022-09-06T15:42:26+11:00

Hardik Lakhani

Zeus Lara

2022-03-08T16:33:18+11:00

Hayley Weir

Zeus Lara

2022-03-01T12:16:09+11:00

Helen Argitis

Zeus Lara

2022-05-26T12:13:35+11:00

Ian Salvador

Zeus Lara

2022-06-14T17:51:51+11:00

Ian Thomson

Zeus Lara

2022-02-04T02:04:24+11:00

Ibrahim Dani

Zeus Lara

2022-08-04T12:36:58+11:00

Igor Vieira

Zeus Lara

2022-06-28T16:45:19+11:00

Jason Kwong

Zeus Lara

2022-05-10T17:14:15+11:00

Jerry Cobb

General

2022-06-28T15:49:32+11:00

Joanna Carlos

Zeus Lara

2022-02-15T17:48:05+11:00

Jochebed Diaz

General

2022-09-06T10:06:46+11:00

Johaimah Garrido

Zeus Lara

2021-03-16T10:08:35+11:00

John Middlemist

Zeus Lara

2021-07-21T12:11:54+11:00

Jon Kralevski

Zeus Lara

2022-05-26T09:46:48+11:00

Joseph Stanley

Zeus Lara

2022-06-07T14:39:52+11:00

Jovilyn Magtoto

Zeus Lara

2022-08-02T13:27:08+11:00

Julia Nicole Justo

Zeus Lara

2022-08-17T09:58:15+11:00

Katherine Whiteside

General

2022-03-01T16:01:33+11:00

Kunal Parikh

Zeus Lara

2022-01-25T11:49:10+11:00

Lithika Vinu

Zeus Lara

2022-08-30T14:14:47+11:00

Louigi Gardiola

Zeus Lara

2022-08-17T10:40:37+11:00

Louise White

General

2021-05-11T16:20:05+11:00

Lousiene Samonte

General

2022-08-30T14:27:05+11:00

Maddison Schmid

Zeus Lara

2022-08-17T10:32:19+11:00

Mark McAdam

General

2021-05-11T12:52:35+11:00

Mark Millen

Zeus Lara

2022-08-30T12:47:06+11:00

Mariam Kohani

Zeus Lara

2022-07-19T09:57:04+11:00

Marianne Dinsay

Zeus Lara

2022-06-07T14:41:57+11:00

Matthew Knight

Zeus Lara

2022-06-21T16:48:38+11:00

Melissa Trenerry

Zeus Lara

2022-08-08T13:14:40+11:00

Michael Baylon

Zeus Lara

2021-08-25T16:48:12+11:00

Michael Bryant

General

2022-08-09T11:38:32+11:00

Mohammad Ramezani

General

2022-07-13T16:18:36+11:00

Muhammad Sauood Ur Rauf

General

2022-08-30T14:20:48+11:00

Nevil Cope

General

2022-08-30T14:24:26+11:00

Nick Rodwell

Zeus Lara

2022-07-14T11:47:55+11:00

Nicole Hatten

Zeus Lara

2022-03-22T16:18:26+11:00

Niloofar Fardanesh

General

2022-05-05T11:05:15+11:00

Ninia Ortile

Zeus Lara

2022-07-13T14:46:48+11:00

Oliver Stevenson

Zeus Lara

2022-06-01T13:51:22+11:00

Parastoo Mousavi

Zeus Lara

2022-05-10T17:01:14+11:00

Paul Bernard

Zeus Lara

2022-02-04T02:19:40+11:00

Paul Kirschner

General

2022-02-04T02:26:06+11:00

Peter Boylan

General

2021-07-06T12:52:31+11:00

Peter Philpott

General

2022-08-17T10:37:32+11:00

Rahul Kaushal

Zeus Lara

2022-08-03T10:22:38+11:00

Rajiv Boddupalli

Zeus Lara

2022-08-30T12:46:45+11:00

Robert Caminiti

General

2020-10-07T04:02:43+11:00

Robert Crossman

General

2022-03-08T14:18:21+11:00

Rohini Verma

Zeus Lara

2021-04-13T12:23:02+11:00

Rohit Satija

Zeus Lara

2022-07-04T15:02:01+11:00

Roxane Montierro

Zeus Lara

2020-12-15T06:30:55+11:00

Sanjay Narayan

Zeus Lara

2022-02-04T02:35:09+11:00

Saurabh Kundi

Zeus Lara

2022-06-14T17:33:05+11:00

Sheryll Nones

Zeus Lara

2021-12-23T18:09:26+11:00

Shiraan Fernando

Zeus Lara

2022-05-10T16:56:16+11:00

Sreekanth Badam

Zeus Lara

2022-07-05T18:56:56+11:00

Stephen Curtis

Zeus Lara

2022-08-30T11:03:53+11:00

Syed Hussain

Zeus Lara

2022-02-04T16:04:13+11:00

Tameka Yallop

General

2022-03-08T16:41:26+11:00

Tanvi Mahajan

Zeus Lara

2022-08-17T10:28:07+11:00

Thuc Linh Nguyen Phan

Zeus Lara

2022-06-07T14:41:52+11:00

Tony Calusic

Zeus Lara

2022-08-01T16:52:17+11:00

Vanessa Vella

General

2021-12-14T12:11:12+11:00

Winona Astian Thian

Zeus Lara

2022-08-17T09:52:28+11:00

Yanmin Chen

Zeus Lara

2022-03-08T16:40:11+11:00

Zach Barnetby

Zeus Lara

2022-06-24T11:08:22+11:00