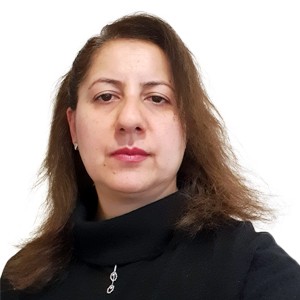 Parastoo Mousavi
PMO Specialist (Scheduler/Planner)
---
Areas Of Expertise:
Schedule Development & Tracking
Dependencies Identification & Tracking
Resource Planning
Critical Path Analysis
Risk & Issues Monitoring & Status Reporting
Agile Planning
Tools (MSP, Jira)
Cost planning & tracking
---
Education:
Master in IT Management, Alzahra University, Tehran, Iran
Bachelor in Industrial Engineering, Iran University of Science and Technology
Agile PM- DSDM, Foundation, Agile Consortium, P3O Foundation, AgileShift, Jira Project Admin, Scrum Fundamental Certified (SFC), Scrum Master Certified (SMC), SAFe
---
About Parastoo Mousavi
Parastoo is an experienced Master Scheduler who joined Seven Consulting's Sydney team in March 2020. She has 8+ years' experience within education, banking, and financial services and has provided PMO and scheduling services for multiple large programs and is a versatile professional with diversified skills across PMO and Project Management. Parastoo is highly skilled in using MS Project and has significant experience in project and program planning.
---
What Parastoo brings
A proven master scheduler with large multi project experience.

Experienced in facilitation of key meetings and workshops including schedule planning workshops and pipeline meetings for senior stakeholders.

Demonstrated experience in creating program dashboard and status report templates.

Skills and experience in several PMO tools including MS Project.
---
Key Clients:
AGL
CFS
Optus
AMP Life
AMP
University of Technology Sydney
Commonwealth Bank
University of Sydney
ABB
IPHRD
MIGT
OTC
---
Key Achievements:
As Master scheduler at AGL, Parastoo was responsible for building the E2E schedule for R1 and R1.1 of Retail Next Program. It is a complex program with the involvement of different teams. Building dependencies among different streams was a critical part of the program. Parastoo was responsible to facilitate the dependencies meeting, maintaining the schedule, Providing the analytical status report for program management and weekly SOS status report (POAP and Milestone report). Parastoo trained and coached workstream leads to develop and maintain Jira roadmap. Parastoo assessed the quality of data in Jira and dependencies logs and helped stream lead to improve their data quality for the better reporting. Parastoo developed the scheduling, Jira roadmap and dependencies management guidelines.
---
As Master scheduler at CFS, Parastoo was responsible for building the E2E schedule for Phase I and Phase II of Bedrock II (Cloud Migration). Bedrock II is a complex program; different business streams, technology streams and vendors are involved. Parastoo was responsible for guiding, supporting, and governing stream leads to implementing the correct scheduling practices. Her responsibilities were weekly schedule updates, tracking, status, and analytical reporting. Parastoo developed different reporting formats, including dependencies report, Milestone report, Burn-down chart report, Critical path analysis report, and swim lane plan on the page report. She was responsible for developing the online whiteboard board to facilitate the scheduling workshop. She reconciled Jira tickets with Microsoft project activities.
---
As Master scheduler at AMP, Parastoo was responsible for building the integrated program schedule for Cloud X migration. She was responsible for governing, guiding, and supporting the scheduling activities of 5 individual workstreams. Her primary tasks were weekly progress tracking, including dependencies matrix and updating program status reports. She set up the scheduling reporting format for the weekly program status report. The status report is the artifact to update all key stakeholders. Parastoo was responsible for setting up the Jira board for one of the workstreams and coordinating the daily stand up.
---
As Master scheduler at AGL, Parastoo was responsible for building the integrated end to end release plan and handing it over to the implementation manager. The responsibilities are to collect the information from different teams to find out the scope of deliveries, main delivery milestones, and dependencies points.
---
As Master Scheduler at Optus, Parastoo was responsible for creating the E2E program schedule for four programs of works. Schedules included external dependencies, intra-dependencies management, milestone tracking, mapping the detailed schedule to the roadmap, tracking the progress, critical path analysis and status reporting. Parastoo was involved in Optus yearly portfolio prioritisation plan. Her other task was to prioritise the different portfolio initiatives by considering various factors such as squads plans, resource plan, initiative dependencies, initiative roadmap, initiative criticality. She also developed the Optus scheduling standard, Optus scheduling operationalisation artifact, scheduling template, scheduling reporting guideline. She recorded five scheduling related courses. Parastoo used MSP, Miro, and Timeline Pro as the main tools for scheduling.
---
As Master Scheduler and Resource Planner at AMP Life, Parastoo was responsible for creating a portfolio integrated schedule and Resource plan for technology workstream. The Integrated schedule is used as a reference for the delivery team to break down their tasks and inter-dependencies on the more granular level. She was responsible for setting up the roadmap, reporting and inter-dependency map.  Parastoo created a "Plan for the Plan" using agile techniques to facilitate the development of the portfolio's schedule during the analysis phase.
---
As Master schedule at AMP Life, Parastoo was responsible for setting up the Program master schedule and interdependencies management for The Separation-Day 2 Workstream. She created the scheduling Guidelines and KPI to uplift the scheduling capability of the separation team.
---
As Implementation Manager at AMP, Parastoo supported the Command Centre through the final Dress Rehearsal and Production Cutover of AMP Life Insurance Separation Program for Day 1 (legal separation of funds with shared operations). She ran several workshops to validate interdependencies and developed an interdependencies map and high-level roadmap of activities to aid communication between the 22 streams involved in the cutover. Parastoo also used her scheduling experience to assist release managers in transferring their data into Master Runsheet in Microsoft Project. During the dress rehearsal and cutover, she was responsible for the tracking of progress against the Master Runsheet and communication to key stakeholders via 6 hourly checkpoints with 2 other implementation managers over a 3 shift 24/7 period; as well as providing impact analysis of any slippages, milestone reports and status updates to the AMP governance committee.
---
As Master Scheduler and Resource Planner at UTS, Parastoo was responsible for creating portfolio and program capacity plans as well as master schedules for a portfolio of 40 – 60 projects. She ran a weekly pipeline meeting for senior stakeholders and program managers, maintained the master schedule and project status dashboards, analysed project variances and generated status reports.
---
As Master Scheduler at Commonwealth Bank, Parastoo created master schedules using CPM (4 major programs including 10 to 40 streams of work). She ran team interdependencies workshops, helped project managers to set up their schedules and health checked project managers' schedules. Parastoo maintained master schedules by running weekly update meeting with project managers and generated status reports that highlighted schedule variances and risks. She also created and maintained milestone and deliverable reports.
---
As Program Scheduler at ABB, Parastoo set up workshop capacity planning, expedited the procurement items delivery, analysed schedule variances, and prepared extension of time (EOT) reports for claims, maintained master schedules with Project Managers and generated status reports that highlighted schedule variances and risks. Parastoo also prepared indicative tender schedules.
---
As Master Scheduler & Resource Planner at University of Sydney, Parastoo was responsible for creating portfolio and program capacity plans and master schedules, as well as setting up cash flow and monitoring scope variation.
---
As Program Scheduler at MIGT, Parastoo created and maintained master schedules. She also ran dependency management and generated status reports on a weekly basis including EVM report. Parastoo set up and documented PMBOK- Schedule, Resource and Cost Planning. 
---
As Project Scheduler in IPHRD, Parastoo was responsible to develop and monitor project schedules.
Other Team Members
Declan Boylan

General

2020-01-15T02:30:38+11:00

Gareth James

General

2021-01-19T11:29:58+11:00

Connie McKeage

Julius

2021-03-09T10:14:51+11:00

Michael Blomfield

Julius

2023-02-14T10:26:26+11:00

Temre Green

Julius

2022-11-23T10:52:41+11:00

Mike Stockley

Julius

2022-08-30T12:56:19+11:00

Julie Laoit

Julius

2022-07-19T09:10:59+11:00

Rob Thomsett

General

2023-01-31T17:26:36+11:00

Louise Ford

General

2020-01-15T03:08:18+11:00

Aaron Simonsen

Julius

2023-11-13T23:52:10+11:00

Alan Alehashemi

Julius

2022-07-19T09:07:40+11:00

Alex Jahan

Julius

2023-11-14T12:14:04+11:00

Alex Massie

General

2023-11-14T12:25:43+11:00

Alexander Rivkin

Julius

2023-11-14T00:06:50+11:00

Alexandra Marie Tan

Julius

2023-07-20T17:43:15+11:00

Ali Pahlavan

General

2023-11-14T00:19:34+11:00

Alisdair Brown

Julius

2022-08-30T09:51:38+11:00

Amanda Walker

Julius

2023-11-14T12:09:46+11:00

Andrew Cheesman

Julius

2022-08-09T12:17:42+11:00

Anna Linfield-Kent

Julius

2023-11-14T11:45:20+11:00

Andrew Marshall

Julius

2023-08-29T14:02:36+11:00

Audrey Teh

Julius

2023-11-14T01:03:53+11:00

Barbara Read

General

2023-11-13T23:44:22+11:00

Bhavna Gupta

Julius

2023-11-30T01:43:24+11:00

Benn Salier

Julius

2023-10-17T17:16:47+11:00

Bita Bagheri

General

2023-08-02T22:15:49+11:00

Blake Dahlen

Julius

2023-07-20T13:58:11+11:00

Caroline Lees

Julius

2023-11-14T01:15:13+11:00

Cathy Baldwin

General

2021-01-19T16:55:52+11:00

Chris Sykes

General

2022-05-26T12:50:02+11:00

Callum Barker

Julius

2023-09-15T10:54:00+11:00

Dave Rider

Julius

2023-11-14T11:28:26+11:00

David Johnson

General

2023-06-13T11:44:41+11:00

Deanna Edwards

Julius

2023-03-28T15:46:04+11:00

Derek Oldham

Julius

2023-11-14T01:43:07+11:00

Elise Kellond-Knight

Julius

2019-07-04T22:47:54+11:00

Eliza Johnson

Julius

2023-11-14T01:52:47+11:00

Ellen Misador

Julius

2023-11-14T11:16:10+11:00

Eugene O'Connell

Julius

2023-11-14T11:03:19+11:00

Fritzie Ligeralde

Julius

2023-10-27T12:23:57+11:00

Gilbert Wong

Julius

2023-09-28T10:05:22+11:00

Guru Swaminathan

General

2023-05-26T16:16:29+11:00

Hardik Lakhani

Julius

2023-11-14T10:59:45+11:00

Hayley Weir

Julius

2023-08-29T14:56:54+11:00

Helen Argitis

Julius

2023-11-14T10:56:19+11:00

Inggrid Yapari

Julius

2023-09-05T14:17:37+11:00

Ian Salvador

Julius

2023-11-14T02:22:20+11:00

Jerry Cobb

General

2022-06-28T15:49:32+11:00

Joanna Carlos

Julius

2022-02-15T17:48:05+11:00

Jochebed Diaz

General

2023-07-27T15:46:01+11:00

Johaimah Garrido

Julius

2021-03-16T10:08:35+11:00

John Middlemist

Julius

2023-11-14T02:36:08+11:00

Jovilyn Magtoto

Julius

2022-08-02T13:27:08+11:00

Julia Nicole Justo

Julius

2023-11-14T10:49:49+11:00

Julius Labalan

Julius

2023-10-05T10:04:21+11:00

Katherine Whiteside

General

2023-11-14T10:44:56+11:00

Kunal Parikh

Julius

2022-01-25T11:49:10+11:00

Lauren Grouse

Julius

2023-11-14T10:37:06+11:00

Louigi Gardiola

Julius

2023-02-23T08:31:20+11:00

Maddison Schmid

Julius

2023-11-14T10:31:00+11:00

Mariam Kohani

Julius

2022-07-19T09:57:04+11:00

Marian Joyce Makalintal

Julius

2023-06-21T10:48:28+11:00

Marianne Dinsay

Julius

2023-11-14T10:27:12+11:00

Mark McAdam

General

2023-05-03T12:09:06+11:00

Mark Millen

Julius

2022-08-30T12:47:06+11:00

Matthew Knight

Julius

2023-11-14T10:24:09+11:00

Melody Framp

Julius

2023-11-14T10:20:38+11:00

Melody Tuazon

Julius

2023-05-09T15:59:40+11:00

Michael Bryant

General

2023-11-13T17:56:32+11:00

Mohammad Ramezani

General

2022-07-13T16:18:36+11:00

Nadja Schulze

Julius

2023-07-13T13:05:06+11:00

Nevil Cope

General

2022-08-30T14:24:26+11:00

Niall Burke

Julius

2023-11-13T17:36:58+11:00

Nick Rodwell

Julius

2023-11-13T17:46:28+11:00

Nicole Hatten

Julius

2023-11-13T17:33:35+11:00

Ninia Ortile

Julius

2022-10-11T14:26:40+11:00

Pablo Andres Cordova Baya

Julius

2023-06-21T10:48:54+11:00

Parastoo Mousavi

Julius

2023-11-13T17:25:28+11:00

Paul Kirschner

General

2022-02-04T02:26:06+11:00

Peter Boylan

General

2023-03-14T16:22:42+11:00

Peter Philpott

General

2022-11-08T10:05:47+11:00

Rachel Low

Julius

2023-09-18T12:34:26+11:00

Rajiv Boddupalli

Julius

2023-11-13T16:14:32+11:00

Robert Crossman

General

2022-03-08T14:18:21+11:00

Rohini Verma

Julius

2023-11-30T02:00:48+11:00

Rohit Satija

Julius

2023-11-13T15:37:09+11:00

Roxane Montierro

Julius

2020-12-15T06:30:55+11:00

Sanjay Narayan

Julius

2023-02-14T11:09:04+11:00

Saurabh Kundi

Julius

2023-11-13T15:08:30+11:00

Shiraan Fernando

Julius

2023-03-14T15:07:49+11:00

Shruthi Srinivas

Julius

2023-08-25T12:02:31+11:00

Sreekanth Badam

Julius

2023-11-30T03:24:02+11:00

Stephen Curtis

Julius

2023-11-13T13:01:36+11:00

Simon Chrétien

Julius

2023-09-15T11:40:55+11:00

Tameka Yallop

General

2023-08-29T16:34:12+11:00

Tanvi Mahajan

Julius

2023-11-13T12:45:18+11:00

Thuc Linh Nguyen Phan

Julius

2023-11-13T12:39:10+11:00

Tony Calusic

Julius

2023-11-13T12:21:56+11:00

Vanessa Vella

General

2023-11-30T02:22:53+11:00

Vergil De Leon

Julius

2023-09-11T10:53:30+11:00

Winona Astian Thian

Julius

2023-02-23T08:34:19+11:00

Yanmin Chen

Julius

2023-10-03T19:22:20+11:00

Zach Barnetby

Julius

2023-11-13T10:30:25+11:00