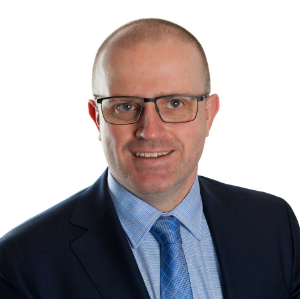 Paul Murphy
Program Manager
---
Areas Of Expertise:
Software Development
Complex System Integration
IT Infrastructure
National deployments
Process Improvement
Vendor Management
Project and Program Delivery
Portfolio Management & PMO Establishment
Capability Development
People & Team Leader
Training & Facilitation
---
Education:
PMP Certification
PMI Agile Certified Practitioner
SAFe 4.5 Certified Agilist
Scrum Master Certified
ITIL Foundations Certificate
Advanced Diploma in Business
---
About Paul
Paul is a skilled Program Manager with over 20 years' experience focusing on project, program and portfolio delivery, vendor management, software development, system integration and infrastructure delivery.
With extensive experience leading and recovering complex programs, Paul applies pragmatic, situational approaches to methodology, ensuring business benefits are achieved. He also enjoys developing people and outcomes focused cultures.
---
What Paul brings
Strong leadership and stakeholder management skills, used to align stakeholders, team members, vendors and customers to the same objectives.
Extensive experience leading complex programs in high pressure environments, with a track record of delivering successful outcomes.
Proven ability to recover troubled programs and lead them back to success across a breadth of technologies and industries.
Excellent stakeholder and vendor management skills resulting in effective reporting and succinct instructions.
Leadership of significant sized project teams (up to 120 staff) across a variety of projects, with experience managing both dedicated and non-dedicated resources.
---
Delivery Expertise:
Alinta Energy
Linfox
Telstra Health
NAB
ANZ
Coles
Woolworths
Westpac
---
Key Achievements:
As Program Manager at Alinta Energy, Paul managed the Data and Analytics program to implement an enterprise Data and Analytics strategy. This included the development and implementation of a modern cloud-based architecture, delivery of several strategic data projects, alongside leading an assessment and remediation process for all legacy data assets to address security, audit readiness and lifecycle management. Paul oversaw the Program end to end including business case development, funding approval, business stakeholder management, vendor management, delivery assurance, and financial controls.
---
As Program Manager at Linfox, Paul led the recovery of two troubled projects, successfully bringing both back to green within weeks of being involved. One of these Projects was to fully digitize Linfox maintenance, moving traditional paper-based operations onto a Tablet and SAP solution. Paul also oversaw the initiation of several strategic initiatives to transform Linfox Warehouse Management and Transport Management solutions. Paul also implemented a capability and mentoring program to uplift project delivery standards and governance and delivered several Program reviews for the CIO.
---
As Program Manager at Telstra Health, Paul initially developed contingency solutions for the National Cancer Screening Register to ensure continuity of critical health services as part of a complex program recovery. He then led the successful development, testing and implementation of the final solution in a very high-profile, high pressure stakeholder landscape. Under Paul's leadership, this Program of national significance when externally audited, not only specifically called out Paul's contribution, but also recognized the Program as being in the best shape it had been in to date. Paul also assisted to shape the future approach to ensure ongoing success of the program, implementing Agile backlog prioritisation, release and change management processes.
---
As Program Manager at NAB, Paul led the Experian engagement for the NAB Assist Core System Replacement Program for the implementation of Tallyman software, to support NAB collections for all unsecured lending products. This release represented 65% of the NAB collections volume in a Program of works exceeding $70m.
---
As Program Manager at ANZ, Paul also led the Experian design and build for the Customer Account Optimisation Program (CAMO) for the introduction of PowerCurve analytics software, which was part of a $100m+ Program, that transformed how ANZ manages credit risk decisioning. Paul also oversaw the requirements, design and initial build phases of ANZ's early adoption of PowerCurve collections – the first implementation of its kind worldwide.
---
As Program Manager at ANZ, Paul oversaw the NCR Smart ATM Program deploying over 1200 ATMs nationally, of which 750 were deployed in an aggressive 9-month rollout schedule. Paul Managed all third-party contractors to perform building, glazing, power, data, signage, security, freight and logistics services associated with installations.
---
As Program Manager at ANZ, Paul oversaw the NCR upgrade of the ANZ and NAB ATM fleets, to include EMV technology in aggressive national rollouts of less than 6 months each to meet compliance requirements.
---
As Program Manager at Westpac, Paul oversaw the NCR ATM Retrofit Project, a technically complex in-field upgrade of over 500 Westpac ATMs to convert from Withdrawal only functionality, to include deposit capability.
---
As Project Manager at Westpac, Paul led the IBM System Access Team Relocation, migrating a 15 FTE team, performing system and user access administration for over 60 Westpac systems including knowledge transfer, training, and relocation, ensuring adherence to service levels and no degradation of quality.
---
As Program Manager at Coles, Paul oversaw the NCR Assisted Checkout Program, a multi-release program of $8m – $10m per annum, to continually optimize the use of Self-Checkout technology. This included installation of new and optimization of existing stores, implementing significant supply chain optimization. Upgraded 4000 self-checkout lanes to include peripheral equipment, in a 3-month national rollout. Coordinated the logistics of 50,000 discrete parts across Australia and implemented a PMO, which coordinated 16 teams to perform upgrades each night.
---
As Program Manager at Coles, Paul managed an IBM LifeCycle Management Program, a $9m upgrade across all Coles supermarkets in a 9-month rollout. This included POS, Networking and back office store and infrastructure upgrades.
---
As Program Manager at Woolworths, Paul managed the NCR Self-Checkout BAU Program, of $5m+ per annum to optimise the use of Self-Checkout technology. This included installation of self-checkout into all new Woolworths, Big W and Masters stores, continual optimisation of layouts, and adoption of Card-only units across the stores. Paul delivered a national upgrade to all Woolworths Self Checkouts scanners and peripherals.
---
As Program Manager at NAB, Paul led a key workstream as part of the IBM Infrastructure Transformation Program, to transition NAB Project Management resources into IBM, as part of a strategic outsourcing contract, including the NAB NextGen Program. Paul managed the re-baselining process, to establish a commercial baseline for all in-flight projects inherited by IBM as part of this $1.2bn outsourcing engagement.
---
As Program Manager at IBM, Paul led the relocation of a Network Operations Centre from a legacy location into the IBM Data Centre. He coordinated a system outage with 50+ clients simultaneously, and mitigated potential risks for mission critical systems, such as Sydney Airport runway lighting, and Metcash warehousing systems.
---
As Project Manager at IBM, Paul managed the relocation of numerous service desks from client operations into IBM facilities both onshore and offshore. Paul has also managed a multi-award winning 120+ seat service desk.
---
---
Other Team Members
Declan Boylan

General

2020-01-15T02:30:38+00:00

Gareth James

General

2020-01-15T02:46:06+00:00

Rob Thomsett

General

2020-02-07T05:09:23+00:00

Louise Ford

General

2020-01-15T03:08:18+00:00

Laury MacPherson

General

2018-04-23T07:39:51+00:00

Alan Madani

General

2020-07-24T03:51:19+00:00

Alex Massie

General

2020-06-19T01:51:58+00:00

Ali Pahlavan

General

2020-07-09T06:29:03+00:00

Andrew Cheesman

Zeus Lara

2020-08-23T23:37:35+00:00

Andrew McDonagh

General

2020-09-03T05:49:48+00:00

Andrew Moghaddam

General

2020-01-10T03:36:32+00:00

Barbara Read

General

2020-01-10T04:13:14+00:00

Benn Salier

Zeus Lara

2020-07-29T01:44:59+00:00

Berna Akdeniz

General

2018-04-23T07:40:38+00:00

Bita Bagheri

General

2020-11-09T02:42:28+00:00

Brett Krieger

Zeus Lara

2020-08-05T03:12:17+00:00

Bronagh Stewart

Zeus Lara

2020-08-10T02:09:42+00:00

Bruce Denson

General

2020-03-19T00:59:30+00:00

Cathy Baldwin

General

2020-01-21T03:46:49+00:00

Chris Sykes

General

2020-03-05T00:14:43+00:00

David Johnson

General

2020-01-15T02:05:16+00:00

Donalito Jr. Bales

Zeus Lara

2020-05-28T05:04:09+00:00

Duncan Hewitt

General

2020-03-05T00:20:23+00:00

Ericson Bagunas

General

2020-10-01T05:06:36+00:00

Gilbert Wong

General

2018-05-24T23:55:47+00:00

Grace Tran

General

2020-04-27T06:07:30+00:00

Guru Swaminathan

General

2020-10-13T05:04:12+00:00

Jackie Lou J. Belano

General

2020-10-07T03:28:39+00:00

Jeroen Lubbers

Zeus Lara

2020-11-23T23:30:58+00:00

Jerry Cobb

General

2020-11-06T00:49:28+00:00

Joanna Carlos

Zeus Lara

2020-09-14T00:37:15+00:00

Joanne Carla S. Sebuc

General

2020-10-26T23:49:00+00:00

Jochebed Diaz

General

2020-07-24T03:53:17+00:00

John Mitchell

General

2020-07-22T01:01:54+00:00

Katherine Whiteside

General

2020-07-02T06:55:12+00:00

Krishnaraj Arumugam

Zeus Lara

2020-06-30T04:59:15+00:00

Louise White

General

2020-04-23T06:17:12+00:00

Lousiene Samonte

General

2020-04-01T03:22:19+00:00

Mark Cumming

General

2020-04-30T04:58:27+00:00

Mark McAdam

General

2020-08-24T01:07:53+00:00

Maryam Kohani

Zeus Lara

2020-03-03T05:24:20+00:00

Michael Baylon

General

2018-07-18T02:59:28+00:00

Michael Bryant

General

2020-09-25T02:15:23+00:00

Mohammad Ramezani

General

2020-01-14T03:38:39+00:00

Muhammad Sauood Ur Rauf

General

2020-10-06T00:12:22+00:00

Nadja Schulze

General

2020-05-29T06:16:06+00:00

Nevil Cope

General

2020-01-14T04:11:02+00:00

Niloofar Fardanesh

General

2020-09-29T01:07:43+00:00

Parastoo Mousavi

Zeus Lara

2020-09-08T00:31:28+00:00

Paul Kirschner

General

2020-01-14T04:38:37+00:00

Peter Boylan

General

2020-09-01T23:46:32+00:00

Peter Philpott

General

2020-10-30T03:09:29+00:00

Pritika Osland

Zeus Lara

2020-09-23T00:05:43+00:00

Rinku Razdan

General

2020-11-11T06:29:00+00:00

Robert Caminiti

General

2020-10-07T04:02:43+00:00

Robert Crossman

General

2020-01-15T04:30:20+00:00

Roxane Montierro

Zeus Lara

2020-11-17T22:20:14+00:00

Satya Sharma

General

2020-08-17T06:10:30+00:00

Shane Moore

General

2020-04-23T06:10:08+00:00

Sharon Tannenbaum

Zeus Lara

2020-10-13T00:59:01+00:00

Shiraan Fernando

Zeus Lara

2020-08-24T00:34:31+00:00

Sosha Jabbary

General

2020-11-18T06:56:36+00:00

Steve Baxter

Zeus Lara

2020-11-05T05:51:05+00:00

Syed Hussain

Zeus Lara

2020-10-07T04:48:38+00:00

Tameka Yallop

General

2019-04-29T04:29:36+00:00

Vanessa Vella

General

2020-04-15T01:08:38+00:00

Venice Gordula

Zeus Lara

2020-10-21T03:01:02+00:00

Yanmin Chen

General

2018-07-18T02:55:46+00:00