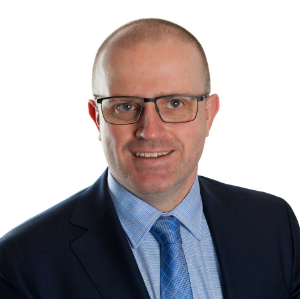 Paul Murphy
Program Director
---
Areas Of Expertise:
Software Development
Complex System Integration
Data & Analytics
IT Infrastructure
National deployments
Process Improvement
Vendor Management
Project and Program Delivery
Portfolio Management & PMO Establishment
Capability Uplift
People Leadership
Training & Facilitation
---
Education:
PMP, PMI Agile Certified Practitioner
SAFe 5.0 Certified Agilist
Scrum Master Certified
ITIL Foundation Certificate
Advanced Diploma in Business
---
About Paul Murphy
Paul is a skilled Program Manager with over 20 years' experience leading project, program and portfolio delivery, vendor management, software development, system integration, data and analytics, and infrastructure delivery. With extensive experience leading and recovering complex programs, Paul applies pragmatic, situational approaches, ensuring benefits are achieved. He enjoys developing outcomes focused team cultures and uplifting capability.
---
What Paul brings
Seasoned Program Leader with a proven track record spanning multiple industries and technologies.
A calm and clear approach to Executive stakeholder management.
Project, Program and Portfolio planning, status tracking and reporting, scheduling, risk and issue management, resource forecasting, budget management and vendor management.
Extensive experience mobilising, leading and recovering complex programs in high pressure environments, with a track record of delivery success.
Strong technical acumen ensuring the ability to ask the right questions.
An adaptive style that can span effectively to lead teams of 5 to 100+.
Extensive knowledge and experience with Agile and Traditional methods.
---
Key Clients:
Alinta Energy
Linfox
Telstra Health
NAB
ANZ
Coles
Woolworths
Westpac
---
Key Achievements:
As Program Manager at Alinta Energy, Paul led a Program to establish an enterprise Data and Analytics solution and capability. Underpinning the capability was the design and build of the first of a kind Cloud based Data Hub, which was featured in a Microsoft Case Study, alongside successful delivery of benefits through several key projects including uplifting Unbilled revenue models and ensuring Alinta could meet retail regulatory compliance obligations. The Program also addressed and uplifted several legacy data assets to meet operational and compliance requirements, whilst also laying the foundations to enable future key projects at Alinta. A Data & Analytics Operating model was implemented to not only better position Alinta for future audits, but to also to enable the busines to firstly have confidence in their data, and secondly to fully exploit and derive value from the available data assets and capabilities.
---
As Program Manager at Telstra Health, Paul joined the $220m National Cancer Screening Register (NCSR) Program as part of a project rescue following considerable delays and challenges. His role was initially to develop contingency solutions to ensure continuity of critical services resulting from delays. He then took the lead role in Program Managing the development, testing and implementation of the primary solution. Paul successfully navigated the recovery of a hostile stakeholder landscape, a delivery team suffering from fatigue and burnout, inadequate requirements, and a complex technology solution. Six months into Paul's tenure, the Program underwent its fourth external assurance audit, which called out Paul's contribution specifically, whilst returning a finding that the Program was in it's best status in over two years, recommending a go-live to key stakeholders. Following a complex 5-week, 24×7 data migration process, the National Cancer Screening Register successfully went live and the service was launched. Following the go-live, Paul implemented an Agile backlog and release management process to address defects and enhancements, whist also providing key inputs into the planning and approach for future major and minor releases.
---
As Program Manager at Linfox, Paul managed a team of Project Managers, whilst also personally leading the recovery and successful delivery of two troubled projects, bringing both back to green within weeks of being involved. One of these projects was the digitization of Linfox fleet maintenance, moving from a paper-based process onto Tablets, integrating with SAP. Paul also led a Project Management capability uplift process, designed to improve Project outcomes at Linfox in the areas of People, Process and Technology. Paul also undertook a detailed review of the troubled Transport Management System replacement program, providing a set of actionable recommendations for recovery, most of which were accepted by the CIO and proved successful when implemented. Paul led the process to define the technology strategy for Warehouse Management Solutions at Linfox, ensuring readiness to support new technologies such as automation and robotics. Paul also led a public Hackathon in partnership with YBF, where participants were asked to propose solutions that would assist in reducing fuel consumption and assisting to lower Carbon Emissions to a Linfox executive panel, including the Linfox CFO and CIO.
---
At Experian Paul led the Decision Analytics Delivery team, which included personally managing the NAB Assist Core System Replacement Program to implement Tallyman, to support NAB collections for all unsecured lending products. This represented 65% of the NAB collections volume in a Program of works exceeding $70m. Paul oversaw planning, delivery, testing and implementation in a compressed timeline, receiving accolades for the quality of the solution delivered on schedule and within budget both within NAB and globally across Experian. Paul simultaneously led a first in the world early adoption of Experian PowerCurve collections into ANZ bank. This involved working closely with global Product teams to prioritise feature backlogs and delivery timelines, alongside remediation of defects, skills uplift and support, ensuring solution readiness. Paul also managed an uplift and restructure of the Experian Decision Analytics delivery capability, made up of Business Analysts, Technical and Functional Analysts, Testing, Change and Training.
---
As Program Director at NCR, over 3 years Paul successfully delivered a $125m Portfolio of projects in the finance and retail sectors across Australia and New Zealand. Financial services projects included aggressive national rollouts of Smart ATM fleets including at ANZ and NAB, including a 1200 ATM rapid deployment in 9-months, Complex In-field retro fit projects at scale, EMV functionality deployments across both ANZ and NAB ATM networks. Retail Programs included ongoing lifecycle deployment and in-field upgrades to all major retailers self-checkout equipment including Woolworths and Coles, several rapid upgrade initiatives including an aggressive deployment of 4,000 self-checkout upgrades in a 3-month period at Coles. Paul established and managed a PMO, a team of Project and Program Managers, alongside key client stakeholder relationships. Paul also managed a panel of vendors, to provide management oversight of building, glazing, power, data, signage, security, freight and logistics services associated with installations.
---
As Project Director and PMO Manager at IBM, Paul managed a $35m Infrastructure Services Portfolio across a wide variety of clients and industries. This included directly managing a team of 25 Project managers. The Portfolio included a wide array of infrastructure projects, ranging from large desktop rollouts, networking upgrades or deployment of wireless technologies, data centre and server/storage upgrades and movements, alongside business continuity and recovery programs. Paul established a PMO which improved the financial performance of projects by aggregating smaller projects into a standardised PMO / Program approach. The PMO also improved estimation and change control processes, vendor management, and contingency management, ensuring better leading indicators of potential project overruns, enabling early intervention.
---
As a Portfolio Manager at IBM, Paul led a key workstream as part of the Infrastructure Transformation Outsourcing deal. This involved facilitating the transition of NAB Project Managers and their in-flight projects into IBM. Paul managed a rapid deep-dive and re-baselining process across over 40 in-flight projects, establishing an objective assessment of status and a commercial baseline from which IBM would then own the delivery completion of the projects. Paul also oversaw the transition of the NAB NextGen program, developing a commercial engagement framework which enabled NAB and IBM to work together to meet the unique requirements of the NextGen Program.
---
As Program Manager at IBM, Paul successfully recovered a troubled project to relocate a Network Operations Centre from a legacy location into the IBM Data Centre against a very aggressive fixed timeline. He coordinated a system outage with over 50 clients simultaneously, mitigating risks for mission critical systems, such as Sydney Airport runway lighting, and Metcash warehousing systems through the delivery of a contingency monitoring solution to enable migration to successfully occur without impact to clients.
---
At IBM, Paul managed the mobilisation of a Project Management team in support of a $700m Telstra IT infrastructure transformation program outsourcing deal. His role included the recruitment and onboarding of more than 60 Project Managers, implementation of program structures, establishment of a Program Management Office, creation of a master schedule and the definition and governance of standards and processes.
---
As Project Manager at IBM, Paul led the relocation of the Westpac System Access Team, migrating a 15 FTE team, performing system and user access administration for over 60 Westpac systems including knowledge transfer, training, and reporting, ensuring adherence to service levels and no degradation of quality.
---
At IBM, Paul managed the relocation of numerous service desks from client operations into IBM facilities both onshore and offshore. Paul has also managed a multi-award winning 120+ seat service desk.
---
Other Team Members
Declan Boylan

General

2020-01-15T02:30:38+11:00

Gareth James

General

2021-01-19T11:29:58+11:00

Connie McKeage

Zeus Lara

2021-03-09T10:14:51+11:00

Rob Thomsett

General

2021-04-06T12:29:29+11:00

Louise Ford

General

2020-01-15T03:08:18+11:00

Alan Madani

General

2020-07-24T03:51:19+11:00

Alex Massie

General

2020-06-19T01:51:58+11:00

Ali Pahlavan

General

2020-07-09T06:29:03+11:00

Andrew Cheesman

Zeus Lara

2021-03-23T12:46:37+11:00

Barbara Read

General

2021-07-06T12:54:04+11:00

Benn Salier

Zeus Lara

2021-07-06T13:45:00+11:00

Berna Akdeniz

Zeus Lara

2020-12-15T10:21:24+11:00

Bita Bagheri

General

2021-03-02T14:12:11+11:00

Cathy Baldwin

General

2021-01-19T16:55:52+11:00

Chika Nnadiekwe

Zeus Lara

2021-05-11T13:05:32+11:00

Chris Sykes

General

2020-03-05T00:14:43+11:00

David Johnson

General

2020-01-15T02:05:16+11:00

Donalito Jr. Bales

Zeus Lara

2021-01-12T10:10:18+11:00

Ericson Bagunas

General

2020-10-01T05:06:36+11:00

Fritzie Ligeralde

Zeus Lara

2021-06-15T09:45:04+11:00

Gilbert Wong

Zeus Lara

2020-12-15T04:26:15+11:00

Grace Tran

General

2021-07-06T13:11:24+11:00

Guru Swaminathan

General

2020-10-13T05:04:12+11:00

Ian Salvador

Zeus Lara

2021-06-01T12:54:33+11:00

Jason Kwong

Zeus Lara

2021-07-13T12:23:00+11:00

Jeroen Lubbers

Zeus Lara

2021-07-21T11:23:06+11:00

Jerry Cobb

General

2020-11-06T00:49:28+11:00

Joanna Carlos

Zeus Lara

2020-09-14T00:37:15+11:00

Joanne Carla S. Sebuc

General

2021-07-21T10:48:58+11:00

Jochebed Diaz

General

2020-12-15T05:31:11+11:00

John Middlemist

Zeus Lara

2021-07-21T12:11:54+11:00

John Mitchell

General

2020-07-22T01:01:54+11:00

Josh Pricken

Zeus Lara

2021-02-16T14:32:44+11:00

Julia Nicole Justo

Zeus Lara

2021-02-16T14:33:01+11:00

Julie Laoit

Zeus Lara

2021-02-16T14:33:40+11:00

Katherine Whiteside

General

2020-07-02T06:55:12+11:00

Ken Cousins

Zeus Lara

2021-07-21T09:50:50+11:00

Krishnaraj Arumugam

Zeus Lara

2020-06-30T04:59:15+11:00

Louie Huang

Zeus Lara

2021-07-06T13:19:27+11:00

Louigi Gardiola

Zeus Lara

2021-02-16T14:34:48+11:00

Louise White

General

2021-05-11T16:20:05+11:00

Lousiene Samonte

General

2020-04-01T03:22:19+11:00

Mark McAdam

General

2021-05-11T12:52:35+11:00

Mariam Kohani

Zeus Lara

2021-07-13T12:09:45+11:00

Michael Baylon

Zeus Lara

2021-04-06T11:22:44+11:00

Michael Bryant

General

2021-03-09T11:37:38+11:00

Mohammad Ramezani

General

2020-01-14T03:38:39+11:00

Muhammad Sauood Ur Rauf

General

2021-05-10T12:45:04+11:00

Nadja Schulze

General

2020-05-29T06:16:06+11:00

Nevil Cope

General

2020-01-14T04:11:02+11:00

Niloofar Fardanesh

General

2020-09-29T01:07:43+11:00

Parastoo Mousavi

Zeus Lara

2021-05-18T15:46:14+11:00

Paul Bernard

Zeus Lara

2021-07-05T10:56:35+11:00

Paul Kirschner

General

2021-03-09T12:49:12+11:00

Peter Boylan

General

2021-07-06T12:52:31+11:00

Peter Patrick Boylan

Zeus Lara

2021-02-16T14:22:06+11:00

Peter Philpott

General

2020-10-30T03:09:29+11:00

Pritika Osland

Zeus Lara

2020-09-23T00:05:43+11:00

Rick Myburgh

Zeus Lara

2021-07-21T11:12:13+11:00

Rinku Razdan

General

2021-06-15T09:38:48+11:00

Robert Caminiti

General

2020-10-07T04:02:43+11:00

Robert Crossman

General

2020-01-15T04:30:20+11:00

Rohini Verma

Zeus Lara

2021-04-13T12:23:02+11:00

Roxane Montierro

Zeus Lara

2020-12-15T06:30:55+11:00

Saurabh Kundi

Zeus Lara

2021-05-11T11:54:30+11:00

Sharon Tannenbaum

Zeus Lara

2021-06-01T12:48:32+11:00

Shiraan Fernando

Zeus Lara

2021-03-09T17:04:13+11:00

Sosha Jabbary

General

2021-01-27T09:52:48+11:00

Stephen Curtis

Zeus Lara

2021-05-11T12:16:32+11:00

Steve Baxter

Zeus Lara

2021-03-23T11:07:10+11:00

Syed Hussain

Zeus Lara

2021-03-23T11:24:33+11:00

Tameka Yallop

General

2019-04-29T04:29:36+11:00

Vanessa Vella

General

2020-04-15T01:08:38+11:00

Yanmin Chen

Zeus Lara

2021-03-23T15:31:10+11:00