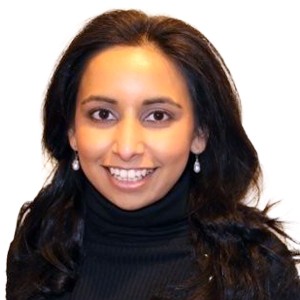 Pritika Osland
Agile Program Director
---
Areas Of Expertise:
Program Management
Large Complex Transformations – Business and Technology
Digital Strategy and Transformation
Executive Stakeholder Management and Influence
---
Education:
Bachelors Computer Science & Technology Major Software Development, University of Sydney
Certified SAFe 5 Agilist (Scaled Agile Framework)
The Science of Happiness at Work (Leadership), University of California, Berkeley
Prince2 Practitioner
Lean Six Sigma Black Belt
---
About Pritika Osland
Pritika is an experienced Program Director with 15+ years of experience in successfully leading delivery of business-critical initiatives with budgets of up to $300M+. Pritika has a proven track record of delivering major transformation, digitalisation, technology uplift and enablement, product launch and driving behavioural change towards a customer-centric mindset across Banking, Consulting, Telecom and Government organisations.
She is highly experienced in navigating through complex and changing environments to bring stakeholders at different levels together to a common goal; gain buy-in and facilitate cross-functional cooperation to deliver the best customer solutions.
---
What Pritika brings
Program Director with experience in executing large scale programs both as a technology and a business lead.
Highly experienced in driving business strategic outcomes by translating corporate strategy into actionable roadmaps for execution.
Demonstrated experience in securing drifting programs and prioritising key challenges to deliver the right business value at the optimum time.
---
Key Clients:
Westpac Banking Corporation
nbn
Commonwealth Bank Australia
Woolworths
---
Key Achievements:
As Program Director at Westpac, Pritika led and established the Point of Sale Exemption Removal program for providing loans through 3rd party car dealership in response to Royal Commission recommendation & NCCP legislation within the constraints of APS222 and Responsible Lending, APRA and ASIC requirements. Pritika secured funding and saved on program cost through providing alternative solutions, established governance with financial reporting and agile workstreams for implementing Credit Representative Appointment model to deliver new risk controls & compliance obligation, branding updates, collateral updates, new dealer agreements, APRA reporting.
---
As Head of Strategy and Delivery at nbn, Pritika contributed to addressing the revenue gaps in the business sector, by launching the Business Fibre On-Demand product. She secured funding, led go to market strategy & pricing, established processes, systems & teams for E2E sales to revenue value chain and enabling sales, delivery and billing of deals. Pritika led the 3-5 -year investment roadmap for Customer Product Delivery Portfolio (50+ program of works, $300M+ budget), team of 200+ and multiple vendors and RSPs to support securing customers and drive delivery and migration of business customers on fibre products, build on demand.
---
As Head of Strategy and Delivery at nbn, Pritika was accountable for the Fibre Expansion Portfolio (B2B, B2C) to secure and grow revenue. She drove & influenced commercial prioritisation of delivery of programs within a $300M+ budget by chairing Investment Board Steer Co with executives to get the biggest bang for buck and secure the best returns for nbn, RSP & customer ecosystem.
---
As Head of Strategy and Delivery at nbn, Pritika successfully delivered the Sales to Revenue Digital Transformation in response to a low rate of sales quote to order conversion. Pritika identified the problem, took ownership, developed a digital strategy, influenced C-Suite and secured funding and established agile delivery teams. She simplified processes to scale delivery for peak activity by delivering custom system mastering all business and transaction data on AWS, automating workflows (RPA) on digital channels, providing a 360-degree customer view. She resolved conflicts between delivery teams caused by inconsistency in data shared in multiple excel sheets over email, heightened data quality and improved regulatory compliance by 50%; improved customer response time: 60 days to 5 days.
---
As Head of Strategy and Delivery at nbn, Pritika successfully delivered Data Analytics Capability. Leveraging big data analytics, improved delivery forecasting by 90%, reduced vendor cost, maximised ROI on deals by 30% within 6 months through strategic planning; reducing cost by consolidating rollout and achieving early revenue realisation by prioritising the delivery of biggest 'bang for buck'.
---
As Program Director at nbn, rescued a drifting product launch (FTTC) imposed by mandatory ministerial directive. With, out of the box thinking and driving agile delivery, outperformed all forecasted timelines through influencing stakeholders to prioritise the FTTC program against a locked-in IT roadmap, allocate funds and resources against competing priorities. Pritika managed over 110+ team size consisting of internal delivery teams and vendor teams. She negotiated SOWs, introduced agile delivery and successfully delivered Technology and Business capabilities in the network delivery organization on nbn; within 2 months enabled planning capability; FTTC end-to-end design and handover processes within 4 months; FTTC B2B processes with asset owner and external delivery partners within 5 months via Agile delivery.
---
As a Portfolio Director at nbn for the Customer Experience Portfolio, Pritika addressed the declining customer satisfaction which impacted nbn's reputation and revenue due to deferred takeup on service. Pritika established an enterprise-wide customer experience portfolio to improve customer experience and with that pulled in executives representing 80% of nbn that collaboratively build a roadmap and took ownership with a vision to improve our service offering and make customers happy. Pritika negotiated to include customer experience is a key business cases criterion for all investments drove prioritisation and delivery of highest improvement activities to improve CX. She led the portfolio team with lean specialist to identify and resolve root-cause of DSAT using LEAN & DMAIC methodologies and a program delivery team to work in partnership with the business to deliver results. This led to a 35% reduction in customer dissatisfaction.
---
As a Program director at nbn, Pritika scaled planning and design processes to meet the corporate delivery target of 8 million homes by 2020. She implemented business process excellence with foundational lean principles including effective KPIs and continuous improvement culture, automation of processes, onboarding additional vendors and new delivery strategies. This action resulted in an increase in the delivery throughput and an improved quality of delivery whilst reducing cost per premises.
---
As Program Manager at Infosys Portland working for client Westpac. Pritika co-led development of custom-built digital procurement solution for Procure to Pay and Procurement Analytics with SAP backend in response to 1500 business requirements. Pritika led Ariba Supplier Network Integration, UAT and Source to Contract capability which was forecasted to provide savings of over $30M per annum through the integration of majority of the procurement functions, automation and streamlining of multiple buying channels into 1, outsourcing purchasing support, 3-ways matching and RCTI (Recipient Created Tax Invoice).
---
As Program Manager at Woolworths. Pritika led the RFP process to shortlist and select a procurement solution and delivery vendor to deliver on the Procurement Digital Strategy. Pritika worked alongside the commercial teams to negotiate commercial delivery contracts. She established governance, onboarded vendors and led the delivery of the Source to Contract capability.
---
At Commonwealth Bank, Pritika led the solution delivery as part of a more extensive programs of Core Banking, Customer Nexus. Enhanced account origination and maintenance customer journey capabilities to meet the Anti Money Laundering (AML) requirements (KYC, FATCA), provided the ability to assess risk effectively by ensuring all required data was captured, reported and accessible and to improve customer service. In partnership with business teams, Pritika delivered some great user interfaces to enhance usability and improve user experience whilst meeting regulatory requirements.
---
Other Team Members
Declan Boylan

General

2020-01-15T02:30:38+11:00

Gareth James

General

2021-01-19T11:29:58+11:00

Connie McKeage

Zeus Lara

2021-03-09T10:14:51+11:00

Rob Thomsett

General

2021-04-06T12:29:29+11:00

Louise Ford

General

2020-01-15T03:08:18+11:00

Alan Madani

General

2020-07-24T03:51:19+11:00

Alex Massie

General

2020-06-19T01:51:58+11:00

Ali Pahlavan

General

2020-07-09T06:29:03+11:00

Andrew Cheesman

Zeus Lara

2021-03-23T12:46:37+11:00

Barbara Read

General

2021-07-06T12:54:04+11:00

Benn Salier

Zeus Lara

2021-07-06T13:45:00+11:00

Berna Akdeniz

Zeus Lara

2020-12-15T10:21:24+11:00

Bita Bagheri

General

2021-03-02T14:12:11+11:00

Cathy Baldwin

General

2021-01-19T16:55:52+11:00

Chika Nnadiekwe

Zeus Lara

2021-05-11T13:05:32+11:00

Chris Sykes

General

2020-03-05T00:14:43+11:00

David Johnson

General

2020-01-15T02:05:16+11:00

Donalito Jr. Bales

Zeus Lara

2021-01-12T10:10:18+11:00

Ericson Bagunas

General

2020-10-01T05:06:36+11:00

Fritzie Ligeralde

Zeus Lara

2021-06-15T09:45:04+11:00

Gilbert Wong

Zeus Lara

2020-12-15T04:26:15+11:00

Grace Tran

General

2021-07-06T13:11:24+11:00

Guru Swaminathan

General

2020-10-13T05:04:12+11:00

Ian Salvador

Zeus Lara

2021-06-01T12:54:33+11:00

Jason Kwong

Zeus Lara

2021-07-13T12:23:00+11:00

Jeroen Lubbers

Zeus Lara

2021-07-21T11:23:06+11:00

Jerry Cobb

General

2020-11-06T00:49:28+11:00

Joanna Carlos

Zeus Lara

2020-09-14T00:37:15+11:00

Joanne Carla S. Sebuc

General

2021-07-21T10:48:58+11:00

Jochebed Diaz

General

2020-12-15T05:31:11+11:00

John Middlemist

Zeus Lara

2021-07-21T12:11:54+11:00

John Mitchell

General

2020-07-22T01:01:54+11:00

Josh Pricken

Zeus Lara

2021-02-16T14:32:44+11:00

Julia Nicole Justo

Zeus Lara

2021-02-16T14:33:01+11:00

Julie Laoit

Zeus Lara

2021-02-16T14:33:40+11:00

Katherine Whiteside

General

2020-07-02T06:55:12+11:00

Ken Cousins

Zeus Lara

2021-07-21T09:50:50+11:00

Krishnaraj Arumugam

Zeus Lara

2020-06-30T04:59:15+11:00

Louie Huang

Zeus Lara

2021-07-06T13:19:27+11:00

Louigi Gardiola

Zeus Lara

2021-02-16T14:34:48+11:00

Louise White

General

2021-05-11T16:20:05+11:00

Lousiene Samonte

General

2020-04-01T03:22:19+11:00

Mark McAdam

General

2021-05-11T12:52:35+11:00

Mariam Kohani

Zeus Lara

2021-07-13T12:09:45+11:00

Michael Baylon

Zeus Lara

2021-04-06T11:22:44+11:00

Michael Bryant

General

2021-03-09T11:37:38+11:00

Mohammad Ramezani

General

2020-01-14T03:38:39+11:00

Muhammad Sauood Ur Rauf

General

2021-05-10T12:45:04+11:00

Nadja Schulze

General

2020-05-29T06:16:06+11:00

Nevil Cope

General

2020-01-14T04:11:02+11:00

Niloofar Fardanesh

General

2020-09-29T01:07:43+11:00

Parastoo Mousavi

Zeus Lara

2021-05-18T15:46:14+11:00

Paul Bernard

Zeus Lara

2021-07-05T10:56:35+11:00

Paul Kirschner

General

2021-03-09T12:49:12+11:00

Peter Boylan

General

2021-07-06T12:52:31+11:00

Peter Patrick Boylan

Zeus Lara

2021-02-16T14:22:06+11:00

Peter Philpott

General

2020-10-30T03:09:29+11:00

Pritika Osland

Zeus Lara

2020-09-23T00:05:43+11:00

Rick Myburgh

Zeus Lara

2021-07-21T11:12:13+11:00

Rinku Razdan

General

2021-06-15T09:38:48+11:00

Robert Caminiti

General

2020-10-07T04:02:43+11:00

Robert Crossman

General

2020-01-15T04:30:20+11:00

Rohini Verma

Zeus Lara

2021-04-13T12:23:02+11:00

Roxane Montierro

Zeus Lara

2020-12-15T06:30:55+11:00

Saurabh Kundi

Zeus Lara

2021-05-11T11:54:30+11:00

Sharon Tannenbaum

Zeus Lara

2021-06-01T12:48:32+11:00

Shiraan Fernando

Zeus Lara

2021-03-09T17:04:13+11:00

Sosha Jabbary

General

2021-01-27T09:52:48+11:00

Stephen Curtis

Zeus Lara

2021-05-11T12:16:32+11:00

Steve Baxter

Zeus Lara

2021-03-23T11:07:10+11:00

Syed Hussain

Zeus Lara

2021-03-23T11:24:33+11:00

Tameka Yallop

General

2019-04-29T04:29:36+11:00

Vanessa Vella

General

2020-04-15T01:08:38+11:00

Yanmin Chen

Zeus Lara

2021-03-23T15:31:10+11:00