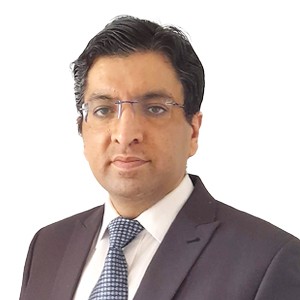 Puneet Nagpal
Project Manager
---
Areas Of Expertise:
---
Education:
Bachelor of Engineering (Mechanical)(Honours), Punjab Engineering College, India
Certified Scrum Master, Professional Scrum Master (PSM I)
SAFe (Agilist)
Prince 2 (Foundation & Practitioner)
Managing Successful Program (MSP) (Foundation & Practitioner)
---
About Puneet Nagpal
Puneet Nagpal is a seasoned Program and Project manager with 18+ years of cross-functional experience leading digital transformation, regulatory, automation, cloud migration, end-to-end integration and consumer experience initiatives for top tier Retail, CPG, Pharma and Banking clients in the field of Supply Chain, ecommerce, CRM and Digital Marketing.
---
What Puneet brings
Incessant value delivery to clients through continuous innovation by redefining end customer experience journey.
Adept at building effective stakeholder relationships and work with senior management to deliver targets.
Excellent analytical skills and communication skills.
Strong technical background with experience in programming.
---
Key Clients:
AMP
Glaxo (GSK)
Virgin Money
Barclays
Morgan-Stanley
HSBC
AMEX
Procter & Gamble (P&G)
Kraft
Citibank
Diageo
Adidas
Philips
---
Key Achievements:
As a Senior Project Manager at AMP, Puneet anchored the migration of North(Apps) from an existing on-premises cloud platform to a single, more secure, compliant, resilient, cost efficient and easy to use Amazon Web Services (AWS) platform as part of AMP CloudX initiative. He is aptly leading a team of Bank Architects, AWS Specialists and testers to migrate 6 North applications (40+ Servers) to AWS platform by creating robust delivery plans (schedule, resources, budget), tracking milestones and actively managing risks, issues and dependencies.
---
As Agile Programme Manager and Digital Delivery Lead at Glaxo (GSK), Puneet successfully delivered the creation of trusted clinical analytics platform across 15+ Data Sources. He defined the program vision, created the business case, established program governance, manage costs, and coached Scrum-masters. Puneet also anchored steering committee meetings, lead Program Increment (PI) planning sessions and develop robust plans. He garnered stakeholders trust by managing work at hand (Prioritizing, grooming, solutioning, risk/dependency mitigation. Puneet monitored and continuously improved program status – Agile KPI's, milestones, deliverables, scope, schedule, RAID log, and he analysed and execute strategies to ensure flawless migration of digital assets to central DAM (Streamline).
---
As Senior Project Manager at Virgin Money, Puneet managed the transformation of the core banking treasury platform for $5M+ cost savings per year. He led the strategy alignment with Core Banking CIO and Architects to draft business case for a modern core banking platform. Puneet collaborated with business stakeholders, vendor partners and incumbent teams for replacement of legacy applications.
---
As Digital Delivery Manager at Barclays, Puneet ensured a flawless implementation of Cheque Imaging Program across multiple channels, reducing the cheque processing time by over 66%. He accomplished strategic release plans aligned with Industry timelines and senior stakeholders, expediting functionally deliveries in a diverse/complex multi-vendor, multi-team and multi-location environment.
---
As Agile Delivery Manager at Morgan-Stanley, Puneet established the Strategic Integration of Entitlement (SIE) initiative to augment organisational risk handling capability and reduce application on-boarding effort by 67%. He managed a team size of 50, leading multiple scrum teams – Anchor scrum ceremonies, execute plans, remove impediments and coached team members. He collaborated with Product owners to refine backlog, formulate release plan, define velocity, and mitigate potential risks.
---
As Project Manager for HSBC, he worked on the ISST program directing multi-vendor teams and internal staff to transform the existing RBWM CRM platform and expedited lead generation/conversion across HSBC markets (Budget $6M). He was responsibility for the initiation, planning, execution, control, budget and closure of projects, project charter/plans, brainstorm solutions, tracking requirements (RTM), review test plans, mitigate risks and produce project information report (PIR), solicit stakeholder approvals, and manage vendor contacts/deliverables.
---
As Offshore Program Manager at AMEX, Puneet was responsible for the execution of a $4M+ complex program aimed to support AMEX Digital Services Platform (CMS) for AMEX business partners across the globe. He managed and reviewed project budget, estimations, resourcing, capacity utilization, deliverables, risks, and status reports with a team size of approximately 30. He held Anchor scrum ceremonies (Daily Scrum, Sprint planning, Sprint Review & Retrospective) as a Scrum Master.
---
As Project Manager at P&G, Puneet spearheaded the $2M Mobile Sales Force Automation project for P&G empowering sales executives to make fact-based. He was responsible for cutting down back-office costs by 40% and reducing order processing time from 14 days to 5 days. Puneet created a project plan, track requirements, review designs, plan/monitor testing, collaborate deployment and report status
---
As Project Manager at Kraft, Puneet managed a cross-functional team of 30+ across 5 locations as part of Mobile Application Cluster for Kraft. He conducted quality reviews, weekly status, deliverables validation and effort authorization.
---
As Project Manager at Citibank, Puneet directed a multi-location ETL maintenance and support (24/7) team for Citibank, wherein brought down the Resolution time by 50% and reduced the average queue length to less than 10 active tickets/day. He was responsible for representing projects in CAB, monitored SLA, process improvisation, mentoring team and organisation of ideation sessions.
---
As Technology Lead at Diageo, Puneet co-led a $1M+ digital innovation project to create a unified platform (NEO), leading a team of >20 (.NET/MySQL). He collaborated with business users, agencies, and technical teams to ensure smooth build and running of platform.
---
As Technology Lead at Adidas, Puneet successfully implemented the New Content Management System (CMS) for adidas Global Marketing team to allow real time content updates, Search Engine Optimization and Content Analytics for intranet and internet sites (LiveSite/TeamSite/Oracle). He was responsible for the workshops with business owner, directing Proof of Concept's (POC's) and technical reviews.
---
As Programmer Analyst at Adidas, Puneet optimized an in-house sourcing tool by reducing factory allocation time for adidas orders by 20% (HTML/JS). He was responsible for system analysis, solution optimization, technical development, scripting, and stakeholder collaboration.
---
Programmer Analyst at Philips, Puneet led the development and redesign of Philips Homepage project, launched across 60+ markets in 40+ languages (TeamSite). He was responsible for the creation of requirement analysis document, technical design, code framework, test scenarios and user manuals. Puneet also received Most Valuable Player Award for innovative ideas towards process improvements and problem solving.
---
Other Team Members
Declan Boylan

General

2020-01-15T02:30:38+11:00

Gareth James

General

2021-01-19T11:29:58+11:00

Connie McKeage

Zeus Lara

2021-03-09T10:14:51+11:00

Hugh Harley

Zeus Lara

2020-04-01T04:18:49+11:00

Alisdair Brown

Zeus Lara

2021-03-23T14:24:31+11:00

Julie Laoit

Zeus Lara

2021-12-23T18:04:41+11:00

Rob Thomsett

General

2021-04-06T12:29:29+11:00

Louise Ford

General

2020-01-15T03:08:18+11:00

Aaron Simonsen

Zeus Lara

2021-10-19T10:15:23+11:00

Aileen Robes

Zeus Lara

2022-03-01T10:17:06+11:00

Alan Madani

General

2020-07-24T03:51:19+11:00

Alex Massie

General

2022-03-08T14:03:52+11:00

Alexander Rivkin

Zeus Lara

2022-02-22T15:04:22+11:00

Ali Pahlavan

General

2021-09-21T15:39:39+11:00

Amanda Walker

Zeus Lara

2021-09-21T15:43:38+11:00

Anders Madsen

Zeus Lara

2021-08-31T17:57:29+11:00

Andrew Cheesman

Zeus Lara

2021-03-23T12:46:37+11:00

Andrew Coley

Zeus Lara

2021-12-21T12:36:47+11:00

Anna Linfield-Kent

Zeus Lara

2022-03-22T16:18:24+11:00

Barbara Read

General

2021-10-12T09:11:19+11:00

Benn Salier

Zeus Lara

2021-07-06T13:45:00+11:00

Bita Bagheri

General

2021-03-02T14:12:11+11:00

Caroline Lees

Zeus Lara

2021-10-12T09:08:24+11:00

Cathy Baldwin

General

2021-01-19T16:55:52+11:00

Chelsy Kranzbuhler

Zeus Lara

2022-03-01T17:38:06+11:00

Chika Nnadiekwe

Zeus Lara

2022-01-28T08:56:40+11:00

Chris Sykes

General

2020-03-05T00:14:43+11:00

David Johnson

General

2021-12-21T16:51:17+11:00

David Mansfield

Zeus Lara

2021-08-12T17:45:38+11:00

Deanna Edwards

Zeus Lara

2021-04-07T16:38:54+11:00

Derek Oldham

Zeus Lara

2021-06-22T11:12:34+11:00

Edward Rudnicki

Zeus Lara

2021-09-28T10:10:11+11:00

Elise Kellond-Knight

Zeus Lara

2019-07-04T22:47:54+11:00

Ericson Bagunas

General

2020-10-01T05:06:36+11:00

Eugene O'Connell

Zeus Lara

2022-03-22T16:14:36+11:00

Fritzie Ligeralde

Zeus Lara

2021-08-17T15:41:14+11:00

Gennaro Abignano

Zeus Lara

2022-02-04T15:20:32+11:00

Gilbert Wong

Zeus Lara

2020-12-15T04:26:15+11:00

Guru Swaminathan

General

2020-10-13T05:04:12+11:00

Hardik Lakhani

Zeus Lara

2022-03-08T16:33:18+11:00

Hayley Weir

Zeus Lara

2022-03-01T12:16:09+11:00

Helen Argitis

Zeus Lara

2022-02-15T17:44:12+11:00

Ian Salvador

Zeus Lara

2021-06-01T12:54:33+11:00

Ian Thomson

Zeus Lara

2022-02-04T02:04:24+11:00

Igor Vieira

Zeus Lara

2022-05-11T10:15:56+11:00

Jason Kwong

Zeus Lara

2022-05-10T17:14:15+11:00

Jerry Cobb

General

2020-11-06T00:49:28+11:00

Joanna Carlos

Zeus Lara

2022-02-15T17:48:05+11:00

Jochebed Diaz

General

2020-12-15T05:31:11+11:00

Johaimah Garrido

Zeus Lara

2021-03-16T10:08:35+11:00

John Middlemist

Zeus Lara

2021-07-21T12:11:54+11:00

Jon Kralevski

Zeus Lara

2021-08-31T18:00:32+11:00

Joseph Stanley

Zeus Lara

2022-02-04T15:24:14+11:00

Josh Pricken

Zeus Lara

2022-01-25T15:52:50+11:00

Jovilyn Magtoto

Zeus Lara

2021-03-02T18:19:47+11:00

Joyce Ann Vecinal

Zeus Lara

2021-12-17T10:33:04+11:00

Julia Nicole Justo

Zeus Lara

2022-01-25T15:52:44+11:00

Katherine Whiteside

General

2022-03-01T16:01:33+11:00

Krishnaraj Arumugam

Zeus Lara

2020-06-30T04:59:15+11:00

Kunal Parikh

Zeus Lara

2022-01-25T11:49:10+11:00

Louigi Gardiola

Zeus Lara

2022-02-15T17:52:16+11:00

Louise White

General

2021-05-11T16:20:05+11:00

Lousiene Samonte

General

2020-04-01T03:22:19+11:00

Maddison Schmid

Zeus Lara

2022-05-17T17:07:32+11:00

Mark McAdam

General

2021-05-11T12:52:35+11:00

Mark Millen

Zeus Lara

2022-03-02T10:41:54+11:00

Mariam Kohani

Zeus Lara

2021-07-13T12:09:45+11:00

Marianne Dinsay

Zeus Lara

2022-02-04T15:34:24+11:00

Matthew Knight

Zeus Lara

2022-02-04T15:38:52+11:00

Michael Baylon

Zeus Lara

2021-08-25T16:48:12+11:00

Michael Bryant

General

2022-03-15T16:26:44+11:00

Michael Stark

Zeus Lara

2021-06-08T10:58:59+11:00

Mike Stockley

Zeus Lara

2020-01-22T04:45:51+11:00

Mohammad Ramezani

General

2022-05-02T14:41:28+11:00

Muhammad Sauood Ur Rauf

General

2022-05-05T09:16:00+11:00

Nevil Cope

General

2020-01-14T04:11:02+11:00

Nicole Hatten

Zeus Lara

2022-03-22T16:18:26+11:00

Niloofar Fardanesh

General

2022-05-05T11:05:15+11:00

Oliver Stevenson

Zeus Lara

2022-05-17T17:36:32+11:00

Parastoo Mousavi

Zeus Lara

2022-05-10T17:01:14+11:00

Paul Bernard

Zeus Lara

2022-02-04T02:19:40+11:00

Paul Kirschner

General

2022-02-04T02:26:06+11:00

Peter Boylan

General

2021-07-06T12:52:31+11:00

Peter Philpott

General

2020-10-30T03:09:29+11:00

Puneet Nagpal

Zeus Lara

2022-04-05T13:03:25+11:00

Rahul Kaushal

Zeus Lara

2022-04-05T13:17:26+11:00

Rick Myburgh

Zeus Lara

2022-04-19T12:23:07+11:00

Rinku Razdan

General

2021-06-15T09:38:48+11:00

Robert Caminiti

General

2020-10-07T04:02:43+11:00

Robert Crossman

General

2022-03-08T14:18:21+11:00

Rohini Verma

Zeus Lara

2021-04-13T12:23:02+11:00

Roxane Montierro

Zeus Lara

2020-12-15T06:30:55+11:00

Sanjay Narayan

Zeus Lara

2022-02-04T02:35:09+11:00

Saurabh Kundi

Zeus Lara

2021-05-11T11:54:30+11:00

Sharon Tannenbaum

Zeus Lara

2021-06-01T12:48:32+11:00

Sheryll Nones

Zeus Lara

2021-12-23T18:09:26+11:00

Shiraan Fernando

Zeus Lara

2022-05-10T16:56:16+11:00

Sosha Jabbary

General

2022-02-22T14:47:15+11:00

Sreekanth Badam

Zeus Lara

2021-04-27T17:36:06+11:00

Stephen Curtis

Zeus Lara

2021-05-11T12:16:32+11:00

Syed Hussain

Zeus Lara

2022-02-04T16:04:13+11:00

Tameka Yallop

General

2022-03-08T16:41:26+11:00

Thuc Linh Nguyen Phan

Zeus Lara

2022-02-04T15:44:13+11:00

Vanessa Vella

General

2021-12-14T12:11:12+11:00

Winona Astian Thian

Zeus Lara

2021-05-11T10:29:59+11:00

Yanmin Chen

Zeus Lara

2022-03-08T16:40:11+11:00

Zach Barnetby

Zeus Lara

2022-05-11T10:58:34+11:00