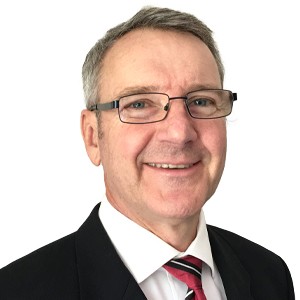 Rod Thomas
Program Manager
---
Areas Of Expertise:
Program/Project Management
PMO
Strategy and Portfolio Development
Enterprise and IT Transformation
Large Scale Procurement and Vendor Management
Management Consulting
---
Education:
Master of Business Administration (MBA), Monash University
Bachelor of Engineering (Honours), Monash University
Process Masters, Hammer and Co, Boston MA
Graduate Australian Institute of Company Directors (CDC)
PMI PMBOK, SAFe 5.1 Certified Agilist, ITIL
---
About Rod Thomas
Rod has over 25 years of IT and operational experience building and transforming organisations, developing strategic plans and leading programs and projects. He has worked with a wide range of organisations, managing projects across the spectrum of strategy formulation through to large scale implementations for large and complex organisations. Rod's broad experience includes the provision of professional services to manage either side of the relationship for a variety of private and public entities.
---
What Rod brings
Proven track record of successfully working within large and complex businesses spread across diverse geographies and cultures.
Ability to quickly form relationships, influence outcomes and deliver required results.
Strong budgeting and financial management skills.
Excellent spoken and written communication skills across all levels.
---
Key Clients:
Coca Cola Europacific Partners
AMP
BlueNRG
Philip Morris International
Altria
ABN AMRO
Deloitte Consulting
Powercor
Victorian Government
---
Key Achievements:
At Coca Cola Euro Pacific Partners Rod successfully implemented a SaaS, 1 billion dollar transactional, SAP ARIBA procurement solution for Australia, New Zealand, Indonesia, Papua New Guinea and Fiji. As the Seven Consulting Program Manager Rod harmonised the roles, processes and approvals across Asia Pacific and Europe resulting in improvements in speed of execution of sourcing projects, improvements in the yield of sourcing projects through the use of eSourcing analytical capabilities and consolidated sourcing contracts within a single platform leading to "one source of truth" for contracts across both Asia Pacific and Europe.
Additional while at Coca Cola Euro Pacific Partners Rod managed the successful implementation of enhancements to the Australian ANAPLAN strategic planning and reporting tool to harmonise with global channel profitability management practices. The enhancements Rod delivered resulted in complete data integrity across all models, data alignment between ANAPLAN and the data warehouse and full integration for reliable and consistent TABLEAU reporting.
---
As Program Manager at Seven Consulting leading the AMP Virtualisation Transformation, Rod established the Microsoft Azure Virtual Device (AVD) SaaS and W365 Desktop virtualisation DaaS with Microsoft Managed Device (MMD) service overlayed to replace the legacy Citrix service. Scope of the initiative was 1000 accounts across Australia and multiple offshore Business Processing Outsourcing (BPO) and Offshore Development Centre (ODC) locations. The work involved finalizing the Azure cloud setup, interconnection with Amazon Web Services (AWS) hosted applications, establishment of network connections, Azure Firewall and Versa Networks SASE, solution architectural design, controls compliance, production readiness and cyber security testing.
---
As CIO at BlueNRG, Rod developed a transformation program and managed a portfolio of IT projects designed to help significantly accelerate the growth of the business. The program included the implementation of Salesforce CRM SaaS, substantial upgrades to the core billing and finance systems, development of a new application to validate network provider invoices and the implementation of a IaaS solution for disaster recovery. As Program Director for these initiates Rod managed the project teams, major procurements, contract negotiations and management of key vendor relationships resulting in the significant expansion of the business in existing markets and into new state markets.
---
As Senior Manager Programs and Projects at Philip Morris International, Information Technology Service Centre, Rod was responsible for integrating a significant acquisition in Indonesia that had doubled the size of the Philip Morris International Asia Pacific business. The role involved managing a large program of projects to integrate an additional 5,000 users and their associated IT infrastructure and systems, including the establishment of the Program Office and governance structures, setting up each of the projects with clear scope, deliverables, resources and budgets, risk issue and change registers. Rod successfully managed the completion of all the program's key deliverables to the planned budget and timetable.
---
As Program Director for Altria, Rod undertook a program to establish the Altria Asia Pacific Shared Information Technology Service Centre to support a Global 24/7 operation for 8,500 users. Rod's program of work included the development and execution of the business plan, supporting policies, processes and organisational structures, responsibility for a budget of $60M, preparation of forecasts and the report of actual results. Rod established the financial systems and processes to manage P&L, Balance Sheet, Cash Flow, Licenses and Assets. Rod setup and managed the Project Management Office (PMO) function. He was responsible for demand planning and portfolio management. Rod was the Chair of the project governing body, and oversaw Business Cases, Statements of Work, Demand Plans and project related activities. Rod substantially grew the delivery of shared services resulting in significant cost offsets through the scaled use of shared systems and infrastructure.
---
As Director, Asia Pacific HQ at Deloitte Consulting, Rod undertook a major enterprise transformation program based in Hong Kong with the challenge to build the region starting with practices in Australia and Japan and not much else in between. The role involved working across diverse languages, various cultures and significant geographical distances. Countries covered include Japan, Rep of Korea, PRC, Hong Kong SAR, Macau SAR, Taiwan, Malaysia, Singapore, Thailand, Philippines, Indonesia, Australia, New Zealand and South Africa. During his time in the role the Asia Pacific business grew from 2 countries to 13, revenue and earnings grew 4 fold, and the organisation grew to over 4,500. He was responsible for the setup of the Regional Head Office in Hong Kong, development of regional infrastructure such as governance, geographical leadership, operating contracts and offices, establishment of regional business processes and shared service organisations (Information Systems/Reporting/Planning/Budgeting/Risk Management/Human Resource Management), development and execution of Regional Strategic Plans, set up and governance of the Program Management Office, chair and key member of Steering Committees for core application systems replacement projects and technology infrastructure developments and upgrades (4,500 users), and establishment of key roles (IT/HR/Marketing/ Communications/Finance). He supported the Asia Pacific Regional Managing Director and was member and Secretary of the Asia Pacific Africa Management Board, and Chair of Sub Committee for Operations, IT and Strategic Planning.
---
As Project Director for the Strategic Planning and Enterprise Project Management Office, Implementation for ABN AMRO Lease plan, Rod managed the establishment of the Strategy Council – Charter/Governance Roles to oversee an annual capital spend of $85M. Rod developed and implemented the structures, processes, systems, tools and reports, evolved the IT Project Management Office capabilities and skills of the Project Managers and Business Analysts to cater for all enterprise initiatives. Rod linked all initiatives to the business plan and prioritised, scheduled, resourced and funded each of the of the key initiatives.
---
As Program Director for Directorate of School Education, Rod managed the replacement of the Human Resource and Payroll System for 70,000 teaching staff, one of the largest systems in Australia, with a fully integrated, relational database and client-server based system (PeopleSoft). The project involved a major application customisation along with systems integration services IaaS and SaaS. Major activities included preparation of requirements and tender and release to the market, evaluation of tender responses and financial analysis, short listing of responses, trial of two solutions, preferred vendor selection and business case preparation, Due Diligence, contract and schedule drafting and contractual negotiations for $240M worth of contracts. Rod followed up this work as independent program quality assurance lead and vendor management of the implementation involving a peak team of 160 FTE.
---
As Program Director for Powercor, Rod was responsible for the next generation of information systems service provision, incorporating computer processing IaaS, communications network as a service, helpdesk and end user support as a service and application maintenance and support (including SAP) as a service. Major activities Rod was responsible for included the preparation of scoping document and tender, contract and schedule drafting, evaluation of tenders, due diligence and contract negotiation for $120M of services. Selection of preferred respondent, preparation of the business case, presentation to key stakeholders and signoff followed by implementation of the new operating model.
---
As Program Director for the Department of Justice, Rod managed the sourcing of computer processing, data network, helpdesk and end user services. Major activities included preparation of scoping document, baseline costing, preparation of evaluation strategy and criteria, preparation and evaluation of the tender, financial analysis, preparation of business case, selection of preferred respondent, Due Diligence, contract and schedule drafting and contractual negotiation for $140M of services involving 120 staff.
---
As Program Director for the Departments of Business and Employment, Rod managed the sourcing of the computer processing IaaS, data network as a service, helpdesk and end user support as a service affecting 180 staff. Major activities included preparation of scoping document, baseline costing, preparation of evaluation strategy and criteria, preparation and evaluation of the tender, financial analysis, preparation of business case, selection of preferred respondent, Due Diligence, contract and schedule drafting, contractual negotiation for $220M of services. Rod followed this work up with independent quality assurance of the project implementation by the successful vendor.
---
Other Team Members
Declan Boylan

General

2020-01-15T02:30:38+11:00

Gareth James

General

2021-01-19T11:29:58+11:00

Connie McKeage

Zeus Lara

2021-03-09T10:14:51+11:00

Hugh Harley

Zeus Lara

2020-04-01T04:18:49+11:00

Michael Blomfield

Zeus Lara

2023-02-14T10:26:26+11:00

Temre Green

Zeus Lara

2022-11-23T10:52:41+11:00

Mike Stockley

Zeus Lara

2022-08-30T12:56:19+11:00

Julie Laoit

Zeus Lara

2022-07-19T09:10:59+11:00

Rob Thomsett

General

2023-01-31T17:26:36+11:00

Louise Ford

General

2020-01-15T03:08:18+11:00

Aaron Simonsen

Zeus Lara

2022-08-30T11:02:06+11:00

Akhilesh Das

Zeus Lara

2022-11-08T10:09:51+11:00

Alan Alehashemi

Zeus Lara

2022-07-19T09:07:40+11:00

Alex Massie

General

2023-05-09T15:42:17+11:00

Alexander Rivkin

Zeus Lara

2023-03-28T15:40:59+11:00

Alexandra Marie Tan

Zeus Lara

2023-03-14T15:15:24+11:00

Ali Pahlavan

General

2023-05-17T01:57:15+11:00

Alisdair Brown

Zeus Lara

2022-08-30T09:51:38+11:00

Amanda Walker

Zeus Lara

2022-08-09T10:18:22+11:00

Anders Madsen

Zeus Lara

2022-08-02T17:55:11+11:00

Andrew Cheesman

Zeus Lara

2022-08-09T12:17:42+11:00

Andrew Coley

Zeus Lara

2021-12-21T12:36:47+11:00

Anish Joshi

Zeus Lara

2023-04-04T15:04:09+11:00

Ann Mica Mae Lim

Zeus Lara

2023-05-11T14:08:40+11:00

Anna Linfield-Kent

Zeus Lara

2023-03-14T16:25:51+11:00

Barbara Read

General

2023-04-27T09:42:19+11:00

Benn Salier

Zeus Lara

2021-07-06T13:45:00+11:00

Bita Bagheri

General

2021-03-02T14:12:11+11:00

Blake Dahlen

Zeus Lara

2023-02-23T09:47:16+11:00

Callum Dodd

Zeus Lara

2022-11-23T11:00:39+11:00

Caroline Lees

Zeus Lara

2023-01-17T10:29:22+11:00

Cathy Baldwin

General

2021-01-19T16:55:52+11:00

Chika Nnadiekwe

Zeus Lara

2023-03-28T15:27:26+11:00

Chris Sykes

General

2022-05-26T12:50:02+11:00

Cliff Blakley

Zeus Lara

2023-05-11T13:52:16+11:00

David Johnson

General

2022-06-01T10:43:16+11:00

David Mansfield

Zeus Lara

2023-02-14T10:37:32+11:00

Deanna Edwards

Zeus Lara

2023-03-28T15:46:04+11:00

Derek Oldham

Zeus Lara

2023-05-09T15:38:58+11:00

Elise Kellond-Knight

Zeus Lara

2019-07-04T22:47:54+11:00

Ellen Misador

Zeus Lara

2023-03-14T15:30:57+11:00

Eugene O'Connell

Zeus Lara

2022-03-22T16:14:36+11:00

Francis Aseron

Zeus Lara

2023-02-24T09:56:24+11:00

Fritzie Ligeralde

Zeus Lara

2021-08-17T15:41:14+11:00

Gilbert Wong

Zeus Lara

2022-05-25T12:27:00+11:00

Guru Swaminathan

General

2023-05-26T16:16:29+11:00

Hardik Lakhani

Zeus Lara

2022-03-08T16:33:18+11:00

Hayley Weir

Zeus Lara

2022-03-01T12:16:09+11:00

Helen Argitis

Zeus Lara

2022-05-26T12:13:35+11:00

Ian Salvador

Zeus Lara

2022-06-14T17:51:51+11:00

Ian Thomson

Zeus Lara

2023-04-27T09:46:51+11:00

Ibrahim Dani

Zeus Lara

2023-05-09T15:33:59+11:00

Igor Vieira

Zeus Lara

2022-06-28T16:45:19+11:00

Jerry Cobb

General

2022-06-28T15:49:32+11:00

Joanna Carlos

Zeus Lara

2022-02-15T17:48:05+11:00

Jochebed Diaz

General

2022-11-16T12:53:12+11:00

Johaimah Garrido

Zeus Lara

2021-03-16T10:08:35+11:00

John Middlemist

Zeus Lara

2021-07-21T12:11:54+11:00

Jovilyn Magtoto

Zeus Lara

2022-08-02T13:27:08+11:00

Julia Nicole Justo

Zeus Lara

2023-02-23T08:34:34+11:00

Katherine Whiteside

General

2022-11-30T17:42:36+11:00

Kunal Parikh

Zeus Lara

2022-01-25T11:49:10+11:00

Louigi Gardiola

Zeus Lara

2023-02-23T08:31:20+11:00

Louise White

General

2021-05-11T16:20:05+11:00

Lousiene Samonte

General

2022-08-30T14:27:05+11:00

Maddison Schmid

Zeus Lara

2023-05-11T09:35:43+11:00

Mariam Kohani

Zeus Lara

2022-07-19T09:57:04+11:00

Marian Joyce Makalintal

Zeus Lara

2023-03-14T15:51:17+11:00

Marianne Dinsay

Zeus Lara

2023-02-23T08:32:42+11:00

Mark McAdam

General

2023-05-03T12:09:06+11:00

Mark Millen

Zeus Lara

2022-08-30T12:47:06+11:00

Matthew Knight

Zeus Lara

2023-02-23T08:32:48+11:00

Melanie Northrop

Zeus Lara

2023-01-31T17:06:41+11:00

Melody Framp

Zeus Lara

2023-05-09T16:20:00+11:00

Melody Tuazon

Zeus Lara

2023-05-09T15:59:40+11:00

Michael Bryant

General

2022-08-09T11:38:32+11:00

Mohammad Ramezani

General

2022-07-13T16:18:36+11:00

Muhammad Sauood Ur Rauf

General

2022-08-30T14:20:48+11:00

Nevil Cope

General

2022-08-30T14:24:26+11:00

Niall Burke

Zeus Lara

2022-10-11T13:16:07+11:00

Nick Rodwell

Zeus Lara

2022-07-14T11:47:55+11:00

Nicole Hatten

Zeus Lara

2022-03-22T16:18:26+11:00

Ninia Ortile

Zeus Lara

2022-10-11T14:26:40+11:00

Pablo Andres Cordova Baya

Zeus Lara

2023-02-23T08:48:38+11:00

Parastoo Mousavi

Zeus Lara

2022-12-13T10:24:00+11:00

Paul Bernard

Zeus Lara

2022-02-04T02:19:40+11:00

Paul Kirschner

General

2022-02-04T02:26:06+11:00

Peter Boylan

General

2023-03-14T16:22:42+11:00

Peter Philpott

General

2022-11-08T10:05:47+11:00

Rahul Kaushal

Zeus Lara

2022-08-03T10:22:38+11:00

Rajiv Boddupalli

Zeus Lara

2022-12-13T09:44:21+11:00

Robert Caminiti

General

2020-10-07T04:02:43+11:00

Robert Crossman

General

2022-03-08T14:18:21+11:00

Rohini Verma

Zeus Lara

2021-04-13T12:23:02+11:00

Rohit Satija

Zeus Lara

2023-05-09T15:27:58+11:00

Roxane Montierro

Zeus Lara

2020-12-15T06:30:55+11:00

Sanjay Narayan

Zeus Lara

2023-02-14T11:09:04+11:00

Saurabh Kundi

Zeus Lara

2023-02-23T08:26:14+11:00

Shiraan Fernando

Zeus Lara

2023-03-14T15:07:49+11:00

Shruthi Srinivas

Zeus Lara

2023-02-07T09:53:04+11:00

Sreekanth Badam

Zeus Lara

2022-11-09T17:14:36+11:00

Stephen Curtis

Zeus Lara

2023-05-30T09:22:30+11:00

Tameka Yallop

General

2022-03-08T16:41:26+11:00

Tanvi Mahajan

Zeus Lara

2023-03-28T15:21:57+11:00

Through Zhu

Zeus Lara

2023-02-23T10:21:23+11:00

Thuc Linh Nguyen Phan

Zeus Lara

2023-05-30T09:39:47+11:00

Tony Calusic

Zeus Lara

2022-08-01T16:52:17+11:00

Vanessa Vella

General

2021-12-14T12:11:12+11:00

Winona Astian Thian

Zeus Lara

2023-02-23T08:34:19+11:00

Yanmin Chen

Zeus Lara

2022-03-08T16:40:11+11:00

Zach Barnetby

Zeus Lara

2022-06-24T11:08:22+11:00