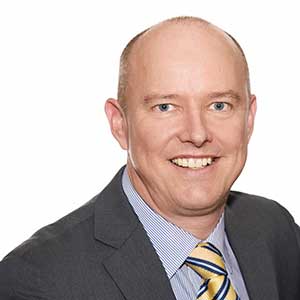 Shane Moore
Program Director
---
Areas Of Expertise
Business Transformation
HR Transformation
IT infrastructure
Cloud / Saas
---
Education
Executive Leadership – Australian Graduate School of Management
Applied Program Management – London City & Guilds
PMP Certified
SAFe SPC 4.5 (2017) Certified
MAICD
---
Key Clients
A2 Milk
Endeavour Energy
St. Vincents (SVHA)
Goodman Fielder Ltd
AMP Financial Services
SOS Software & Services (U.K)
Alinta Energy
Commonwealth Bank
ABC
LUCRF Superannuation
EPC International (U.S.A)
---
About Shane Moore
Shane is a skilled Program Director, joining Seven Consulting's Sydney Practice in September 2015. He has a proven track record of managing all facets of programs of work to ensure that projects are prioritised, delivered and monetised through benefit realisation. Shane is highly experienced in facilitating workshops with the business to establish requirements and goals and then deliver complex, cross division / cross continent programs of work with insourced and outsourced partners enabled through strong engagement and change leadership.
He builds strong relationships at all levels to understand the value each team member / business unit can bring to ensure success. He holds people accountable for their actions and deliverables, whilst encouraging open and honest communication and feedback to build a trusted, safe environment.
---
What Shane brings
Enables business effectiveness on multiple programs through standardisation, divisional right sizing and outsourcing, process re-engineering and compliance, best practice master data management and the future digitisation of key business activity.
Drives both content and engagement through collaboration with senior business stakeholders to sponsor and implements a roadmap of project initiatives to support the strategic business pillars.
Plans and manages operational and capital expenditure to fit budgetary constraints. Builds business cases with required financial costs and benefit realisation
---
Key Achievements
As Project Director for A2 Milk, Shane led the RFP process to shortlist and select both an Systems Integrator and Product Solution (Oracle Cloud) with scope covering all aspects of Finance, EPM and Supply Chain for 4 geographies (AU, NZ, China, USA) and also led the commercial negotiations and legal documentation completion for all parties.
---
As Interim Program Director for Endeavour Energy, Shane led the 'greenfield' SAP S/4 Hana implementation with a goal to get the program 'back to green' by confirming scope, finalising design, landing on a preferred deployment option and getting agreement from the Endeavour Board to proceed with the revised timing and cost model.
---
As Project Director for CBA, Shane led a high-profile Payroll program of work to set up and implement a formal governance framework and the full project plans for delivery of the program from inception through to implementation and support.
---
As SAP Project Director for Goodman Fielder, Shane was responsible and accountable for NexGen, the largest program of work to be undertaken in 10 years within Goodman Fielder. NexGen was a 3-year program of work ($70M) to convert all legacy manufacturing and finance systems to SAP; encompassing all the Baking, Dairy and Meats divisions across Australia and New Zealand. The program was delivered under budget and within 3 months of original estimate. In total, 8 systems were decommissioned during this program of consolidating onto SAP and business benefits being released accordingly. This program of work was awarded (Oct-13) the SAP Award of Excellence – Winner – BEST RUN ERP.
---
Project Director for Pillar 4 (Great Place to Work) of the ABC "Investing In Audiences" Strategy. Streams include Culture, Communications, HR Technology (Success Factors), Learning and Future Workforce. Main goal of the program is to lift engagement (AON Hewitt) in both 2018 and 2019.
---
As Project Director at the Australian Broadcasting Commission (ABC), Shane led the ABC's largest technology project (IMS) replacing software and hardware for three critical systems used across radio and news compromising 47 sites across Australia. Responsibilities included engagement and management of external vendors and the internal Change Management (and delivery) to 3000 staff.
---
As Project Director at Alinta Energy, Shane led the establishment and full operationalisation of the EPMO.
---
As Applications Director at Goodman Fielder, Shane managed the enterprise wide program delivery and advisory services for all key projects with highest strategic value and business benefit for Goodman Fielder; successfully managed end to end management of the overall PMO. Key programs of work included the successful management of an enterprise wide portfolio of critical IT programs of works that included OpEx and CapEx project responsibilities such as consolidation, outsourcing, master data, mobility, success factors and O365 in the Cloud, including implementation of SharePoint and Lync Collaboration.
---
As Applications Director at Goodman Fielder, Shane implemented Master Data Management (MDM): defined a strategy, a roadmap and a BAU model to support the master data requirements of the organisation, including a comprehensive governance model and corporate structure to accommodate the enterprise-wide requirements, including full 'to-be' process models and underlying compliance model to ensure sustainability.
---
As PMO Manager at LUCRF Superannuation, Shane successfully establishing and managing the Program Management Office in order to uplift the Fund from a Bronze Rating to a Gold Rating. A business-critical program, working closely with audit committees to achieve objectives; establishing new procedures and total departmental reorganisation that enabled 'Gold' regulatory compliance standards. In collaboration with the Director of Operations of LUCRF, 70+ projects were established, prioritised, executed and governed using the frameworks, tools and templates defined and rolled out. Significant stakeholder engagement and buy-in involved at all levels.
---
As IT Manager in AMP Financial Services, Shane led relationship management between IT and the business, working closely with the business on key solutions, largely in AMP Bank and the Superannuation Platforms. Responsible for multiple teams and accountable for business requirements and end to end delivery of quality software solutions to meet the timely demands of the AMP Financial Services business personnel.
---
Other Team Members
Declan Boylan

General

2020-01-15T02:30:38+00:00

Gareth James

General

2020-01-15T02:46:06+00:00

Rob Thomsett

General

2020-02-07T05:09:23+00:00

Louise Ford

General

2020-01-15T03:08:18+00:00

Laury MacPherson

General

2018-04-23T07:39:51+00:00

Alan Madani

General

2020-07-24T03:51:19+00:00

Alex Massie

General

2020-06-19T01:51:58+00:00

Ali Pahlavan

General

2020-07-09T06:29:03+00:00

Andrew Cheesman

Zeus Lara

2020-08-23T23:37:35+00:00

Andrew McDonagh

General

2020-09-03T05:49:48+00:00

Andrew Moghaddam

General

2020-01-10T03:36:32+00:00

Barbara Read

General

2020-01-10T04:13:14+00:00

Benn Salier

Zeus Lara

2020-07-29T01:44:59+00:00

Berna Akdeniz

General

2018-04-23T07:40:38+00:00

Bita Bagheri

General

2020-11-09T02:42:28+00:00

Brett Krieger

Zeus Lara

2020-08-05T03:12:17+00:00

Bronagh Stewart

Zeus Lara

2020-08-10T02:09:42+00:00

Bruce Denson

General

2020-03-19T00:59:30+00:00

Cathy Baldwin

General

2020-01-21T03:46:49+00:00

Chris Sykes

General

2020-03-05T00:14:43+00:00

David Johnson

General

2020-01-15T02:05:16+00:00

Donalito Jr. Bales

Zeus Lara

2020-05-28T05:04:09+00:00

Duncan Hewitt

General

2020-03-05T00:20:23+00:00

Ericson Bagunas

General

2020-10-01T05:06:36+00:00

Gilbert Wong

General

2018-05-24T23:55:47+00:00

Grace Tran

General

2020-04-27T06:07:30+00:00

Guru Swaminathan

General

2020-10-13T05:04:12+00:00

Jackie Lou J. Belano

General

2020-10-07T03:28:39+00:00

Jeroen Lubbers

Zeus Lara

2020-11-23T23:30:58+00:00

Jerry Cobb

General

2020-11-06T00:49:28+00:00

Joanna Carlos

Zeus Lara

2020-09-14T00:37:15+00:00

Joanne Carla S. Sebuc

General

2020-10-26T23:49:00+00:00

Jochebed Diaz

General

2020-07-24T03:53:17+00:00

John Mitchell

General

2020-07-22T01:01:54+00:00

Katherine Whiteside

General

2020-07-02T06:55:12+00:00

Krishnaraj Arumugam

Zeus Lara

2020-06-30T04:59:15+00:00

Louise White

General

2020-04-23T06:17:12+00:00

Lousiene Samonte

General

2020-04-01T03:22:19+00:00

Mark Cumming

General

2020-04-30T04:58:27+00:00

Mark McAdam

General

2020-08-24T01:07:53+00:00

Maryam Kohani

Zeus Lara

2020-03-03T05:24:20+00:00

Michael Baylon

General

2018-07-18T02:59:28+00:00

Michael Bryant

General

2020-09-25T02:15:23+00:00

Mohammad Ramezani

General

2020-01-14T03:38:39+00:00

Muhammad Sauood Ur Rauf

General

2020-10-06T00:12:22+00:00

Nadja Schulze

General

2020-05-29T06:16:06+00:00

Nevil Cope

General

2020-01-14T04:11:02+00:00

Niloofar Fardanesh

General

2020-09-29T01:07:43+00:00

Parastoo Mousavi

Zeus Lara

2020-09-08T00:31:28+00:00

Paul Kirschner

General

2020-01-14T04:38:37+00:00

Peter Boylan

General

2020-09-01T23:46:32+00:00

Peter Philpott

General

2020-10-30T03:09:29+00:00

Pritika Osland

Zeus Lara

2020-09-23T00:05:43+00:00

Rinku Razdan

General

2020-11-11T06:29:00+00:00

Robert Caminiti

General

2020-10-07T04:02:43+00:00

Robert Crossman

General

2020-01-15T04:30:20+00:00

Roxane Montierro

Zeus Lara

2020-11-17T22:20:14+00:00

Satya Sharma

General

2020-08-17T06:10:30+00:00

Shane Moore

General

2020-04-23T06:10:08+00:00

Sharon Tannenbaum

Zeus Lara

2020-10-13T00:59:01+00:00

Shiraan Fernando

Zeus Lara

2020-08-24T00:34:31+00:00

Sosha Jabbary

General

2020-11-18T06:56:36+00:00

Steve Baxter

Zeus Lara

2020-11-05T05:51:05+00:00

Syed Hussain

Zeus Lara

2020-10-07T04:48:38+00:00

Tameka Yallop

General

2019-04-29T04:29:36+00:00

Vanessa Vella

General

2020-04-15T01:08:38+00:00

Venice Gordula

Zeus Lara

2020-10-21T03:01:02+00:00

Yanmin Chen

General

2018-07-18T02:55:46+00:00