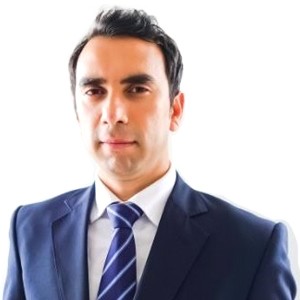 Syed Hussain
PMO Lead
---
Areas Of Expertise:
Program Reporting and Governance
PMO Process improvement
Cost & Financial Management
Project Planning
Schedule Management
Resource Management
Document Management
RAID Management
Change Control
Procurement and Vendor Management
Health Checks
Project Closure
---
Education:
Post Graduate Diploma in Accounting, RMIT University
Bachelor of Business Management, RMIT University
---
About Syed Hussain
Syed is an experienced PMO Consultant with 14 years' experience on large complex transformation programs, working in various PMO's within banking, superannuation, insurance, telecommunication, and the public sector. Syed has proven project management experience in various PMO roles, program analyst and delivery support roles.
---
What Syed brings
Proven experience in Portfolio, Program, Project Governance and Reporting, setup new and improve current PMO processes using various Portfolio Management Tools.
Financial reporting & analysis developed financial tracking workbooks, dashboards and models.
Advanced planning and scheduling skills working with MS Project & Primavera P5/P6.
Advanced skills in MS Office suite, PPM, EPM365, Clarity, JIRA, Confluence, MS Teams, PowerBI (intermediate), SharePoint, SAP (financials and procurement), and Daptiv.
Extensive experience and working knowledge of project life cycles, including PMBOK, PRINCE 2, Agile, Waterfall, and SDLC.
---
Key Clients:
WorkSafe Victoria
AirServices Australia
SURA
National Australia Bank (NAB)
Telstra
Super Partners
ANZ
Department of Treasury and Finance
---
Key Achievements:
As PMO Lead at WorkSafe, Syed worked on the Strategic Delivery Program which included multiple programs of work (Prevention, Claims & Recovery, Enterprise Data Hub). Syed was responsible for managing and leading several PMO forums including change control/scope management, RAID management, governance and reporting, vendor management, plan on a page, release checkpoint gate meetings and document management. Syed enhanced several PMO processes (Change Control, RAID management, Schedule Management) to ensure processes align to EPMO and are fit for purpose from a Strategic Delivery Program perspective. He also provided tool, process training to Senior PM's, EPMO, business and product owners for the PMO processes to ensure processes are fully implemented and adhered to by the Program. Syed provided key support to PMO manager, Program Director, and the Program Leadership team in preparing of Steering Committee and board papers; and was also responsible for onboarding new resources within the PMO team and that new resources are upskilled with the required PMO process, tools knowledge. Syed worked closely with Program delivery teams (CI/CD, Release Management) to provide a high-level plan on a page release/step update to program leadership team.
---
As Senior PMO consultant at Airservices Australia, Syed worked on CMATS Strategic Alliance Contract Negotiation & Implementation 'Due Diligence' phase where he supported the Program Lead, Director and Program manager with Program Management activities. He was responsible for setting up a number of initial interviews, workshops and assisted the Program Director and Program Manager in producing a detailed Due Diligence report. As part of the report Syed proposed recommendations from a PMO perspective including status reporting, project governance structure, risk and issues management, schedule management, financial/cost management. Syed was also responsible for tracking of actions, day to day administration, produced a high level WBS for the next phase of work, and a detailed Financial and Resource estimate for the next phase of work.
---
As PMO consultant at SURA, Syed worked on Project Sirius, a Transition Project to allow SURA to become the managing agent for a new client. Syed provided PMO and delivery support across the project including producing a high-level schedule, managing the transition plan with multiple external parties, setup and managed risks, issues and change request registers, and produced a weekly status report for project leadership team. Syed ran the bi-weekly status meetings with stream leads and ensured actions were tracked and completed on time. He also coordinated and consolidated responses in relation to questions from external parties. Syed organised critical product review sessions, workshops with multiple external parties, and liaised with external parties to resolve issues, obtain critical data, coordinate post implementation support (hypercare) in JIRA to ensure system changes were tracked and implemented effectively.
---
As Senior Portfolio/PMO Analyst at NAB, Syed worked on the Financial Crime Change Program planning and coordinating monthly submissions of the Project Status Report, Portfolio Project Delivery Committee (PDC) and Steering Committee/Executive packs (including financials, risks & issues, schedule/plan on a page, change requests and decisions). Syed developed various cost reporting and tracking tools to facilitate cost and forecast analysis including assisting program director/PMO lead in quarterly funding submissions to investment committee. Syed was instrumental in producing month end financial reports for the Portfolio highlighting key variances for each Program. Syed helped to develop Portfolio Reporting dashboard reports and conducted training/workshops on PMO processes, tools, and templates and supported the continuous review of PMO processes to enhance project management methodology, processes, templates, and frameworks.
---
As PMO Analyst for Telstra, Syed worked on the Wi-Fi Nation Program, where he was responsible for consolidating and quality review of weekly program status reports for 20+ projects. Producing weekly program dashboard, including program and projects RAG status, critical risks and issues, supporting the Program Director, PMO Manager and E2E PM's in producing and submission of funding requests. Syed worked with PMO and Finance to develop a financial tracker to track project financials, resources/FTE profile, SoW's, P. O's and rolled out the financial management process, procedures and guides for PM's.
---
As Senior PMO Analyst at SuperPartners (now Link group), Syed was responsible for project and program status reporting. He collated and produced various governance reports for the Project Lead including weekly status reports, project and portfolio reports and program steering committee packs. Syed advised Program Managers on adherence to the scheduling standards, ran schedule review meetings with senior Program Managers and Portfolio Leads as required ensuring any slippage was managed effectively. Syed worked closely with Finance to manage monthly accruals and month end activities and produced full year forecast/budgeting for multiple projects.
---
As Senior PMO Analyst/Cost Lead at NAB, Syed worked on the NextGen (DBR and Release 1), ensuring the program was following EPMO project management standards and frameworks and the project domains were using the correct templates and tools (financial workbook, risk and issues, scheduling, CR's, document templates). Syed trained and mentored the project management community and other stakeholders in the application PMO processes and project management framework and monitored projects, programs, and portfolio to ensure consistent and appropriate use of the PMF, through governance monitoring, stage gate reviews, and other reviews.
---
As Senior PMO Analyst at ANZ for the REFORM Program, Syed supported the Operations Manager to ensure high quality outcomes were delivered in alignment with REFORM Governance framework and standards. Syed produced fortnightly reports to track project deliverables, resource chargeability and finance reports for the PMO/Operations team to create visibility and decision-making. He developed SOW deliverable plan for the PMO team to ensure deliverables were tracked and updated regularly through engagement with REFORM Project Managers and developed Vendor Management resource reports for the PMO team to track resource chargeability, days billed, ETC and variance.
---
As Project Officer at Department of Treasury and Finance, Syed worked on ITS refresh Program supporting multiple steams/projects providing PMO support in reporting, financials, risks and issues, document management, scope management (change requests) and schedule management. Syed also provided advice to Project Managers in applying the Department's project management methodology and ensured PMO processes are followed across the Program. Syed was actively conducted various PMO Processes and Tools training sessions to uplift project management capability across the Program.
---
Other Team Members
Declan Boylan

General

2020-01-15T02:30:38+11:00

Gareth James

General

2021-01-19T11:29:58+11:00

Connie McKeage

Zeus Lara

2021-03-09T10:14:51+11:00

Hugh Harley

Zeus Lara

2020-04-01T04:18:49+11:00

Temre Green

Zeus Lara

2022-11-23T10:52:41+11:00

Mike Stockley

Zeus Lara

2022-08-30T12:56:19+11:00

Julie Laoit

Zeus Lara

2022-07-19T09:10:59+11:00

Rob Thomsett

General

2023-01-31T17:26:36+11:00

Louise Ford

General

2020-01-15T03:08:18+11:00

Caroline Borge

Zeus Lara

2022-11-09T11:10:36+11:00

Aaron Simonsen

Zeus Lara

2022-08-30T11:02:06+11:00

Akhilesh Das

Zeus Lara

2022-11-08T10:09:51+11:00

Alan Alehashemi

Zeus Lara

2022-07-19T09:07:40+11:00

Alex Massie

General

2022-06-07T16:31:55+11:00

Alexander Rivkin

Zeus Lara

2022-12-13T10:11:51+11:00

Ali Pahlavan

General

2023-01-31T12:58:51+11:00

Alisdair Brown

Zeus Lara

2022-08-30T09:51:38+11:00

Amanda Walker

Zeus Lara

2022-08-09T10:18:22+11:00

Anders Madsen

Zeus Lara

2022-08-02T17:55:11+11:00

Andrew Cheesman

Zeus Lara

2022-08-09T12:17:42+11:00

Andrew Coley

Zeus Lara

2021-12-21T12:36:47+11:00

Ann Mica Mae Lim

Zeus Lara

2022-08-02T10:15:38+11:00

Anna Linfield-Kent

Zeus Lara

2022-08-23T11:14:16+11:00

Barbara Read

General

2023-01-31T12:47:24+11:00

Benn Salier

Zeus Lara

2021-07-06T13:45:00+11:00

Bita Bagheri

General

2021-03-02T14:12:11+11:00

Callum Dodd

Zeus Lara

2022-11-23T11:00:39+11:00

Caroline Lees

Zeus Lara

2023-01-17T10:29:22+11:00

Cathy Baldwin

General

2021-01-19T16:55:52+11:00

Chika Nnadiekwe

Zeus Lara

2022-08-17T09:57:56+11:00

Chris Sykes

General

2022-05-26T12:50:02+11:00

David Johnson

General

2022-06-01T10:43:16+11:00

David Mansfield

Zeus Lara

2022-09-06T15:52:27+11:00

Deanna Edwards

Zeus Lara

2021-04-07T16:38:54+11:00

Derek Oldham

Zeus Lara

2022-06-21T17:02:11+11:00

Elise Kellond-Knight

Zeus Lara

2019-07-04T22:47:54+11:00

Eugene O'Connell

Zeus Lara

2022-03-22T16:14:36+11:00

Francis Aseron

Zeus Lara

2022-08-30T13:27:30+11:00

Fritzie Ligeralde

Zeus Lara

2021-08-17T15:41:14+11:00

Gilbert Wong

Zeus Lara

2022-05-25T12:27:00+11:00

Guru Swaminathan

General

2022-09-06T15:42:26+11:00

Hardik Lakhani

Zeus Lara

2022-03-08T16:33:18+11:00

Hayley Weir

Zeus Lara

2022-03-01T12:16:09+11:00

Helen Argitis

Zeus Lara

2022-05-26T12:13:35+11:00

Ian Salvador

Zeus Lara

2022-06-14T17:51:51+11:00

Ian Thomson

Zeus Lara

2022-12-13T09:50:48+11:00

Ibrahim Dani

Zeus Lara

2022-08-04T12:36:58+11:00

Igor Vieira

Zeus Lara

2022-06-28T16:45:19+11:00

Jerry Cobb

General

2022-06-28T15:49:32+11:00

Joanna Carlos

Zeus Lara

2022-02-15T17:48:05+11:00

Jochebed Diaz

General

2022-11-16T12:53:12+11:00

Johaimah Garrido

Zeus Lara

2021-03-16T10:08:35+11:00

John Middlemist

Zeus Lara

2021-07-21T12:11:54+11:00

Jon Kralevski

Zeus Lara

2022-05-26T09:46:48+11:00

Jovilyn Magtoto

Zeus Lara

2022-08-02T13:27:08+11:00

Julia Nicole Justo

Zeus Lara

2022-08-17T09:58:15+11:00

Katherine Whiteside

General

2022-11-30T17:42:36+11:00

Kunal Parikh

Zeus Lara

2022-01-25T11:49:10+11:00

Louigi Gardiola

Zeus Lara

2022-08-17T10:40:37+11:00

Louise White

General

2021-05-11T16:20:05+11:00

Lousiene Samonte

General

2022-08-30T14:27:05+11:00

Maddison Schmid

Zeus Lara

2022-10-18T10:53:58+11:00

Mark McAdam

General

2021-05-11T12:52:35+11:00

Mark Millen

Zeus Lara

2022-08-30T12:47:06+11:00

Mariam Kohani

Zeus Lara

2022-07-19T09:57:04+11:00

Marianne Dinsay

Zeus Lara

2022-06-07T14:41:57+11:00

Matthew Knight

Zeus Lara

2022-11-16T11:37:34+11:00

Melanie Northrop

Zeus Lara

2023-01-31T17:06:41+11:00

Michael Blomfield

Zeus Lara

2023-01-31T17:17:54+11:00

Michael Bryant

General

2022-08-09T11:38:32+11:00

Mohammad Ramezani

General

2022-07-13T16:18:36+11:00

Muhammad Sauood Ur Rauf

General

2022-08-30T14:20:48+11:00

Nevil Cope

General

2022-08-30T14:24:26+11:00

Niall Burke

Zeus Lara

2022-10-11T13:16:07+11:00

Nick Rodwell

Zeus Lara

2022-07-14T11:47:55+11:00

Nicole Hatten

Zeus Lara

2022-03-22T16:18:26+11:00

Niloofar Fardanesh

General

2022-05-05T11:05:15+11:00

Ninia Ortile

Zeus Lara

2022-10-11T14:26:40+11:00

Parastoo Mousavi

Zeus Lara

2022-12-13T10:24:00+11:00

Paul Bernard

Zeus Lara

2022-02-04T02:19:40+11:00

Paul Kirschner

General

2022-02-04T02:26:06+11:00

Peter Boylan

General

2021-07-06T12:52:31+11:00

Peter Philpott

General

2022-11-08T10:05:47+11:00

Rahul Kaushal

Zeus Lara

2022-08-03T10:22:38+11:00

Rajiv Boddupalli

Zeus Lara

2022-12-13T09:44:21+11:00

Robert Caminiti

General

2020-10-07T04:02:43+11:00

Robert Crossman

General

2022-03-08T14:18:21+11:00

Rohini Verma

Zeus Lara

2021-04-13T12:23:02+11:00

Rohit Satija

Zeus Lara

2022-07-04T15:02:01+11:00

Roxane Montierro

Zeus Lara

2020-12-15T06:30:55+11:00

Sanjay Narayan

Zeus Lara

2022-02-04T02:35:09+11:00

Saurabh Kundi

Zeus Lara

2022-06-14T17:33:05+11:00

Shiraan Fernando

Zeus Lara

2023-01-31T12:52:18+11:00

Sreekanth Badam

Zeus Lara

2022-11-09T17:14:36+11:00

Stephen Curtis

Zeus Lara

2022-08-30T11:03:53+11:00

Syed Hussain

Zeus Lara

2022-02-04T16:04:13+11:00

Tameka Yallop

General

2022-03-08T16:41:26+11:00

Tanvi Mahajan

Zeus Lara

2022-08-17T10:28:07+11:00

Thuc Linh Nguyen Phan

Zeus Lara

2022-06-07T14:41:52+11:00

Tony Calusic

Zeus Lara

2022-08-01T16:52:17+11:00

Vanessa Vella

General

2021-12-14T12:11:12+11:00

Winona Astian Thian

Zeus Lara

2022-08-17T09:52:28+11:00

Yanmin Chen

Zeus Lara

2022-03-08T16:40:11+11:00

Zach Barnetby

Zeus Lara

2022-06-24T11:08:22+11:00