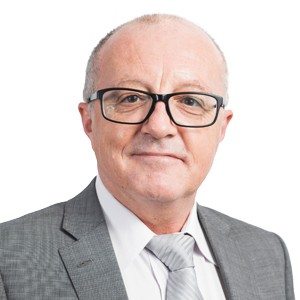 Val Pope
PMO Specialist (Scheduler/Planner)
---
Areas Of Expertise
Agile Project Planning
Monitoring and Control
Developing and managing project/program schedules
Banking, Finance & Telecommunications Technology Projects
---
Education
Bachelor of Information Systems, Monash University
Graduate Certificate in International Business, ANU
Master of Business Administration, UQ Business School
SAFe (Scaled Agile Framework) Program Consultant (SPC 5.0)
---
About Val Pope
Val is a highly experienced PMO Specialist, joining Seven Consulting's Melbourne teamin January 2015. Val has expert planning and scheduling skills and has successfully built and managed master schedules for multi-stream projects with resource-loaded schedules in industries including Banking & Investment/Finance, Utilities, Energy, Transport, Health, and Telecommunications. Val has worked with a variety of project planning methodologies including SAFe 5.0 (Scaled Agile), PRINCE2, MSP, P3O, PMBoK and has current SAFe accreditation. He has expert knowledge and experience using MS-Project, Primavera, and Jira.
---
What Val brings
Extensive Project Management/ PMO experience.
Certified SAFe 5.0 Program Consultant, Prince2, MSP and P3O Practitioner.
Specialist in stakeholder and dependency management in very large (> $300m) programs.
Effective communication, project reporting and documentation skills.
Rigorous Analytical ability.
---
Key Clients
VicRoads

Department of Communities and Justice, NSW Government
Future Fund Management Agency (FFMA)
VicTrack
Telstra
National Australia Bank/ NAB Wealth
AusNet Services (formerly SP AusNet)
CenITex (Victorian Government)
IPN (Independent Practitioner Network)
Queensland Health
National e-Health Transition Authority
---
Key Achievements
As PMO Specialist at VicRoads, Val was responsible for the development and maintenance of schedules for the EPMO uplift, Digital Driver's License, Monthly Registration, and the Security Uplift programs. Val also used the Seven Consulting suite of tools (Health check, Dashboard and Pathfinder) to assist in tracking and reporting the overall program progress.
---
As PMO Specialist at Department of Communities and Justice, Val assisted in detailed planning for the Process and Technology Harmonisation (PaTH) program. Val was responsible for creating and maintaining the Wave 2 schedule and provided support for the agency's PMO. Val also assisted the DCJ Scheduling Manager and introduced a Resource management capability across the program. Val also used the Seven Consulting suite of tools (Health check, Dashboard and Pathfinder) to assist in tracking and reporting the overall program progress. 
---
As PMO Specialist at Future Fund Management Agency (Australia's sovereign wealth fund with close to $250 billion under management), Val established and maintained a complex integrated schedule for the Integrated Data Management program which consisted of seven separate source schedules. Each of the source schedule's critical milestones were then identified and analysed to determine overall program/agency dependencies. These milestone dates were then baselined, and rigorously monitored for any early variation to planned dates. In this way targeted conversations could be undertaken with key stakeholders to identify mitigation options, and various recommendations could be proposed for consideration by the program Steering Committee. This work also allowed a critical path to be examined on a regular basis to identify any opportunities to "crash" or recover time on the program. Val blended the use of Microsoft Project and Jira to enable both agile engineering working practices and let executives and third-party stakeholders track and report progress. Val was also responsible for reporting team progress with a hybrid (waterfall/agile) approach using the Jira as the enterprise platform. Val also provided firsthand advice for setting-up: a program Kanban, program Sprints, processes to groom the program backlog. Val also provided advice and technical support for other key strategic projects in the agency.
---
As PMO Specialist at VicTrack, Val provided scheduling support to the Project Controls team. Using Primavera P6, Val assisted during a busy period for the PMO team. He was responsible for creating and maintaining around fifteen schedules and worked with project managers and subject matter experts to ensure the completeness and currency of all plans.
---
As PMO Specialist at Telstra, Val's role on the program was to identify and record requirements in Jira in the form of Capabilities and Epics and to identify external dependencies and track these in Jira. He also managed and reported on progress to the B2B executive team. The B2B Digitisation program will automate many manual processes and vastly improve the delivery of products and customer experience for Telstra Enterprise customers.
---
As PMO Specialist at NAB/NAB Wealth, Val provided planning and scheduling advice for the Customer Mastering and Customer Experience Centre programs and configured the Jira platform to reflect the NAB 'New ways of working' in an Agile environment. Val aligned up to thirty schedules weekly for the New Payments Platform program. Collaborating with multiple stakeholders he developed and maintained cross program dependencies and reported any movements from agreed baselines weekly. Val also developed and maintained the ADA2 program schedule for NAB Wealth and documented maintenance and update processes and mentored in-house staff in scheduling practices. Val introduced schedule quality standards and provided high-level reporting to the governance body.
---
As PMO Specialist at AusNet Services, Val worked in the smart metering remediation program, Val designed and developed a complex set of nested Stream-based schedules which provided the ability for management to identify, record and track dependencies across over fifteen stakeholder groups. He managed the enterprise planning tool EPPM (Microsoft Project Server & SharePoint) and developed a number of solutions based on the SharePoint platform to help manage many hundreds of project Deliverables and Work Packages. Val also introduced the (PRINCE2) concept of Product Descriptions and established a register help disseminate this information and built a library of these items to improve understanding and reduce ambiguity across the organization.
---
As PMO Specialist at IPN, Val managed the implementation and configuration of the MS Project Server and SharePoint platform. He implemented and administered the corporate-wide cloud-based Timesheet system. Val also functioned as Resources Manager and used SharePoint 2010 to build custom registers, including a comprehensive Master Site list which incorporated information on all 230+ IPN sites.
---
As Project Director at Queensland Health, Val managed the implementation of the Warehouse Management System (WMS) and oversaw the team responsible for the adoption of individual healthcare identifiers.
---
As Project Manager, Methodology and Tools at NeHTA (The National e-Health Transition Authority, now known as the Australian Digital Health Agency), Val enhanced the reach of the PMO and established reporting and planning mechanisms to deliver more timely and current information to the executive level. He managed the adoption of the PRINCE2 project management methodology across the organisation, facilitated training sessions and contributed to the training content.
Other Team Members
Declan Boylan

General

2020-01-15T02:30:38+11:00

Gareth James

General

2021-01-19T11:29:58+11:00

Connie McKeage

Julius

2021-03-09T10:14:51+11:00

Michael Blomfield

Julius

2023-02-14T10:26:26+11:00

Temre Green

Julius

2022-11-23T10:52:41+11:00

Mike Stockley

Julius

2022-08-30T12:56:19+11:00

Julie Laoit

Julius

2022-07-19T09:10:59+11:00

Rob Thomsett

General

2023-01-31T17:26:36+11:00

Louise Ford

General

2020-01-15T03:08:18+11:00

Aaron Simonsen

Julius

2023-11-13T23:52:10+11:00

Alan Alehashemi

Julius

2022-07-19T09:07:40+11:00

Alex Jahan

Julius

2023-11-14T12:14:04+11:00

Alex Massie

General

2023-11-14T12:25:43+11:00

Alexander Rivkin

Julius

2023-11-14T00:06:50+11:00

Alexandra Marie Tan

Julius

2023-07-20T17:43:15+11:00

Ali Pahlavan

General

2023-11-14T00:19:34+11:00

Alisdair Brown

Julius

2022-08-30T09:51:38+11:00

Amanda Walker

Julius

2023-11-14T12:09:46+11:00

Andrew Cheesman

Julius

2022-08-09T12:17:42+11:00

Anna Linfield-Kent

Julius

2023-11-14T11:45:20+11:00

Andrew Marshall

Julius

2023-08-29T14:02:36+11:00

Audrey Teh

Julius

2023-11-14T01:03:53+11:00

Barbara Read

General

2023-11-13T23:44:22+11:00

Bhavna Gupta

Julius

2023-11-30T01:43:24+11:00

Benn Salier

Julius

2023-10-17T17:16:47+11:00

Bita Bagheri

General

2023-08-02T22:15:49+11:00

Blake Dahlen

Julius

2023-07-20T13:58:11+11:00

Caroline Lees

Julius

2023-11-14T01:15:13+11:00

Cathy Baldwin

General

2021-01-19T16:55:52+11:00

Chris Sykes

General

2022-05-26T12:50:02+11:00

Callum Barker

Julius

2023-09-15T10:54:00+11:00

Dave Rider

Julius

2023-11-14T11:28:26+11:00

David Johnson

General

2023-06-13T11:44:41+11:00

Deanna Edwards

Julius

2023-03-28T15:46:04+11:00

Derek Oldham

Julius

2023-11-14T01:43:07+11:00

Elise Kellond-Knight

Julius

2019-07-04T22:47:54+11:00

Eliza Johnson

Julius

2023-11-14T01:52:47+11:00

Ellen Misador

Julius

2023-11-14T11:16:10+11:00

Eugene O'Connell

Julius

2023-11-14T11:03:19+11:00

Fritzie Ligeralde

Julius

2023-10-27T12:23:57+11:00

Gilbert Wong

Julius

2023-09-28T10:05:22+11:00

Guru Swaminathan

General

2023-05-26T16:16:29+11:00

Hardik Lakhani

Julius

2023-11-14T10:59:45+11:00

Hayley Weir

Julius

2023-08-29T14:56:54+11:00

Helen Argitis

Julius

2023-11-14T10:56:19+11:00

Inggrid Yapari

Julius

2023-09-05T14:17:37+11:00

Ian Salvador

Julius

2023-11-14T02:22:20+11:00

Jerry Cobb

General

2022-06-28T15:49:32+11:00

Joanna Carlos

Julius

2022-02-15T17:48:05+11:00

Jochebed Diaz

General

2023-07-27T15:46:01+11:00

Johaimah Garrido

Julius

2021-03-16T10:08:35+11:00

John Middlemist

Julius

2023-11-14T02:36:08+11:00

Jovilyn Magtoto

Julius

2022-08-02T13:27:08+11:00

Julia Nicole Justo

Julius

2023-11-14T10:49:49+11:00

Julius Labalan

Julius

2023-10-05T10:04:21+11:00

Katherine Whiteside

General

2023-11-14T10:44:56+11:00

Kunal Parikh

Julius

2022-01-25T11:49:10+11:00

Lauren Grouse

Julius

2023-11-14T10:37:06+11:00

Louigi Gardiola

Julius

2023-02-23T08:31:20+11:00

Maddison Schmid

Julius

2023-11-14T10:31:00+11:00

Mariam Kohani

Julius

2022-07-19T09:57:04+11:00

Marian Joyce Makalintal

Julius

2023-06-21T10:48:28+11:00

Marianne Dinsay

Julius

2023-11-14T10:27:12+11:00

Mark McAdam

General

2023-05-03T12:09:06+11:00

Mark Millen

Julius

2022-08-30T12:47:06+11:00

Matthew Knight

Julius

2023-11-14T10:24:09+11:00

Melody Framp

Julius

2023-11-14T10:20:38+11:00

Melody Tuazon

Julius

2023-05-09T15:59:40+11:00

Michael Bryant

General

2023-11-13T17:56:32+11:00

Mohammad Ramezani

General

2022-07-13T16:18:36+11:00

Nadja Schulze

Julius

2023-07-13T13:05:06+11:00

Nevil Cope

General

2022-08-30T14:24:26+11:00

Niall Burke

Julius

2023-11-13T17:36:58+11:00

Nick Rodwell

Julius

2023-11-13T17:46:28+11:00

Nicole Hatten

Julius

2023-11-13T17:33:35+11:00

Ninia Ortile

Julius

2022-10-11T14:26:40+11:00

Pablo Andres Cordova Baya

Julius

2023-06-21T10:48:54+11:00

Parastoo Mousavi

Julius

2023-11-13T17:25:28+11:00

Paul Kirschner

General

2022-02-04T02:26:06+11:00

Peter Boylan

General

2023-03-14T16:22:42+11:00

Peter Philpott

General

2022-11-08T10:05:47+11:00

Rachel Low

Julius

2023-09-18T12:34:26+11:00

Rajiv Boddupalli

Julius

2023-11-13T16:14:32+11:00

Robert Crossman

General

2022-03-08T14:18:21+11:00

Rohini Verma

Julius

2023-11-30T02:00:48+11:00

Rohit Satija

Julius

2023-11-13T15:37:09+11:00

Roxane Montierro

Julius

2020-12-15T06:30:55+11:00

Sanjay Narayan

Julius

2023-02-14T11:09:04+11:00

Saurabh Kundi

Julius

2023-11-13T15:08:30+11:00

Shiraan Fernando

Julius

2023-03-14T15:07:49+11:00

Shruthi Srinivas

Julius

2023-08-25T12:02:31+11:00

Sreekanth Badam

Julius

2023-11-30T03:24:02+11:00

Stephen Curtis

Julius

2023-11-13T13:01:36+11:00

Simon Chrétien

Julius

2023-09-15T11:40:55+11:00

Tameka Yallop

General

2023-08-29T16:34:12+11:00

Tanvi Mahajan

Julius

2023-11-13T12:45:18+11:00

Thuc Linh Nguyen Phan

Julius

2023-11-13T12:39:10+11:00

Tony Calusic

Julius

2023-11-13T12:21:56+11:00

Vanessa Vella

General

2023-11-30T02:22:53+11:00

Vergil De Leon

Julius

2023-09-11T10:53:30+11:00

Winona Astian Thian

Julius

2023-02-23T08:34:19+11:00

Yanmin Chen

Julius

2023-10-03T19:22:20+11:00

Zach Barnetby

Julius

2023-11-13T10:30:25+11:00