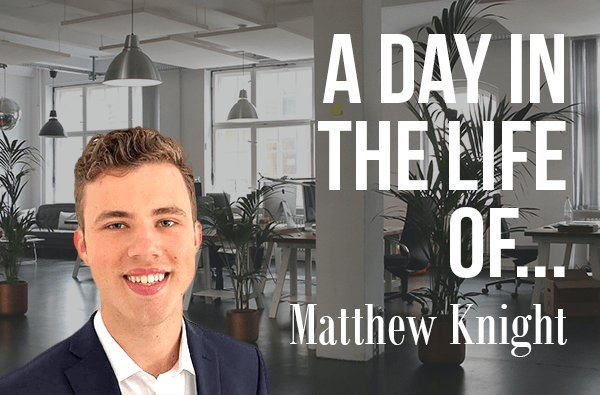 Matthew Knight
Graduate
University Attended: University of Sydney
Degree qualification: Bachelor of Project Management, Bachelor of Biomedical Engineering
Year of graduation: 2021
---
6:25 AM
Twice a week I head into the office to catch up with the team and today is one of those days. I slowly get out of bed, hop into the shower, and get dressed in some suit pants, a shirt, and a jumper to keep myself warm and have my breakfast.
7:20 AM
While I live close to a train station I'm one of those weird people that thinks the bus, while sometimes gross, is way faster than the train for getting into the city. So I drive to a bus stop nearby and catch an M2 bus into the City. There are a few more cars on the road today than normal because the trains are on strike… Classic.
8:30 AM
Currently, I am working on a project at Colonial First State (CFS) as part of their separation from CommBank here in Darling Harbour Sydney. I set up my CFS laptop and reply to any emails/ messages that have come through. Once I reply/action the email I move them into the archived folder so that my inbox functions a bit like a to do list. A clean inbox is one of my favourite things (genuinely makes me so happy).
9:00 AM
One of the tasks that I am responsible for is the reporting of risks, issues, and decisions on the project which we manage through Jira, a common project management software. Within Jira, I've created a filter that shows me all the ones that require action whether that's because they are overdue, don't have an owner, haven't been updated in 2 week etc. Ensuring that this is kept orderly means that issues and risks are able to be closed out quickly and those that have deteriorated are identified quickly.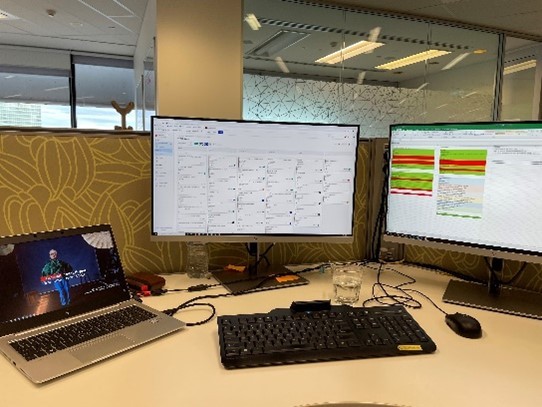 10:30 AM
While I was at university I completed a Scrum Master Accreditation which is a discipline particularly useful in Agile/ hybrid (Partly agile and partly traditional) projects. Part of the purpose of a Scrum master is to track the activities that each person in the team is doing and streamline the process for them to complete their tasks on time. A key element of this is the daily stand-up which my team has at 10:30 AM each day. In this meeting, we provide an update on how each person on the team is going with their tasks as well as share any blockers that are stopping them from completing their work. In theory, it should be short enough that it's done standing up but with half of us online and half in person, sitting is definitely the way to go!
11:00 AM
Somewhere between 10-11am basically everyone steps away from their desk to go get a coffee. After offering one to a few of the people around me we all wandered down to a café called Nevaggio which is on the ground floor. It was pretty good!!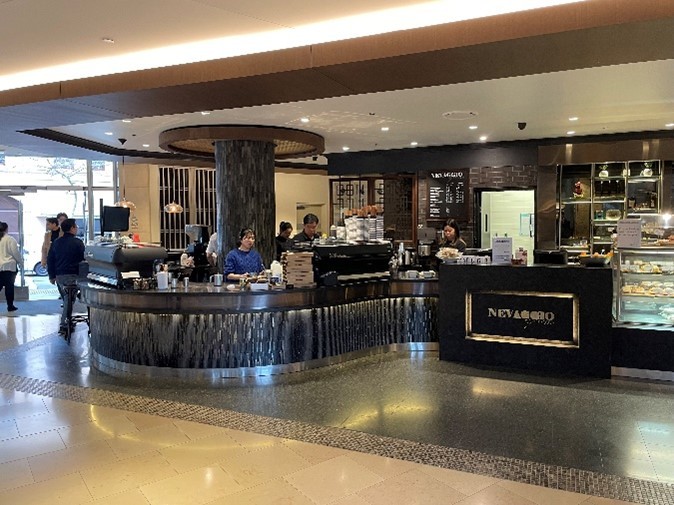 11:30 AM
After getting back to my desk, I had a meeting with one of the project managers and his team where we went through which tasks from the Master Schedule he wanted to be created in Jira. The purpose was to import enough tasks from the schedule (which is being tracked in MS Project) into Jira so that high level reporting could be achieved. After copying the data from MS Project into Excel I eventually got the data into a format that Jira was happy to accept, and all 195 tasks were uploaded and formatted at the same time from Excel into Jira. I haven't completely figured out bulk importing in Jira yet, I'll have to give it some more practice next time I have some spare time.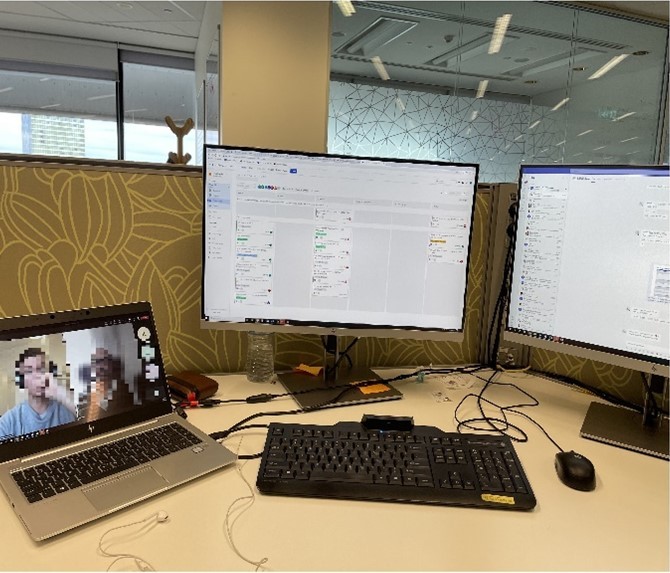 1:30 PM
For lunch, I wandered downstairs to Guzman y Gomes which is in the building… you heard me it is in the building, it would be rude not to have it! I had a look outside and the weather was good, so I sat outside on one of the tables and watched some fantasy football content while I ate.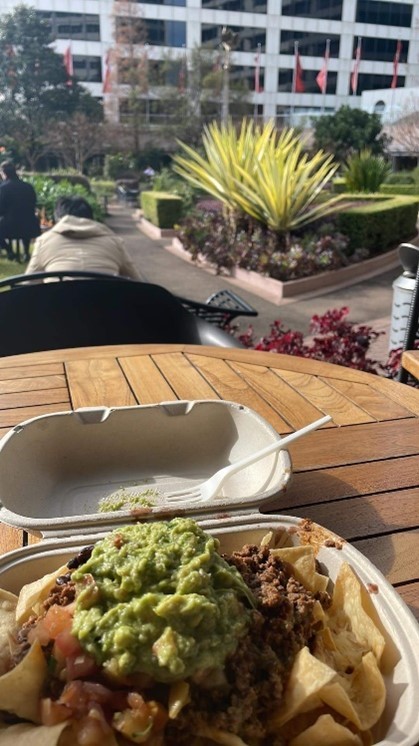 2:00 PM
Following this, I had a meeting with the data migration team where they discussed in more detail their progress, what blockers they were experiencing, and when they anticipated the deliverables would be complete. This was a good opportunity to learn from my supervisor and as he had to manage competing priorities within a stretched project team. It was cool to see him apply some of the lessons that we were taught in university of prioritising the activities on the critical path knowing that it's not the end of the world if the other tasks are a few days late. My responsibility was taking minutes, an undervalued and critically important job! spoken like a true graduate  (took this photo before people joined because I was too embarrassed to take a selfie in the meeting)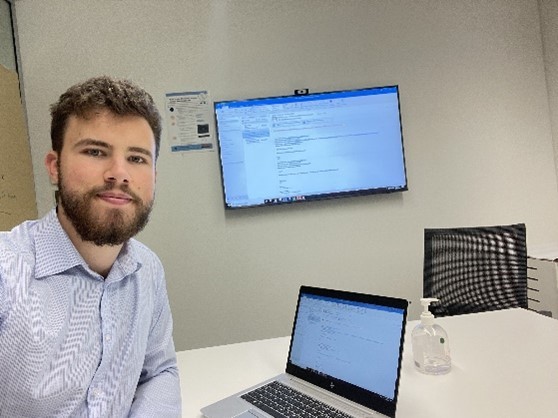 3:30 PM
One of the great things about being a Seven Consultant is the access to information and resources you have. For instance, today we had our weekly meeting with the founder of Seven consulting, Declan Boylan where he shared with us 'everything he knows' about Change Management in a project. As a graduate having this kind of access to the company's founder, I think is unparalleled and is such a great resource to have.
4:00 PM
Every fortnight the Program Manager and I present to the project sponsor and other senior members of CFS on the status of the project. One of my responsibilities is creating the PowerPoint presentation for this meeting and ensuring it is up to date and approved by all the necessary people before being distributed. With the remaining hour of the day, I sent you a few emails for updates from people and updated the pack with the top 3 most pressing risks and issues.
5:00 PM
Come 5 pm and the office is mostly empty, there are usually a few more people working but I think with the trains being down people wanted to give themselves some extra time getting home and with that it's time for me to go too!
6:30 PM
Thursday night is a pretty quiet night for me so without anything planned I decided to go for a run and try to burn off some of that glorious Guzman, and then watched Cruella with the girlfriend.
11:00 pm
Before I go to bed I check my calendar for the next day just in case I have a 8 am meeting.
---
More about Matt
What's your job about?
I work at a Project Management consultancy that helps companies achieve their project and transformation goals. As a graduate, this means supporting more senior Project Managers to make decisions on the direction of the project and provide governance and clear ways of working for the project team.
One of the unique aspects of working at a consultancy is that you get to experience different projects, companies, and industries without having to change jobs every few years. Consequently, a typical day/ week is largely dependent on which project you are on as the roles are diverse and can change every 6 months or so. For me specifically, I am working on a project at Colonial First State (Superannuation/ Investing company) where I'm responsible for tracking and presenting key risks and issues, teaching team members how to use the project management software and apply our ways of working, as well as provide updates on the overall health of the project. My role provides me oversight into all the 'tricky' parts of a project and so if things start to go wrong I'm one of the first people to know. When a project gets large enough e.g. millions and millions of $$ having a seemly small risk go unnoticed can have a pretty big impact, providing a voice then to those concerns and ensuring they are mitigated is a key role in the project.
What's your background?
I was born in England but grew up in a beachy town in the north of NSW called Tweed heads until I was around 7 when my family moved to Sydney. For school, I went to the local public schools of Beecroft Primary school and Pennant Hills High School where I probably spent a bit too much time playing football…
When year 11/12 came around I didn't really know what I wanted to do post-school so decided to do my best and see what options I had on the other side. As I student I enjoyed maths as a subject as well and was quite outgoing, putting those things together and chatting with a few people around me I decided to study Biomedical Engineering (think prosthetic limbs and pacemakers) and Project Management (think managing teams and flow charts).
Having worked as an engineer during my degree I decided to apply for a few Project Management jobs during my final year and ended up being successful with Seven Consulting. I've been here for about 7 months now and it's been great! I've already done some work with three of the biggest companies in Australia and am having a fun time doing so!
Could someone with a different background do your job?
Absolutely! Project Management is one of those funny things that almost everyone will do a bit of in their life. Even something as 'simple' as organising a birthday party is a bit like project management, you have to consider stakeholders (the people impacted by the party), cost of food? Photographer? DJ? where the party will be, what are the risks i.e. should you have a peanut party if everyone there is allergic… mmm maybe not. While the context might be slightly different this is all transferable to project management, all you need is to be organised and able to solve problems.
What's the coolest thing about your job?
Much like when I graduated high school and didn't know what I wanted to study at university, when I was at university I didn't know where I wanted to work… This is what I like most about my job, I get to work at some of the biggest companies in Australia seeing how they work, and what they do all the while working for a consultancy that is helping me to grow and provide new opportunities for me.
What are the limitations of your job?
While moving around from company to company helps you gain experience it also makes it harder to build close friendships with those around you. Fortunately, Seven Consulting has regular social events every month or so to help reduce that feeling but the people who you work with on the day-to-day often change every 6 (ish) months which makes that difficult.
3 pieces of advice for yourself when you were a student…
Make the most of your freedom as a student, don't worry about earning money, that's another days problem
No assignment or test mark is worth sacrificing your mental health for. Your lecturers/ tutors understand that university can be stressful so let them know how you are going and more often than not they will help you find a solution. If need be there is no shame in seeking help from a professional, if your knee was sore you would happily go see a physiotherapist for instance.
Be nice to your tutors/ lecturers at the start of a semester as it brings a lot of good grace at the end