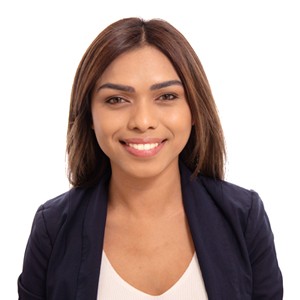 Julie Laoit
People and Office Administrator
---
Areas Of Expertise:
Business Support
Stakeholder Management
Office Management
---
Education:
Graduate Diploma in Psychology, University of Melbourne (Currently undertaking)
Bachelor of Commerce in Management and Economics, Deakin University
---
About Julie Laoit
Julie is a Human Resources professional with experience in recruitment and administration. Skilled in operations and administrative support, she is diligent and reliable. Julie is working towards acquiring expertise in organisational development.
Other Team Members
Declan Boylan

General

2020-01-15T02:30:38+11:00

Gareth James

General

2021-01-19T11:29:58+11:00

Connie McKeage

Zeus Lara

2021-03-09T10:14:51+11:00

Annette Mackay

Zeus Lara

2021-09-28T10:09:13+11:00

Rob Thomsett

General

2021-04-06T12:29:29+11:00

Aaron Simonsen

Zeus Lara

2021-10-19T10:15:23+11:00

Louise Ford

General

2020-01-15T03:08:18+11:00

Alan Madani

General

2020-07-24T03:51:19+11:00

Alex Massie

General

2020-06-19T01:51:58+11:00

Ali Pahlavan

General

2021-09-21T15:39:39+11:00

Amanda Walker

Zeus Lara

2021-09-21T15:43:38+11:00

Anders Madsen

Zeus Lara

2021-08-31T17:57:29+11:00

Andrew Cheesman

Zeus Lara

2021-03-23T12:46:37+11:00

Barbara Read

General

2021-10-12T09:11:19+11:00

Benn Salier

Zeus Lara

2021-07-06T13:45:00+11:00

Berna Akdeniz

Zeus Lara

2020-12-15T10:21:24+11:00

Bita Bagheri

General

2021-03-02T14:12:11+11:00

Cathy Baldwin

General

2021-01-19T16:55:52+11:00

Chika Nnadiekwe

Zeus Lara

2021-05-11T13:05:32+11:00

Chris Sykes

General

2020-03-05T00:14:43+11:00

David Johnson

General

2020-01-15T02:05:16+11:00

David Mansfield

Zeus Lara

2021-08-12T17:45:38+11:00

Deepak Chaturvedi

Zeus Lara

2021-08-09T12:19:33+11:00

Donalito Jr. Bales

Zeus Lara

2021-01-12T10:10:18+11:00

Edward Rudnicki

Zeus Lara

2021-09-28T10:10:11+11:00

Ericson Bagunas

General

2020-10-01T05:06:36+11:00

Fritzie Ligeralde

Zeus Lara

2021-08-17T15:41:14+11:00

Gilbert Wong

Zeus Lara

2020-12-15T04:26:15+11:00

Grace Tran

General

2021-07-06T13:11:24+11:00

Guru Swaminathan

General

2020-10-13T05:04:12+11:00

Helen Argitis

Zeus Lara

2021-10-20T11:36:27+11:00

Ian Salvador

Zeus Lara

2021-06-01T12:54:33+11:00

Jason Kwong

Zeus Lara

2021-07-13T12:23:00+11:00

Jeroen Lubbers

Zeus Lara

2021-07-21T11:23:06+11:00

Jerry Cobb

General

2020-11-06T00:49:28+11:00

Joanna Carlos

Zeus Lara

2020-09-14T00:37:15+11:00

Jochebed Diaz

General

2020-12-15T05:31:11+11:00

John Middlemist

Zeus Lara

2021-07-21T12:11:54+11:00

Jon Kralevski

Zeus Lara

2021-08-31T18:00:32+11:00

Josh Pricken

Zeus Lara

2021-02-16T14:32:44+11:00

Julia Nicole Justo

Zeus Lara

2021-09-21T15:46:54+11:00

Julie Laoit

Zeus Lara

2021-02-16T14:33:40+11:00

Katherine Whiteside

General

2020-07-02T06:55:12+11:00

Krishnaraj Arumugam

Zeus Lara

2020-06-30T04:59:15+11:00

Louie Huang

Zeus Lara

2021-07-06T13:19:27+11:00

Louigi Gardiola

Zeus Lara

2021-02-16T14:34:48+11:00

Louise White

General

2021-05-11T16:20:05+11:00

Lousiene Samonte

General

2020-04-01T03:22:19+11:00

Mark McAdam

General

2021-05-11T12:52:35+11:00

Mariam Kohani

Zeus Lara

2021-07-13T12:09:45+11:00

Michael Baylon

Zeus Lara

2021-08-25T16:48:12+11:00

Michael Bryant

General

2021-03-09T11:37:38+11:00

Mohammad Ramezani

General

2021-08-24T10:42:52+11:00

Muhammad Sauood Ur Rauf

General

2021-05-10T12:45:04+11:00

Nadja Schulze

General

2020-05-29T06:16:06+11:00

Nevil Cope

General

2020-01-14T04:11:02+11:00

Niloofar Fardanesh

General

2020-09-29T01:07:43+11:00

Parastoo Mousavi

Zeus Lara

2021-05-18T15:46:14+11:00

Paul Bernard

Zeus Lara

2021-07-05T10:56:35+11:00

Paul Kirschner

General

2021-03-09T12:49:12+11:00

Peter Boylan

General

2021-07-06T12:52:31+11:00

Peter Patrick Boylan

Zeus Lara

2021-02-16T14:22:06+11:00

Peter Philpott

General

2020-10-30T03:09:29+11:00

Puneet Nagpal

Zeus Lara

2021-10-05T12:29:57+11:00

Rahul Kaushal

Zeus Lara

2021-10-19T10:44:02+11:00

Rick Myburgh

Zeus Lara

2021-07-21T11:12:13+11:00

Rinku Razdan

General

2021-06-15T09:38:48+11:00

Robert Caminiti

General

2020-10-07T04:02:43+11:00

Robert Crossman

General

2020-01-15T04:30:20+11:00

Rohini Verma

Zeus Lara

2021-04-13T12:23:02+11:00

Roxane Montierro

Zeus Lara

2020-12-15T06:30:55+11:00

Saurabh Kundi

Zeus Lara

2021-05-11T11:54:30+11:00

Sharon Tannenbaum

Zeus Lara

2021-06-01T12:48:32+11:00

Shiraan Fernando

Zeus Lara

2021-03-09T17:04:13+11:00

Sosha Jabbary

General

2021-01-27T09:52:48+11:00

Stephen Curtis

Zeus Lara

2021-05-11T12:16:32+11:00

Steve Baxter

Zeus Lara

2021-09-28T17:12:56+11:00

Syed Hussain

Zeus Lara

2021-09-14T16:44:40+11:00

Tameka Yallop

General

2019-04-29T04:29:36+11:00

Vanessa Vella

General

2020-04-15T01:08:38+11:00

Yanmin Chen

Zeus Lara

2021-03-23T15:31:10+11:00