2011: Kamraeng School Cambodia
On Wednesday, 8 June 2011 there was a great celebration in Kamraeng. It was a truly happy day for students, teachers, and the community as they gathered to officially open their school – Kamraeng Primary School. The community was proud to see the school building complete. Many people have contributed and worked towards the building of the school. Finally, the hand over ceremony was happening and students celebrated! A momentous day.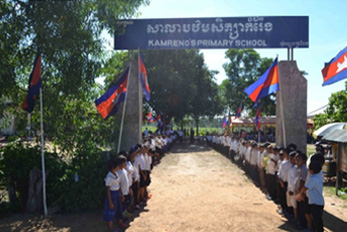 Students celebrated the new Kamraeng Primary School in Svay Rieng province as they lined up to welcome and applaud the dignitaries and guests. These included local authorities, government officers, ChildFund staff and Geraldine Davis representing Seven Consulting. The celebration was held to hand over the school building to the Ministry of Education who will be officially responsible for its upkeep and to ensure its sustainability. The Ministry of Education also employs the teachers and staff at the school.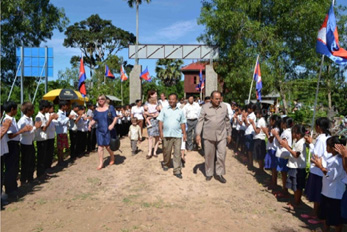 The ceremony was presided over by His Excellency 'In The', Under-Secretary of State from the Ministry of Education, Youth and Sport. The community welcomed Geraldine Davis and her family as representatives from the donor: Seven Consulting. Also in attendance was Carol Mortensen Country Director of ChildFund Cambodia, Mr Mao Virak, District Governor of Romeas Heak District as well as representatives of the Provincial Governor of Svay Rieng. Other special guests included Mr Pen Sarin, Deputy Director of Provincial Department of Education, Youth and Sport, Mr Chab Salorn, Chief of Romeas Haek District Education office and most importantly villagers and school children.
The ceremony brought hope and inspiration for the children of Kamraeng community. All 223 students, from kindergarten to grade six, participated in the handover ceremony. Parents, commune councils, Quality Assurance Committee members, village leaders, villagers, Buddhist monks and other officials including district officers and provincial departments also attended.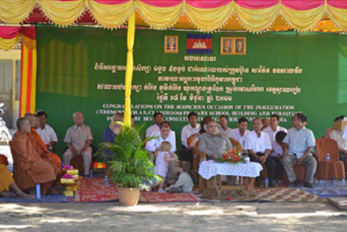 Kamraeng primary school is situated in the Kamraeng village, Andoung Trabaek commune, Romeas Haek district and is home to 1,672 families with a population of 6,765. There are six villages in the commune, all of which are located far away from each other. Community members are mostly farmers who rely on harvesting rice which is planted only once each year due to a shortage of water. There are a number of issues faced by the community including no access to irrigation for crops, insufficient farming techniques, access to quality healthcare and lack of employment opportunities which has forced many adults and youth to migrate in search of work. There are a number of important issues related to education which includes shortage of classrooms, latrines, wells and education materials and resources for school children. The Kamraeng community is isolated with road access made difficult in the wet season. Kamraeng community is located 70 kilometers from Svay Rieng provincial centre and over 30 kilometers from Romeas Haek district town.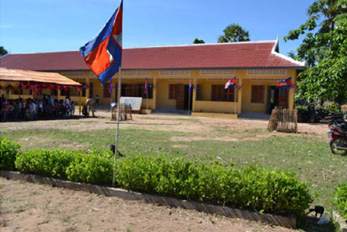 Kamraeng School was identified as a remote and poor school located in a deprived community. ChildFund initially was approached by education officers, the school principal, community members and students, and asked to assist in the building of a new school. ChildFund staff visited the school and the community request was approved in principle in May 2010. Seven Consulting generously agreed to fund the building of the school. This act enabled the community to start planning and ChildFund provided support and guidance.
Seven Consulting's funds were used to construct a five-room school in line with the Ministry of Education approved design and quality. The project included many essential extras including all furniture, a new school latrine block with four toilets, rehabilitation of an existing school latrine block with three toilets, one school well and ensured connection of water supply from well to the latrine blocks. A resource library will also be established for the use of students with study materials, school kits for every child; as well as provision of sporting equipment which supplements the construction of the playground. The community and authorities deeply appreciate the support provided by Seven Consulting.
Previously, Kamreang community had an old school building that was partially funded by another development organisation in 1998 with further contributions from the community. The building was of poor quality and while it is still standing today roof tiles are falling off and some parts of the doors and windows need to be urgently replaced.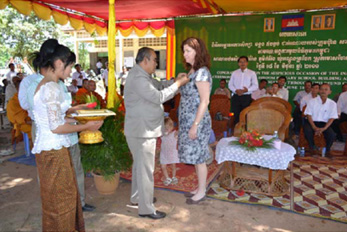 Carol Mortensen, Country Director ChildFund Cambodia said she "…was impressed with the cooperation ChildFund received from the local community, including children and youth, teachers, 3 government and local authorities – that without this cooperation ChildFund would not be able to establish strong and active programs. ChildFund believes in the power of education …. All children should be equally encouraged – there is a saying in Australia, that women hold up half the sky – girls and boys should be given equal opportunities to go to school and succeed."
Geraldine Davis represented the team at Seven Consulting and especially the family of Declan Boylan said she "…hoped that this school building will bring a better future for students in the Kamraeng community…..Declan's father did not finish school when he was young, so Declan believes strongly that by educating the next generation children will have choices….this school is dedicated to Peter Boylan of Limerick, Ireland, whose hard work was an inspiration to his family, and made this school possible. From his family in Sydney, Australia, Declan, Sharon, Peter and Michael Boylan"!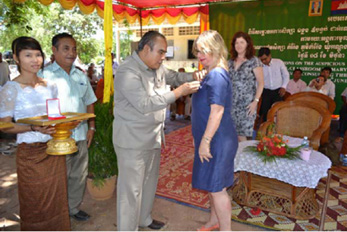 His Excellency In The thanked Seven Consulting for the funding of the school building through ChildFund Cambodia – "The development of the education sector is very important and with this support, Seven Consulting and ChildFund are contributing towards the poverty reduction strategy of the Cambodian's government".
During the ceremony, His Excellency In The, presented gold medals and a letter of appreciation to Seven Consulting and ChildFund. Dignitary guests then cut the ribbon to inaugurate the new school building. After the ceremony dignitaries and guests talked with students and Quality Assurance Committee members, distributed new school kits to children, inspected newly constructed classrooms, signed official documents and planted trees as a sign of hope and strength for the bright future of Kamraeng community's students. After the busy morning activities, all participants ate a solidarity lunch together organized by the school principal, teachers and community people.
On behalf of ChildFund Cambodia, we thank Declan, Sharon, Peter, Michael, Geraldine and family and all staff at Seven Consulting. Thank you for the wonderful sporting goods, school equipment and materials for the children – as well as a primary school!!! The demonstration of the skipping ropes was enjoyed by all. ChildFund will continue to monitor the use of all equipment and make sure that it is being shared by all students. Mr Chok Hunly, the school principal of Kamraeng primary school representing teachers and students was incredibly grateful for the donations.
Finally, ChildFund Cambodia and the Kamraeng community, we would like to give our deepest thanks for the wonderful and invaluable support from across the oceans to the team at Seven Consulting. This school construction will continue to provide a better future for Kamreang's children.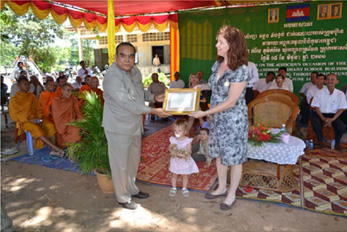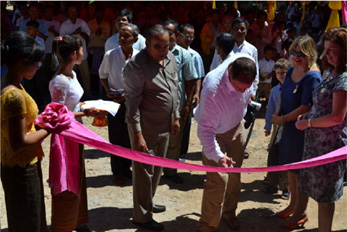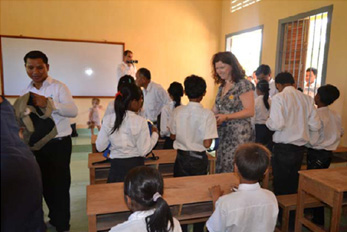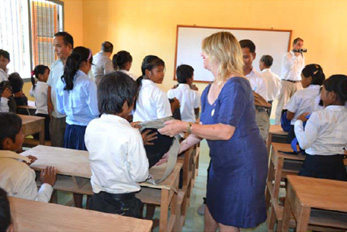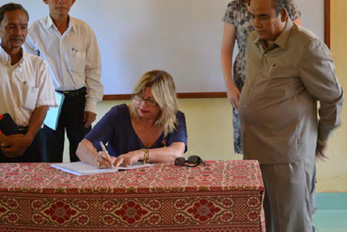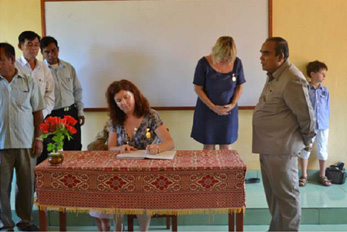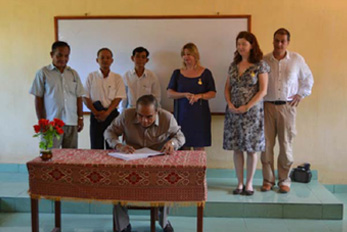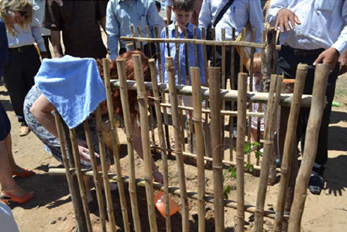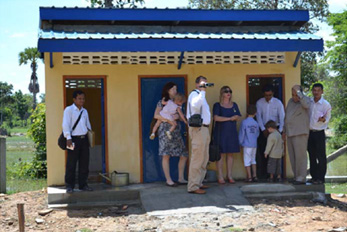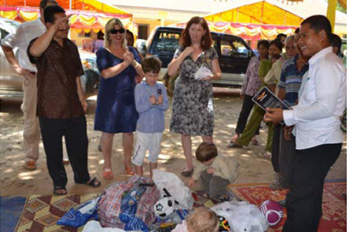 Seven Consulting has provided PROJECT 7 for: