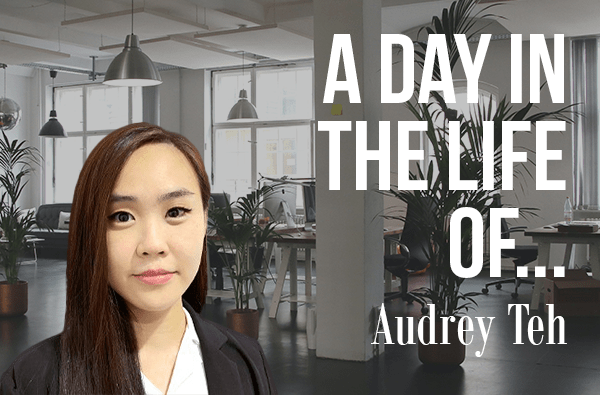 Audrey Teh
Graduate
University Attended: RMIT University
Degree qualification: Master of Project Management
Year of graduation: 2020
---
8:30AM
I wake up to the sound of my alarm ringing, I will usually hit the snooze button a few times and that is when I will get out of my bed and get ready to work from home. I am working remotely in Melbourne as my client is based in Sydney, NSW.
9:00AM
It is time for me to turn on my laptop. Once my laptop is turned on, I launch Outlook and Teams. I will check for any new emails that have come through my inboxes overnight, and check for any new messages on Teams. I will then create a prioritised to-do list based on urgency/importance of tasks. One thing I have learned from Seven Consulting's Founder is that it is best to allocate slots in your diary or calendar for tasks to be completed, so you will have a visual image of your schedule as it saves you time and stress from thinking of your next step. I re-read my emails again to ensure that I did not miss out on any important tasks and reply to emails where necessary.
9:30AM
Once I have replied to emails as required, I would start to tackle my to-do list.
10:00AM
My first meeting of the day is a daily stand-up with my team (2 other Seven Consultants, which consist of 1 PMO Manager and 1 Program Director who is currently on bench providing support to our engagement involving Fleet Management as he has experience on the topic). A stand-up typically covers our focus of the day, any blockers that might impose a risk on the project progress, and review of our project schedule to ensure we are tracking well on our critical path.
10:30AM
After our daily stand-up, I resumed my task, which mainly focuses on excel analysis. My responsibility revolves around providing accurate data extraction and analysis from client's SAP system. The main functions that I use are PivotTable and VLOOKUP.
12:00PM
As I am working from home, I make myself a quick lunch and pop a YouTube video on my monitor to watch while eating.
12:30PM
I make myself a cup of tea to help with digestion before resuming work. I open my Outlook again to check for any new emails that have come through my inboxes during lunch time. A new task has been assigned to me and I re-prioritise my to-do list before I continue with where I have left off.
3:00PM
I have my weekly meeting with my Graduate Program Manager and discuss my responsibilities and tasks that I have done over the week. Other than that, I will also discuss my Project Management Graduate Checklist to ensure that I cover all the criteria set out to officially finish the Graduate Program and be promoted to a PMO Consultant.
3:30PM
I will review my notes from the session with my Graduate Program Manager and ensure that I allocate time in my calendar to cover the Project Management topics discussed and areas for improvements, such as improving my self-confidence and building my presence in meetings.
4:00PM
It is time for my team to meet with one of the engagement's senior stakeholders. We talk him through our Status Report for the week. The topics we cover are project updates, major risks and issues hindering our progress, findings conducted, and next steps.
4:30PM
I use this time to clean up my minutes and actions while they are still fresh in my memory, and upload onto SharePoint in my team folder. A key tip that I learned is to take notes at every key meeting and to put an asterisk beside an action noted down to avoid any chance of overlooking it. It is always a good habit to circulate minutes and actions after meetings with your project team members or the meeting participants.
5:00PM
I focus on any outstanding tasks for the day and ensure that I send through any tasks that are due. Depending on my progress, I might finish sometime between 5:30PM to 6:30PM. To finish off the day, I will usually inform my team of my progress and if there are any delays.
6:30PM
I look at my outlook calendar and review my meetings for the next day. Once I have ensured I am fully prepped for the next day's meetings, I turn off my laptop and I am done for the day. I proceed to clean up my desk as I have realised that I am more productive and work best with a clean set up.
7:00PM
I then wind down my day with dinner while playing a movie on my new projector. Depending on my mood, I might cook or takeaway on UberEats.
11:00PM
I have been making a habit of going to bed early to ensure I am well rested to tackle the next day. However, that is not usually the case as I will be scrolling through Instagram for 30 minutes. Then, it is time to say goodnight and I let my consciousness slowly drift away.
---
More about Audrey
What's your job about?
My company provides project and program management consultancy services, primarily focused on Information Technology and Business Transformation. As a PMO Consultant Graduate, I support Program or PMO Managers in governing and delivering projects on clients' side. I am currently supporting my Program Manager on a Data Management program at a client side. My detailed responsibilities include taking minutes and actions in key meetings, drafting status reports and Steering Committee packs, administrating the Risks and Issues register, and ad-hoc admin.
The program involves communicating and working with a third-party client, as the product is co-developed by both parties. The program consists of developing codes, testing the codes in different testing levels, for instances, System Integration Testing and Regression Testing, and delivering files as requested by the third-party client during the release. When the release has gone live, in other words when the codes are deployed, the project team focuses on Hypercare and ensures all defects are captured and addressed on a case-by-case basis.
We have a fortnightly Joint Program Meeting with the key project members, that focuses on providing status updates and oversight of the joint activities on the program and formalised reporting across functional deliverables. Also, we conduct a monthly Joint Steering Committee with key project executives, that focuses on any executive escalations, aligning the program outputs against strategic goals of the product and key priorities.
What's your background?
I was born in Malaysia and grew up in a small country called Brunei Darussalam, the kingdom of oil. I came to Australia when I was 16 years old to pursue my tertiary education. I started with Foundation Studies (equivalent to VCE) and undertook a bachelor's degree in commerce. During my last year of undergraduate studies, I enrolled in Project Management as my elective subject and have found my passion in it. I have then decided to pursue in a master's degree. I would say the most important stage of my life is during my master's degree. I got to meet a lot of colleagues from different education background and work experiences in my first year. Unfortunately, COVID hits us during my second year, and all education was moved to online classes.
After graduating in 2020, I was working as a casual employee at McDonald's while looking for a suitable job. However, due to COVID situation, I had little to no luck. I am sure most people were on the same boat during this period, so there's no need for the pity party here. On one day, I woke up to a LinkedIn message from Seven Consulting and decided to apply for their Graduate Program. After several rounds of interviews and a dilemma between two job offers, I have decided on Seven Consulting as it was my preferred choice and started in January 2022. Till this day, I am thankful to be headhunted based on faith, and for this opportunity.
Could someone with a different background do your job?
Yes, definitely! My Program Manager came from a Business Analyst background and is doing a fantastic job. Also, Seven Consulting offers a Fast Track Program for experienced candidates with different background to join our company and receive proper training and guidance. As long as you have the passion and determination, you will be able to succeed in this job.
I would say that to succeed, this job requires these characteristics (but not limited to):
Great stakeholder management
Ability to escalate when appropriate
Willingness to learn and adapt as each project varies
Teamwork
What's the coolest thing about your job?
I would say the coolest thing about my job is the opportunity to meet different people of different seniority, and social events at client's side. This gives me the opportunity to work on my communication skills and confidence when engaging with senior colleagues. What I also love about my job is that no one day is the same, every day is different as the current program I am working on has low maturity in terms of governance. Different challenges always spring out of nowhere when the project was going well.
What are the limitations of your job?
I would say the biggest limitation of my job is the support I can provide to my Program Manager as I am not experienced enough, and the program is difficult. In the first month of the program, I was very clueless as to what was going on. I was told that this would happen as a consultant as we jump from project to project. My best advice here is that this job requires great adaptability and the skill to deal with the unexpected.
3 pieces of advice for yourself when you were a student…
Make the most out of your university life. Everyone says this, but it is true. I took my free time for granted. Join a university club, work on your fitness, discover a hobby, etc.
Find a good mentor. Maintain that network and you will thank yourself one day. You don't necessarily have to attend a networking event if that is not your cup of tea – quality over quantity.
Start budgeting. Again, you will thank yourself in the future. Pick up a casual work and this allows you to gain some sort of financial independence.