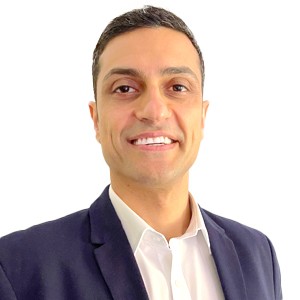 Alex Jahan
PMO Manager
---
Areas Of Expertise:
Project/Portfolio Management Office
Strategic alignment
Portfolio Prioritisation
Benefit realisation
Project Management maturity models and Earned Value management
---
Education:
Bachelor of Engineering (Industrial Engineering – Planning & Analysis of Systems), AmirKabir University of Technology
---
About Alex Jahan
Alex is a skilled PMO Manager, who joined Seven Consulting's Sydney team in January 2021. He is a project and portfolio management professional with the ability to bridge the gap between strategy and execution by tailoring and deploying the right methodology and governance to business change. He has experience in waterfall and agile environments in different industries and is equipped to deliver better business outcomes by improving and balancing people, processes, and products.
---
What Alex brings
Expertise

in tailoring and deploying the right Project Management

methodology

and governance to cater for specific needs of the business.

Focus on increasing visibility and transparency through robust and independent reporting.

Experienced leader of lean and high-performing teams.

Strong schedule, planning and

financial management

skills including Earned Value.

Proven capability of balancing threats and opportunities in highly dynamic environments to

maximise

the value for projects/portfolios.
---
Key Clients:
NSW Rural Fire Service

BAI Communications
Broadcast Australia
Avec Engineering and Consulting Company
Industrial and Financial Systems
Arya Sasol Polymer Company
Oil Industries' Engineering and Construction
---
Key Achievements:
As PMO Manager in NSW Rural Fire Service (RFS), Alex was tasked with forming and managing a team of 5 to establish and run a high-impact PMO. RFS was seeking to uplift their fire appliances production to mitigate the risk of increasing fires for NSW residents by reducing the average age of their massive fleet of firefighting and mitigation/service appliances. Extensive delays due to supply chain issues, suppliers' mismanagement, and lack of fit-for-purpose practices to effectively manage risks and issues, had already caused a $10m shortfall on the budget and a time slippage of over 12 months. In the first 3 months of the assignment, Alex managed to bring structure and rigour to the program by establishing a fit for purpose governance framework and acting on it. During the course of this engagement, Alex was able to provide useful insights on different streams, performed root cause analysis on delays and improved multiple processes to ensure that the program was aligned with RFS strategic goals and to bring back the program on track to deliver the benefits stated in the business case.
---
As PMO Manager at BAI Communications, Alex aligned programs and projects with business objectives to achieve improved customer service, efficiency, and higher value for the Enterprise. He led the daily operations of PMO to deliver the projects within their boundaries and made sure benefits are realised as per their business case for sponsors and opportunity leads. Alex was responsible for talent acquisition, training, and coaching of new project management members. He had budget and forecasting responsibility for a portfolio comprising over 220 projects. Alex also had an advisory role on PPM technology solutions, enterprise rollout strategies and impact analyses and was an active member of Big Room Planning steering committee and was one of the leaders of SAFe methodology on IT portfolio. He increased PMO efficiency by 50% while maintaining project execution targets and managed a successful portfolio management, achieving 97% forecast to actual results for a portfolio of over 220 projects (FY21). Alex increased methodology compliance rate from 61% to 87% across more than 100 projects and transformed a supporting PMO to a directive PMO.
---
As PMO Analyst (acting PMO Manager) at Broadcast Australia, Alex managed a team of four to maintain system administration (Project Server), Project coordination, project scheduling and process improvement while designing and implementing Resource Capacity Planning (RCP) framework for the enterprise. He transformed project schedules (200+ per annum) from being merely a reporting tool to a project management tool by resource-loading schedules and integrating them into BA's procurement and time sheeting systems. He partnered with functional managers to establish capacity management process for 70+ resources across 8 teams to pro-actively manage resources and cost constraints and successfully produced insights from schedules. Alex revised the governance framework to include risk and issue management processes and lifted the project management maturity of the core team by introducing new concepts and holding multiple training and educational workshops.
---
As Restack PMO Lead at Broadcast Australia, Alex oversaw forming the PMO core team, designing and deploying the methodology and governance, identifying reporting requirements and composing communication and stakeholders' management plans for the biggest ever program in broadcast industry in Australia. Restack was an incredibly complex program consisting of 427 projects with diverse stakeholders, very tight time frames and numerous internal and external dependencies. Alex designed the governance framework for the program by tailoring PRINCE2, modelled and maintained a resource loaded schedule of more than 15000 lines to capture all the activities and dependencies for the whole program, designed and established fully automated weekly reports from engineering to commissioning phase and created live Power-BI dashboards for steering committee. He performed multiple sensitivity analyses on the time, resource, and cost. Alex also established Earned Value functionality in MS Project to track earned value KPIs and created EV insights for the program. He also designed Risk, Issue and Change Request frameworks for the program. Alex also took the responsibility of Project Manager and managed and delivered 19 projects during this period. At the end of the program, restack was awarded as the "project of the year 2015" by PMI Australia.
---
As Project Manager at Avec Engineering and Consulting Company, Alex was responsible for deploying IFS (Industrial & Financial Systems ERP) project management, Contract Management, Procurement and HR modules. He prepared the business case and developed the project charter. Alex collected all the requirements from stakeholders to come up with the model and execution approach and modelled and maintained both the high level and the detailed schedule. He formed a high performing project team, created earned value reports for management, and performed risk analysis on the schedule. Scrum and Kanban methods were used by Alex to successfully deliver this project.
---
As Senior Project Management Consultant at Industrial and Financial Systems (IFS), Alex was involved in sales negotiations and bidding activities, providing technical support and consultancy in deploying the enterprise, and training and onboarding the personnel in adoption phase. He oversaw the project management module that was built on PMI methodology and enjoyed its own built-in scheduling app that was fully compatible with both Primavera and MSP. He had successful contract negotiations with three top-tier oil, gas, and petrochemical companies and an impressive track record on change management, adoption planning and implementation in Arya Sasol Polymer Company. He also managed overhaul planning with over 30000 tasks broken down into minutes. Alex created the IFS Project Management library with training and onboarding materials including the handbook, how-to guides, and product presentation documents. He also trained over 60 personnel on how to use features of the new product and successfully managed to negotiate and change existing processes to do minimum customisation on the new product.
---
As Business Development Planning Supervisor at Arya Sasol Polymer Company, Alex analysed statistical data including contractors' performance, sales numbers in different regions, ongoing construction activities in the complex to make sure they were set up to deliver what they have promised their customers and helped Sales and Operations team (SOP) with the performance figures of the existing markets. Alex created the execution model and maintained the project's recovery schedule based on the remaining activities for ERP implementation project. Alex designed and prepared the three-week look ahead (3WLA) plans and deployed management's Incentive Plan to recognize efficient contractors. He was responsible for preparing and analysing the business readiness status report and performing Rough Cut Capacity Planning (RCCP), Master Production Scheduling (MPS), Material Requirement Planning (MRP) and Constraint Based Scheduling (CBS) on C2 Cracker plant via IFS platform.
---
As Master Scheduler at Oil Industries' Engineering and Construction, Alex was responsible for modelling and maintaining the schedule for construction activities. He created WBS and WBS dictionary for construction activities. Alex performed Critical Path Method (CPM) to help the team focus on critical activities. He used backward scheduling to manage total slack (float) of the project and to create early warning indicators to make sure the project will be delivered within its boundaries.
---
Other Team Members
Declan Boylan

General

2020-01-15T02:30:38+11:00

Gareth James

General

2021-01-19T11:29:58+11:00

Connie McKeage

Julius

2021-03-09T10:14:51+11:00

Michael Blomfield

Julius

2023-02-14T10:26:26+11:00

Temre Green

Julius

2022-11-23T10:52:41+11:00

Mike Stockley

Julius

2022-08-30T12:56:19+11:00

Julie Laoit

Julius

2022-07-19T09:10:59+11:00

Rob Thomsett

General

2023-01-31T17:26:36+11:00

Louise Ford

General

2020-01-15T03:08:18+11:00

Aaron Simonsen

Julius

2023-11-13T23:52:10+11:00

Alan Alehashemi

Julius

2022-07-19T09:07:40+11:00

Alex Jahan

Julius

2023-11-14T12:14:04+11:00

Alex Massie

General

2023-11-14T12:25:43+11:00

Alexander Rivkin

Julius

2023-11-14T00:06:50+11:00

Alexandra Marie Tan

Julius

2023-07-20T17:43:15+11:00

Ali Pahlavan

General

2023-11-14T00:19:34+11:00

Alisdair Brown

Julius

2022-08-30T09:51:38+11:00

Amanda Walker

Julius

2023-11-14T12:09:46+11:00

Andrew Cheesman

Julius

2022-08-09T12:17:42+11:00

Anna Linfield-Kent

Julius

2023-11-14T11:45:20+11:00

Andrew Marshall

Julius

2023-08-29T14:02:36+11:00

Audrey Teh

Julius

2023-11-14T01:03:53+11:00

Barbara Read

General

2023-11-13T23:44:22+11:00

Bhavna Gupta

Julius

2023-11-30T01:43:24+11:00

Benn Salier

Julius

2023-10-17T17:16:47+11:00

Bita Bagheri

General

2023-08-02T22:15:49+11:00

Blake Dahlen

Julius

2023-07-20T13:58:11+11:00

Caroline Lees

Julius

2023-11-14T01:15:13+11:00

Cathy Baldwin

General

2021-01-19T16:55:52+11:00

Chris Sykes

General

2022-05-26T12:50:02+11:00

Callum Barker

Julius

2023-09-15T10:54:00+11:00

Dave Rider

Julius

2023-11-14T11:28:26+11:00

David Johnson

General

2023-06-13T11:44:41+11:00

Deanna Edwards

Julius

2023-03-28T15:46:04+11:00

Derek Oldham

Julius

2023-11-14T01:43:07+11:00

Elise Kellond-Knight

Julius

2019-07-04T22:47:54+11:00

Eliza Johnson

Julius

2023-11-14T01:52:47+11:00

Ellen Misador

Julius

2023-11-14T11:16:10+11:00

Eugene O'Connell

Julius

2023-11-14T11:03:19+11:00

Fritzie Ligeralde

Julius

2023-10-27T12:23:57+11:00

Gilbert Wong

Julius

2023-09-28T10:05:22+11:00

Guru Swaminathan

General

2023-05-26T16:16:29+11:00

Hardik Lakhani

Julius

2023-11-14T10:59:45+11:00

Hayley Weir

Julius

2023-08-29T14:56:54+11:00

Helen Argitis

Julius

2023-11-14T10:56:19+11:00

Inggrid Yapari

Julius

2023-09-05T14:17:37+11:00

Ian Salvador

Julius

2023-11-14T02:22:20+11:00

Jerry Cobb

General

2022-06-28T15:49:32+11:00

Joanna Carlos

Julius

2022-02-15T17:48:05+11:00

Jochebed Diaz

General

2023-07-27T15:46:01+11:00

Johaimah Garrido

Julius

2021-03-16T10:08:35+11:00

John Middlemist

Julius

2023-11-14T02:36:08+11:00

Jovilyn Magtoto

Julius

2022-08-02T13:27:08+11:00

Julia Nicole Justo

Julius

2023-11-14T10:49:49+11:00

Julius Labalan

Julius

2023-10-05T10:04:21+11:00

Katherine Whiteside

General

2023-11-14T10:44:56+11:00

Kunal Parikh

Julius

2022-01-25T11:49:10+11:00

Lauren Grouse

Julius

2023-11-14T10:37:06+11:00

Louigi Gardiola

Julius

2023-02-23T08:31:20+11:00

Maddison Schmid

Julius

2023-11-14T10:31:00+11:00

Mariam Kohani

Julius

2022-07-19T09:57:04+11:00

Marian Joyce Makalintal

Julius

2023-06-21T10:48:28+11:00

Marianne Dinsay

Julius

2023-11-14T10:27:12+11:00

Mark McAdam

General

2023-05-03T12:09:06+11:00

Mark Millen

Julius

2022-08-30T12:47:06+11:00

Matthew Knight

Julius

2023-11-14T10:24:09+11:00

Melody Framp

Julius

2023-11-14T10:20:38+11:00

Melody Tuazon

Julius

2023-05-09T15:59:40+11:00

Michael Bryant

General

2023-11-13T17:56:32+11:00

Mohammad Ramezani

General

2022-07-13T16:18:36+11:00

Nadja Schulze

Julius

2023-07-13T13:05:06+11:00

Nevil Cope

General

2022-08-30T14:24:26+11:00

Niall Burke

Julius

2023-11-13T17:36:58+11:00

Nick Rodwell

Julius

2023-11-13T17:46:28+11:00

Nicole Hatten

Julius

2023-11-13T17:33:35+11:00

Ninia Ortile

Julius

2022-10-11T14:26:40+11:00

Pablo Andres Cordova Baya

Julius

2023-06-21T10:48:54+11:00

Parastoo Mousavi

Julius

2023-11-13T17:25:28+11:00

Paul Kirschner

General

2022-02-04T02:26:06+11:00

Peter Boylan

General

2023-03-14T16:22:42+11:00

Peter Philpott

General

2022-11-08T10:05:47+11:00

Rachel Low

Julius

2023-09-18T12:34:26+11:00

Rajiv Boddupalli

Julius

2023-11-13T16:14:32+11:00

Robert Crossman

General

2022-03-08T14:18:21+11:00

Rohini Verma

Julius

2023-11-30T02:00:48+11:00

Rohit Satija

Julius

2023-11-13T15:37:09+11:00

Roxane Montierro

Julius

2020-12-15T06:30:55+11:00

Sanjay Narayan

Julius

2023-02-14T11:09:04+11:00

Saurabh Kundi

Julius

2023-11-13T15:08:30+11:00

Shiraan Fernando

Julius

2023-03-14T15:07:49+11:00

Shruthi Srinivas

Julius

2023-08-25T12:02:31+11:00

Sreekanth Badam

Julius

2023-11-30T03:24:02+11:00

Stephen Curtis

Julius

2023-11-13T13:01:36+11:00

Simon Chrétien

Julius

2023-09-15T11:40:55+11:00

Tameka Yallop

General

2023-08-29T16:34:12+11:00

Tanvi Mahajan

Julius

2023-11-13T12:45:18+11:00

Thuc Linh Nguyen Phan

Julius

2023-11-13T12:39:10+11:00

Tony Calusic

Julius

2023-11-13T12:21:56+11:00

Vanessa Vella

General

2023-11-30T02:22:53+11:00

Vergil De Leon

Julius

2023-09-11T10:53:30+11:00

Winona Astian Thian

Julius

2023-02-23T08:34:19+11:00

Yanmin Chen

Julius

2023-10-03T19:22:20+11:00

Zach Barnetby

Julius

2023-11-13T10:30:25+11:00