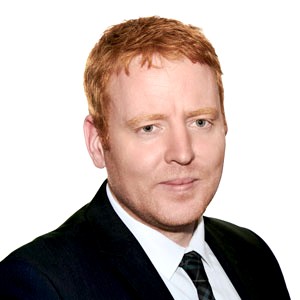 Peter Boylan
Program Manager
---
Areas Of Expertise
Project & PMO Management
Portfolio Management
Financial
Risk & Issue Management
---
Education
Bachelor of Commerce, National University of Ireland
---
About Peter Boylan
Peter is a skilled Program Manager, joining Seven Consulting's Sydney Practice in 2009. Peter has a track record of successfully establishing enterprise PMOs, delivery of Infrastructure, Transformation, Content Management System (CMS) and media application projects. Peter has demonstrated skills on large scale programs and portfolios, including program delivery, PMO process creation and improvement, and project portfolio monitoring and reporting.
---
What Peter brings
Leadership of multiple teams across a variety of projects and programs, with experience managing vendors, dedicated and non-dedicated resources.
Delivery of both technically complex projects, and projects with a large user impact, while working with diverse sets of stakeholders.
Stakeholder Management / Reporting to an Executive & Director level, preparation of board level papers.
Leadership of portfolio and program PMO teams.
PMO management; creation & management of budgets and Schedules, Issue, Risk & Assumption management, scope management, and Configuration Change Control.
Management of Logistics, Procurement and Vendor Contracts.
Highly proficient in PMBOK methodology.
---
Key Clients
InvoCare
Resolution Life
Hunter Water
Australian Broadcasting Corporation (ABC)
Stockland
Hutchison 3G
Telstra
Unisys
---
Key Achievements
As Program Manager at InvoCare, Peter was responsible for the Discovery, Business Case and Delivery of a CRM system for the InvoCare Cemeteries and Crematorium division. This system manages all the divisions front end operations, Sales and Bookings, Invoicing and records management. This new platform was heavily integrated with the Enterprise ERP, as well as with the reporting platform, customer payment portal and division websites. There was significant cleansing and migration of 30+ years of data. The team consisted of approx. 24 FTE and 6 different vendors. This was delivered per the baselined schedule and budget.
---
As Program Manager at Resolution Life (AMP Life), Peter was responsible for recovering a key project in the Separation Project from AMP, delivering a highly integrated Customer Correspondence system, integrating a number of new supplier systems and establishing new employee processes. The project was 6 months into a 12-month delivery and hadn't completed requirements or design. Successfully meeting the planned go-live date, along with 2 other dependent projects, ensured that key Separation Program milestones were met.
---
As Program Manager at Hunter Water, Peter was tasked with recovering & delivering the Reporting Project for a Billing System Replacement Program. This was delivered ahead of schedule.
---
As Program Manager at the ABC, Peter was responsible for managing the delivery of a new Radio on-air telephony, SMS & Social media solution for the ABC's radio networks across the country. This project was put on hold as a result of the Covid travel restrictions.
---
As Program Manager at the ABC, Peter managed the Integrated Media System (IMS) program, the single largest technology program delivered by the broadcaster. This involved delivering infrastructure, applications, data migration, processes and training across 40 sites and 3000+ users. The team managed consisted of 3 systems vendors, internal technology and content staff as well as over a dozen contractors.
---
As PMO Manager at the ABC, Peter managed the Integrated Media System (IMS) program, as the program was commencing. This involved developing processes, tools and controls to manage the various workstreams, and program overall, as it implemented into the pilot site and first 2 states / 15 sites.
---
As Senior Project Manager at Stockland, Peter managed 3 workstreams of a large off-shore Transition project including establishing Infrastructure for new offices and the transition of Helpdesk and Applications teams to these new locations. This involved leading a range of teams in multiple locations and time zones.
---
As Project Manager at Stockland, Peter led the upgrade to Stockland's Content Management System (CMS). The scope of this project included establishing new infrastructure, an application upgrade and a sizable data migration element. This also involved managing 4 separate vendors as well as the core project team.
---
As Project Manager at Stockland, Peter successfully established a Continuous Development / Continuous Integration platform for Stockland's CMS. This project involved embedding a significant element of process change, as well as delivery of the tools and environments required to allow Stockland to manage multiple website projects and vendors simultaneously.
---
As Project Manager at Stockland, Peter led the delivery of an approved Business Case for the redesign and rebuild of all Stockland's websites. This was a 7-month planning phase for the largest digital project that Stockland has delivered.
---
As Project Manager at Stockland, Peter led the delivery of Marketing Automation for Stockland's retail websites.
---
As PMO Manager at Stockland, Peter led the IT Delivery Project Portfolio. Responsible for reporting across all projects, reviewing and establishing processes and standards for project management.
---
As PMO Manager at Stockland for Stockland's Finance Transformation Program, Peter managed 6 workstreams and 18 separate projects. Key responsibilities included Steering Committee Reporting, Financial, Risk/Issue and Schedule Management.
---
As Acting Project Manager at Stockland, for Purchase2Pay Project, Peter ensured that this project stayed on track for a successful delivery (as 2IC) while the PM was unavailable.
---
As PMO Manager at the Hutchison Managed Services transition, Peter completed contract negotiations, Due Diligence and program planning. Peter created and maintained agreed baselined scope during contract negotiations.
---
As PMO Manager at the Hutchison Billing System Upgrade Program ($10M+), Peter performed standard PMO duties, with the primary responsibility was management of the program's budget and finances. This involved auditing prior expenditure, integrating resource plans for each workstream, (including all labour and material costs) into an overall Program budget. This required working closely with all the vendors and project managers to get accurate and timely costs and estimates.
---
As PMO Manager for the transition of Cathay Pacific's IT Systems from IBM to Unisys. Along with standard PMO duties, primary responsibilities were the setup and management of a new daily configuration change control meeting for the program and transitioning change control on the Cathay account from Unisys Sydney to Unisys Bangalore.
Other Team Members
Declan Boylan

General

2020-01-15T02:30:38+11:00

Gareth James

General

2021-01-19T11:29:58+11:00

Connie McKeage

Julius

2021-03-09T10:14:51+11:00

Michael Blomfield

Julius

2023-02-14T10:26:26+11:00

Temre Green

Julius

2022-11-23T10:52:41+11:00

Mike Stockley

Julius

2022-08-30T12:56:19+11:00

Julie Laoit

Julius

2022-07-19T09:10:59+11:00

Rob Thomsett

General

2023-01-31T17:26:36+11:00

Louise Ford

General

2020-01-15T03:08:18+11:00

Aaron Simonsen

Julius

2022-08-30T11:02:06+11:00

Alan Alehashemi

Julius

2022-07-19T09:07:40+11:00

Alex Jahan

Julius

2022-12-13T10:15:47+11:00

Alex Massie

General

2023-05-09T15:42:17+11:00

Alexander Rivkin

Julius

2023-03-28T15:40:59+11:00

Alexandra Marie Tan

Julius

2023-07-20T17:43:15+11:00

Ali Pahlavan

General

2023-08-03T11:39:33+11:00

Alisdair Brown

Julius

2022-08-30T09:51:38+11:00

Amanda Walker

Julius

2023-06-06T11:10:57+11:00

Anders Madsen

Julius

2022-08-02T17:55:11+11:00

Andrew Cheesman

Julius

2022-08-09T12:17:42+11:00

Andrew Coley

Julius

2021-12-21T12:36:47+11:00

Anish Joshi

Julius

2023-04-04T15:04:09+11:00

Ann Mica Mae Lim

Julius

2023-05-11T14:08:40+11:00

Anna Linfield-Kent

Julius

2023-03-14T16:25:51+11:00

Andrew Marshall

Julius

2023-08-29T14:02:36+11:00

Audrey Teh

Julius

2023-06-13T10:54:02+11:00

Barbara Read

General

2023-04-27T09:42:19+11:00

Bhavna Gupta

Julius

2023-08-25T16:07:45+11:00

Benn Salier

Julius

2021-07-06T13:45:00+11:00

Bita Bagheri

General

2023-08-02T22:15:49+11:00

Blake Dahlen

Julius

2023-07-20T13:58:11+11:00

Callum Dodd

Julius

2022-11-23T11:00:39+11:00

Caroline Lees

Julius

2023-01-17T10:29:22+11:00

Cathy Baldwin

General

2021-01-19T16:55:52+11:00

Chris Sykes

General

2022-05-26T12:50:02+11:00

Callum Barker

Julius

2023-09-15T10:54:00+11:00

Dave Rider

Julius

2022-02-04T01:57:49+11:00

David Johnson

General

2023-06-13T11:44:41+11:00

David Mansfield

Julius

2023-02-14T10:37:32+11:00

Deanna Edwards

Julius

2023-03-28T15:46:04+11:00

Derek Oldham

Julius

2023-05-09T15:38:58+11:00

Elise Kellond-Knight

Julius

2019-07-04T22:47:54+11:00

Eliza Johnson

Julius

2023-07-20T12:18:49+11:00

Ellen Misador

Julius

2023-07-20T15:42:42+11:00

Eugene O'Connell

Julius

2022-03-22T16:14:36+11:00

Fritzie Ligeralde

Julius

2021-08-17T15:41:14+11:00

Gilbert Wong

Julius

2023-09-28T10:05:22+11:00

Guru Swaminathan

General

2023-05-26T16:16:29+11:00

Hardik Lakhani

Julius

2022-03-08T16:33:18+11:00

Hayley Weir

Julius

2023-08-29T14:56:54+11:00

Helen Argitis

Julius

2022-05-26T12:13:35+11:00

Inggrid Yapari

Julius

2023-09-05T14:17:37+11:00

Ian Salvador

Julius

2022-06-14T17:51:51+11:00

Ian Thomson

Julius

2023-06-13T10:25:34+11:00

Jerry Cobb

General

2022-06-28T15:49:32+11:00

Joanna Carlos

Julius

2022-02-15T17:48:05+11:00

Jochebed Diaz

General

2023-07-27T15:46:01+11:00

Johaimah Garrido

Julius

2021-03-16T10:08:35+11:00

John Middlemist

Julius

2023-07-13T11:20:18+11:00

Jovilyn Magtoto

Julius

2022-08-02T13:27:08+11:00

Julia Nicole Justo

Julius

2023-02-23T08:34:34+11:00

Julius Labalan

Julius

2023-09-19T11:03:24+11:00

Katherine Whiteside

General

2022-11-30T17:42:36+11:00

Kunal Parikh

Julius

2022-01-25T11:49:10+11:00

Lauren Grouse

Julius

2023-06-15T15:40:06+11:00

Louigi Gardiola

Julius

2023-02-23T08:31:20+11:00

Louise White

General

2021-05-11T16:20:05+11:00

Maddison Schmid

Julius

2023-05-11T09:35:43+11:00

Mariam Kohani

Julius

2022-07-19T09:57:04+11:00

Marian Joyce Makalintal

Julius

2023-06-21T10:48:28+11:00

Marianne Dinsay

Julius

2023-02-23T08:32:42+11:00

Mark McAdam

General

2023-05-03T12:09:06+11:00

Mark Millen

Julius

2022-08-30T12:47:06+11:00

Matthew Knight

Julius

2023-02-23T08:32:48+11:00

Melanie Northrop

Julius

2023-01-31T17:06:41+11:00

Melody Framp

Julius

2023-06-13T11:17:39+11:00

Melody Tuazon

Julius

2023-05-09T15:59:40+11:00

Michael Bryant

General

2022-08-09T11:38:32+11:00

Mohammad Ramezani

General

2022-07-13T16:18:36+11:00

Nadja Schulze

Julius

2023-07-13T13:05:06+11:00

Nevil Cope

General

2022-08-30T14:24:26+11:00

Niall Burke

Julius

2022-10-11T13:16:07+11:00

Nick Rodwell

Julius

2023-06-13T10:21:33+11:00

Nicole Hatten

Julius

2023-07-04T16:34:47+11:00

Ninia Ortile

Julius

2022-10-11T14:26:40+11:00

Pablo Andres Cordova Baya

Julius

2023-06-21T10:48:54+11:00

Parastoo Mousavi

Julius

2022-12-13T10:24:00+11:00

Paul Kirschner

General

2022-02-04T02:26:06+11:00

Peter Boylan

General

2023-03-14T16:22:42+11:00

Peter Philpott

General

2022-11-08T10:05:47+11:00

Rachel Low

Julius

2023-09-18T12:34:26+11:00

Rahul Kaushal

Julius

2023-08-03T10:44:21+11:00

Rajiv Boddupalli

Julius

2022-12-13T09:44:21+11:00

Robert Caminiti

General

2020-10-07T04:02:43+11:00

Robert Crossman

General

2022-03-08T14:18:21+11:00

Rohini Verma

Julius

2021-04-13T12:23:02+11:00

Rohit Satija

Julius

2023-08-29T15:13:11+11:00

Roxane Montierro

Julius

2020-12-15T06:30:55+11:00

Sanjay Narayan

Julius

2023-02-14T11:09:04+11:00

Saurabh Kundi

Julius

2023-02-23T08:26:14+11:00

Shiraan Fernando

Julius

2023-03-14T15:07:49+11:00

Shruthi Srinivas

Julius

2023-08-25T12:02:31+11:00

Sreekanth Badam

Julius

2022-11-09T17:14:36+11:00

Stephen Curtis

Julius

2023-05-30T09:22:30+11:00

Simon Chrétien

Julius

2023-09-15T11:40:55+11:00

Tameka Yallop

General

2023-08-29T16:34:12+11:00

Tanvi Mahajan

Julius

2023-03-28T15:21:57+11:00

Thuc Linh Nguyen Phan

Julius

2023-05-30T09:39:47+11:00

Tony Calusic

Julius

2022-08-01T16:52:17+11:00

Vanessa Vella

General

2021-12-14T12:11:12+11:00

Vergil De Leon

Julius

2023-09-11T10:53:30+11:00

Winona Astian Thian

Julius

2023-02-23T08:34:19+11:00

Yanmin Chen

Julius

2023-09-28T10:13:11+11:00

Zach Barnetby

Julius

2023-06-16T17:32:20+11:00