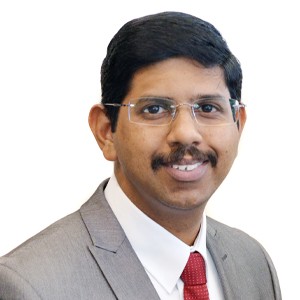 Guru Swaminathan
Program Manager
---
Areas Of Expertise
Program Management
Core Banking Services
NSW State Debt
Cyber Security
Cloud Transformation
---
Education
Master of Computer Applications
Program Management Professional (PgMP)
Project Management Professional (PMP)
SAFe 4 certified Agilist, Prince 2 Practitioner, ITIL
AWS Cloud Practitioner
Certified Life Coach
---
About Guru Swaminathan
Guru is an experienced Senior Project Manager with a strong background in banking and financial services technology, Cloud Transformation Programs. He brings over 20+ years of program and project management experience in leading & executing large scale digital transformations across core banking, product development and legacy to cloud transformations. He has been managing legacy to AWS Public Cloud Programs for AMP for last 18 months. He has also managed the Whole of Government Generic Collections Platform program for Revenue NSW and the BWS Azure Domain Migration for Woolworths Group Limited.
---
What Guru brings
Seasoned project manager with a track record of delivery across multiple technologies and digital initiatives.
Strong collaboration for Cloud transformation programs for AMP – All the Group applications and North Platform to AWS Public Cloud – servicing 250k clients & $65 billion in FUA.
Broad understanding of business transformation including strategy, people, process and technology aspects of the change.
Strong coaching & mentoring leadership style with a proven track record.
---
Key Clients
AMP Ltd
Woolworths Group Limited
NSW Government – Department of Customer Service – Revenue NSW
Qudos Bank
HSBC Bank
ANZ Bank (Taiwan & Hongkong)
Deutsche Bank
ABN Amro bank
---
Key Achievements
As Program Manager at AMP Limited, reporting to Program Director, Gurusubramanian was part of $30M Cloud Transformation program. Initially Guru had managed AMP Group Program, which consists of migrating all the critical and common application for AMP Ltd like Finance systems, Security system, Enterprise Data Warehouse, TIBCO Middleware and other key integration layers for the client, totaling to 80+ servers across 50+ environments. This was completed in a record time of 50 calendar weeks and very well recognized/appreciated by AMP Senior stakeholders. In this process, Guru also achieved AWS Cloud Practitioner level.
---
At the back of successful completion of AMP Group Program, Guru was entrusted to migrate the Growth platform, AMP NORTH – consisting for AMP Super, Wealth and Investments platform, to AWS Public Cloud. This was most complex program within the Cloud Transformation programs in AMP and treated as Extreme Risk platform. Based on the successful execution of all program phases, APRA provided No objection – in record time – within 3 hours of consultation between AMP & APRA. Migration Window was optimized to achieve minimal downtime time to clients and advisers (Planned 48 hrs. vs Actual 19 hrs.). Apart from Project & Program Management frameworks, Guru understood the Life Coach principles and implemented "Manager as Coach" approach for stakeholders, teams, external partners, leaders.
---
As Project Manager at Woolworths Group Limited, Gurusubramanian was part of major initiative Project SWAN, Restructure, Merger and Separation of Endeavour Group Limited which created an exciting opportunity for both Woolworths and Endeavour to focus on their core business and future growth. One of the Key initiatives for BWS brand – BWS Domain Migration – was to migrate the domain bws.com.au from Woolworths Azure Tenant to Endeavour Group Limited Azure Tenant along with the associated resources like users with a budget of $0.5M. Gurusubramanian successfully managed the entire delivery by defining the Migration Approach, defining process for analyzing the user identity across SuccessFactors, Woolworths AD, Azure AD, SailPoint and EGL SailPoint- Identity Now. However, as each of the BWS user's identity was impacted, strategy for communication had to be planned in detail to the level of impact on day one & beyond. New communication channels were setup along the existing channels which users were accustomed already. A detailed release implementation plan for the tasks leading up to and cut over night was established to ensure multiple teams across different applications were aligned on the tasks. Dedicated Hypercare model for BWS Store members was established through "Click for Support" model and a Hunt Group for Support Office users. BWS Domain Migration in delivery phase with Go-Live in Sep 2020, which paves way for SuccessFactors Single Sign On, Windows 10 Rollout, Google Migration projects. Further work was taken up for identifying, analyzing, preparing and implementing the strategy to remediate the EGL Identities in preparation for Success Factors application onboarding onto Microsoft Azure.
---
As Project Manager at Woolworths Group Limited, Gurusubramanian implemented the Enterprise Single Sign On (ESSO) Framework for the identified applications across Woolworths Banners – Product & Value chain, Woolworths NZ, WooliesX, Cybersecurity, Service Operations & Infrastructure (SOI), Enterprise. With a budget of $0.5M, 36 applications were taken up for analysis with Engagement, Assessment, Solution Design, Implementation through Testing, Go Live and Hypercare for users. Complete data analysis of the users followed through from inception till Go-Live to ensure that users of the applications are registered to the Woolworths Single Sign on to access the applications post Go-Live.
---
As Senior Project Manager at Department of Customer Service – Revenue NSW, Gurusubramanian developed a generic platform for whole of government's state debt collection with guidelines from State Debt Recovery Act 2018. Revenue NSW had committed to Debtrak, which is an international, multi-lingual, multi-currency debt collection software system designed to cater for the entire debt lifecycle from the point of invoice generation through to enforcement orders, with strong integration with Microsoft Office and offers web interfaces for operators. Gurusubramanian successfully managed the entire delivery from Debtrak vendor to Release completion. This included contract management, release delivery, integration management, financial management (up to $6M AUD) and resource management. He also introduced and implemented industry standard file transfer mechanisms (Kite works – Managed File transfer) and cloud-based identity management solution (OKTA) for Revenue NSW.
---
As Senior Project Manager at Qudos Bank, Gurusubramanian designed and implemented the Master Test Strategy for Digital Transformations. This involved integration testing with 45+ Integration Partners in Australia including Equifax, Western Union, Indue, QAS, PPSR, Gadens, Hunt & Hunt, Alfresco Content & Document Management Systems, First Data, IRESS, Rubik Austrac, Techone.
---
As part of his role at Qudos Bank, Gurusubramanian managed the testing of Integration methodologies across batch and online API's with Indue / Westpac / RBA file processing, Veda ID check /Valex integration with Core Banking. He successfully delivered the Test scenarios and Test cases for the Program through the Independent Validation Service partner, with the approval from Business teams by effectively engaging them throughout the journey. Moreover, he held key responsibility for planning the testing for NPP (New Payments Platform), Testing with Indue & Core Banking platform was initiated successfully.
---
As Program Manager at HSBC Bank, delivered a USD$4M re-alignment of Incentive Framework for branch, contact center, and mobile sales force staff. The Incentives Framework changes were delivered across 16 countries in APAC & MENA region within an aggressive 6-month time frame. He was actively involved in the planning workshop for year 2016 pipeline of projects, conducted in HSBC UK Office. Accurately tracked, monitored the workshop actions by coordinating between the Global Team in UK and Country RBWM teams. He successfully achieved the key business benefit for all the deployed markets through continuous engagement with the country stakeholders and validation of data quarter on quarter.
---
As Program Manager at HSBC, Gurusubramanian established governance for delivery pipeline management (USD$4M) for the Bank's RBWM Business across 23 countries for programs involving significant Change Management component. Gurusubramanian prepared cost estimation for the Incentive Program from HSBC IT group for the Global Product development & deployment and also with the country specific change management activities.
---
As a Senior Project Manager at ANZ Bank (Hong Kong and Taiwan), Gurusubramanian had end to end responsibility for the delivery of Bank's entire Taiwan Business Transformation. This included contract management, planning, execution of testing, and warranty closure. He was also responsible for revitalizing the project schedule, team morale and refocusing on the remediation tasks with higher priority to meet the initial delivery timeline. Further phases of the project were planned ahead of schedule, delivered on time and managed the stakeholder's expectations.
---
For ANZ Bank, Gurusubramanian had accountability for anchoring the Performance and Security testing for the Taiwan deployment. Co-ordinated with the external consultants and Product teams and ensured that the deployment is certified for ANZ standards.
---
As a Senior Project Manager at ANZ Bank Taiwan, Gurusubramanian successfully program managed the launch of the Bank's Regional Business Model Framework. This involved product implementation (CRM-360 degrees view, Core Banking ) through country specific customizations. Responsible for managing the team across Singapore, Taiwan, India & Australia with varied responsibilities related to migration, development & testing. Managed the project with tight scope control with flexible approach for the delivery which in turn doubled the revenue for the organization. He also guided the Testing workstream across integration, acceptance testing and reporting of testing activities to senior stakeholders.
---
Responsible for enabling ANZ Bank, Taiwan as "Local Incorporation" in Taiwan. Supported requirement gathering sessions with the Business Analysts, conducted workshops to agree on the feasible solution in compliance with the local regulation. Devised a mechanism for re-using the testing artefacts from the Core Banking project to reduce the overall cost and also reduce the overall timeline for the program.
---
As a Senior Project Manager at ANZ Bank Hong Kong, Gurusubramanian successfully delivered 60+ individual projects across 17 work streams with 200+ resources across Australia, Hong Kong, Singapore, and India.
---
As a Senior Project Manager at ANZ Bank Hong Kong, Gurusubramanian successfully delivered Core Banking transformation program by setting up Program Governance & testing of complex integration capabilities. This involved deploying Finacle Product(Core Banking, CRM) and coordination of 60+ partner systems. On the initiative, he was responsible for managing the workstream leads across both the organizations for effective delivery of design, development, migration & testing over a period of 18 months under the challenging contract.
---
As a Senior Project Manager at Deutsche Bank, Gurusubramanian managed the setup of Level 2 Support for Core Banking Implementation. Managed the solution stack of Core, CRM & Internet Banking with 24/7 support model for a period of 2 years. He was charged for uplifting & maintaining the production uptime across all the solutions deployed. He devised pro-active mechanisms for the automatic alerts from the Production, thereby reducing the overall downtime.
---
As a Senior Project Manager at ABN Amro Bank, Gurusubramanian managed the Post Go-Live Support for Core Banking Implementation. Managed the solution stack of Core, CRM & Internet Banking with 24/7 support model at client location (Taiwan). He managed quick turn-around-time for the production defects. Responsible for meeting the Service Level agreements with SLA complied by Support team.
---
Other Team Members
Declan Boylan

General

2020-01-15T02:30:38+11:00

Gareth James

General

2021-01-19T11:29:58+11:00

Connie McKeage

Julius

2021-03-09T10:14:51+11:00

Michael Blomfield

Julius

2023-02-14T10:26:26+11:00

Temre Green

Julius

2022-11-23T10:52:41+11:00

Mike Stockley

Julius

2022-08-30T12:56:19+11:00

Julie Laoit

Julius

2022-07-19T09:10:59+11:00

Rob Thomsett

General

2023-01-31T17:26:36+11:00

Louise Ford

General

2020-01-15T03:08:18+11:00

Aaron Simonsen

Julius

2023-11-13T23:52:10+11:00

Alan Alehashemi

Julius

2022-07-19T09:07:40+11:00

Alex Jahan

Julius

2023-11-14T12:14:04+11:00

Alex Massie

General

2023-11-14T12:25:43+11:00

Alexander Rivkin

Julius

2023-11-14T00:06:50+11:00

Alexandra Marie Tan

Julius

2023-07-20T17:43:15+11:00

Ali Pahlavan

General

2023-11-14T00:19:34+11:00

Alisdair Brown

Julius

2022-08-30T09:51:38+11:00

Amanda Walker

Julius

2023-11-14T12:09:46+11:00

Andrew Cheesman

Julius

2022-08-09T12:17:42+11:00

Anna Linfield-Kent

Julius

2023-11-14T11:45:20+11:00

Andrew Marshall

Julius

2023-08-29T14:02:36+11:00

Audrey Teh

Julius

2023-11-14T01:03:53+11:00

Barbara Read

General

2023-11-13T23:44:22+11:00

Bhavna Gupta

Julius

2023-11-30T01:43:24+11:00

Benn Salier

Julius

2023-10-17T17:16:47+11:00

Bita Bagheri

General

2023-08-02T22:15:49+11:00

Blake Dahlen

Julius

2023-07-20T13:58:11+11:00

Caroline Lees

Julius

2023-11-14T01:15:13+11:00

Cathy Baldwin

General

2021-01-19T16:55:52+11:00

Chris Sykes

General

2022-05-26T12:50:02+11:00

Callum Barker

Julius

2023-09-15T10:54:00+11:00

Dave Rider

Julius

2023-11-14T11:28:26+11:00

David Johnson

General

2023-06-13T11:44:41+11:00

Deanna Edwards

Julius

2023-03-28T15:46:04+11:00

Derek Oldham

Julius

2023-11-14T01:43:07+11:00

Elise Kellond-Knight

Julius

2019-07-04T22:47:54+11:00

Eliza Johnson

Julius

2023-11-14T01:52:47+11:00

Ellen Misador

Julius

2023-11-14T11:16:10+11:00

Eugene O'Connell

Julius

2023-11-14T11:03:19+11:00

Fritzie Ligeralde

Julius

2023-10-27T12:23:57+11:00

Gilbert Wong

Julius

2023-09-28T10:05:22+11:00

Guru Swaminathan

General

2023-05-26T16:16:29+11:00

Hardik Lakhani

Julius

2023-11-14T10:59:45+11:00

Hayley Weir

Julius

2023-08-29T14:56:54+11:00

Helen Argitis

Julius

2023-11-14T10:56:19+11:00

Inggrid Yapari

Julius

2023-09-05T14:17:37+11:00

Ian Salvador

Julius

2023-11-14T02:22:20+11:00

Jerry Cobb

General

2022-06-28T15:49:32+11:00

Joanna Carlos

Julius

2022-02-15T17:48:05+11:00

Jochebed Diaz

General

2023-07-27T15:46:01+11:00

Johaimah Garrido

Julius

2021-03-16T10:08:35+11:00

John Middlemist

Julius

2023-11-14T02:36:08+11:00

Jovilyn Magtoto

Julius

2022-08-02T13:27:08+11:00

Julia Nicole Justo

Julius

2023-11-14T10:49:49+11:00

Julius Labalan

Julius

2023-10-05T10:04:21+11:00

Katherine Whiteside

General

2023-11-14T10:44:56+11:00

Kunal Parikh

Julius

2022-01-25T11:49:10+11:00

Lauren Grouse

Julius

2023-11-14T10:37:06+11:00

Louigi Gardiola

Julius

2023-02-23T08:31:20+11:00

Maddison Schmid

Julius

2023-11-14T10:31:00+11:00

Mariam Kohani

Julius

2022-07-19T09:57:04+11:00

Marian Joyce Makalintal

Julius

2023-06-21T10:48:28+11:00

Marianne Dinsay

Julius

2023-11-14T10:27:12+11:00

Mark McAdam

General

2023-05-03T12:09:06+11:00

Mark Millen

Julius

2022-08-30T12:47:06+11:00

Matthew Knight

Julius

2023-11-14T10:24:09+11:00

Melody Framp

Julius

2023-11-14T10:20:38+11:00

Melody Tuazon

Julius

2023-05-09T15:59:40+11:00

Michael Bryant

General

2023-11-13T17:56:32+11:00

Mohammad Ramezani

General

2022-07-13T16:18:36+11:00

Nadja Schulze

Julius

2023-07-13T13:05:06+11:00

Nevil Cope

General

2022-08-30T14:24:26+11:00

Niall Burke

Julius

2023-11-13T17:36:58+11:00

Nick Rodwell

Julius

2023-11-13T17:46:28+11:00

Nicole Hatten

Julius

2023-11-13T17:33:35+11:00

Ninia Ortile

Julius

2022-10-11T14:26:40+11:00

Pablo Andres Cordova Baya

Julius

2023-06-21T10:48:54+11:00

Parastoo Mousavi

Julius

2023-11-13T17:25:28+11:00

Paul Kirschner

General

2022-02-04T02:26:06+11:00

Peter Boylan

General

2023-03-14T16:22:42+11:00

Peter Philpott

General

2022-11-08T10:05:47+11:00

Rachel Low

Julius

2023-09-18T12:34:26+11:00

Rajiv Boddupalli

Julius

2023-11-13T16:14:32+11:00

Robert Crossman

General

2022-03-08T14:18:21+11:00

Rohini Verma

Julius

2023-11-30T02:00:48+11:00

Rohit Satija

Julius

2023-11-13T15:37:09+11:00

Roxane Montierro

Julius

2020-12-15T06:30:55+11:00

Sanjay Narayan

Julius

2023-02-14T11:09:04+11:00

Saurabh Kundi

Julius

2023-11-13T15:08:30+11:00

Shiraan Fernando

Julius

2023-03-14T15:07:49+11:00

Shruthi Srinivas

Julius

2023-08-25T12:02:31+11:00

Sreekanth Badam

Julius

2023-11-30T03:24:02+11:00

Stephen Curtis

Julius

2023-11-13T13:01:36+11:00

Simon Chrétien

Julius

2023-09-15T11:40:55+11:00

Tameka Yallop

General

2023-08-29T16:34:12+11:00

Tanvi Mahajan

Julius

2023-11-13T12:45:18+11:00

Thuc Linh Nguyen Phan

Julius

2023-11-13T12:39:10+11:00

Tony Calusic

Julius

2023-11-13T12:21:56+11:00

Vanessa Vella

General

2023-11-30T02:22:53+11:00

Vergil De Leon

Julius

2023-09-11T10:53:30+11:00

Winona Astian Thian

Julius

2023-02-23T08:34:19+11:00

Yanmin Chen

Julius

2023-10-03T19:22:20+11:00

Zach Barnetby

Julius

2023-11-13T10:30:25+11:00