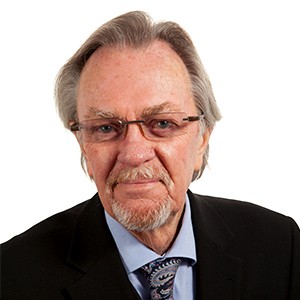 Rob Thomsett
Thought Leader
---
Areas Of Expertise
Agile Project Governance
Agile Project Management
Benefit Management
Team Building
Stakeholder Engagement
---
Publications
People & Project Management (Prentice-Hall, NY, 1981)
Third Wave Project Management (Prentice Hall, NY 1993)
Radical Project Management (Prentice-Hall, NY, 2002)
The Agile Project Manager's Toolkit (Apple iBook, 2013)
The Agile Sponsor (Seven Consulting, 2015)
The Real Benefits Management Workbook (Seven Consulting, 2016)
The Team Toolkit (2021)
The Essential Change Management Guide (2022)
---
About Rob Thomsett
Rob's passion is to enable people within organisations to work in a more agile fashion to assist their organisation in achieving strategic goals faster and more effectively.
Rob has 45+ years of experience in project and change management. He specialises in innovative people-centric and agile models of project management and executive sponsorship. He is acknowledged as a thought leader and a highly-effective executive coach.
He is the author of 9 books including Radical Project Management published by Prentice-Hall. New York.
---
What Rob brings
Exceptional communication, teaching and relationship-building skills both at the executive and practitioner-level.
A focus on partnering with to facilitate transfer of his models and tools to clients in order to create a sustainable client-driven outcome.
An inspirational leader, with the ability to align diverse stakeholders and guide organizations and teams to Agility.
Proven record of innovation, creativity and thought leadership in the areas of agile project governance, project management and benefits planning and realization.
---
Key Clients
ATO
Bank of America
Southern Company
AT&T
Wells-Fargo Bank
OOCL
EON
Macquarie Bank
Commonwealth Bank
MLC
ASB Bank
NAB
Future Fund
Westpac
Telstra
ANZ
---
Key Achievements
Development, training and support of the initial Project Management framework for the Australian Federal Government during the 1970s. This involved directly training over 800 project managers and many sponsors over all federal departments.
---
Rob consulted and taught major US and UK organisations including Wells Fargo, Southern Company, A.T. & T., EON and Dupont around his people-cetered approach to project management.
---
He was the Consulting Program Director on the 1st ATO Modernisation Program. This $1billion Program was highly-successful and was the first in the world to implement Direct Taxpayer Lodgement. In was in this program that Rob began to develop his Rapid Planning (RAP) approach.
---
Rob has conducted hundreds of public workshops across many countries on Agile Project Management. He was an integral part of the innovative ANZ Project Management Mastery Program conducting intensive Project Management Masterclasses that embedded many Agile concepts.
---
Rob was engaged by BNZ and then NAB to enhance agility of project delivery and effectiveness of project sponsors and governance. This long-term consult with the NAB Group saw Rob provide oversight and guidance as it implemented his Agile approach including RAP sessions to executive sponsorship, project management and governance across a $1bn p.a. project portfolio.
---
Rob designed, developed and assisted in implementing an integrated and practical Benefits Management and Realisation framework for NAB that measured and tracked real benefits from projects and significantly impacted NAB's portfolio planning process.
---
Rob worked as part of a Seven Consulting team in a comprehensive capability uplift for IT delivery in Woolworths. As part of this uplift, Rob was working with Woolworths key stakeholders including sponsors to accelerate the processes for project initiation and planning.
---
Rob has been engaged in complex capability, process and methodology reviews for Qantas, nbn, CBUS and Revenue NSW. These reviews were designed to improve the speed and agility of project governance and delivery for those clients.
---
With Telstra BTS, Rob has applied Lean / Agile models to how BTS plans and delivers projects to major Telstra clients. Working with key Telstra experts, Rob developed a simpler and risk-based approach to project management which has dramatically reduced process overheads and improved speed and value of delivery.
---
Rob developed an integrated Benefits Management Framework for the AustralianCatholic University coverinng a $250 million project portfolio.
---
Rob continues to work with major organisations such as Coca Cola, AGL and others in engaging senior executives in both th eborader aspects of Sponsorship and RAPid Planning for sponsors.
---
Rob was elected as a Fellow of the Australian Computer Society in recognition of his education and advocacy for emphasizing the central point that project management was really the management of creative people working to improve business value.
---
Rob was a member of the Advisory Panel that designed and governed with Michael Scott (CEO, MLC), Michael Watson (CEO, Transfield) and Sandy Hollway. A.O. (Program Director, Sydney Olympics) the implementation of the PMI award winning Master of Project Management for Sydney University.
---
Over 35 years, Rob has consulted and implemented a relationship and values-driven model of project management and sponsorship in many international organizations including Bank of America, Southern Company, AT&T, Wells-Fargo Bank, OOCL and eon (the second largest power company in the EU). His Australian clients have included Macquarie Bank, Commonwealth Bank, Westpac and many other leading Australian organizations.
Rob was the Consulting Director on the first Tax Modernisation Program in the late 1980's, working directly to the Commissioner and Deputy Commissioner of the ATO. This $1billion program successfully delivered innovative services such as Electronic Lodgement and Self-Assessment. More importantly, the first modernization program was managed and delivered with ATO people with minimum external consultancies.
---
Rob has been a Keynote Speaker at many conferences including Agile Conferences in Australia, UK, US and continental Europe. His combination of powerful insights with an exciting presentation style has won him Speaker of the Conference on many occasions.
---
Other Team Members
Declan Boylan

General

2020-01-15T02:30:38+11:00

Gareth James

General

2021-01-19T11:29:58+11:00

Connie McKeage

Julius

2021-03-09T10:14:51+11:00

Michael Blomfield

Julius

2023-02-14T10:26:26+11:00

Temre Green

Julius

2022-11-23T10:52:41+11:00

Mike Stockley

Julius

2022-08-30T12:56:19+11:00

Julie Laoit

Julius

2022-07-19T09:10:59+11:00

Rob Thomsett

General

2023-01-31T17:26:36+11:00

Louise Ford

General

2020-01-15T03:08:18+11:00

Aaron Simonsen

Julius

2023-11-13T23:52:10+11:00

Alan Alehashemi

Julius

2022-07-19T09:07:40+11:00

Alex Jahan

Julius

2023-11-14T12:14:04+11:00

Alex Massie

General

2023-11-14T12:25:43+11:00

Alexander Rivkin

Julius

2023-11-14T00:06:50+11:00

Alexandra Marie Tan

Julius

2023-07-20T17:43:15+11:00

Ali Pahlavan

General

2023-11-14T00:19:34+11:00

Alisdair Brown

Julius

2022-08-30T09:51:38+11:00

Amanda Walker

Julius

2023-11-14T12:09:46+11:00

Andrew Cheesman

Julius

2022-08-09T12:17:42+11:00

Anna Linfield-Kent

Julius

2023-11-14T11:45:20+11:00

Andrew Marshall

Julius

2023-08-29T14:02:36+11:00

Audrey Teh

Julius

2023-11-14T01:03:53+11:00

Barbara Read

General

2023-11-13T23:44:22+11:00

Bhavna Gupta

Julius

2023-11-30T01:43:24+11:00

Benn Salier

Julius

2023-10-17T17:16:47+11:00

Bita Bagheri

General

2023-08-02T22:15:49+11:00

Blake Dahlen

Julius

2023-07-20T13:58:11+11:00

Caroline Lees

Julius

2023-11-14T01:15:13+11:00

Cathy Baldwin

General

2021-01-19T16:55:52+11:00

Chris Sykes

General

2022-05-26T12:50:02+11:00

Callum Barker

Julius

2023-09-15T10:54:00+11:00

Dave Rider

Julius

2023-11-14T11:28:26+11:00

David Johnson

General

2023-06-13T11:44:41+11:00

Deanna Edwards

Julius

2023-03-28T15:46:04+11:00

Derek Oldham

Julius

2023-11-14T01:43:07+11:00

Elise Kellond-Knight

Julius

2019-07-04T22:47:54+11:00

Eliza Johnson

Julius

2023-11-14T01:52:47+11:00

Ellen Misador

Julius

2023-11-14T11:16:10+11:00

Eugene O'Connell

Julius

2023-11-14T11:03:19+11:00

Fritzie Ligeralde

Julius

2023-10-27T12:23:57+11:00

Gilbert Wong

Julius

2023-09-28T10:05:22+11:00

Guru Swaminathan

General

2023-05-26T16:16:29+11:00

Hardik Lakhani

Julius

2023-11-14T10:59:45+11:00

Hayley Weir

Julius

2023-08-29T14:56:54+11:00

Helen Argitis

Julius

2023-11-14T10:56:19+11:00

Inggrid Yapari

Julius

2023-09-05T14:17:37+11:00

Ian Salvador

Julius

2023-11-14T02:22:20+11:00

Jerry Cobb

General

2022-06-28T15:49:32+11:00

Joanna Carlos

Julius

2022-02-15T17:48:05+11:00

Jochebed Diaz

General

2023-07-27T15:46:01+11:00

Johaimah Garrido

Julius

2021-03-16T10:08:35+11:00

John Middlemist

Julius

2023-11-14T02:36:08+11:00

Jovilyn Magtoto

Julius

2022-08-02T13:27:08+11:00

Julia Nicole Justo

Julius

2023-11-14T10:49:49+11:00

Julius Labalan

Julius

2023-10-05T10:04:21+11:00

Katherine Whiteside

General

2023-11-14T10:44:56+11:00

Kunal Parikh

Julius

2022-01-25T11:49:10+11:00

Lauren Grouse

Julius

2023-11-14T10:37:06+11:00

Louigi Gardiola

Julius

2023-02-23T08:31:20+11:00

Maddison Schmid

Julius

2023-11-14T10:31:00+11:00

Mariam Kohani

Julius

2022-07-19T09:57:04+11:00

Marian Joyce Makalintal

Julius

2023-06-21T10:48:28+11:00

Marianne Dinsay

Julius

2023-11-14T10:27:12+11:00

Mark McAdam

General

2023-05-03T12:09:06+11:00

Mark Millen

Julius

2022-08-30T12:47:06+11:00

Matthew Knight

Julius

2023-11-14T10:24:09+11:00

Melody Framp

Julius

2023-11-14T10:20:38+11:00

Melody Tuazon

Julius

2023-05-09T15:59:40+11:00

Michael Bryant

General

2023-11-13T17:56:32+11:00

Mohammad Ramezani

General

2022-07-13T16:18:36+11:00

Nadja Schulze

Julius

2023-07-13T13:05:06+11:00

Nevil Cope

General

2022-08-30T14:24:26+11:00

Niall Burke

Julius

2023-11-13T17:36:58+11:00

Nick Rodwell

Julius

2023-11-13T17:46:28+11:00

Nicole Hatten

Julius

2023-11-13T17:33:35+11:00

Ninia Ortile

Julius

2022-10-11T14:26:40+11:00

Pablo Andres Cordova Baya

Julius

2023-06-21T10:48:54+11:00

Parastoo Mousavi

Julius

2023-11-13T17:25:28+11:00

Paul Kirschner

General

2022-02-04T02:26:06+11:00

Peter Boylan

General

2023-03-14T16:22:42+11:00

Peter Philpott

General

2022-11-08T10:05:47+11:00

Rachel Low

Julius

2023-09-18T12:34:26+11:00

Rajiv Boddupalli

Julius

2023-11-13T16:14:32+11:00

Robert Crossman

General

2022-03-08T14:18:21+11:00

Rohini Verma

Julius

2023-11-30T02:00:48+11:00

Rohit Satija

Julius

2023-11-13T15:37:09+11:00

Roxane Montierro

Julius

2020-12-15T06:30:55+11:00

Sanjay Narayan

Julius

2023-02-14T11:09:04+11:00

Saurabh Kundi

Julius

2023-11-13T15:08:30+11:00

Shiraan Fernando

Julius

2023-03-14T15:07:49+11:00

Shruthi Srinivas

Julius

2023-08-25T12:02:31+11:00

Sreekanth Badam

Julius

2023-11-30T03:24:02+11:00

Stephen Curtis

Julius

2023-11-13T13:01:36+11:00

Simon Chrétien

Julius

2023-09-15T11:40:55+11:00

Tameka Yallop

General

2023-08-29T16:34:12+11:00

Tanvi Mahajan

Julius

2023-11-13T12:45:18+11:00

Thuc Linh Nguyen Phan

Julius

2023-11-13T12:39:10+11:00

Tony Calusic

Julius

2023-11-13T12:21:56+11:00

Vanessa Vella

General

2023-11-30T02:22:53+11:00

Vergil De Leon

Julius

2023-09-11T10:53:30+11:00

Winona Astian Thian

Julius

2023-02-23T08:34:19+11:00

Yanmin Chen

Julius

2023-10-03T19:22:20+11:00

Zach Barnetby

Julius

2023-11-13T10:30:25+11:00