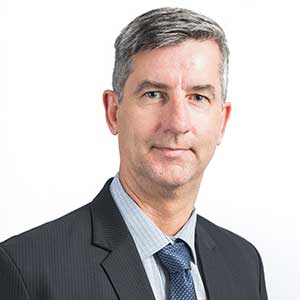 Michael Bryant
Program Director
---
Areas Of Expertise
Program & Portfolio Management
Business Transformation
Vendor Management
Business Process re-engineering
Data Migration
Scaled Agile delivery
Program Assurance
---
Education
Bachelor of Engineering with Honours – Electrical (University of Melbourne
Masters of Management Economics (University of New South Wales, Australia)
PMI – Project Management Professional; AIPM – Master Project Director Accreditation in Project Management and PRINCE2 certified.
SAFe 4 Certified Agilist
---
About Michael Bryant
Michael Bryant is an experienced Program Director who joined Seven Consulting's Melbourne Practice in 2017. He has worked extensively on delivering large scale, complex programs of work, with multiple vendors and solutions.
He has led several large programs in areas such as telecommunications, banking & finance, utilities, private health insurance and wealth. Prior to joining Seven Consulting, Michael held executive consulting and program management roles with IBM, SMS Management and Technology and Department of Defence.
---
What Michael brings
Executive IT delivery practitioner with experience in delivering large IT programs, including transformation and data migration, supporting businesses to meet their strategic objectives.
Self-motivated and effective problem solver with the ability to work under pressure with multi-disciplinary teams across several technology platforms and industries.
Leadership across all Program/Portfolio Management processes such as stakeholder management, reporting, financial management, planning, prioritisation, benefits management data migration and issue & risk management.
Experienced Vendor Manager focused on a teaming and collaborative approach.
---
Key Clients:
Macquarie
WorkSafe Victoria
AMP
BNK
NAB/MLC Wealth
Energy Australia
AGL
Medibank
NBN
Telstra
National Australia Bank
Satyam
ANZ
Department of Defence
---
Key Achievements
As Program Director at Macquarie Bank, Michael was engaged to support the planning of the Capital and Liquidity E2E Transformation programs. Introducing the O3 (Objective/Output/Outcome) methodology the programs were able to identify their common scope and structure teams for delivery.
---
As Program Director at WorkSafe Victoria completed detailed planning in preparation for a major regulatory change initiative. Michael also worked for the Insurance Business Unit to develop the initial Business Case for the procurement of $1.5B of Agent services.
---
As Program Director at AMP, Michael conducted a Post Implementation Review (PIR) of the AMP Data Loss Protection project. Michael assessed the project's objectives, structure, governance, delivery methodology and outcomes and provided key improvement recommendations for future project delivery.
---
As Program Director at BNK, Reporting to the CEO/COO, Michael conducted a Program Assessment for BNK Core Banking System upgrade program. Applying Seven's Program Assessment methodology provided several recommendations to reset program scope and delivery. Commenced implementation of these recommendations and handed over to new BNK Program Manager.
---
As Program Director at MLC, Michael managed the MLC Wealth program to separate the Wealth business from NAB Group Michael managed delivery of separation activities to achieve Operational separation for the MLC business on 1 July 2020. In this role Michael was a member of the Separation Program Leadership Team. Separation was achieved as the team transitioned to working from home as a result of COVID19. The successful delivery of the program to date enabled the sale and transition of the MLC Wealth business to IOOF.
---
As Program Director at Energy Australia, Michael completed the business case and established the program to deliver the regulatory change supporting Five Minute Settlement and Global Settlement. The project included migration of the Information Management Data Warehouse to a cloud hosted solution.
---
As Program Director at AGL, Michael managed the $300m Customer Experience digital transformation program using Scaled Agile delivery methodology. The program delivery was focused around three components targeting AGL's foundational capability, the digitisation of key customer interactions and delivering "signature moments" (new customer experiences). The program also introduced new technology capability for AGL such as Pegasystems and Adobe Marketing suite. Michael transitioned the Program into ongoing Portfolio of work that he managed for the Customer Markets Leadership Team.
---
As Program Manager at Medibank, Michael managed multi-disciplinary teams (150+ resources) across several technology platforms and business groups for the Implementation of Medibank's transformation Program, replacing a 30-year-old legacy system with SAP's Health Insurance package. The Program involved the migration of 3.7 million customer policies from the mainframe legacy system to the new SAP Policy Management system.
---
As Release Manager at NBN, Michael managed the delivery of NBN Operational Support Systems Integrated Release 6, 7 and 9 to production. Led delivery team of 150+ personnel across NBN Co, IBM and sub-contractor suppliers including the negotiation of vendor contracts. Michael implemented extensive risk analysis and management during early design phase of a release to protect delivery of business benefits to Production.
---
As Fulfilment Platform Lead at NBN, Michael ensured successful delivery of several releases of the Comptel service fulfilment and orchestration system (now owned by Nokia).
---
As Assurance Platform Lead at NBN, Michael ensured successful delivery of NBN Network Alarm Management and Trouble Ticketing system supporting the Trouble to Resolve business process. With an aggressive schedule delivered three releases from March 2011 to January 2012 achieving the financial objectives of the $20M+ Program. Prior to commencing delivery Michael was involved in solution development and contract negotiation for the overall System Integration Program.
---
As Program Manager at Telstra, Michael managed the ramp-up of the Telstra Identity Management Program from predominantly Sydney based team of 45 practitioners to more than 140 located in Sydney, Melbourne and India delivering multiple initiatives in the portfolio of work worth over $20M.
---
As Project Director at NAB, Michael managed the transition of National Australia Bank Day 1 voucher processing operation from NAB systems and premises to the vendors with a Project Budget of $25M.
---
As Senior Project Manager at Telstra, Michael upgraded Telstra's existing Physical Network Inventory application based on components from the GE Energy Smallworld suite of products. This involved the data migration of Telstra's physical network inventory to the new platform.
---
As Program Change Manager at Telstra, Michael managed Telstra Operational Support Systems major upgrade across Fulfilment, Inventory, Customer Service Assurance, Network Service Assurance and Integration Platform.
---
As Senior Project Manager at National Australia Bank (NAB), Michael managed the End-to-End lending project. Responsible for the delivery of the imaging work stream during the planning and design stage for the delivery of a loan document capture, indexing and storage solution for the lending workflows.
---
As Senior Project Manager at Satyam, Michael managed end to end responsibility for delivery of projects in SAP R/3 and SRM 4.0 environments. Managed multiple projects at different phases of the SDLC with offshore development team.
---
As a Senior Consultant, Michael performed various Project Management roles for clients delivering Financial Reporting solutions, Telecommunication Product Development, Business Case development and eProcurement implementations.
---
During his time at the Department of Defence (RAAF) Michael performed duties as a pilot at 32 & 37 Squadron and Project Manager for Department of Communication and Information Systems and Department of Information Warfare.
---
Other Team Members
Declan Boylan

General

2020-01-15T02:30:38+11:00

Gareth James

General

2021-01-19T11:29:58+11:00

Connie McKeage

Zeus Lara

2021-03-09T10:14:51+11:00

Hugh Harley

Zeus Lara

2020-04-01T04:18:49+11:00

Alisdair Brown

Zeus Lara

2021-03-23T14:24:31+11:00

Julie Laoit

Zeus Lara

2021-12-23T18:04:41+11:00

Rob Thomsett

General

2021-04-06T12:29:29+11:00

Louise Ford

General

2020-01-15T03:08:18+11:00

Aaron Simonsen

Zeus Lara

2021-10-19T10:15:23+11:00

Aileen Robes

Zeus Lara

2022-03-01T10:17:06+11:00

Alan Madani

General

2020-07-24T03:51:19+11:00

Alex Massie

General

2022-03-08T14:03:52+11:00

Alexander Rivkin

Zeus Lara

2022-02-22T15:04:22+11:00

Ali Pahlavan

General

2021-09-21T15:39:39+11:00

Amanda Walker

Zeus Lara

2021-09-21T15:43:38+11:00

Anders Madsen

Zeus Lara

2021-08-31T17:57:29+11:00

Andrew Cheesman

Zeus Lara

2021-03-23T12:46:37+11:00

Andrew Coley

Zeus Lara

2021-12-21T12:36:47+11:00

Anna Linfield-Kent

Zeus Lara

2022-03-22T16:18:24+11:00

Barbara Read

General

2021-10-12T09:11:19+11:00

Benn Salier

Zeus Lara

2021-07-06T13:45:00+11:00

Bita Bagheri

General

2021-03-02T14:12:11+11:00

Caroline Lees

Zeus Lara

2021-10-12T09:08:24+11:00

Cathy Baldwin

General

2021-01-19T16:55:52+11:00

Chelsy Kranzbuhler

Zeus Lara

2022-03-01T17:38:06+11:00

Chika Nnadiekwe

Zeus Lara

2022-01-28T08:56:40+11:00

Chris Sykes

General

2020-03-05T00:14:43+11:00

David Johnson

General

2021-12-21T16:51:17+11:00

David Mansfield

Zeus Lara

2021-08-12T17:45:38+11:00

Deanna Edwards

Zeus Lara

2021-04-07T16:38:54+11:00

Derek Oldham

Zeus Lara

2021-06-22T11:12:34+11:00

Edward Rudnicki

Zeus Lara

2021-09-28T10:10:11+11:00

Elise Kellond-Knight

Zeus Lara

2019-07-04T22:47:54+11:00

Ericson Bagunas

General

2020-10-01T05:06:36+11:00

Eugene O'Connell

Zeus Lara

2022-03-22T16:14:36+11:00

Fritzie Ligeralde

Zeus Lara

2021-08-17T15:41:14+11:00

Gennaro Abignano

Zeus Lara

2022-02-04T15:20:32+11:00

Gilbert Wong

Zeus Lara

2020-12-15T04:26:15+11:00

Guru Swaminathan

General

2020-10-13T05:04:12+11:00

Hardik Lakhani

Zeus Lara

2022-03-08T16:33:18+11:00

Hayley Weir

Zeus Lara

2022-03-01T12:16:09+11:00

Helen Argitis

Zeus Lara

2022-02-15T17:44:12+11:00

Ian Salvador

Zeus Lara

2021-06-01T12:54:33+11:00

Ian Thomson

Zeus Lara

2022-02-04T02:04:24+11:00

Igor Vieira

Zeus Lara

2022-05-11T10:15:56+11:00

Jason Kwong

Zeus Lara

2022-05-10T17:14:15+11:00

Jerry Cobb

General

2020-11-06T00:49:28+11:00

Joanna Carlos

Zeus Lara

2022-02-15T17:48:05+11:00

Jochebed Diaz

General

2020-12-15T05:31:11+11:00

Johaimah Garrido

Zeus Lara

2021-03-16T10:08:35+11:00

John Middlemist

Zeus Lara

2021-07-21T12:11:54+11:00

Jon Kralevski

Zeus Lara

2021-08-31T18:00:32+11:00

Joseph Stanley

Zeus Lara

2022-02-04T15:24:14+11:00

Josh Pricken

Zeus Lara

2022-01-25T15:52:50+11:00

Jovilyn Magtoto

Zeus Lara

2021-03-02T18:19:47+11:00

Joyce Ann Vecinal

Zeus Lara

2021-12-17T10:33:04+11:00

Julia Nicole Justo

Zeus Lara

2022-01-25T15:52:44+11:00

Katherine Whiteside

General

2022-03-01T16:01:33+11:00

Krishnaraj Arumugam

Zeus Lara

2020-06-30T04:59:15+11:00

Kunal Parikh

Zeus Lara

2022-01-25T11:49:10+11:00

Louigi Gardiola

Zeus Lara

2022-02-15T17:52:16+11:00

Louise White

General

2021-05-11T16:20:05+11:00

Lousiene Samonte

General

2020-04-01T03:22:19+11:00

Maddison Schmid

Zeus Lara

2022-05-17T17:07:32+11:00

Mark McAdam

General

2021-05-11T12:52:35+11:00

Mark Millen

Zeus Lara

2022-03-02T10:41:54+11:00

Mariam Kohani

Zeus Lara

2021-07-13T12:09:45+11:00

Marianne Dinsay

Zeus Lara

2022-02-04T15:34:24+11:00

Matthew Knight

Zeus Lara

2022-02-04T15:38:52+11:00

Michael Baylon

Zeus Lara

2021-08-25T16:48:12+11:00

Michael Bryant

General

2022-03-15T16:26:44+11:00

Michael Stark

Zeus Lara

2021-06-08T10:58:59+11:00

Mike Stockley

Zeus Lara

2020-01-22T04:45:51+11:00

Mohammad Ramezani

General

2022-05-02T14:41:28+11:00

Muhammad Sauood Ur Rauf

General

2022-05-05T09:16:00+11:00

Nevil Cope

General

2020-01-14T04:11:02+11:00

Nicole Hatten

Zeus Lara

2022-03-22T16:18:26+11:00

Niloofar Fardanesh

General

2022-05-05T11:05:15+11:00

Oliver Stevenson

Zeus Lara

2022-05-17T17:36:32+11:00

Parastoo Mousavi

Zeus Lara

2022-05-10T17:01:14+11:00

Paul Bernard

Zeus Lara

2022-02-04T02:19:40+11:00

Paul Kirschner

General

2022-02-04T02:26:06+11:00

Peter Boylan

General

2021-07-06T12:52:31+11:00

Peter Philpott

General

2020-10-30T03:09:29+11:00

Puneet Nagpal

Zeus Lara

2022-04-05T13:03:25+11:00

Rahul Kaushal

Zeus Lara

2022-04-05T13:17:26+11:00

Rick Myburgh

Zeus Lara

2022-04-19T12:23:07+11:00

Rinku Razdan

General

2021-06-15T09:38:48+11:00

Robert Caminiti

General

2020-10-07T04:02:43+11:00

Robert Crossman

General

2022-03-08T14:18:21+11:00

Rohini Verma

Zeus Lara

2021-04-13T12:23:02+11:00

Roxane Montierro

Zeus Lara

2020-12-15T06:30:55+11:00

Sanjay Narayan

Zeus Lara

2022-02-04T02:35:09+11:00

Saurabh Kundi

Zeus Lara

2021-05-11T11:54:30+11:00

Sharon Tannenbaum

Zeus Lara

2021-06-01T12:48:32+11:00

Sheryll Nones

Zeus Lara

2021-12-23T18:09:26+11:00

Shiraan Fernando

Zeus Lara

2022-05-10T16:56:16+11:00

Sosha Jabbary

General

2022-02-22T14:47:15+11:00

Sreekanth Badam

Zeus Lara

2021-04-27T17:36:06+11:00

Stephen Curtis

Zeus Lara

2021-05-11T12:16:32+11:00

Syed Hussain

Zeus Lara

2022-02-04T16:04:13+11:00

Tameka Yallop

General

2022-03-08T16:41:26+11:00

Thuc Linh Nguyen Phan

Zeus Lara

2022-02-04T15:44:13+11:00

Vanessa Vella

General

2021-12-14T12:11:12+11:00

Winona Astian Thian

Zeus Lara

2021-05-11T10:29:59+11:00

Yanmin Chen

Zeus Lara

2022-03-08T16:40:11+11:00

Zach Barnetby

Zeus Lara

2022-05-11T10:58:34+11:00