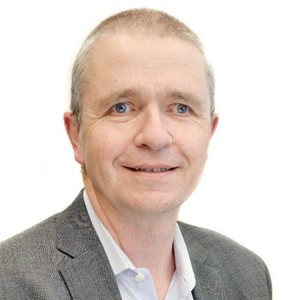 Andrew Cheesman
Program Director
---
Areas Of Expertise:
Program Management
Business Transformation
Retail Banking and Payments
Telecommunications
Superannuation
---
Education:
B.A. Economics & Econometrics, University of Nottingham
---
About Andrew Cheesman
Andrew is an experienced Program Director and ICT leader with a track record of successfully executing large programs across various domains within Technology and Business.
Andrew has proven experience in managing complex teams and has consistently delivered transformational change in complex organisations. He has demonstrated the ability to rapidly assess business challenges and applying people, service management, and technology solutions to fix business issues.
---
What Andrew brings
A seasoned Program Director with experience in executing large scale programs both as a technology and a business lead.
Demonstrated experience in rescuing and turning around troubled programs and businesses.
A strong leader with a proven track record in Payments Infrastructure, digital strategy, online platforms, analytics and product development.
Proficiency in building teams and creating technology solutions within highly competitive industries.
Trusted advisor to executives and boards, proving the benefits of information technology to solve business issues and support business strategies and market positioning.
---
Key Clients:
Ubank (part of NAB Ltd)
ASX Ltd
Xinja Bank Ltd
Woolworths, Australia
Commonwealth Bank Australia (CBA)
Staffware Pty Ltd, Australia
FPS Pty Ltd, Australia
TRAC Software, South Africa
FileNET Solutions, South Africa
---
Key Achievements:
As Program Director for ubank, Andrew established the Digital Banking Integration Program (DBI), which supports the integration of ubank and 86 400, after NAB acquired 86 400. Under Andrew's leadership, 86 400 were able to transfer their customers and balances to NAB, hand back their Banking license to APRA, AFSL to ASIC, and launch a new ubank brand (retiring 86 400). In addition, the DBI program has established a 'go forward' operating model for the combined ubank, and is migrating the original ubank customers off the legacy ledger, to the 86 400 technology stack.
---
As Program Director for ASX, Andrew supported the CHESS Replacement project in transforming from a traditional governance and operating model, to a scaled agile operating model. This included organizing and facilitating the first PI (Program Increment) Planning event. The CHESS Replacement project will replace legacy Clearing and Settlement technology, with state-of-the-art solutions based on Distributed Ledger Technology, with project delivery scheduled for April 2023.
---
As Director, Payments Business for Xinja, Andrew established their full retail payment and fraud management capabilities. This included establishing key strategic partnerships with service providers across the full payments landscape, including settlement services (Australian Settlements Ltd), payment card scheme (Mastercard), card payment processing (GPS), digital wallet services (Apple and Google) and fraud management (IBM). Xinja launched successfully to the market in October 2019.
---
As Program Director for Woolworths, working in WooliesX (the digital division of Woolworths), Andrew successfully delivered a Digital Wallet program allowing Rewards customers of Woolworths to digitize their Rewards cards into Apple Wallet and GooglePay, and then use them in-store via NFC. To date, over 600,000 customers have taken the opportunity to do that.
---
As Managing Director for the Bank's Strategic Projects at CBA, Andrew was the Business Owner and Benefits Sponsor for five strategic initiatives funded by CBA Group. The initiatives were critical investments in Payments infrastructure, Online Platforms, Analytics and specific industry based innovations. Total investment across the initiatives was budgeted between $150M and $200M.
---
For CBA's Payment Infrastructure Program, Andrew successfully achieved further investments of $45M and gained executive sponsorship for Phase 2 of Analytics Strategic Roadmap.
---
As Managing Director of Merchants Channels & Analytics (MCA) for CBA), Andrew successfully executed the ongoing Digital Strategy including delivery of highly critical initiatives for the $290M revenue business unit. Andrew's portfolio incorporated Merchant Acquiring, Business Online (digital platform for Corporate and Institutional customers), Domestic Payables & Receivables and Analytics. He was able to deliver strategic initiatives in Digital Platforms, Analytics, Receivables and Payments.
---
For the MCA Business Unit at CBA, Andrew successfully executed the Digital Strategy and delivered the implementation of NetLock which was well received by the Bank. Concurrently to this, Andrew successfully gained business case approval for DailyIQ Release2 which was a highly strategic innovative investment in Analytics by the Bank.
---
As Managing Director for CBAs Payments & Cash Management Division (PCM), successfully led a large specialist team of 70+FTE and a revenue budget of approx. $900M. Andrew had accountability for full product management lifecycle of the Payments and Cash Management suite. This included product development through innovation, P&L responsibility, and end-to-end accountability for processes and operational risk.
---
For CBA's Payments & Cash Management Division, Andrew successfully implemented BASEL III (regulatory) changes to Cash Management product suite. He also delivered Albert and Pi, world leading innovations in the Merchant Acquiring industry while simultaneously realising OPEX savings in excess of $15M/per annum by rationalising services, implementing Agile pricing capability, and leading vendor re-negotiations
---
Andrew led CBA's Merchant Solutions Division and led all innovation, product development, and industry & regulatory compliance programs. As part of his role, he delivered several critical programs including a complete refresh of the terminal fleet, leading the market in Australia in the implementation of contactless technology, providing the Bank's merchants with fund settlement 7 days/week, 365 days/year, and providing simple pricing options to merchants.
---
As General Manager for CBA's Business Banking & Payment ES Division, Andrew introduced and delivered a number of strategically important initiatives. Key programs delivered include Core Payments infrastructure upgrade, the transition of application support to an outsourced/offshore model, implementation of a Payments Hub using Clear2Pay, IP Connectivity to all payment terminals, upgrades to Asset Finance and Margin Lending payment platforms, and critical upgrades of the main payment interchanges with other Financial Institutions. Andrew had a portfolio budget of $75M to deliver the highly visible & critical programs.
---
As Executive Manager for CBA's CommSee Program, Andrew was responsible for initiating and delivering the Commercial Lending Origination project for the Commsee Platform. The highly visible program was delivered successfully over a number of releases with the support of a large team (80+ FTE) under Andrew's leadership.
---
As Senior Project Manager for CBA, Andrew was responsible for delivering the Home Loan Origination Module (CHL) of ComSee, with emphasis on extending the solution to support the Retail Bank segment.
---
For TRAC Software, Andrew provided specialized project delivery services to clients in Investment Banking, Life Insurance and Mining industries.
---
Other Team Members
Declan Boylan

General

2020-01-15T02:30:38+11:00

Gareth James

General

2021-01-19T11:29:58+11:00

Connie McKeage

Julius

2021-03-09T10:14:51+11:00

Michael Blomfield

Julius

2023-02-14T10:26:26+11:00

Temre Green

Julius

2022-11-23T10:52:41+11:00

Mike Stockley

Julius

2022-08-30T12:56:19+11:00

Julie Laoit

Julius

2022-07-19T09:10:59+11:00

Rob Thomsett

General

2023-01-31T17:26:36+11:00

Louise Ford

General

2020-01-15T03:08:18+11:00

Aaron Simonsen

Julius

2023-11-13T23:52:10+11:00

Alan Alehashemi

Julius

2022-07-19T09:07:40+11:00

Alex Jahan

Julius

2023-11-14T12:14:04+11:00

Alex Massie

General

2023-11-14T12:25:43+11:00

Alexander Rivkin

Julius

2023-11-14T00:06:50+11:00

Alexandra Marie Tan

Julius

2023-07-20T17:43:15+11:00

Ali Pahlavan

General

2023-11-14T00:19:34+11:00

Alisdair Brown

Julius

2022-08-30T09:51:38+11:00

Amanda Walker

Julius

2023-11-14T12:09:46+11:00

Andrew Cheesman

Julius

2022-08-09T12:17:42+11:00

Anna Linfield-Kent

Julius

2023-11-14T11:45:20+11:00

Andrew Marshall

Julius

2023-08-29T14:02:36+11:00

Audrey Teh

Julius

2023-11-14T01:03:53+11:00

Barbara Read

General

2023-11-13T23:44:22+11:00

Bhavna Gupta

Julius

2023-11-30T01:43:24+11:00

Benn Salier

Julius

2023-10-17T17:16:47+11:00

Bita Bagheri

General

2023-08-02T22:15:49+11:00

Blake Dahlen

Julius

2023-07-20T13:58:11+11:00

Caroline Lees

Julius

2023-11-14T01:15:13+11:00

Cathy Baldwin

General

2021-01-19T16:55:52+11:00

Chris Sykes

General

2022-05-26T12:50:02+11:00

Callum Barker

Julius

2023-09-15T10:54:00+11:00

Dave Rider

Julius

2023-11-14T11:28:26+11:00

David Johnson

General

2023-06-13T11:44:41+11:00

Deanna Edwards

Julius

2023-03-28T15:46:04+11:00

Derek Oldham

Julius

2023-11-14T01:43:07+11:00

Elise Kellond-Knight

Julius

2019-07-04T22:47:54+11:00

Eliza Johnson

Julius

2023-11-14T01:52:47+11:00

Ellen Misador

Julius

2023-11-14T11:16:10+11:00

Eugene O'Connell

Julius

2023-11-14T11:03:19+11:00

Fritzie Ligeralde

Julius

2023-10-27T12:23:57+11:00

Gilbert Wong

Julius

2023-09-28T10:05:22+11:00

Guru Swaminathan

General

2023-05-26T16:16:29+11:00

Hardik Lakhani

Julius

2023-11-14T10:59:45+11:00

Hayley Weir

Julius

2023-08-29T14:56:54+11:00

Helen Argitis

Julius

2023-11-14T10:56:19+11:00

Inggrid Yapari

Julius

2023-09-05T14:17:37+11:00

Ian Salvador

Julius

2023-11-14T02:22:20+11:00

Jerry Cobb

General

2022-06-28T15:49:32+11:00

Joanna Carlos

Julius

2022-02-15T17:48:05+11:00

Jochebed Diaz

General

2023-07-27T15:46:01+11:00

Johaimah Garrido

Julius

2021-03-16T10:08:35+11:00

John Middlemist

Julius

2023-11-14T02:36:08+11:00

Jovilyn Magtoto

Julius

2022-08-02T13:27:08+11:00

Julia Nicole Justo

Julius

2023-11-14T10:49:49+11:00

Julius Labalan

Julius

2023-10-05T10:04:21+11:00

Katherine Whiteside

General

2023-11-14T10:44:56+11:00

Kunal Parikh

Julius

2022-01-25T11:49:10+11:00

Lauren Grouse

Julius

2023-11-14T10:37:06+11:00

Louigi Gardiola

Julius

2023-02-23T08:31:20+11:00

Maddison Schmid

Julius

2023-11-14T10:31:00+11:00

Mariam Kohani

Julius

2022-07-19T09:57:04+11:00

Marian Joyce Makalintal

Julius

2023-06-21T10:48:28+11:00

Marianne Dinsay

Julius

2023-11-14T10:27:12+11:00

Mark McAdam

General

2023-05-03T12:09:06+11:00

Mark Millen

Julius

2022-08-30T12:47:06+11:00

Matthew Knight

Julius

2023-11-14T10:24:09+11:00

Melody Framp

Julius

2023-11-14T10:20:38+11:00

Melody Tuazon

Julius

2023-05-09T15:59:40+11:00

Michael Bryant

General

2023-11-13T17:56:32+11:00

Mohammad Ramezani

General

2022-07-13T16:18:36+11:00

Nadja Schulze

Julius

2023-07-13T13:05:06+11:00

Nevil Cope

General

2022-08-30T14:24:26+11:00

Niall Burke

Julius

2023-11-13T17:36:58+11:00

Nick Rodwell

Julius

2023-11-13T17:46:28+11:00

Nicole Hatten

Julius

2023-11-13T17:33:35+11:00

Ninia Ortile

Julius

2022-10-11T14:26:40+11:00

Pablo Andres Cordova Baya

Julius

2023-06-21T10:48:54+11:00

Parastoo Mousavi

Julius

2023-11-13T17:25:28+11:00

Paul Kirschner

General

2022-02-04T02:26:06+11:00

Peter Boylan

General

2023-03-14T16:22:42+11:00

Peter Philpott

General

2022-11-08T10:05:47+11:00

Rachel Low

Julius

2023-09-18T12:34:26+11:00

Rajiv Boddupalli

Julius

2023-11-13T16:14:32+11:00

Robert Crossman

General

2022-03-08T14:18:21+11:00

Rohini Verma

Julius

2023-11-30T02:00:48+11:00

Rohit Satija

Julius

2023-11-13T15:37:09+11:00

Roxane Montierro

Julius

2020-12-15T06:30:55+11:00

Sanjay Narayan

Julius

2023-02-14T11:09:04+11:00

Saurabh Kundi

Julius

2023-11-13T15:08:30+11:00

Shiraan Fernando

Julius

2023-03-14T15:07:49+11:00

Shruthi Srinivas

Julius

2023-08-25T12:02:31+11:00

Sreekanth Badam

Julius

2023-11-30T03:24:02+11:00

Stephen Curtis

Julius

2023-11-13T13:01:36+11:00

Simon Chrétien

Julius

2023-09-15T11:40:55+11:00

Tameka Yallop

General

2023-08-29T16:34:12+11:00

Tanvi Mahajan

Julius

2023-11-13T12:45:18+11:00

Thuc Linh Nguyen Phan

Julius

2023-11-13T12:39:10+11:00

Tony Calusic

Julius

2023-11-13T12:21:56+11:00

Vanessa Vella

General

2023-11-30T02:22:53+11:00

Vergil De Leon

Julius

2023-09-11T10:53:30+11:00

Winona Astian Thian

Julius

2023-02-23T08:34:19+11:00

Yanmin Chen

Julius

2023-10-03T19:22:20+11:00

Zach Barnetby

Julius

2023-11-13T10:30:25+11:00