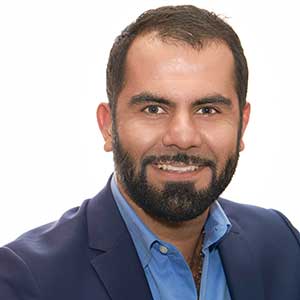 Mohammad Ramezani
Program Manager
---
Areas Of Expertise
Business process Transformation
IT Systems/ Infrastructure Transformation
Regulatory Compliance
IT Operations Outsourcing
---
Education
Certified Scaled Agile Framework practitioner
PRINCE2 Foundation / Practitioner Certificate
Project Management using Primavera
Bachelor of Science Industrial Engineering
---
About Mohammad Ramezani
Mohammad is a skilled Program Manager, joining Seven Consulting's Sydney Practice in 2010. He is highly experienced in various aspects of business transformation delivery, from managing senior stakeholders to hands on management of day-to-day activities-where required; from conducting reviews and leading project turnarounds to establishing delivery structure for new initiatives. Mohammad's experience encompasses delivery of Systems and Business Process Transformation, Regulatory Compliance enhancement, and Outsourcing.
---
What Mohammad brings
Strong capability in leading delivery of large, multi-release program of work in complex environments.
Proven track record in understanding and navigation of competing stakeholders' expectations and priorities in the interest of delivery targets.
Extensive experience across various industries; financial sector, oil & gas, governmental and non-profit.
Valuable experience in setting up and establishing program governance structure.
Hands on experience in running scoping, planning and risk review workshops.
---
Key Clients
Woolworths Facility Management
SURA (Part of AUB Group)
Lifestyle Solutions
Revenue NSW
Optus
NAB Wealth
Department of Justice
Oil Search Limited
BPAY
MLC
CBA
Westpac
---
Key Achievements
As a Business Program Manger at Optus TV & Content, Mohammad established governance and orchestrated the delivery of a range of business initiatives, including Women's World Cup 2023. In competing priorities across the business, Mohammad's focus was to ensure stakeholders alignment and adherence to timeline, in order to meet the timeline.
---
As a Program Manager at Woolworths Facility Management, Mohammad led the delivery of a range of business-critical initiatives. A large suite of stakeholders across various business units were impacted and Mohammad spent most of his days ensuring they remain supportive of the work, as well as leading a team of asset experts who were responsible for carrying out of required activities. Due to the number of initiatives and size of the team, dynamic prioritisation and coordination was required which Mohammad conducted successfully.
---
As a Program Manager at SURA, Mohammad led the transformation initiative to replace the core underwriting and finance platform across 13 agencies. As SURA's most critical program at the time, it spanned over more than two years and over twenty releases and was directly reported to the CEO as the sponsor, with high visibility to AUB Board. Mohammad was highly successful in managing competing priorities of stakeholders across various agencies and business units towards successful delivery.
---
As Senior Project Manager at Lifestyle Solutions, Mohammad established and led a wide-ranging practice improvement program across the organisation, containing technology implementation as well as business process improvement. As a project manager, Mohammad delivered a highly critical compliance project, reporting directly to CEO and the Board, involving external auditors and regulatory bodies.
---
As Project Manager at Revenue NSW reporting directly to CIO, Mohammad set up and established the project to implement new payment platform across all government agencies.
---
As Project Manager at Woolworths, Mohammad led the transformation of Asset Management solution at the new fully automated Distribution Centre, by rolling out IBM Maximo as the first roll out in Woolworths asset management transformation program.
---
As Project Manager at NAB, and as part of a large compliance transformation program, Mohammad established and delivered the project to completely transform NAB Wealth Advice regulatory compliance framework. Managed a large number of senior stakeholders as part of establishing a new accountability model within NAB Wealth regulatory compliance framework.
---
As Project Manager at Department of Justice, performed a complete review of NCAT (NSW Courts & Administrative Tribunal) project – with the scope to transform courts and tribunal services across NSW- including review of Business case and delivery approach, and providing recommendation to ensure achieving objectives within the timeline.
---
At Woolworths Asset Management Portfolio, Mohammad established a project delivery governance structure including reporting, financial tracking, resource allocation, etc.
---
As Project Manager at Oil Search, Mohammad performed a complete review of the ICT processes with the view of enhancing the working processes and provided recommendations. Moving on from there, set up and delivered the initial phase of ICT Enhancement Project, including Configuration Management Data Base (CMDB), Service Catalogue and tool enhancement.
---
As PMO Manager at a large Australian banking group, set up and established project governance for a major outsourcing initiative engaging three large service provider companies. Also, ran and managed the Data Room as part of the RFP process during the extensive provider selection process.
---
As PMO Lead at BPAY, Mohammad established the PMO office and project governance processes. Also, managed the scoping/ planning workshops with stream leads to establish detailed baseline working plan.
---
As PMO Manager at NEXUS program (budget over $130m); the second largest program in CBA, implemented program governance across multiple releases. Thee process spanned across 9 work streams and included regular reporting from streams all the way to the Steering Group- chaired by the CEO's direct report.
---
As PMO Consultant at MLC, managed the release readiness process, including managing the relevant stakeholders, from Enterprise risk to Operations and internal/external auditors, for Superstream project.
---
Other Team Members
Declan Boylan

General

2020-01-15T02:30:38+11:00

Gareth James

General

2021-01-19T11:29:58+11:00

Connie McKeage

Julius

2021-03-09T10:14:51+11:00

Michael Blomfield

Julius

2023-02-14T10:26:26+11:00

Temre Green

Julius

2022-11-23T10:52:41+11:00

Mike Stockley

Julius

2022-08-30T12:56:19+11:00

Julie Laoit

Julius

2022-07-19T09:10:59+11:00

Rob Thomsett

General

2023-01-31T17:26:36+11:00

Louise Ford

General

2020-01-15T03:08:18+11:00

Aaron Simonsen

Julius

2023-11-13T23:52:10+11:00

Alan Alehashemi

Julius

2022-07-19T09:07:40+11:00

Alex Jahan

Julius

2023-11-14T12:14:04+11:00

Alex Massie

General

2023-11-14T12:25:43+11:00

Alexander Rivkin

Julius

2023-11-14T00:06:50+11:00

Alexandra Marie Tan

Julius

2023-07-20T17:43:15+11:00

Ali Pahlavan

General

2023-11-14T00:19:34+11:00

Alisdair Brown

Julius

2022-08-30T09:51:38+11:00

Amanda Walker

Julius

2023-11-14T12:09:46+11:00

Andrew Cheesman

Julius

2022-08-09T12:17:42+11:00

Anna Linfield-Kent

Julius

2023-11-14T11:45:20+11:00

Andrew Marshall

Julius

2023-08-29T14:02:36+11:00

Audrey Teh

Julius

2023-11-14T01:03:53+11:00

Barbara Read

General

2023-11-13T23:44:22+11:00

Bhavna Gupta

Julius

2023-11-30T01:43:24+11:00

Benn Salier

Julius

2023-10-17T17:16:47+11:00

Bita Bagheri

General

2023-08-02T22:15:49+11:00

Blake Dahlen

Julius

2023-07-20T13:58:11+11:00

Caroline Lees

Julius

2023-11-14T01:15:13+11:00

Cathy Baldwin

General

2021-01-19T16:55:52+11:00

Chris Sykes

General

2022-05-26T12:50:02+11:00

Callum Barker

Julius

2023-09-15T10:54:00+11:00

Dave Rider

Julius

2023-11-14T11:28:26+11:00

David Johnson

General

2023-06-13T11:44:41+11:00

Deanna Edwards

Julius

2023-03-28T15:46:04+11:00

Derek Oldham

Julius

2023-11-14T01:43:07+11:00

Elise Kellond-Knight

Julius

2019-07-04T22:47:54+11:00

Eliza Johnson

Julius

2023-11-14T01:52:47+11:00

Ellen Misador

Julius

2023-11-14T11:16:10+11:00

Eugene O'Connell

Julius

2023-11-14T11:03:19+11:00

Fritzie Ligeralde

Julius

2023-10-27T12:23:57+11:00

Gilbert Wong

Julius

2023-09-28T10:05:22+11:00

Guru Swaminathan

General

2023-05-26T16:16:29+11:00

Hardik Lakhani

Julius

2023-11-14T10:59:45+11:00

Hayley Weir

Julius

2023-08-29T14:56:54+11:00

Helen Argitis

Julius

2023-11-14T10:56:19+11:00

Inggrid Yapari

Julius

2023-09-05T14:17:37+11:00

Ian Salvador

Julius

2023-11-14T02:22:20+11:00

Jerry Cobb

General

2022-06-28T15:49:32+11:00

Joanna Carlos

Julius

2022-02-15T17:48:05+11:00

Jochebed Diaz

General

2023-07-27T15:46:01+11:00

Johaimah Garrido

Julius

2021-03-16T10:08:35+11:00

John Middlemist

Julius

2023-11-14T02:36:08+11:00

Jovilyn Magtoto

Julius

2022-08-02T13:27:08+11:00

Julia Nicole Justo

Julius

2023-11-14T10:49:49+11:00

Julius Labalan

Julius

2023-10-05T10:04:21+11:00

Katherine Whiteside

General

2023-11-14T10:44:56+11:00

Kunal Parikh

Julius

2022-01-25T11:49:10+11:00

Lauren Grouse

Julius

2023-11-14T10:37:06+11:00

Louigi Gardiola

Julius

2023-02-23T08:31:20+11:00

Maddison Schmid

Julius

2023-11-14T10:31:00+11:00

Mariam Kohani

Julius

2022-07-19T09:57:04+11:00

Marian Joyce Makalintal

Julius

2023-06-21T10:48:28+11:00

Marianne Dinsay

Julius

2023-11-14T10:27:12+11:00

Mark McAdam

General

2023-05-03T12:09:06+11:00

Mark Millen

Julius

2022-08-30T12:47:06+11:00

Matthew Knight

Julius

2023-11-14T10:24:09+11:00

Melody Framp

Julius

2023-11-14T10:20:38+11:00

Melody Tuazon

Julius

2023-05-09T15:59:40+11:00

Michael Bryant

General

2023-11-13T17:56:32+11:00

Mohammad Ramezani

General

2022-07-13T16:18:36+11:00

Nadja Schulze

Julius

2023-07-13T13:05:06+11:00

Nevil Cope

General

2022-08-30T14:24:26+11:00

Niall Burke

Julius

2023-11-13T17:36:58+11:00

Nick Rodwell

Julius

2023-11-13T17:46:28+11:00

Nicole Hatten

Julius

2023-11-13T17:33:35+11:00

Ninia Ortile

Julius

2022-10-11T14:26:40+11:00

Pablo Andres Cordova Baya

Julius

2023-06-21T10:48:54+11:00

Parastoo Mousavi

Julius

2023-11-13T17:25:28+11:00

Paul Kirschner

General

2022-02-04T02:26:06+11:00

Peter Boylan

General

2023-03-14T16:22:42+11:00

Peter Philpott

General

2022-11-08T10:05:47+11:00

Rachel Low

Julius

2023-09-18T12:34:26+11:00

Rajiv Boddupalli

Julius

2023-11-13T16:14:32+11:00

Robert Crossman

General

2022-03-08T14:18:21+11:00

Rohini Verma

Julius

2023-11-30T02:00:48+11:00

Rohit Satija

Julius

2023-11-13T15:37:09+11:00

Roxane Montierro

Julius

2020-12-15T06:30:55+11:00

Sanjay Narayan

Julius

2023-02-14T11:09:04+11:00

Saurabh Kundi

Julius

2023-11-13T15:08:30+11:00

Shiraan Fernando

Julius

2023-03-14T15:07:49+11:00

Shruthi Srinivas

Julius

2023-08-25T12:02:31+11:00

Sreekanth Badam

Julius

2023-11-30T03:24:02+11:00

Stephen Curtis

Julius

2023-11-13T13:01:36+11:00

Simon Chrétien

Julius

2023-09-15T11:40:55+11:00

Tameka Yallop

General

2023-08-29T16:34:12+11:00

Tanvi Mahajan

Julius

2023-11-13T12:45:18+11:00

Thuc Linh Nguyen Phan

Julius

2023-11-13T12:39:10+11:00

Tony Calusic

Julius

2023-11-13T12:21:56+11:00

Vanessa Vella

General

2023-11-30T02:22:53+11:00

Vergil De Leon

Julius

2023-09-11T10:53:30+11:00

Winona Astian Thian

Julius

2023-02-23T08:34:19+11:00

Yanmin Chen

Julius

2023-10-03T19:22:20+11:00

Zach Barnetby

Julius

2023-11-13T10:30:25+11:00