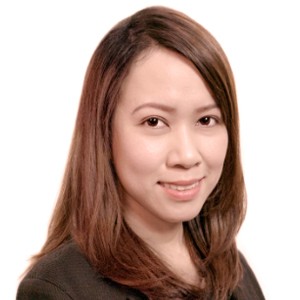 Jochebed Diaz
Manila Team Lead / PMO Lead
---
Areas Of Expertise
PMO Analysis and Reporting
Project and PMO Management
Portfolio, Financials & Governance
---
Education
Bachelor of Science in Business Administration, Major in Management. Manila Central University
Certified Microsoft Project Specialist
---
About Jochebed Diaz
Jochebed is a skilled PMO Consultant, she joined Seven Consulting's Manila Practice in September 2016. Jochebed has over 18 years' experience in the field of Administration, PMO and Finance within the Telecommunications and IT industries. Has a with strong knowledge of the key PMO functions, such as resource and project management, scheduling, capacity planning and utilization, data gathering, analysis and reporting.
---
What Jochebed brings
Adept knowledge in PMO Scheduling services.
Solid PMO Governance and Financial analyst skills.
Excellent communication skills and an ability to interact with a variety of personality types, within different levels of the organization.
Exemplifying leadership abilities in training, mentoring and in maintaining a high-quality team.
Highly experienced in facilitating various project presentations, including documentation and preparation of training materials.
Skilled in Project and Governance reporting.
---
Key Clients
ASX – Australia Stock Exchange
Alinta
Woolworths
American International Group
Accenture
Siemens
---
Key Achievements
As a Project Officer in ASX, Jochebed supports various program forums by providing governance, monitoring actions and documentation for Project Weekly Group, Change Review, Kanban and Decision Forum. She also developed and maintains the program Change control capability and facilitated adherence to the change control process like coordinating Impact Assessments and ensuring Change Requests have appropriate approval. She facilitates Front Door/ Change Request forums on a fortnightly basis to provide visibility of all new change raised, track status, and ensure key SMEs are present to provide any clarification. Jochebed also establish project document standards (naming conventions, version control, review requirements) and documentation management including maintenance of the Project/Program Document Repository – maintain and develop an information repository for each Transformation project, structures, templates. She also worked on the schedule by meeting with each of the workstreams leads fortnightly to gain schedule updates. Alongside resource management by creating the project master list and Project Org Chart management. She is exemplified to be a key team player by co-monitor CHESS Replacement PMO Inbox and calendar
---
As Program PMO at Alinta, Jochebed has been engaged to facilitate, establish, and implement the EPMO governance processes and standards within the Merchant Energy program, this includes creation of project code to align with financial data monitoring. She also works with the Finance and Program Manager on financial tracking to ensure that monthly allocation and actuals are reconciled and that accruals are booked. She also forecasts resource allocation through approved business cases and reviews utilisation through timesheet actuals to provide a collective snapshot of resource assignments and open demands within the program. She rigorously tracks and reviews the quantified measures of merchant's monthly benefit forecast and actuals.
---
As Master Scheduler at Woolworths Cyber Security and Stores Delivery towers, Jochebed is responsible for the set-up, development, coordination and monitoring of schedule through to the complete project cycle. Jochebed was an integral part on the successful delivery of Woolworth's Security Identity Uplift project.
---
At Woolworths, Jochebed closely works with Project Managers and Workstream Leads for the schedule maintenance of fifteen various projects for Device Deployment, Stores Infrastructure and IT Security by performing health status checks and weekly updates to ensure projects are on track and that risk/issues affecting the project execution are mitigated. She also tailor project reports to support Project managers in monitoring weekly deliverables, past due activities and 2 weeks look ahead forecasting. Jochebed provides in-depth analysis on high level project milestone due date performance reporting for the Stores Infrastructure Delivery Management by monitoring changes, providing feedback and recommendation of action to Project Leads and Program Director. She also generates high level timeline on projects and programs overall roadmap as input to monthly PCG and Steer Co packs.
---
As Regional Portfolio lead for APAC and EMEA at American International Group, Jochebed ensured that PMO Group utilized best practices and all processes are aligned with the overall governance guidelines. Worked closely with the PMO based in New York and played a key role in establishing and refining the PPM data quality validations and standards for Regional and Country-Wide projects. Led the roll out of PPM-related initiatives e.g. Resource Pool migration, Program setup and Time Sheet Compliance.
---
At American International Group, Jochebed led the mobilization, set-up and creation of Project Records for Japan Seisantan Program that forms 25% of the overall AIGSS business.
---
As the Regional Portfolio Lead, Jochebed led detailed reporting & analysis efforts for key projects. This included analyzing PPM project variance month over month. She collaborated with PMO and Project Leaders on identification & resolution of risks and issues.
---
As Program Control Services PMO Specialist at Accenture, Jochebed managed and led resources in delivering shared services. This included administrative support, communication tracking, Enterprise Project Management (EPM) maintenance specifically MSPS & Share Point tool administration. She also supported Project Managers and Delivery Executives in scoping and estimating effort for potential new work and change requests managed by the PMO Services group.
---
At Accenture, Jochebed was appointed the Subject matter expert in MSPS 2010 application/tools that involves maintenance of Project Web Access, including tracking of project plans through SSRS reporting. She successfully Facilitated creation and maintenance of Enterprise Resource Pool and Project Server administration for all project plans.
---
As Program Control Services PMO Specialist at Accenture, Jochebed was responsible for performing quality assurance reviews to ensure error-free services and delivery of accurate reports information.
---
As PMO Consultant at Siemens Inc, Shared Services Division, Jochebed handled large fixed asset transactions and monitor financial transactions for the large resource pool. In concurrence, she monitored and actioned all outstanding Accounts Receivables and processed Accounts Payable / third party invoices by scanning and verification via AIMS application to meet payment due dates.
---
Other Team Members
Declan Boylan

General

2020-01-15T02:30:38+11:00

Gareth James

General

2021-01-19T11:29:58+11:00

Connie McKeage

Zeus Lara

2021-03-09T10:14:51+11:00

Hugh Harley

Zeus Lara

2020-04-01T04:18:49+11:00

Michael Blomfield

Zeus Lara

2023-02-14T10:26:26+11:00

Temre Green

Zeus Lara

2022-11-23T10:52:41+11:00

Mike Stockley

Zeus Lara

2022-08-30T12:56:19+11:00

Julie Laoit

Zeus Lara

2022-07-19T09:10:59+11:00

Rob Thomsett

General

2023-01-31T17:26:36+11:00

Louise Ford

General

2020-01-15T03:08:18+11:00

Aaron Simonsen

Zeus Lara

2022-08-30T11:02:06+11:00

Akhilesh Das

Zeus Lara

2022-11-08T10:09:51+11:00

Alan Alehashemi

Zeus Lara

2022-07-19T09:07:40+11:00

Alex Massie

General

2023-05-09T15:42:17+11:00

Alexander Rivkin

Zeus Lara

2023-03-28T15:40:59+11:00

Alexandra Marie Tan

Zeus Lara

2023-03-14T15:15:24+11:00

Ali Pahlavan

General

2023-05-17T01:57:15+11:00

Alisdair Brown

Zeus Lara

2022-08-30T09:51:38+11:00

Amanda Walker

Zeus Lara

2022-08-09T10:18:22+11:00

Anders Madsen

Zeus Lara

2022-08-02T17:55:11+11:00

Andrew Cheesman

Zeus Lara

2022-08-09T12:17:42+11:00

Andrew Coley

Zeus Lara

2021-12-21T12:36:47+11:00

Anish Joshi

Zeus Lara

2023-04-04T15:04:09+11:00

Ann Mica Mae Lim

Zeus Lara

2023-05-11T14:08:40+11:00

Anna Linfield-Kent

Zeus Lara

2023-03-14T16:25:51+11:00

Barbara Read

General

2023-04-27T09:42:19+11:00

Benn Salier

Zeus Lara

2021-07-06T13:45:00+11:00

Bita Bagheri

General

2021-03-02T14:12:11+11:00

Blake Dahlen

Zeus Lara

2023-02-23T09:47:16+11:00

Callum Dodd

Zeus Lara

2022-11-23T11:00:39+11:00

Caroline Lees

Zeus Lara

2023-01-17T10:29:22+11:00

Cathy Baldwin

General

2021-01-19T16:55:52+11:00

Chika Nnadiekwe

Zeus Lara

2023-03-28T15:27:26+11:00

Chris Sykes

General

2022-05-26T12:50:02+11:00

Cliff Blakley

Zeus Lara

2023-05-11T13:52:16+11:00

David Johnson

General

2022-06-01T10:43:16+11:00

David Mansfield

Zeus Lara

2023-02-14T10:37:32+11:00

Deanna Edwards

Zeus Lara

2023-03-28T15:46:04+11:00

Derek Oldham

Zeus Lara

2023-05-09T15:38:58+11:00

Elise Kellond-Knight

Zeus Lara

2019-07-04T22:47:54+11:00

Ellen Misador

Zeus Lara

2023-03-14T15:30:57+11:00

Eugene O'Connell

Zeus Lara

2022-03-22T16:14:36+11:00

Francis Aseron

Zeus Lara

2023-02-24T09:56:24+11:00

Fritzie Ligeralde

Zeus Lara

2021-08-17T15:41:14+11:00

Gilbert Wong

Zeus Lara

2022-05-25T12:27:00+11:00

Guru Swaminathan

General

2023-05-26T16:16:29+11:00

Hardik Lakhani

Zeus Lara

2022-03-08T16:33:18+11:00

Hayley Weir

Zeus Lara

2022-03-01T12:16:09+11:00

Helen Argitis

Zeus Lara

2022-05-26T12:13:35+11:00

Ian Salvador

Zeus Lara

2022-06-14T17:51:51+11:00

Ian Thomson

Zeus Lara

2023-04-27T09:46:51+11:00

Ibrahim Dani

Zeus Lara

2023-05-09T15:33:59+11:00

Igor Vieira

Zeus Lara

2022-06-28T16:45:19+11:00

Jerry Cobb

General

2022-06-28T15:49:32+11:00

Joanna Carlos

Zeus Lara

2022-02-15T17:48:05+11:00

Jochebed Diaz

General

2022-11-16T12:53:12+11:00

Johaimah Garrido

Zeus Lara

2021-03-16T10:08:35+11:00

John Middlemist

Zeus Lara

2021-07-21T12:11:54+11:00

Jovilyn Magtoto

Zeus Lara

2022-08-02T13:27:08+11:00

Julia Nicole Justo

Zeus Lara

2023-02-23T08:34:34+11:00

Katherine Whiteside

General

2022-11-30T17:42:36+11:00

Kunal Parikh

Zeus Lara

2022-01-25T11:49:10+11:00

Louigi Gardiola

Zeus Lara

2023-02-23T08:31:20+11:00

Louise White

General

2021-05-11T16:20:05+11:00

Lousiene Samonte

General

2022-08-30T14:27:05+11:00

Maddison Schmid

Zeus Lara

2023-05-11T09:35:43+11:00

Mariam Kohani

Zeus Lara

2022-07-19T09:57:04+11:00

Marian Joyce Makalintal

Zeus Lara

2023-03-14T15:51:17+11:00

Marianne Dinsay

Zeus Lara

2023-02-23T08:32:42+11:00

Mark McAdam

General

2023-05-03T12:09:06+11:00

Mark Millen

Zeus Lara

2022-08-30T12:47:06+11:00

Matthew Knight

Zeus Lara

2023-02-23T08:32:48+11:00

Melanie Northrop

Zeus Lara

2023-01-31T17:06:41+11:00

Melody Framp

Zeus Lara

2023-05-09T16:20:00+11:00

Melody Tuazon

Zeus Lara

2023-05-09T15:59:40+11:00

Michael Bryant

General

2022-08-09T11:38:32+11:00

Mohammad Ramezani

General

2022-07-13T16:18:36+11:00

Muhammad Sauood Ur Rauf

General

2022-08-30T14:20:48+11:00

Nevil Cope

General

2022-08-30T14:24:26+11:00

Niall Burke

Zeus Lara

2022-10-11T13:16:07+11:00

Nick Rodwell

Zeus Lara

2022-07-14T11:47:55+11:00

Nicole Hatten

Zeus Lara

2022-03-22T16:18:26+11:00

Ninia Ortile

Zeus Lara

2022-10-11T14:26:40+11:00

Pablo Andres Cordova Baya

Zeus Lara

2023-02-23T08:48:38+11:00

Parastoo Mousavi

Zeus Lara

2022-12-13T10:24:00+11:00

Paul Bernard

Zeus Lara

2022-02-04T02:19:40+11:00

Paul Kirschner

General

2022-02-04T02:26:06+11:00

Peter Boylan

General

2023-03-14T16:22:42+11:00

Peter Philpott

General

2022-11-08T10:05:47+11:00

Rahul Kaushal

Zeus Lara

2022-08-03T10:22:38+11:00

Rajiv Boddupalli

Zeus Lara

2022-12-13T09:44:21+11:00

Robert Caminiti

General

2020-10-07T04:02:43+11:00

Robert Crossman

General

2022-03-08T14:18:21+11:00

Rohini Verma

Zeus Lara

2021-04-13T12:23:02+11:00

Rohit Satija

Zeus Lara

2023-05-09T15:27:58+11:00

Roxane Montierro

Zeus Lara

2020-12-15T06:30:55+11:00

Sanjay Narayan

Zeus Lara

2023-02-14T11:09:04+11:00

Saurabh Kundi

Zeus Lara

2023-02-23T08:26:14+11:00

Shiraan Fernando

Zeus Lara

2023-03-14T15:07:49+11:00

Shruthi Srinivas

Zeus Lara

2023-02-07T09:53:04+11:00

Sreekanth Badam

Zeus Lara

2022-11-09T17:14:36+11:00

Stephen Curtis

Zeus Lara

2023-05-30T09:22:30+11:00

Tameka Yallop

General

2022-03-08T16:41:26+11:00

Tanvi Mahajan

Zeus Lara

2023-03-28T15:21:57+11:00

Through Zhu

Zeus Lara

2023-02-23T10:21:23+11:00

Thuc Linh Nguyen Phan

Zeus Lara

2023-05-30T09:39:47+11:00

Tony Calusic

Zeus Lara

2022-08-01T16:52:17+11:00

Vanessa Vella

General

2021-12-14T12:11:12+11:00

Winona Astian Thian

Zeus Lara

2023-02-23T08:34:19+11:00

Yanmin Chen

Zeus Lara

2022-03-08T16:40:11+11:00

Zach Barnetby

Zeus Lara

2022-06-24T11:08:22+11:00