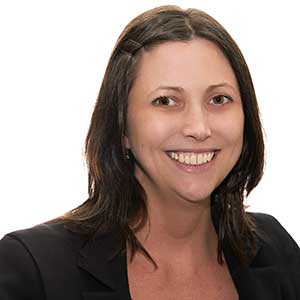 Cathy Baldwin
Program Manager
---
Areas Of Expertise
Delivering large strategic programs to meet business outcomes
Technology related IT skills, allowing greater drill down and understanding of tasks
Extensive experience leading large teams of people (100+) both on and off
---
Education
Bachelor of Information Technology, University of Tasmania
Certified Technical Architect, Accenture
---
Key Clients
National Australia Bank
Commonwealth Bank Australia
Optus
Telstra
Accenture
---
About Cathy Baldwin
Cathy is a skilled Program Manager, joining Seven Consulting's Sydney practice in December 2015. She is delivery focused with a strong track record in large strategic IT project delivering to schedule, on budget and with desired business outcomes.
Cathy has a successful track record of delivering effectively under pressure, developed through the management of multiple deployments into live systems and solving highly visible issues successfully in reduced time frames.
---
What Cathy brings
Cathy has a proven capability to rescue troubled programs and projects, bringing them back on schedule and focused on value added outcomes.
Clear and concise communication style which is effective in delivering to stakeholders, removing ambiguity & ensuring a common understanding.
Proven ability of making rapid assessment of situational business challenges and applying people, service management and technology solutions to achieve desired outcomes.
Flexibility and adaptability to work effectively within rapidly changing projects, often under pressure.
---
Key Achievements
As Program Manager for NAB, Cathy successfully developed and piloted the delivery strategy for the Controls Transformation Program. This delivery strategy included change management, training, compliance, release planning and support and was effectively used by all other streams of the program during roll out.
---
As a Program Manager for Optus, Cathy was responsible for the overall delivery of the Contact Center Workforce Optimisation Program across Business, Change, Training, Testing and IT. Cathy also established the program management disciplines for Risks, Assumptions, Issues and Dependency (RAID) management.
---
As a PM for CBA, Cathy delivered the Access Management Stream for Program Aegis which entailed establishment & creation of release management capability creating a repeatable and robust process for subsequent releases.
---
As Delivery Release Manager for CBA, Cathy had responsibility for the delivery of the automation framework and release management on the replacement of the SAP core banking mainframes as part of the CBA's Core Banking Modernisation program.
---
As Project Manager at CBA, Cathy successfully replaced four production mainframes running the SAP core banking system for CBA with zero unplanned downtime and only 15 minutes planned downtime. This was managed over several weekends and resulted in zero customer impacting incidents.
---
As a Project manager at CBA, Cathy was responsible for the creation and delivery of test management capability and subsequent testing procedural enhancements both onshore and offshore for CBA's Core Banking Modernisation Program. This included the creation of end to end test strategy and key measurements for a large global team.
---
As Technical Architecture Project Manager at CBA Cathy managed a large team across all releases of the CBM program and all stages of the software development lifecycle. This included end to end responsibility for the design, delivery, and management of infrastructure for the program for up to 70 systems in 5 end to end environments across all releases and a budget of $130+M and a resource budget of $50M. Cathy also identified and made recommendations on correcting misaligned processes and addressing delivery gaps between Accenture, CBA, HP, and contractors.
---
As a Technical Architecture Project Manager for Telstra, Cathy had responsibility for delivery of over 240 virtual machines to meet Customer Care and Billing Implementation (CCB) Program deadlines.
---
As a workstream Project Manager for Telstra, Cathy had end to end responsibility for the design and build of the testing systems including configuration management and test system support across the billing and CRM application.
---
Other Team Members
Declan Boylan

General

2020-01-15T02:30:38+00:00

Gareth James

General

2020-01-15T02:46:06+00:00

Rob Thomsett

General

2020-02-07T05:09:23+00:00

Louise Ford

General

2020-01-15T03:08:18+00:00

Laury MacPherson

General

2018-04-23T07:39:51+00:00

Alan Madani

General

2020-07-24T03:51:19+00:00

Alex Massie

General

2020-06-19T01:51:58+00:00

Ali Pahlavan

General

2020-07-09T06:29:03+00:00

Andrew Cheesman

Zeus Lara

2020-08-23T23:37:35+00:00

Andrew McDonagh

General

2020-09-03T05:49:48+00:00

Andrew Moghaddam

General

2020-01-10T03:36:32+00:00

Barbara Read

General

2020-01-10T04:13:14+00:00

Benn Salier

Zeus Lara

2020-07-29T01:44:59+00:00

Berna Akdeniz

General

2018-04-23T07:40:38+00:00

Bita Bagheri

General

2020-11-09T02:42:28+00:00

Brett Krieger

Zeus Lara

2020-08-05T03:12:17+00:00

Bronagh Stewart

Zeus Lara

2020-08-10T02:09:42+00:00

Bruce Denson

General

2020-03-19T00:59:30+00:00

Cathy Baldwin

General

2020-01-21T03:46:49+00:00

Chris Sykes

General

2020-03-05T00:14:43+00:00

David Johnson

General

2020-01-15T02:05:16+00:00

Donalito Jr. Bales

Zeus Lara

2020-05-28T05:04:09+00:00

Duncan Hewitt

General

2020-03-05T00:20:23+00:00

Ericson Bagunas

General

2020-10-01T05:06:36+00:00

Gilbert Wong

General

2018-05-24T23:55:47+00:00

Grace Tran

General

2020-04-27T06:07:30+00:00

Guru Swaminathan

General

2020-10-13T05:04:12+00:00

Jackie Lou J. Belano

General

2020-10-07T03:28:39+00:00

Jeroen Lubbers

Zeus Lara

2020-11-23T23:30:58+00:00

Jerry Cobb

General

2020-11-06T00:49:28+00:00

Joanna Carlos

Zeus Lara

2020-09-14T00:37:15+00:00

Joanne Carla S. Sebuc

General

2020-10-26T23:49:00+00:00

Jochebed Diaz

General

2020-07-24T03:53:17+00:00

John Mitchell

General

2020-07-22T01:01:54+00:00

Katherine Whiteside

General

2020-07-02T06:55:12+00:00

Krishnaraj Arumugam

Zeus Lara

2020-06-30T04:59:15+00:00

Louise White

General

2020-04-23T06:17:12+00:00

Lousiene Samonte

General

2020-04-01T03:22:19+00:00

Mark Cumming

General

2020-04-30T04:58:27+00:00

Mark McAdam

General

2020-08-24T01:07:53+00:00

Maryam Kohani

Zeus Lara

2020-03-03T05:24:20+00:00

Michael Baylon

General

2018-07-18T02:59:28+00:00

Michael Bryant

General

2020-09-25T02:15:23+00:00

Mohammad Ramezani

General

2020-01-14T03:38:39+00:00

Muhammad Sauood Ur Rauf

General

2020-10-06T00:12:22+00:00

Nadja Schulze

General

2020-05-29T06:16:06+00:00

Nevil Cope

General

2020-01-14T04:11:02+00:00

Niloofar Fardanesh

General

2020-09-29T01:07:43+00:00

Parastoo Mousavi

Zeus Lara

2020-09-08T00:31:28+00:00

Paul Kirschner

General

2020-01-14T04:38:37+00:00

Peter Boylan

General

2020-09-01T23:46:32+00:00

Peter Philpott

General

2020-10-30T03:09:29+00:00

Pritika Osland

Zeus Lara

2020-09-23T00:05:43+00:00

Rinku Razdan

General

2020-11-11T06:29:00+00:00

Robert Caminiti

General

2020-10-07T04:02:43+00:00

Robert Crossman

General

2020-01-15T04:30:20+00:00

Roxane Montierro

Zeus Lara

2020-11-17T22:20:14+00:00

Satya Sharma

General

2020-08-17T06:10:30+00:00

Shane Moore

General

2020-04-23T06:10:08+00:00

Sharon Tannenbaum

Zeus Lara

2020-10-13T00:59:01+00:00

Shiraan Fernando

Zeus Lara

2020-08-24T00:34:31+00:00

Sosha Jabbary

General

2020-11-18T06:56:36+00:00

Steve Baxter

Zeus Lara

2020-11-05T05:51:05+00:00

Syed Hussain

Zeus Lara

2020-10-07T04:48:38+00:00

Tameka Yallop

General

2019-04-29T04:29:36+00:00

Vanessa Vella

General

2020-04-15T01:08:38+00:00

Venice Gordula

Zeus Lara

2020-10-21T03:01:02+00:00

Yanmin Chen

General

2018-07-18T02:55:46+00:00