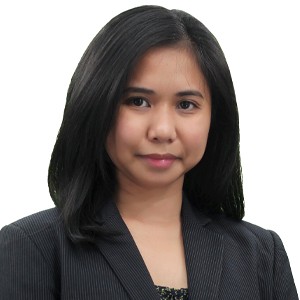 Ellen Misador
Graduate Associate
---
Areas Of Expertise:
---
Education:
Bachelor of Science in Management Accounting
Diploma in Project Management
Completed Coursework:

Fundamentals of Project Management
Project Planning and Scheduling
Project Risk and Issue Management
---
About Ellen Misador
Ellen has a Bachelor of Science in Management Accounting (Cum Laude) and has completed three of six courses in a Diploma Program for Project Management. She is a lifelong learner eager to expand her knowledge and experiences in the different fields of Project Management. She is a responsible professional committed to delivering successful endeavors.
---
What Ellen brings
Rigorous Analytical ability to synthesize complex information.
Ability to work collaboratively with others to form strong positive working relationships.
Resourcefulness to find efficient and innovative ways to overcome challenges.
Skills and experience in various industries – retail, food logistics, banking, general accounting, foreign exchange trading, etc.
---
Key Clients:
Invocare
Seven Consulting
GrabFood Cebu
De La Salle – College of Saint Benilde (S.P.A.C.E)
Youth for Christ
---
Key Achievements:
As Graduate Associate rendering bench support at Invocare, Ellen supported projects for CemCrem and the discovery piece for Fleet Telematics. In supporting the projects of CemCrem – Ellen helped in monitoring actions and emails; she assisted in updating and reviewing the financial management tracker against the SOWs/Invoices and KeyedIn extracts; she also assisted in uploading Jira Epics and User Stories; and a month after her onboarding at Invocare, she started helping in updating the fortnightly status report and any other Ad-hoc tasks assigned to her by the project manager. As she also supported the discovery piece to develop a business case for Fleet Telematics – Ellen recorded and monitored RAID and Action items; uploaded key deliverables/tasks in Jira; assisted in developing the kick-off pack for the working group; set up meetings with the working group; and worked on other tasks as assigned by the project manager. During her stay at Invocare, Ellen also experienced stepping up and monitoring tasks and concerns that needed to be done and addressed while the project manager was away for 7 working days. She made sure the projects were still progressing as expected while the project manager was away on leave. And for any urgent concerns that came up, she informed the project manager as instructed. When the project manager got back, she made sure that he didn't miss any open actions, emails and concerns.
---
As Graduate at Seven Consulting, Ellen completed the Graduate program which is designed to enhance the core Project Management skills amongst the people who are experienced in their individual professional fields. During the Graduate program, she has gained theoretical and practical knowledge on different aspects of project management by going through different sessions and exercises with domain experts, as well as learning soft skills through discussions and role-play activities. This program has developed her skills and confidence level in using PM tools (like MS Project, JIRA etc.), techniques and soft skills. Ellen also had the opportunity to work-shadow senior consultants in actual project environments where she has been exposed to risk, issues, and constraints on a project and better ways to manage them. She was able to apply in parallel the lessons she learned in the program to Project 7 where she helped organise events for 2023, especially for Sydney.
---
As an Account Management Executive at GrabFood Cebu, Ellen worked closely with the Project Lead, Regional Manager, and City Manager for Business and Strategy. She built and developed good working relationships with her assigned 75 merchant partners ranging from tier B to C for her to keep accurate and updated records, and to understand the account's business need in order to be able to customize Grab product offerings and services to further create partnership value. She participated in various meetings, brainstorming and ideation with clients, project lead and fellow account managers; and she also created reports and files relevant to both business reviews and weekly reports. In this role, she learned the value of observing industry trends, building good working relationships, and communicating effectively.
---
As a student at De La Salle – College of Saint Benilde, Ellen presented case studies during her synchronous classes where she applied what she learned during her asynchronous classes. In her case studies, she gained experience and learning in preparing a Work Breakdown Structure, updating a risk register, optimizing a schedule through Critical Path Method, designing a Resource Management Plan and analysing cases relating to Project Management. As a student and through her case studies, she learned the importance of proper Project Management and learning the fundamentals.
---
As the Music Ministry Assistant Head for USC "Take Heart" Praise Conference, Ellen coordinated with the Program Head, Music Ministry Head and Worship Leader on the meetings, practices, schedule, program flow, logistics, budget, and manpower for the Music Ministry. She actively communicated to the music ministry members and Program Committee on concerns, issues, event updates and progress updates. In this role, she also learned how to schedule and update practices and rehearsals considering all the class schedules and personal circumstances of each team member. She also helped monitor practices to ensure the quality of music for the event and motivated team members when needed.
---
As the Competitions Committee Assistant Head for YFC South 1 "God Pro: Be a Witness" Sector Youth Conference, Ellen was assigned to delegate roles; determine and define each competition activities and regulations; appoint judges; prepare and deliver the competitions within the budget; and procure trophies and certificates. She reports to the Competitions Committee Head and Overall Program Committee on progress updates, concerns and help needed. She also coordinated and communicated with Cluster Heads on finalising participants list and cascading competition rules and schedules. In this role, she learned the value of trust, transparency, teamwork, delegation and monitoring to ensure event success.
---
Other Team Members
Declan Boylan

General

2020-01-15T02:30:38+11:00

Gareth James

General

2021-01-19T11:29:58+11:00

Connie McKeage

Julius

2021-03-09T10:14:51+11:00

Michael Blomfield

Julius

2023-02-14T10:26:26+11:00

Temre Green

Julius

2022-11-23T10:52:41+11:00

Mike Stockley

Julius

2022-08-30T12:56:19+11:00

Julie Laoit

Julius

2022-07-19T09:10:59+11:00

Rob Thomsett

General

2023-01-31T17:26:36+11:00

Louise Ford

General

2020-01-15T03:08:18+11:00

Aaron Simonsen

Julius

2022-08-30T11:02:06+11:00

Alan Alehashemi

Julius

2022-07-19T09:07:40+11:00

Alex Jahan

Julius

2022-12-13T10:15:47+11:00

Alex Massie

General

2023-05-09T15:42:17+11:00

Alexander Rivkin

Julius

2023-03-28T15:40:59+11:00

Alexandra Marie Tan

Julius

2023-07-20T17:43:15+11:00

Ali Pahlavan

General

2023-08-03T11:39:33+11:00

Alisdair Brown

Julius

2022-08-30T09:51:38+11:00

Amanda Walker

Julius

2023-06-06T11:10:57+11:00

Anders Madsen

Julius

2022-08-02T17:55:11+11:00

Andrew Cheesman

Julius

2022-08-09T12:17:42+11:00

Andrew Coley

Julius

2021-12-21T12:36:47+11:00

Anish Joshi

Julius

2023-04-04T15:04:09+11:00

Ann Mica Mae Lim

Julius

2023-05-11T14:08:40+11:00

Anna Linfield-Kent

Julius

2023-03-14T16:25:51+11:00

Andrew Marshall

Julius

2023-08-29T14:02:36+11:00

Audrey Teh

Julius

2023-06-13T10:54:02+11:00

Barbara Read

General

2023-04-27T09:42:19+11:00

Bhavna Gupta

Julius

2023-08-25T16:07:45+11:00

Benn Salier

Julius

2021-07-06T13:45:00+11:00

Bita Bagheri

General

2023-08-02T22:15:49+11:00

Blake Dahlen

Julius

2023-07-20T13:58:11+11:00

Callum Dodd

Julius

2022-11-23T11:00:39+11:00

Caroline Lees

Julius

2023-01-17T10:29:22+11:00

Cathy Baldwin

General

2021-01-19T16:55:52+11:00

Chris Sykes

General

2022-05-26T12:50:02+11:00

Callum Barker

Julius

2023-09-15T10:54:00+11:00

Dave Rider

Julius

2022-02-04T01:57:49+11:00

David Johnson

General

2023-06-13T11:44:41+11:00

David Mansfield

Julius

2023-02-14T10:37:32+11:00

Deanna Edwards

Julius

2023-03-28T15:46:04+11:00

Derek Oldham

Julius

2023-05-09T15:38:58+11:00

Elise Kellond-Knight

Julius

2019-07-04T22:47:54+11:00

Eliza Johnson

Julius

2023-07-20T12:18:49+11:00

Ellen Misador

Julius

2023-07-20T15:42:42+11:00

Eugene O'Connell

Julius

2022-03-22T16:14:36+11:00

Fritzie Ligeralde

Julius

2021-08-17T15:41:14+11:00

Gilbert Wong

Julius

2023-09-28T10:05:22+11:00

Guru Swaminathan

General

2023-05-26T16:16:29+11:00

Hardik Lakhani

Julius

2022-03-08T16:33:18+11:00

Hayley Weir

Julius

2023-08-29T14:56:54+11:00

Helen Argitis

Julius

2022-05-26T12:13:35+11:00

Inggrid Yapari

Julius

2023-09-05T14:17:37+11:00

Ian Salvador

Julius

2022-06-14T17:51:51+11:00

Ian Thomson

Julius

2023-06-13T10:25:34+11:00

Jerry Cobb

General

2022-06-28T15:49:32+11:00

Joanna Carlos

Julius

2022-02-15T17:48:05+11:00

Jochebed Diaz

General

2023-07-27T15:46:01+11:00

Johaimah Garrido

Julius

2021-03-16T10:08:35+11:00

John Middlemist

Julius

2023-07-13T11:20:18+11:00

Jovilyn Magtoto

Julius

2022-08-02T13:27:08+11:00

Julia Nicole Justo

Julius

2023-02-23T08:34:34+11:00

Julius Labalan

Julius

2023-09-19T11:03:24+11:00

Katherine Whiteside

General

2022-11-30T17:42:36+11:00

Kunal Parikh

Julius

2022-01-25T11:49:10+11:00

Lauren Grouse

Julius

2023-06-15T15:40:06+11:00

Louigi Gardiola

Julius

2023-02-23T08:31:20+11:00

Louise White

General

2021-05-11T16:20:05+11:00

Maddison Schmid

Julius

2023-05-11T09:35:43+11:00

Mariam Kohani

Julius

2022-07-19T09:57:04+11:00

Marian Joyce Makalintal

Julius

2023-06-21T10:48:28+11:00

Marianne Dinsay

Julius

2023-02-23T08:32:42+11:00

Mark McAdam

General

2023-05-03T12:09:06+11:00

Mark Millen

Julius

2022-08-30T12:47:06+11:00

Matthew Knight

Julius

2023-02-23T08:32:48+11:00

Melanie Northrop

Julius

2023-01-31T17:06:41+11:00

Melody Framp

Julius

2023-06-13T11:17:39+11:00

Melody Tuazon

Julius

2023-05-09T15:59:40+11:00

Michael Bryant

General

2022-08-09T11:38:32+11:00

Mohammad Ramezani

General

2022-07-13T16:18:36+11:00

Nadja Schulze

Julius

2023-07-13T13:05:06+11:00

Nevil Cope

General

2022-08-30T14:24:26+11:00

Niall Burke

Julius

2022-10-11T13:16:07+11:00

Nick Rodwell

Julius

2023-06-13T10:21:33+11:00

Nicole Hatten

Julius

2023-07-04T16:34:47+11:00

Ninia Ortile

Julius

2022-10-11T14:26:40+11:00

Pablo Andres Cordova Baya

Julius

2023-06-21T10:48:54+11:00

Parastoo Mousavi

Julius

2022-12-13T10:24:00+11:00

Paul Kirschner

General

2022-02-04T02:26:06+11:00

Peter Boylan

General

2023-03-14T16:22:42+11:00

Peter Philpott

General

2022-11-08T10:05:47+11:00

Rachel Low

Julius

2023-09-18T12:34:26+11:00

Rahul Kaushal

Julius

2023-08-03T10:44:21+11:00

Rajiv Boddupalli

Julius

2022-12-13T09:44:21+11:00

Robert Caminiti

General

2020-10-07T04:02:43+11:00

Robert Crossman

General

2022-03-08T14:18:21+11:00

Rohini Verma

Julius

2021-04-13T12:23:02+11:00

Rohit Satija

Julius

2023-08-29T15:13:11+11:00

Roxane Montierro

Julius

2020-12-15T06:30:55+11:00

Sanjay Narayan

Julius

2023-02-14T11:09:04+11:00

Saurabh Kundi

Julius

2023-02-23T08:26:14+11:00

Shiraan Fernando

Julius

2023-03-14T15:07:49+11:00

Shruthi Srinivas

Julius

2023-08-25T12:02:31+11:00

Sreekanth Badam

Julius

2022-11-09T17:14:36+11:00

Stephen Curtis

Julius

2023-05-30T09:22:30+11:00

Simon Chrétien

Julius

2023-09-15T11:40:55+11:00

Tameka Yallop

General

2023-08-29T16:34:12+11:00

Tanvi Mahajan

Julius

2023-03-28T15:21:57+11:00

Thuc Linh Nguyen Phan

Julius

2023-05-30T09:39:47+11:00

Tony Calusic

Julius

2022-08-01T16:52:17+11:00

Vanessa Vella

General

2021-12-14T12:11:12+11:00

Vergil De Leon

Julius

2023-09-11T10:53:30+11:00

Winona Astian Thian

Julius

2023-02-23T08:34:19+11:00

Yanmin Chen

Julius

2023-09-28T10:13:11+11:00

Zach Barnetby

Julius

2023-06-16T17:32:20+11:00