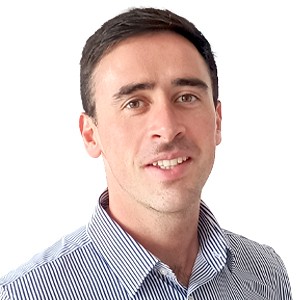 Niall Burke
Agile Project Manager / Scrum Master
---
Areas Of Expertise:
Project Management
Agile Implementation
---
Education:
BSc Biomedical Science, National University of Ireland, Galway Post Graduate Diploma in Pharmaceutical Business & Technology, Innopharma College
---
About Niall Burke
Niall is a dynamic and innovative professional with 6 years of hands-on Project Management experience. He is a certified Agile Scrum Master with extensive experience in delivering software development, process redesign, lean implementation and change management projects.
---
What Niall brings
Possesses excellent work ethic, time management and confident decision-making skills, along with a vast range of technical and analytical skills.
Extensive stakeholder management acquired through numerous projects across the life sciences and financial services sectors.
Excellent leadership and communication skills.
Knowledge in Agile, Waterfall and Hybrid project delivery methodologies.
---
Key Clients:
Sanofi
Novartis
Allied Irish Bank
---
Key Achievements:
As a Global Agile Site Deployment Lead at Sanofi, a global pharmaceutical company, Niall managed an agile team to develop a deployment kit to accelerate site onboarding of a Laboratory Information Management System (LIMS) to 24 pharmaceutical sites. Niall managed 5 scrum teams consisting of 25 team members. He was responsible for integrating SAFe Scrum practices and training into the client organization and ensured compliance across all site deployment leads to the agile methodology and tools to ensure synchronisation across global sites. Niall drove the necessary changes in processes and structures to ensure the new agile tools worked efficiently and effectively in the new environment. He liaised between product teams and local business teams to deliver customer requirements whilst adhering to agreed global templates and ensured that the organization's release controls were documented and understood by development teams and program support teams. Niall also assisted the Program Manager and the development team members in planning each release and successfully implemented a digital solution for the client in a project worth over $100m.
---
As Agile Project Management Office Lead at Novartis, a Swiss-American multinational pharmaceutical, Niall ensured the alignment of Scrum Masters to the project specific hybrid agile/waterfall ways of working and lead weekly touchpoints to ensure synchronisation across workstreams. Niall managed 4 workstreams and a project budget of $20m.He provided project planning, milestone management, scope management, resource forecasting and change management support across the program. Niall set-up dashboards and reporting processes using Jira queries to document project information, including a risk log, action log, decisions log, and issue register. He configured Jira and Confluence applications across all workstreams and developed user guides to ensure alignment across all team members and monitored and controlled user access levels and privileges for program applications for the project team. Niall also managed the overall MS Project Plan while ensuring that project milestones aligned to the agile workstream's projections. He provided workshop support for the Release Train Engineer during Sprint Planning and PI Planning, compiled financial and KPI reports and ensured project costs and finances were managed accordingly. Niall prepared regular status reporting for the engagement of the leadership team and coordinated project closure workshops and ensured lessons learned were documented.
---
As Scrum Master for the Deployment Workstream at Novartis, Niall facilitated agile team meetings, including the Daily Stand-Up, Iteration Planning, Review and Retrospectives. Niall managed 3 workstreams and a project budget of $10m. He coordinated the development of User Stories and Definition of Done criteria while leading a Scrum Team, supported the Product Owner to manage the backlog and guide the team while facilitating a healthy team dynamic with respect to priorities and scope. Niall ensured the use of Scrum and Kanban to facilitate team events and to support program execution and was responsible for the team's alignment to the project's digital tools such as Jira, Confluence, Trello and various Microsoft applications.
---
As Data Migration and Processes Workstream Lead at Novartis, Niall led assessment activities of a pilot site to ascertain the impact of the roll out of a digital tool on the current IT infrastructure, lab instruments, SOPs and resources. He managed the workstream project budget of $6m and a team comprised of 4 onshore and 6 offshore analysts that reported to Niall. He developed the Deployment Plan and Pilot Protocol to detail how the target site would onboard the new cloud-based workflow management solution and quality control applications. He led the development of the Data Migration and Validation Plan through an iterative development process. Niall supported the management of the data migration from SAP QM to a new digital workflow solution and developed a visual tracking tool using Power BI to support the reporting of the progress. He supervised a team of 4 site personnel to execute the data migration plan against a critical timeline while managing expectations from numerous stakeholders.
---
As Process Improvement Consultant at Allied Irish Bank, the largest retail and commercial bank in Ireland, Niall carried out interviews with client resources and management to understand issues and impediments in the Complaints Department. Niall managed 3 workstreams and a project budget of $5m. He managed the 'As-Is' process mapping and analysis to define improvement opportunities and remediate known inefficiencies in the client processes using lean and agile methodologies. Niall lead a team of workshop facilitators as part of a client Design Thinking initiative to ideate solutions and formulate strategies for implementing a new operating model. He also mapped the 'To-Be' end to end processes using lean and design for six sigma methodology and implemented the target operating model using agile practices. Niall supported the Change Management workstream to deliver the communications and training to over 200 client resources.
---
Other Team Members
Declan Boylan

General

2020-01-15T02:30:38+11:00

Gareth James

General

2021-01-19T11:29:58+11:00

Connie McKeage

Julius

2021-03-09T10:14:51+11:00

Michael Blomfield

Julius

2023-02-14T10:26:26+11:00

Temre Green

Julius

2022-11-23T10:52:41+11:00

Mike Stockley

Julius

2022-08-30T12:56:19+11:00

Julie Laoit

Julius

2022-07-19T09:10:59+11:00

Rob Thomsett

General

2023-01-31T17:26:36+11:00

Louise Ford

General

2020-01-15T03:08:18+11:00

Aaron Simonsen

Julius

2022-08-30T11:02:06+11:00

Alan Alehashemi

Julius

2022-07-19T09:07:40+11:00

Alex Jahan

Julius

2022-12-13T10:15:47+11:00

Alex Massie

General

2023-05-09T15:42:17+11:00

Alexander Rivkin

Julius

2023-03-28T15:40:59+11:00

Alexandra Marie Tan

Julius

2023-07-20T17:43:15+11:00

Ali Pahlavan

General

2023-08-03T11:39:33+11:00

Alisdair Brown

Julius

2022-08-30T09:51:38+11:00

Amanda Walker

Julius

2023-06-06T11:10:57+11:00

Anders Madsen

Julius

2022-08-02T17:55:11+11:00

Andrew Cheesman

Julius

2022-08-09T12:17:42+11:00

Andrew Coley

Julius

2021-12-21T12:36:47+11:00

Anish Joshi

Julius

2023-04-04T15:04:09+11:00

Ann Mica Mae Lim

Julius

2023-05-11T14:08:40+11:00

Anna Linfield-Kent

Julius

2023-03-14T16:25:51+11:00

Andrew Marshall

Julius

2023-08-29T14:02:36+11:00

Audrey Teh

Julius

2023-06-13T10:54:02+11:00

Barbara Read

General

2023-04-27T09:42:19+11:00

Bhavna Gupta

Julius

2023-08-25T16:07:45+11:00

Benn Salier

Julius

2021-07-06T13:45:00+11:00

Bita Bagheri

General

2023-08-02T22:15:49+11:00

Blake Dahlen

Julius

2023-07-20T13:58:11+11:00

Callum Dodd

Julius

2022-11-23T11:00:39+11:00

Caroline Lees

Julius

2023-01-17T10:29:22+11:00

Cathy Baldwin

General

2021-01-19T16:55:52+11:00

Chris Sykes

General

2022-05-26T12:50:02+11:00

Callum Barker

Julius

2023-09-15T10:54:00+11:00

Dave Rider

Julius

2022-02-04T01:57:49+11:00

David Johnson

General

2023-06-13T11:44:41+11:00

David Mansfield

Julius

2023-02-14T10:37:32+11:00

Deanna Edwards

Julius

2023-03-28T15:46:04+11:00

Derek Oldham

Julius

2023-05-09T15:38:58+11:00

Elise Kellond-Knight

Julius

2019-07-04T22:47:54+11:00

Eliza Johnson

Julius

2023-07-20T12:18:49+11:00

Ellen Misador

Julius

2023-07-20T15:42:42+11:00

Eugene O'Connell

Julius

2022-03-22T16:14:36+11:00

Fritzie Ligeralde

Julius

2021-08-17T15:41:14+11:00

Gilbert Wong

Julius

2023-09-28T10:05:22+11:00

Guru Swaminathan

General

2023-05-26T16:16:29+11:00

Hardik Lakhani

Julius

2022-03-08T16:33:18+11:00

Hayley Weir

Julius

2023-08-29T14:56:54+11:00

Helen Argitis

Julius

2022-05-26T12:13:35+11:00

Inggrid Yapari

Julius

2023-09-05T14:17:37+11:00

Ian Salvador

Julius

2022-06-14T17:51:51+11:00

Ian Thomson

Julius

2023-06-13T10:25:34+11:00

Jerry Cobb

General

2022-06-28T15:49:32+11:00

Joanna Carlos

Julius

2022-02-15T17:48:05+11:00

Jochebed Diaz

General

2023-07-27T15:46:01+11:00

Johaimah Garrido

Julius

2021-03-16T10:08:35+11:00

John Middlemist

Julius

2023-07-13T11:20:18+11:00

Jovilyn Magtoto

Julius

2022-08-02T13:27:08+11:00

Julia Nicole Justo

Julius

2023-02-23T08:34:34+11:00

Julius Labalan

Julius

2023-09-19T11:03:24+11:00

Katherine Whiteside

General

2022-11-30T17:42:36+11:00

Kunal Parikh

Julius

2022-01-25T11:49:10+11:00

Lauren Grouse

Julius

2023-06-15T15:40:06+11:00

Louigi Gardiola

Julius

2023-02-23T08:31:20+11:00

Louise White

General

2021-05-11T16:20:05+11:00

Maddison Schmid

Julius

2023-05-11T09:35:43+11:00

Mariam Kohani

Julius

2022-07-19T09:57:04+11:00

Marian Joyce Makalintal

Julius

2023-06-21T10:48:28+11:00

Marianne Dinsay

Julius

2023-02-23T08:32:42+11:00

Mark McAdam

General

2023-05-03T12:09:06+11:00

Mark Millen

Julius

2022-08-30T12:47:06+11:00

Matthew Knight

Julius

2023-02-23T08:32:48+11:00

Melanie Northrop

Julius

2023-01-31T17:06:41+11:00

Melody Framp

Julius

2023-06-13T11:17:39+11:00

Melody Tuazon

Julius

2023-05-09T15:59:40+11:00

Michael Bryant

General

2022-08-09T11:38:32+11:00

Mohammad Ramezani

General

2022-07-13T16:18:36+11:00

Nadja Schulze

Julius

2023-07-13T13:05:06+11:00

Nevil Cope

General

2022-08-30T14:24:26+11:00

Niall Burke

Julius

2022-10-11T13:16:07+11:00

Nick Rodwell

Julius

2023-06-13T10:21:33+11:00

Nicole Hatten

Julius

2023-07-04T16:34:47+11:00

Ninia Ortile

Julius

2022-10-11T14:26:40+11:00

Pablo Andres Cordova Baya

Julius

2023-06-21T10:48:54+11:00

Parastoo Mousavi

Julius

2022-12-13T10:24:00+11:00

Paul Kirschner

General

2022-02-04T02:26:06+11:00

Peter Boylan

General

2023-03-14T16:22:42+11:00

Peter Philpott

General

2022-11-08T10:05:47+11:00

Rachel Low

Julius

2023-09-18T12:34:26+11:00

Rahul Kaushal

Julius

2023-08-03T10:44:21+11:00

Rajiv Boddupalli

Julius

2022-12-13T09:44:21+11:00

Robert Caminiti

General

2020-10-07T04:02:43+11:00

Robert Crossman

General

2022-03-08T14:18:21+11:00

Rohini Verma

Julius

2021-04-13T12:23:02+11:00

Rohit Satija

Julius

2023-08-29T15:13:11+11:00

Roxane Montierro

Julius

2020-12-15T06:30:55+11:00

Sanjay Narayan

Julius

2023-02-14T11:09:04+11:00

Saurabh Kundi

Julius

2023-02-23T08:26:14+11:00

Shiraan Fernando

Julius

2023-03-14T15:07:49+11:00

Shruthi Srinivas

Julius

2023-08-25T12:02:31+11:00

Sreekanth Badam

Julius

2022-11-09T17:14:36+11:00

Stephen Curtis

Julius

2023-05-30T09:22:30+11:00

Simon Chrétien

Julius

2023-09-15T11:40:55+11:00

Tameka Yallop

General

2023-08-29T16:34:12+11:00

Tanvi Mahajan

Julius

2023-03-28T15:21:57+11:00

Thuc Linh Nguyen Phan

Julius

2023-05-30T09:39:47+11:00

Tony Calusic

Julius

2022-08-01T16:52:17+11:00

Vanessa Vella

General

2021-12-14T12:11:12+11:00

Vergil De Leon

Julius

2023-09-11T10:53:30+11:00

Winona Astian Thian

Julius

2023-02-23T08:34:19+11:00

Yanmin Chen

Julius

2023-09-28T10:13:11+11:00

Zach Barnetby

Julius

2023-06-16T17:32:20+11:00