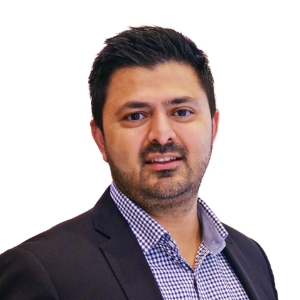 Sanjay Narayan
Program Manager
---
Areas Of Expertise:
Banking and Finance
Transformation Programs
Integration and Middleware
Infrastructure Environments
Project Turnaround
PMO Governance
---
Education:
Bachelor of Technology (Information and Communication Systems)
SAFe 4.0 Agilist (SA)
PRINCE 2 Practitioner
ITIL Foundation v3
---
About Sanjay Narayan
Sanjay is a skilled Program Manager, joining Seven Consulting's Sydney Practice in 2019. He has over 15 years' experience in Project Delivery, with the last 10 years in leadership and management positions. A seasoned professional with experience in delivering large scale IT solutions across the major Australian tier-1 banks (Macquarie, CBA and Westpac). Sanjay has successfully delivered large scale business remediation and worked on projects that include the New Payment Platform, Portfolio Management and Reporting, Data Migration, Real Time Integration and Regulatory Driven Transformation.
---
What Sanjay brings
Extensive experience managing and motivating multi-skilled geographically distributed teams of up to 60 members.
Vendor management with tier-1 technology partners including IBM, TCS, Infosys and HCL.
Experience working with Cloud technology platforms including Amazon, Microsoft Azure and IBM cloud.
Experience in multiple delivery methodologies including Traditional, Agile SAFe and SCRUM.
Strong business and technology acumen with experience in finance and regulatory programs.
---
Key Clients:
Macquarie Group
AMP
Australian Broadcasting Corporation (ABC)
Australian Taxation Office (ATO)
Westpac
Commonwealth Bank
---
Key Achievements:
As Program Manager at Macquarie Group, Sanjay worked within the Financial Management Group Treasury (FMG GT) Division on the GT End-to-End Transformation Program (GTE2E). GTE2E is an organisation wide initiative impacting process, people and technology across Banking Financial Services, Commodities and Global Markets, Corporate Operations Group (Technology), Macquarie Capital, Macquarie Asset Management and Risk Management business units. GTE2E is one of the largest programs of work ever undertaken in Macquarie and will transform the Capital and Liquidity management functions within the group. The program aims to reduce costs, provide scalable platforms for future growth and help meet Capital and Liquidity APRA requirements and expectations. i.e. Regulatory Capital and Liquidity Reforms, BASELIII Accords etc. Sanjay was responsible for setup and delivery of the multi-year program plan and APRA roadmap. The role included supporting the program director in engaging across senior stakeholders, creation of the delivery structure, creation of proprietary tools/frameworks used by teams to capture scope, assumptions, constraints, dependencies, multi-year backlogs, resourcing requirements, program budget and ensuring the program met internal due diligence and external assurance oversight incumbent in regulatory programs of this size and scale. The APRA roadmap/s were delivered and approved; a disciplined agile delivery methodology was employed using the planning collateral as guardrails. Sanjay also setup and operationalised steerco level program reporting metrics and supported various PMO Processes i.e. JIRA Setup, Resource Models, Change Control Processes etc.
---
As Program Manager at Macquarie Group, Sanjay worked across both technology and business program teams managing planning, tracking and execution of the Desktop Remediation stream on the Fusion Program. The Fusion program will replace the General Ledger globally across both Macquarie Group and Non-Group entities. The Desktop remediation stream was responsible for identifying, collating and remediation of existing BAU processes impacted by replacing the GL and ensuring compliance with the updated systems, processes and policies. Remediation scope comprised over 3000+ processes and 10,000+ impacted business objects. Remediation BAU teams comprised the entire Macquarie Group organisational structure spanning across APAC, EMEA and AMEA covering teams distributed across 30+ countries. In addition to Remediation, helped collate and deliver the Business Operational Readiness Testing (ORT) across the fusion program creating a framework to capture 2000+ processes to be run across 500+ team members for a full month end simulation with Fusion prior to go-live.
---
As Program Manager at AMP, Sanjay managed design and solution delivery of a PMO solution for circa ~130 projects / budget ~$100M+ for the Group Technology, Cyber and Data business unit including helping operationalise the PMO office. Provided portfolio governance reporting and data consolidation across the business including insights on risk posture, strategic alignment of initiatives, benefits realisation, RAID and an overall portfolio roadmap. The solution had a wide employee impact across 11 IT business divisions and delivery practices.
---
As Program Manager at the Australian Broadcasting Corporation (ABC), Sanjay helped setup the foundation delivery strategy for the Content Management System (CMS) Upgrade project targeting the migration of majority of ABC's digital products to Cloud and the syndication of content to commercial partners.
---
As Program Manager at the Australian Taxation Office (ATO), Sanjay provided consultancy services to define a robust, tailored and fit-for-purpose program governance and delivery structure to support the Application Modernisation sub-program mobilisation.
---
As Program Manager at Westpac – Workflow and Integration Services, Sanjay managed the change and delivery of Real Time Integration (RTI) capability across all Westpac brands including BT, Bank of Melbourne and St George. He led multi-disciplinary teams of 60+ team members and had delivery responsibility for over 100 integration projects/year with a combined budget to $20M/year. Sanjay also led the setup of the Westpac Digital Platform (WDP) – Centre of Enablement (COE) which established the initial operating model for the WDP project pipeline including facilitating engagement, prioritisation and delivery execution. WDP utilised cloud based technologies to enable microservices architecture within the bank. Sanjay directly line managed up to 7 senior project managers and delivered projects using both Waterfall and Agile methodologies, including gaining certification in the SAFe 4.0 framework.
---
As Senior Project Manager at Westpac – Workflow and Integration Services, Sanjay delivered integration projects for Westpac's core systems including Group Customer Data, Relationship Manager, Credit Bureau, Leasing and the New Payments Platform (NPP). Sanjay managed multiple concurrent projects per quarter with combined budgets to $5M/year and multi-disciplinary satellite teams of up to 20 members.
---
As Project Manager at Macquarie Group – Corporate Asset and Finance (CAF), Sanjay delivered projects across the Asset Leasing and Distribution Finance (MDF) business areas. Projects included delivery of components to support large scale migration between CAF leasing systems and business to business (B2B) electronic data interchange (EDI) for MDF. Sanjay gained extensive global team collaboration and vendor management experience managing distributed teams across Switzerland, USA, UK, Philippines, and Australia. Sanjay managed analysis, development, build and test activities with business teams for Lease Origination, Distribution Finance, Lease Maintenance, Terminations, General Ledger and Reporting.
---
As Project Manager and Solution Delivery Manager at Commonwealth Bank, Sanjay worked on CBA's $1.6 billion Core Banking Modernisation (CBM) program, Sanjay managed the initiation phase of the Service and Maintenance L3B stream and end-to-end delivery of the Customer Offer Sales and Service Engine (COSSE). COSSE was a CBM strategic project to integrate a Business Rules Engine (PEGA) into CBA's online and internal client facing channels. This initiative allowed CBA to provide dynamic and tailored products to customers including provisioning for dynamic pricing and targeted campaigns. Delivered scope with budgets to $15M/year and managed project teams with up to 50 members.
---
As Solution Delivery Team Leader at Commonwealth Bank, Sanjay assisted in the design and development of a new retail card product (Debit MasterCard) to integrate in both Netbank (CBA's Online Platform) and CommSee and gained exposure to retail products and product lifecycle including origination, service & maintenance, payments, batch and downstream processing, account closure and management reporting.
---
Other Team Members
Declan Boylan

General

2020-01-15T02:30:38+11:00

Gareth James

General

2021-01-19T11:29:58+11:00

Connie McKeage

Julius

2021-03-09T10:14:51+11:00

Michael Blomfield

Julius

2023-02-14T10:26:26+11:00

Temre Green

Julius

2022-11-23T10:52:41+11:00

Mike Stockley

Julius

2022-08-30T12:56:19+11:00

Julie Laoit

Julius

2022-07-19T09:10:59+11:00

Rob Thomsett

General

2023-01-31T17:26:36+11:00

Louise Ford

General

2020-01-15T03:08:18+11:00

Aaron Simonsen

Julius

2022-08-30T11:02:06+11:00

Alan Alehashemi

Julius

2022-07-19T09:07:40+11:00

Alex Jahan

Julius

2022-12-13T10:15:47+11:00

Alex Massie

General

2023-05-09T15:42:17+11:00

Alexander Rivkin

Julius

2023-03-28T15:40:59+11:00

Alexandra Marie Tan

Julius

2023-07-20T17:43:15+11:00

Ali Pahlavan

General

2023-08-03T11:39:33+11:00

Alisdair Brown

Julius

2022-08-30T09:51:38+11:00

Amanda Walker

Julius

2023-06-06T11:10:57+11:00

Anders Madsen

Julius

2022-08-02T17:55:11+11:00

Andrew Cheesman

Julius

2022-08-09T12:17:42+11:00

Andrew Coley

Julius

2021-12-21T12:36:47+11:00

Anish Joshi

Julius

2023-04-04T15:04:09+11:00

Ann Mica Mae Lim

Julius

2023-05-11T14:08:40+11:00

Anna Linfield-Kent

Julius

2023-03-14T16:25:51+11:00

Andrew Marshall

Julius

2023-08-29T14:02:36+11:00

Audrey Teh

Julius

2023-06-13T10:54:02+11:00

Barbara Read

General

2023-04-27T09:42:19+11:00

Bhavna Gupta

Julius

2023-08-25T16:07:45+11:00

Benn Salier

Julius

2021-07-06T13:45:00+11:00

Bita Bagheri

General

2023-08-02T22:15:49+11:00

Blake Dahlen

Julius

2023-07-20T13:58:11+11:00

Callum Dodd

Julius

2022-11-23T11:00:39+11:00

Caroline Lees

Julius

2023-01-17T10:29:22+11:00

Cathy Baldwin

General

2021-01-19T16:55:52+11:00

Chris Sykes

General

2022-05-26T12:50:02+11:00

Callum Barker

Julius

2023-09-15T10:54:00+11:00

Dave Rider

Julius

2022-02-04T01:57:49+11:00

David Johnson

General

2023-06-13T11:44:41+11:00

David Mansfield

Julius

2023-02-14T10:37:32+11:00

Deanna Edwards

Julius

2023-03-28T15:46:04+11:00

Derek Oldham

Julius

2023-05-09T15:38:58+11:00

Elise Kellond-Knight

Julius

2019-07-04T22:47:54+11:00

Eliza Johnson

Julius

2023-07-20T12:18:49+11:00

Ellen Misador

Julius

2023-07-20T15:42:42+11:00

Eugene O'Connell

Julius

2022-03-22T16:14:36+11:00

Fritzie Ligeralde

Julius

2021-08-17T15:41:14+11:00

Gilbert Wong

Julius

2023-09-28T10:05:22+11:00

Guru Swaminathan

General

2023-05-26T16:16:29+11:00

Hardik Lakhani

Julius

2022-03-08T16:33:18+11:00

Hayley Weir

Julius

2023-08-29T14:56:54+11:00

Helen Argitis

Julius

2022-05-26T12:13:35+11:00

Inggrid Yapari

Julius

2023-09-05T14:17:37+11:00

Ian Salvador

Julius

2022-06-14T17:51:51+11:00

Ian Thomson

Julius

2023-06-13T10:25:34+11:00

Jerry Cobb

General

2022-06-28T15:49:32+11:00

Joanna Carlos

Julius

2022-02-15T17:48:05+11:00

Jochebed Diaz

General

2023-07-27T15:46:01+11:00

Johaimah Garrido

Julius

2021-03-16T10:08:35+11:00

John Middlemist

Julius

2023-07-13T11:20:18+11:00

Jovilyn Magtoto

Julius

2022-08-02T13:27:08+11:00

Julia Nicole Justo

Julius

2023-02-23T08:34:34+11:00

Julius Labalan

Julius

2023-09-19T11:03:24+11:00

Katherine Whiteside

General

2022-11-30T17:42:36+11:00

Kunal Parikh

Julius

2022-01-25T11:49:10+11:00

Lauren Grouse

Julius

2023-06-15T15:40:06+11:00

Louigi Gardiola

Julius

2023-02-23T08:31:20+11:00

Louise White

General

2021-05-11T16:20:05+11:00

Maddison Schmid

Julius

2023-05-11T09:35:43+11:00

Mariam Kohani

Julius

2022-07-19T09:57:04+11:00

Marian Joyce Makalintal

Julius

2023-06-21T10:48:28+11:00

Marianne Dinsay

Julius

2023-02-23T08:32:42+11:00

Mark McAdam

General

2023-05-03T12:09:06+11:00

Mark Millen

Julius

2022-08-30T12:47:06+11:00

Matthew Knight

Julius

2023-02-23T08:32:48+11:00

Melanie Northrop

Julius

2023-01-31T17:06:41+11:00

Melody Framp

Julius

2023-06-13T11:17:39+11:00

Melody Tuazon

Julius

2023-05-09T15:59:40+11:00

Michael Bryant

General

2022-08-09T11:38:32+11:00

Mohammad Ramezani

General

2022-07-13T16:18:36+11:00

Nadja Schulze

Julius

2023-07-13T13:05:06+11:00

Nevil Cope

General

2022-08-30T14:24:26+11:00

Niall Burke

Julius

2022-10-11T13:16:07+11:00

Nick Rodwell

Julius

2023-06-13T10:21:33+11:00

Nicole Hatten

Julius

2023-07-04T16:34:47+11:00

Ninia Ortile

Julius

2022-10-11T14:26:40+11:00

Pablo Andres Cordova Baya

Julius

2023-06-21T10:48:54+11:00

Parastoo Mousavi

Julius

2022-12-13T10:24:00+11:00

Paul Kirschner

General

2022-02-04T02:26:06+11:00

Peter Boylan

General

2023-03-14T16:22:42+11:00

Peter Philpott

General

2022-11-08T10:05:47+11:00

Rachel Low

Julius

2023-09-18T12:34:26+11:00

Rahul Kaushal

Julius

2023-08-03T10:44:21+11:00

Rajiv Boddupalli

Julius

2022-12-13T09:44:21+11:00

Robert Caminiti

General

2020-10-07T04:02:43+11:00

Robert Crossman

General

2022-03-08T14:18:21+11:00

Rohini Verma

Julius

2021-04-13T12:23:02+11:00

Rohit Satija

Julius

2023-08-29T15:13:11+11:00

Roxane Montierro

Julius

2020-12-15T06:30:55+11:00

Sanjay Narayan

Julius

2023-02-14T11:09:04+11:00

Saurabh Kundi

Julius

2023-02-23T08:26:14+11:00

Shiraan Fernando

Julius

2023-03-14T15:07:49+11:00

Shruthi Srinivas

Julius

2023-08-25T12:02:31+11:00

Sreekanth Badam

Julius

2022-11-09T17:14:36+11:00

Stephen Curtis

Julius

2023-05-30T09:22:30+11:00

Simon Chrétien

Julius

2023-09-15T11:40:55+11:00

Tameka Yallop

General

2023-08-29T16:34:12+11:00

Tanvi Mahajan

Julius

2023-03-28T15:21:57+11:00

Thuc Linh Nguyen Phan

Julius

2023-05-30T09:39:47+11:00

Tony Calusic

Julius

2022-08-01T16:52:17+11:00

Vanessa Vella

General

2021-12-14T12:11:12+11:00

Vergil De Leon

Julius

2023-09-11T10:53:30+11:00

Winona Astian Thian

Julius

2023-02-23T08:34:19+11:00

Yanmin Chen

Julius

2023-09-28T10:13:11+11:00

Zach Barnetby

Julius

2023-06-16T17:32:20+11:00