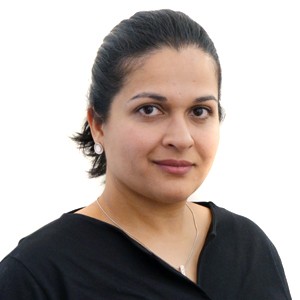 Rohini Verma
Senior Project Manager
---
Areas Of Expertise:
Project and Program Delivery
Stakeholder and Vendor Management
Financial Management
---
Education:
AgilePM Foundation, PMP and Prince2 Certified Practitioner
Masters in Information Technology Management, (RMIT)
Bachelor of Computer Science, (UNSW)
ITIL – Foundation Level Certified
Six Sigma Yellow-belt trained
---
About Rohini Verma
Rohini is a results-oriented Project Manager with substantial experience delivering complex projects within several industry sectors including finance, health, retail, consulting and telecommunications. Experienced working on complex, transformational projects of budgets up to $200 million.
End-to-end lifecycle experience working on infrastructure builds, software development, system integrations, business remediation and change management.
---
What Rohini brings
Quality Management including Quality Assurance Reviews & Audit.
Project scoping, planning and critical path analysis.
Excellent stakeholder and vendor management skills
Proactive issues and risk management.
Business case development
---
Key Clients:
Macquarie Group
Australia National Bank (ANZ)
Practifi
ArtMoney
AMP
Telstra
BT Global Services
---
Key Achievements:
As Senior Project Manager for Macquarie Group, Rohini was responsible for the day to day running of the Oracle Fusion Cloud implementation (replacing Macquarie's existing PeopleSoft General Ledger) with over 300 resources and a budget of $150M. Working with Deloitte, Oracle Consulting Services and Macquarie Finance and Technology resources locally and offshore, Rohini managed seven streams with intricate interdependencies from design through to test, to deliver a solution that meets Macquarie Finance requirements, globally.
---
As Senior Project Manager for ANZ, Rohini managed the segmentation of records leading up to the sale to Zurich which involved the redaction of documents, segregation of emails, and access to systems. She also set up a standard reporting dashboard and process for multiple streams and was responsible for establishing a framework and structure to track business readiness for handover to Zurich.
---
As Engagement Manager for Practifi, (startup company on Salesforce platform) Rohini was responsible for the successful 'on boarding' of all new clients as well as larger implementations for clients such as Mercer.
---
As Project Manager for ArtMoney, Rohini managed the development of the ArtMoney website for Australia, New Zealand and the United States. She oversaw the global expansion of Art Money into New Zealand and the United States, managed the development of a CMS, integration to social media and SEO campaigns, assisted in improving the functionality and processes (delivery and support) of the Art Money Website and defined reporting requirements and implemented in Microsoft Power BI. Rohini defined processes to manage IT costs, improve vendor delivery, and to manage the pipeline of work and outsourced the testing function to improve quality and reduce costs.
---
As Program Manager for AMP, Rohini improved the quality of delivery of Networks projects by forming a program of networking initiatives and managing releases/changes. She rescued and delivered a failing WAN upgrade project. She developed and tracked a programme schedule involving AMP, change management and multiple vendors to successfully implement activity-based working (ABW)
---
As IT Program Manager for Prudential (UK), Rohini was engaged to resolve major issues with the Solvency II platform before transitioning the Program to Support. Responsible for interfacing with key stakeholders from Group Risk, Group Audit and Compliance and global representatives as a part of the Solvency II Delivery Management Committee and Program Change Board. She ensured delivery of IT infrastructure and software updates in accordance with business requirements and reporting cycles, and worked closely with Senior Actuaries to understand and prioritise system changes into releases. Rohini was also responsible for the build and incremental improvements to support the Internal Capital Modelling interface and the Risk Scenario Generator using Agile delivery.
---
As Senior Project Manager for Prudential (UK), Rohini was responsible for the delivery of Oracle Hyperion to a user base of 350 HFM and 50 Planning users globally. She delivered to Sarbanes-Oxley (SoX) and security requirements, liaising with Group Security and Audit teams, managed multiple suppliers including consultants from Deloitte and IBM. Rohini estimated project costs for input to Business Case and instigated controls to manage and report on project spend. She managed the full project lifecycle, from requirements workshops, design overviews, build, performance and operational testing (including backup and recovery, HA and DR testing) through to transition to support and managed the documentation and implementation of the Support Plan, and support processes. Through the project lifecycle, Rohini ensured the environments met the agreed production level SLAs, maximising availability for developers working to tight timeframes, included organising 24×7 support from the project team and coordinating multiple regional IT teams to ensure successful deployment.
---
As Project Manager at Telstra, Rohini managed the infrastructure requirements for a key business initiative involving the replacement of the Telstra Point-of-Sales systems at Telstra stores working with IBM and Accenture resources based locally and offshore. Rohini organised requirements workshops for the Retail IT Transformation project and successfully delivered 2 environments in a very short timeframe.
---
As Program/Portfolio Manager at BT Global Services, Rohini managed the test and production environment builds from design to the system integration of a 'first in the world' medical system. She was instrumental in turning around the failing Medical Image Archive (MIA) project within 5 months with the successful delivery of a dual (active-active) data centre with full disaster recovery and replication. She delivered PACS image sharing solution from concept to market in eight months reusing existing hardware to save the business £3M. She worked with several vendors (iSoft, Sectra, HP) and several internal teams within a matrix environment.
---
Other Team Members
Declan Boylan

General

2020-01-15T02:30:38+11:00

Gareth James

General

2021-01-19T11:29:58+11:00

Connie McKeage

Julius

2021-03-09T10:14:51+11:00

Michael Blomfield

Julius

2023-02-14T10:26:26+11:00

Temre Green

Julius

2022-11-23T10:52:41+11:00

Mike Stockley

Julius

2022-08-30T12:56:19+11:00

Julie Laoit

Julius

2022-07-19T09:10:59+11:00

Rob Thomsett

General

2023-01-31T17:26:36+11:00

Louise Ford

General

2020-01-15T03:08:18+11:00

Aaron Simonsen

Julius

2022-08-30T11:02:06+11:00

Alan Alehashemi

Julius

2022-07-19T09:07:40+11:00

Alex Jahan

Julius

2022-12-13T10:15:47+11:00

Alex Massie

General

2023-05-09T15:42:17+11:00

Alexander Rivkin

Julius

2023-03-28T15:40:59+11:00

Alexandra Marie Tan

Julius

2023-07-20T17:43:15+11:00

Ali Pahlavan

General

2023-08-03T11:39:33+11:00

Alisdair Brown

Julius

2022-08-30T09:51:38+11:00

Amanda Walker

Julius

2023-06-06T11:10:57+11:00

Anders Madsen

Julius

2022-08-02T17:55:11+11:00

Andrew Cheesman

Julius

2022-08-09T12:17:42+11:00

Andrew Coley

Julius

2021-12-21T12:36:47+11:00

Anish Joshi

Julius

2023-04-04T15:04:09+11:00

Ann Mica Mae Lim

Julius

2023-05-11T14:08:40+11:00

Anna Linfield-Kent

Julius

2023-03-14T16:25:51+11:00

Andrew Marshall

Julius

2023-08-29T14:02:36+11:00

Audrey Teh

Julius

2023-06-13T10:54:02+11:00

Barbara Read

General

2023-04-27T09:42:19+11:00

Bhavna Gupta

Julius

2023-08-25T16:07:45+11:00

Benn Salier

Julius

2021-07-06T13:45:00+11:00

Bita Bagheri

General

2023-08-02T22:15:49+11:00

Blake Dahlen

Julius

2023-07-20T13:58:11+11:00

Callum Dodd

Julius

2022-11-23T11:00:39+11:00

Caroline Lees

Julius

2023-01-17T10:29:22+11:00

Cathy Baldwin

General

2021-01-19T16:55:52+11:00

Chris Sykes

General

2022-05-26T12:50:02+11:00

Callum Barker

Julius

2023-09-15T10:54:00+11:00

Dave Rider

Julius

2022-02-04T01:57:49+11:00

David Johnson

General

2023-06-13T11:44:41+11:00

David Mansfield

Julius

2023-02-14T10:37:32+11:00

Deanna Edwards

Julius

2023-03-28T15:46:04+11:00

Derek Oldham

Julius

2023-05-09T15:38:58+11:00

Elise Kellond-Knight

Julius

2019-07-04T22:47:54+11:00

Eliza Johnson

Julius

2023-07-20T12:18:49+11:00

Ellen Misador

Julius

2023-07-20T15:42:42+11:00

Eugene O'Connell

Julius

2022-03-22T16:14:36+11:00

Fritzie Ligeralde

Julius

2021-08-17T15:41:14+11:00

Gilbert Wong

Julius

2023-09-28T10:05:22+11:00

Guru Swaminathan

General

2023-05-26T16:16:29+11:00

Hardik Lakhani

Julius

2022-03-08T16:33:18+11:00

Hayley Weir

Julius

2023-08-29T14:56:54+11:00

Helen Argitis

Julius

2022-05-26T12:13:35+11:00

Inggrid Yapari

Julius

2023-09-05T14:17:37+11:00

Ian Salvador

Julius

2022-06-14T17:51:51+11:00

Ian Thomson

Julius

2023-06-13T10:25:34+11:00

Jerry Cobb

General

2022-06-28T15:49:32+11:00

Joanna Carlos

Julius

2022-02-15T17:48:05+11:00

Jochebed Diaz

General

2023-07-27T15:46:01+11:00

Johaimah Garrido

Julius

2021-03-16T10:08:35+11:00

John Middlemist

Julius

2023-07-13T11:20:18+11:00

Jovilyn Magtoto

Julius

2022-08-02T13:27:08+11:00

Julia Nicole Justo

Julius

2023-02-23T08:34:34+11:00

Julius Labalan

Julius

2023-09-19T11:03:24+11:00

Katherine Whiteside

General

2022-11-30T17:42:36+11:00

Kunal Parikh

Julius

2022-01-25T11:49:10+11:00

Lauren Grouse

Julius

2023-06-15T15:40:06+11:00

Louigi Gardiola

Julius

2023-02-23T08:31:20+11:00

Louise White

General

2021-05-11T16:20:05+11:00

Maddison Schmid

Julius

2023-05-11T09:35:43+11:00

Mariam Kohani

Julius

2022-07-19T09:57:04+11:00

Marian Joyce Makalintal

Julius

2023-06-21T10:48:28+11:00

Marianne Dinsay

Julius

2023-02-23T08:32:42+11:00

Mark McAdam

General

2023-05-03T12:09:06+11:00

Mark Millen

Julius

2022-08-30T12:47:06+11:00

Matthew Knight

Julius

2023-02-23T08:32:48+11:00

Melanie Northrop

Julius

2023-01-31T17:06:41+11:00

Melody Framp

Julius

2023-06-13T11:17:39+11:00

Melody Tuazon

Julius

2023-05-09T15:59:40+11:00

Michael Bryant

General

2022-08-09T11:38:32+11:00

Mohammad Ramezani

General

2022-07-13T16:18:36+11:00

Nadja Schulze

Julius

2023-07-13T13:05:06+11:00

Nevil Cope

General

2022-08-30T14:24:26+11:00

Niall Burke

Julius

2022-10-11T13:16:07+11:00

Nick Rodwell

Julius

2023-06-13T10:21:33+11:00

Nicole Hatten

Julius

2023-07-04T16:34:47+11:00

Ninia Ortile

Julius

2022-10-11T14:26:40+11:00

Pablo Andres Cordova Baya

Julius

2023-06-21T10:48:54+11:00

Parastoo Mousavi

Julius

2022-12-13T10:24:00+11:00

Paul Kirschner

General

2022-02-04T02:26:06+11:00

Peter Boylan

General

2023-03-14T16:22:42+11:00

Peter Philpott

General

2022-11-08T10:05:47+11:00

Rachel Low

Julius

2023-09-18T12:34:26+11:00

Rahul Kaushal

Julius

2023-08-03T10:44:21+11:00

Rajiv Boddupalli

Julius

2022-12-13T09:44:21+11:00

Robert Caminiti

General

2020-10-07T04:02:43+11:00

Robert Crossman

General

2022-03-08T14:18:21+11:00

Rohini Verma

Julius

2021-04-13T12:23:02+11:00

Rohit Satija

Julius

2023-08-29T15:13:11+11:00

Roxane Montierro

Julius

2020-12-15T06:30:55+11:00

Sanjay Narayan

Julius

2023-02-14T11:09:04+11:00

Saurabh Kundi

Julius

2023-02-23T08:26:14+11:00

Shiraan Fernando

Julius

2023-03-14T15:07:49+11:00

Shruthi Srinivas

Julius

2023-08-25T12:02:31+11:00

Sreekanth Badam

Julius

2022-11-09T17:14:36+11:00

Stephen Curtis

Julius

2023-05-30T09:22:30+11:00

Simon Chrétien

Julius

2023-09-15T11:40:55+11:00

Tameka Yallop

General

2023-08-29T16:34:12+11:00

Tanvi Mahajan

Julius

2023-03-28T15:21:57+11:00

Thuc Linh Nguyen Phan

Julius

2023-05-30T09:39:47+11:00

Tony Calusic

Julius

2022-08-01T16:52:17+11:00

Vanessa Vella

General

2021-12-14T12:11:12+11:00

Vergil De Leon

Julius

2023-09-11T10:53:30+11:00

Winona Astian Thian

Julius

2023-02-23T08:34:19+11:00

Yanmin Chen

Julius

2023-09-28T10:13:11+11:00

Zach Barnetby

Julius

2023-06-16T17:32:20+11:00