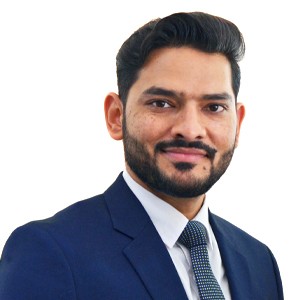 Saurabh Kundi
PMO Lead
---
Areas Of Expertise:
Project & PMO Establishment & Control
Planning & Scheduling
Process Improvement
---
Education:
Post Graduate Diploma in Business Administration (Operations Management), SCDL
B.Tech in Mechanical Engineering, BCET
Project Management Professional (PMP)
PRINCE2 (Foundation)
CSM (Certified Scrum Master)
Certified SAFe® 5 Agilist
---
About Saurabh Kundi
Saurabh joined Seven Consulting's Sydney team in May 2021. He is an accomplished, result-oriented project management professional with more than 13 years' experience across various industries and environments. Saurabh brings expertise in establishing appropriate frameworks and project management processes as well as planning and scheduling management to achieve delivery on time, within budget, and to the agreed quality specifications.
---
What Saurabh brings
Strong communication

, leadership, and

organisational

skills that enhance service delivery and efficiency in overall project performance.

Well-versed in

a number of

project management tools including Primavera, MS Project, WRIKE,

GanttPRO

.

Strong analytical skills (data collection,

compilation,

and analysis).

Skilled in

leveraging

knowledge and experience as well as industry best practices (

i.e.,

Prince 2 & PMBOK) to solve problems and deliver process improvements.
---
Key Clients:
UBank / NAB
B20 International Summit, 2020 (Evalueserve SEZ Private Limited)
Reliance Jio Infocomm Ltd.
Coastal Gujarat Power Limited (A Tata Power Company)
---
Key Achievements:
As Senior PMO Consultant at NAB, Saurabh was responsible for developing and maintaining the master schedule for the project including dependency management across the 9 work streams to drive final delivery dates in line with Steering Committee approval for the Digital Banking Integration project. He monitored project risks and issues and assessed the impact to the project timeline as well as produced weekly reporting on project progress and any impacts to critical path.  Saurabh facilitated the implementation planning for one of the key project milestones and supported stream leads through the successful implementation.
---
As PMO Consultant at Evalueserve SEZ Private Limited, Saurabh was responsible for successfully conducting the B20 (Business 20) International Event from inception through to final Summit. His key role was to develop the project schedule by defining the main tasks and sub-tasks up to micro level, assigning the responsibilities and subsequently monitoring the progress against the baseline and carrying out critical path analysis and developing Gantt charts for the project. Saurabh developed a RACI matrix for Knowledge Partners (BCG, Accenture, PwC, and McKinsey) and B20 Secretariat, he also conducted detailed data analysis to finalise taskforce members from more than 50 countries and created the framework, plan, and processes to be used for risk management. 
---
As PMO Lead at Reliance Jio Infocomm Ltd, Saurabh was responsible for leading a team of project managers and analysts to deliver and prioritise a set of projects in line with operating group strategies. Saurabh built a PMO by creating a standard framework, processes, and procedures to follow for all enterprise projects. He was involved in planning, execution, monitoring and controlling all project that included civil, mechanical, and electrical construction activities for enodeb erection and OFC execution. He prepared and maintained integrated master schedule and established project baseline and functional schedules and monitored the progress to ensure project delivery within schedule & budget. Saurabh monitored program risks through an on-going process of identifying, assessing, tracking, developing, and executing risk mitigation strategies and Developed project status dashboards, red flag reports, schedule analysis and other various MIS reports covering major project progress aspects and criticalities. Saurabh assisted in gathering overall project requirements and setting up the project budget, then monitored end to end execution of the same for timely delivery.
---
As Planning Executive at Coastal Gujarat Power Limited, Saurabh was involved in preparing project baseline schedule for construction of 4000 MW Ultra Mega Power Project from concept to commissioning and monitoring the progress against the same. His key responsibilities included, leading the discussions with cross functional stakeholders to produce integrated project schedule, performed earned value analysis, schedule variance analysis, and implemented corrective actions, developed progress measurement system by providing weightages to activities based on the man-hours required and the quantum of the work and created executive presentations on portfolio status for the Board of Directors (BOD) and Senior Management. Saurabh also was involved with various process audits, internal as well as external, and was involved in strategy planning for future expansion projects & submission of the proposed execution plan to local Government bodies and authorities.
---
Other Team Members
Declan Boylan

General

2020-01-15T02:30:38+11:00

Gareth James

General

2021-01-19T11:29:58+11:00

Connie McKeage

Julius

2021-03-09T10:14:51+11:00

Michael Blomfield

Julius

2023-02-14T10:26:26+11:00

Temre Green

Julius

2022-11-23T10:52:41+11:00

Mike Stockley

Julius

2022-08-30T12:56:19+11:00

Julie Laoit

Julius

2022-07-19T09:10:59+11:00

Rob Thomsett

General

2023-01-31T17:26:36+11:00

Louise Ford

General

2020-01-15T03:08:18+11:00

Aaron Simonsen

Julius

2023-11-13T23:52:10+11:00

Alan Alehashemi

Julius

2022-07-19T09:07:40+11:00

Alex Jahan

Julius

2023-11-14T12:14:04+11:00

Alex Massie

General

2023-11-14T12:25:43+11:00

Alexander Rivkin

Julius

2023-11-14T00:06:50+11:00

Alexandra Marie Tan

Julius

2023-07-20T17:43:15+11:00

Ali Pahlavan

General

2023-11-14T00:19:34+11:00

Alisdair Brown

Julius

2022-08-30T09:51:38+11:00

Amanda Walker

Julius

2023-11-14T12:09:46+11:00

Andrew Cheesman

Julius

2022-08-09T12:17:42+11:00

Anna Linfield-Kent

Julius

2023-11-14T11:45:20+11:00

Andrew Marshall

Julius

2023-08-29T14:02:36+11:00

Audrey Teh

Julius

2023-11-14T01:03:53+11:00

Barbara Read

General

2023-11-13T23:44:22+11:00

Bhavna Gupta

Julius

2023-11-30T01:43:24+11:00

Benn Salier

Julius

2023-10-17T17:16:47+11:00

Bita Bagheri

General

2023-08-02T22:15:49+11:00

Blake Dahlen

Julius

2023-07-20T13:58:11+11:00

Caroline Lees

Julius

2023-11-14T01:15:13+11:00

Cathy Baldwin

General

2021-01-19T16:55:52+11:00

Chris Sykes

General

2022-05-26T12:50:02+11:00

Callum Barker

Julius

2023-09-15T10:54:00+11:00

Dave Rider

Julius

2023-11-14T11:28:26+11:00

David Johnson

General

2023-06-13T11:44:41+11:00

Deanna Edwards

Julius

2023-03-28T15:46:04+11:00

Derek Oldham

Julius

2023-11-14T01:43:07+11:00

Elise Kellond-Knight

Julius

2019-07-04T22:47:54+11:00

Eliza Johnson

Julius

2023-11-14T01:52:47+11:00

Ellen Misador

Julius

2023-11-14T11:16:10+11:00

Eugene O'Connell

Julius

2023-11-14T11:03:19+11:00

Fritzie Ligeralde

Julius

2023-10-27T12:23:57+11:00

Gilbert Wong

Julius

2023-09-28T10:05:22+11:00

Guru Swaminathan

General

2023-05-26T16:16:29+11:00

Hardik Lakhani

Julius

2023-11-14T10:59:45+11:00

Hayley Weir

Julius

2023-08-29T14:56:54+11:00

Helen Argitis

Julius

2023-11-14T10:56:19+11:00

Inggrid Yapari

Julius

2023-09-05T14:17:37+11:00

Ian Salvador

Julius

2023-11-14T02:22:20+11:00

Jerry Cobb

General

2022-06-28T15:49:32+11:00

Joanna Carlos

Julius

2022-02-15T17:48:05+11:00

Jochebed Diaz

General

2023-07-27T15:46:01+11:00

Johaimah Garrido

Julius

2021-03-16T10:08:35+11:00

John Middlemist

Julius

2023-11-14T02:36:08+11:00

Jovilyn Magtoto

Julius

2022-08-02T13:27:08+11:00

Julia Nicole Justo

Julius

2023-11-14T10:49:49+11:00

Julius Labalan

Julius

2023-10-05T10:04:21+11:00

Katherine Whiteside

General

2023-11-14T10:44:56+11:00

Kunal Parikh

Julius

2022-01-25T11:49:10+11:00

Lauren Grouse

Julius

2023-11-14T10:37:06+11:00

Louigi Gardiola

Julius

2023-02-23T08:31:20+11:00

Maddison Schmid

Julius

2023-11-14T10:31:00+11:00

Mariam Kohani

Julius

2022-07-19T09:57:04+11:00

Marian Joyce Makalintal

Julius

2023-06-21T10:48:28+11:00

Marianne Dinsay

Julius

2023-11-14T10:27:12+11:00

Mark McAdam

General

2023-05-03T12:09:06+11:00

Mark Millen

Julius

2022-08-30T12:47:06+11:00

Matthew Knight

Julius

2023-11-14T10:24:09+11:00

Melody Framp

Julius

2023-11-14T10:20:38+11:00

Melody Tuazon

Julius

2023-05-09T15:59:40+11:00

Michael Bryant

General

2023-11-13T17:56:32+11:00

Mohammad Ramezani

General

2022-07-13T16:18:36+11:00

Nadja Schulze

Julius

2023-07-13T13:05:06+11:00

Nevil Cope

General

2022-08-30T14:24:26+11:00

Niall Burke

Julius

2023-11-13T17:36:58+11:00

Nick Rodwell

Julius

2023-11-13T17:46:28+11:00

Nicole Hatten

Julius

2023-11-13T17:33:35+11:00

Ninia Ortile

Julius

2022-10-11T14:26:40+11:00

Pablo Andres Cordova Baya

Julius

2023-06-21T10:48:54+11:00

Parastoo Mousavi

Julius

2023-11-13T17:25:28+11:00

Paul Kirschner

General

2022-02-04T02:26:06+11:00

Peter Boylan

General

2023-03-14T16:22:42+11:00

Peter Philpott

General

2022-11-08T10:05:47+11:00

Rachel Low

Julius

2023-09-18T12:34:26+11:00

Rajiv Boddupalli

Julius

2023-11-13T16:14:32+11:00

Robert Crossman

General

2022-03-08T14:18:21+11:00

Rohini Verma

Julius

2023-11-30T02:00:48+11:00

Rohit Satija

Julius

2023-11-13T15:37:09+11:00

Roxane Montierro

Julius

2020-12-15T06:30:55+11:00

Sanjay Narayan

Julius

2023-02-14T11:09:04+11:00

Saurabh Kundi

Julius

2023-11-13T15:08:30+11:00

Shiraan Fernando

Julius

2023-03-14T15:07:49+11:00

Shruthi Srinivas

Julius

2023-08-25T12:02:31+11:00

Sreekanth Badam

Julius

2023-11-30T03:24:02+11:00

Stephen Curtis

Julius

2023-11-13T13:01:36+11:00

Simon Chrétien

Julius

2023-09-15T11:40:55+11:00

Tameka Yallop

General

2023-08-29T16:34:12+11:00

Tanvi Mahajan

Julius

2023-11-13T12:45:18+11:00

Thuc Linh Nguyen Phan

Julius

2023-11-13T12:39:10+11:00

Tony Calusic

Julius

2023-11-13T12:21:56+11:00

Vanessa Vella

General

2023-11-30T02:22:53+11:00

Vergil De Leon

Julius

2023-09-11T10:53:30+11:00

Winona Astian Thian

Julius

2023-02-23T08:34:19+11:00

Yanmin Chen

Julius

2023-10-03T19:22:20+11:00

Zach Barnetby

Julius

2023-11-13T10:30:25+11:00