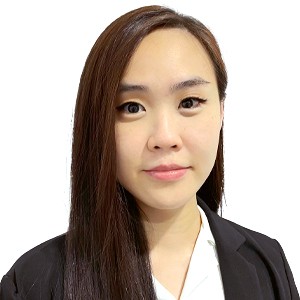 Audrey Teh
Graduate
---
Areas Of Expertise:
---
Education:
Bachelor of Commerce – University of Melbourne,
Master of Project Management – RMIT University
---
About Audrey Teh
Audrey has a Master's in Project Management from RMIT University, with a Bachelor's degree majoring in Finance and Management. She is seeking an opportunity to utilise her Project Management skills to deliver successful projects.
---
What Audrey brings
xperience working with Microsoft Office suite.
Knowledge in Agile methodology and Scrum.
Skills in Data analytics.
Excellent leadership and communication skills.
Experience collaborating with multiple international teams distributed geographically.
---
Key Clients:
BNP Paribas
Seven Consulting
Country Fire Authority
---
Key Achievements:
As Graduate at BNP Paribas, Audrey supported her Program Manager in uplifting of the Fezziwig program, which involved the product development of the new data source management service for an initiating client. She was responsible for regular program governance consisting of weekly status reports, document management, meeting facilitation, meeting minutes and actions, and administration of the scope backlog. Other than that, she also provided support and guidance to the Change Team in preparation for the post-program transition to BAU mode.
---
As Graduate at Seven Consulting, Audrey completed the Graduate program which is designed to enhance the core Project Management skills amongst the people who are experienced in their individual professional fields. During the Graduate program, she has gained theoretical and practical knowledge on different aspects of project management by going through different sessions and exercises with domain experts. This program has developed her skills and confidence level in using PM tools (like MS Project, JIRA etc), techniques and soft skills. Audrey also had the opportunity to work shadow senior consultants in actual project environments where she has been exposed to risk, issues, and constraints on a project and better ways to manage them.
---
As a Project Manager at Country Fire Authority, Audrey planned, managed and executed Expertise Collection Project within given timeframe. She liaised extensively with 21 districts via online and phone communication to conduct interviews and research to collect information with Microsoft Teams and OneDrive. Further, she conducted research into prospective enterprise software and the associated licensing. Audrey also developed a master Excel list that was incorporated into the organisation's Contact Search Engine.
---
Other Team Members
Declan Boylan

General

2020-01-15T02:30:38+11:00

Gareth James

General

2021-01-19T11:29:58+11:00

Connie McKeage

Zeus Lara

2021-03-09T10:14:51+11:00

Hugh Harley

Zeus Lara

2020-04-01T04:18:49+11:00

Temre Green

Zeus Lara

2022-11-23T10:52:41+11:00

Mike Stockley

Zeus Lara

2022-08-30T12:56:19+11:00

Julie Laoit

Zeus Lara

2022-07-19T09:10:59+11:00

Rob Thomsett

General

2023-01-31T17:26:36+11:00

Louise Ford

General

2020-01-15T03:08:18+11:00

Caroline Borge

Zeus Lara

2022-11-09T11:10:36+11:00

Aaron Simonsen

Zeus Lara

2022-08-30T11:02:06+11:00

Akhilesh Das

Zeus Lara

2022-11-08T10:09:51+11:00

Alan Alehashemi

Zeus Lara

2022-07-19T09:07:40+11:00

Alex Massie

General

2022-06-07T16:31:55+11:00

Alexander Rivkin

Zeus Lara

2022-12-13T10:11:51+11:00

Ali Pahlavan

General

2023-01-31T12:58:51+11:00

Alisdair Brown

Zeus Lara

2022-08-30T09:51:38+11:00

Amanda Walker

Zeus Lara

2022-08-09T10:18:22+11:00

Anders Madsen

Zeus Lara

2022-08-02T17:55:11+11:00

Andrew Cheesman

Zeus Lara

2022-08-09T12:17:42+11:00

Andrew Coley

Zeus Lara

2021-12-21T12:36:47+11:00

Ann Mica Mae Lim

Zeus Lara

2022-08-02T10:15:38+11:00

Anna Linfield-Kent

Zeus Lara

2022-08-23T11:14:16+11:00

Barbara Read

General

2023-01-31T12:47:24+11:00

Benn Salier

Zeus Lara

2021-07-06T13:45:00+11:00

Bita Bagheri

General

2021-03-02T14:12:11+11:00

Callum Dodd

Zeus Lara

2022-11-23T11:00:39+11:00

Caroline Lees

Zeus Lara

2023-01-17T10:29:22+11:00

Cathy Baldwin

General

2021-01-19T16:55:52+11:00

Chika Nnadiekwe

Zeus Lara

2022-08-17T09:57:56+11:00

Chris Sykes

General

2022-05-26T12:50:02+11:00

David Johnson

General

2022-06-01T10:43:16+11:00

David Mansfield

Zeus Lara

2022-09-06T15:52:27+11:00

Deanna Edwards

Zeus Lara

2021-04-07T16:38:54+11:00

Derek Oldham

Zeus Lara

2022-06-21T17:02:11+11:00

Elise Kellond-Knight

Zeus Lara

2019-07-04T22:47:54+11:00

Eugene O'Connell

Zeus Lara

2022-03-22T16:14:36+11:00

Francis Aseron

Zeus Lara

2022-08-30T13:27:30+11:00

Fritzie Ligeralde

Zeus Lara

2021-08-17T15:41:14+11:00

Gilbert Wong

Zeus Lara

2022-05-25T12:27:00+11:00

Guru Swaminathan

General

2022-09-06T15:42:26+11:00

Hardik Lakhani

Zeus Lara

2022-03-08T16:33:18+11:00

Hayley Weir

Zeus Lara

2022-03-01T12:16:09+11:00

Helen Argitis

Zeus Lara

2022-05-26T12:13:35+11:00

Ian Salvador

Zeus Lara

2022-06-14T17:51:51+11:00

Ian Thomson

Zeus Lara

2022-12-13T09:50:48+11:00

Ibrahim Dani

Zeus Lara

2022-08-04T12:36:58+11:00

Igor Vieira

Zeus Lara

2022-06-28T16:45:19+11:00

Jerry Cobb

General

2022-06-28T15:49:32+11:00

Joanna Carlos

Zeus Lara

2022-02-15T17:48:05+11:00

Jochebed Diaz

General

2022-11-16T12:53:12+11:00

Johaimah Garrido

Zeus Lara

2021-03-16T10:08:35+11:00

John Middlemist

Zeus Lara

2021-07-21T12:11:54+11:00

Jon Kralevski

Zeus Lara

2022-05-26T09:46:48+11:00

Jovilyn Magtoto

Zeus Lara

2022-08-02T13:27:08+11:00

Julia Nicole Justo

Zeus Lara

2022-08-17T09:58:15+11:00

Katherine Whiteside

General

2022-11-30T17:42:36+11:00

Kunal Parikh

Zeus Lara

2022-01-25T11:49:10+11:00

Louigi Gardiola

Zeus Lara

2022-08-17T10:40:37+11:00

Louise White

General

2021-05-11T16:20:05+11:00

Lousiene Samonte

General

2022-08-30T14:27:05+11:00

Maddison Schmid

Zeus Lara

2022-10-18T10:53:58+11:00

Mark McAdam

General

2021-05-11T12:52:35+11:00

Mark Millen

Zeus Lara

2022-08-30T12:47:06+11:00

Mariam Kohani

Zeus Lara

2022-07-19T09:57:04+11:00

Marianne Dinsay

Zeus Lara

2022-06-07T14:41:57+11:00

Matthew Knight

Zeus Lara

2022-11-16T11:37:34+11:00

Melanie Northrop

Zeus Lara

2023-01-31T17:06:41+11:00

Michael Blomfield

Zeus Lara

2023-01-31T17:17:54+11:00

Michael Bryant

General

2022-08-09T11:38:32+11:00

Mohammad Ramezani

General

2022-07-13T16:18:36+11:00

Muhammad Sauood Ur Rauf

General

2022-08-30T14:20:48+11:00

Nevil Cope

General

2022-08-30T14:24:26+11:00

Niall Burke

Zeus Lara

2022-10-11T13:16:07+11:00

Nick Rodwell

Zeus Lara

2022-07-14T11:47:55+11:00

Nicole Hatten

Zeus Lara

2022-03-22T16:18:26+11:00

Niloofar Fardanesh

General

2022-05-05T11:05:15+11:00

Ninia Ortile

Zeus Lara

2022-10-11T14:26:40+11:00

Parastoo Mousavi

Zeus Lara

2022-12-13T10:24:00+11:00

Paul Bernard

Zeus Lara

2022-02-04T02:19:40+11:00

Paul Kirschner

General

2022-02-04T02:26:06+11:00

Peter Boylan

General

2021-07-06T12:52:31+11:00

Peter Philpott

General

2022-11-08T10:05:47+11:00

Rahul Kaushal

Zeus Lara

2022-08-03T10:22:38+11:00

Rajiv Boddupalli

Zeus Lara

2022-12-13T09:44:21+11:00

Robert Caminiti

General

2020-10-07T04:02:43+11:00

Robert Crossman

General

2022-03-08T14:18:21+11:00

Rohini Verma

Zeus Lara

2021-04-13T12:23:02+11:00

Rohit Satija

Zeus Lara

2022-07-04T15:02:01+11:00

Roxane Montierro

Zeus Lara

2020-12-15T06:30:55+11:00

Sanjay Narayan

Zeus Lara

2022-02-04T02:35:09+11:00

Saurabh Kundi

Zeus Lara

2022-06-14T17:33:05+11:00

Shiraan Fernando

Zeus Lara

2023-01-31T12:52:18+11:00

Sreekanth Badam

Zeus Lara

2022-11-09T17:14:36+11:00

Stephen Curtis

Zeus Lara

2022-08-30T11:03:53+11:00

Syed Hussain

Zeus Lara

2022-02-04T16:04:13+11:00

Tameka Yallop

General

2022-03-08T16:41:26+11:00

Tanvi Mahajan

Zeus Lara

2022-08-17T10:28:07+11:00

Thuc Linh Nguyen Phan

Zeus Lara

2022-06-07T14:41:52+11:00

Tony Calusic

Zeus Lara

2022-08-01T16:52:17+11:00

Vanessa Vella

General

2021-12-14T12:11:12+11:00

Winona Astian Thian

Zeus Lara

2022-08-17T09:52:28+11:00

Yanmin Chen

Zeus Lara

2022-03-08T16:40:11+11:00

Zach Barnetby

Zeus Lara

2022-06-24T11:08:22+11:00