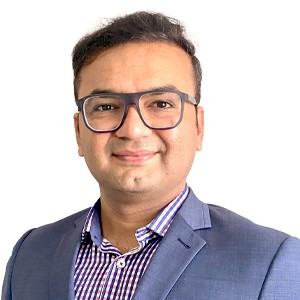 Hardik Lakhani
Program Manager
---
Areas Of Expertise:
IT Program and Project Management
Scope Definition & Change Management
Release & Incident Management
Reconciliation & Conflict Management
Cost Management
Risk Management and Ownership
---
Education:
Bachelor of Engineering in Information Technology
---
About Hardik Lakhani
Hardik is a Program and Project Delivery leader who joined Seven Consulting's Sydney team in March 2022. He has more than thirteen years of experience managing and delivering compliance and digital-based transformation projects across diverse technical landscapes. Highly developed technical and commercial acumen coupled with strong relationship management skills.
---
What Hardik brings
Proficient Strong knowledge of Agile & Waterfall methodologies.

Ability to lead, motivate and develop cross-functional project teams.

Proven

track record

of aligning IT strategy with business needs to enhance productivity, efficiency, security, and service delivery.

Passionate

about People Management with the ability to coach and create high performance teams.
---
Key Clients:
Westpac
HSBC
Commonwealth Bank of Australia (CBA)
American Express
---
Key Achievements:
As Technical Program Manager, Open Banking at Westpac, Hardik led the management and delivery of July 2021 and November 2021 phases of Open Banking features for regional brands (St George, Bank of Melbourne, Bank of South Australia, and RAMS) of Westpac Banking Corporation, involving 20 teams with more than 150 people having annual budget of $40 million. He strategized program delivery by forming teams, delivery plans, and governance to set them up for success. Hardik met with leads from various teams to understand the pain points and challenges, implemented solutions that ensured governance activities like pen testing, operational readiness assessments, EIM governance, etc. were completed on time before the production deployments. Weekly sync-up meetings were scheduled with all the teams involved to ensure everyone was on the same page, key risks or issues were discussed and documented. He took a pragmatic approach to project delivery by making quick decisions during the critical phases of project delivery, managing and mentoring service owners, solution designers, and implementation managers, seeking suggestions for improvements, and keeping them motivated by entrusting them with key responsibilities. Hardik established a defect review and prioritisation process closer to the release to ensure stakeholders were across the open and deferred defects, worked with architects and tech leads to identify areas for improvement, like building roadmaps to improve NFRs, parallel test environments to support concurrent releases, risk management in JIRA integrated with confluence, etc.
---
As Process Manager, Central COVID Response Team at Westpac, Hardik directly worked with the CFO, General Manager, and other heads of various departments to manage and respond to various data requests from APRA and AUSTRAC related to COVID reliefs that the bank was offering to consumers and business customers. He established a process in three days to review and track the data requests from APRA and AUSTRAC, scheduled daily status meetings with senior management to track the progress, and within 3 months the process was self-sustaining, analysed the existing process in various departments of generating the requested data and identified the areas that needed improvement and optimisation.
---
As Delivery Lead at Westpac, Hardik managed the economic and financial statistics program phase 2, which was an industry-wide program where all banks were required to submit a set of reports to APRA on a regular basis based on the new reporting standards and specifications set by APRA. Though hired as an Agile Coach, Hardik was asked to lead the AXIOM delivery of Phase 2 of the EFS Program involving 8 scrum teams with an annual spend of $20 million, because of his good work in establishing practices that resulted in high-performing scrum teams. He coached the business teams, new team members, and delivery teams on the fundamentals of agile and the agile framework used for EFS delivery, maintained the EFS program board and steered the conversations in the right directions for the various program ceremonies, mentored delivery team members, and motivated them by entrusting them with key responsibilities.
---
As Digital Program Manager at HSBC, Hardik managed 4 digital scrum teams involving 35 people with an annual spend of $25 million. He helped stakeholders make priority calls by introducing processes like WSJF and 4 Quadrants and was the single point of contact for any new digital initiatives to be added to the backlog for prioritisation. Hardik kept executive management (including the COO and regional heads) regularly informed on the status of the initiatives via steering committee meetings and was responsible for vendor management for UX design and development.
---
As Senior Scrum Master, Digital Projects at HSBC, Hardik was the first Scrum Master to join the bank on their Agile journey. He established the JIRA and Confluence structures for the digital portfolio, transitioned the first two teams to Scrum, and delivered multiple digital initiatives on time and within budget.
---
As Scrum Master and Senior Technical Business Analyst, Netbank Projects at CBA, Hardik managed multiple distributed scrum teams to successfully deliver various Netbank projects involving end-to-end delivery, from database changes and APIs to front-end web applications.
---
Other Team Members
Declan Boylan

General

2020-01-15T02:30:38+11:00

Gareth James

General

2021-01-19T11:29:58+11:00

Connie McKeage

Julius

2021-03-09T10:14:51+11:00

Michael Blomfield

Julius

2023-02-14T10:26:26+11:00

Temre Green

Julius

2022-11-23T10:52:41+11:00

Mike Stockley

Julius

2022-08-30T12:56:19+11:00

Julie Laoit

Julius

2022-07-19T09:10:59+11:00

Rob Thomsett

General

2023-01-31T17:26:36+11:00

Louise Ford

General

2020-01-15T03:08:18+11:00

Aaron Simonsen

Julius

2023-11-13T23:52:10+11:00

Alan Alehashemi

Julius

2022-07-19T09:07:40+11:00

Alex Jahan

Julius

2023-11-14T12:14:04+11:00

Alex Massie

General

2023-11-14T12:25:43+11:00

Alexander Rivkin

Julius

2023-11-14T00:06:50+11:00

Alexandra Marie Tan

Julius

2023-07-20T17:43:15+11:00

Ali Pahlavan

General

2023-11-14T00:19:34+11:00

Alisdair Brown

Julius

2022-08-30T09:51:38+11:00

Amanda Walker

Julius

2023-11-14T12:09:46+11:00

Andrew Cheesman

Julius

2022-08-09T12:17:42+11:00

Anna Linfield-Kent

Julius

2023-11-14T11:45:20+11:00

Andrew Marshall

Julius

2023-08-29T14:02:36+11:00

Audrey Teh

Julius

2023-11-14T01:03:53+11:00

Barbara Read

General

2023-11-13T23:44:22+11:00

Bhavna Gupta

Julius

2023-11-30T01:43:24+11:00

Benn Salier

Julius

2023-10-17T17:16:47+11:00

Bita Bagheri

General

2023-08-02T22:15:49+11:00

Blake Dahlen

Julius

2023-07-20T13:58:11+11:00

Caroline Lees

Julius

2023-11-14T01:15:13+11:00

Cathy Baldwin

General

2021-01-19T16:55:52+11:00

Chris Sykes

General

2022-05-26T12:50:02+11:00

Callum Barker

Julius

2023-09-15T10:54:00+11:00

Dave Rider

Julius

2023-11-14T11:28:26+11:00

David Johnson

General

2023-06-13T11:44:41+11:00

Deanna Edwards

Julius

2023-03-28T15:46:04+11:00

Derek Oldham

Julius

2023-11-14T01:43:07+11:00

Elise Kellond-Knight

Julius

2019-07-04T22:47:54+11:00

Eliza Johnson

Julius

2023-11-14T01:52:47+11:00

Ellen Misador

Julius

2023-11-14T11:16:10+11:00

Eugene O'Connell

Julius

2023-11-14T11:03:19+11:00

Fritzie Ligeralde

Julius

2023-10-27T12:23:57+11:00

Gilbert Wong

Julius

2023-09-28T10:05:22+11:00

Guru Swaminathan

General

2023-05-26T16:16:29+11:00

Hardik Lakhani

Julius

2023-11-14T10:59:45+11:00

Hayley Weir

Julius

2023-08-29T14:56:54+11:00

Helen Argitis

Julius

2023-11-14T10:56:19+11:00

Inggrid Yapari

Julius

2023-09-05T14:17:37+11:00

Ian Salvador

Julius

2023-11-14T02:22:20+11:00

Jerry Cobb

General

2022-06-28T15:49:32+11:00

Joanna Carlos

Julius

2022-02-15T17:48:05+11:00

Jochebed Diaz

General

2023-07-27T15:46:01+11:00

Johaimah Garrido

Julius

2021-03-16T10:08:35+11:00

John Middlemist

Julius

2023-11-14T02:36:08+11:00

Jovilyn Magtoto

Julius

2022-08-02T13:27:08+11:00

Julia Nicole Justo

Julius

2023-11-14T10:49:49+11:00

Julius Labalan

Julius

2023-10-05T10:04:21+11:00

Katherine Whiteside

General

2023-11-14T10:44:56+11:00

Kunal Parikh

Julius

2022-01-25T11:49:10+11:00

Lauren Grouse

Julius

2023-11-14T10:37:06+11:00

Louigi Gardiola

Julius

2023-02-23T08:31:20+11:00

Maddison Schmid

Julius

2023-11-14T10:31:00+11:00

Mariam Kohani

Julius

2022-07-19T09:57:04+11:00

Marian Joyce Makalintal

Julius

2023-06-21T10:48:28+11:00

Marianne Dinsay

Julius

2023-11-14T10:27:12+11:00

Mark McAdam

General

2023-05-03T12:09:06+11:00

Mark Millen

Julius

2022-08-30T12:47:06+11:00

Matthew Knight

Julius

2023-11-14T10:24:09+11:00

Melody Framp

Julius

2023-11-14T10:20:38+11:00

Melody Tuazon

Julius

2023-05-09T15:59:40+11:00

Michael Bryant

General

2023-11-13T17:56:32+11:00

Mohammad Ramezani

General

2022-07-13T16:18:36+11:00

Nadja Schulze

Julius

2023-07-13T13:05:06+11:00

Nevil Cope

General

2022-08-30T14:24:26+11:00

Niall Burke

Julius

2023-11-13T17:36:58+11:00

Nick Rodwell

Julius

2023-11-13T17:46:28+11:00

Nicole Hatten

Julius

2023-11-13T17:33:35+11:00

Ninia Ortile

Julius

2022-10-11T14:26:40+11:00

Pablo Andres Cordova Baya

Julius

2023-06-21T10:48:54+11:00

Parastoo Mousavi

Julius

2023-11-13T17:25:28+11:00

Paul Kirschner

General

2022-02-04T02:26:06+11:00

Peter Boylan

General

2023-03-14T16:22:42+11:00

Peter Philpott

General

2022-11-08T10:05:47+11:00

Rachel Low

Julius

2023-09-18T12:34:26+11:00

Rajiv Boddupalli

Julius

2023-11-13T16:14:32+11:00

Robert Crossman

General

2022-03-08T14:18:21+11:00

Rohini Verma

Julius

2023-11-30T02:00:48+11:00

Rohit Satija

Julius

2023-11-13T15:37:09+11:00

Roxane Montierro

Julius

2020-12-15T06:30:55+11:00

Sanjay Narayan

Julius

2023-02-14T11:09:04+11:00

Saurabh Kundi

Julius

2023-11-13T15:08:30+11:00

Shiraan Fernando

Julius

2023-03-14T15:07:49+11:00

Shruthi Srinivas

Julius

2023-08-25T12:02:31+11:00

Sreekanth Badam

Julius

2023-11-30T03:24:02+11:00

Stephen Curtis

Julius

2023-11-13T13:01:36+11:00

Simon Chrétien

Julius

2023-09-15T11:40:55+11:00

Tameka Yallop

General

2023-08-29T16:34:12+11:00

Tanvi Mahajan

Julius

2023-11-13T12:45:18+11:00

Thuc Linh Nguyen Phan

Julius

2023-11-13T12:39:10+11:00

Tony Calusic

Julius

2023-11-13T12:21:56+11:00

Vanessa Vella

General

2023-11-30T02:22:53+11:00

Vergil De Leon

Julius

2023-09-11T10:53:30+11:00

Winona Astian Thian

Julius

2023-02-23T08:34:19+11:00

Yanmin Chen

Julius

2023-10-03T19:22:20+11:00

Zach Barnetby

Julius

2023-11-13T10:30:25+11:00