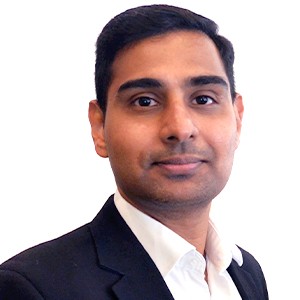 Sreekanth Badam
Senior Project Manager
---
Areas Of Expertise:
Program Planning & Delivery
Banking & Financial Services
Payments: Schemes, Issuing, POS, Acquiring, Digital, Fraud Monitoring
Online, Lending, CRM and Debt collection
---
Education:
Master of Computer Applications
Certified SAFe Program Consultant (Scaled Agile Framework 5.0)
Project Management Professional – PMP
---
About Sreekanth Badam
Sreekanth Badam is a Project Manager who joined Seven Consulting's Sydney practice in August 2018. He brings over 10 years project management experience, predominantly in Banking and Financial services, with the ability to manage quality delivery of projects to a defined scope, on schedule and under budget using agile (SCRUM and Kanban) and waterfall methodologies. Previously Sreekanth was with Cuscal Limited managing a portfolio for multiple concurrent client facing projects.
---
What Sreekanth brings
Established track record of delivering Performance improvements in Business processes in a customer centric environment.
Portfolio and project management experience on Payments' projects (Issuing, acquiring, CS2 and CS4), multiple Core Banking Migrations and Mergers
Experience in Agile Transformation of focused team(s) and strong expertise in Agile delivery.
Performance driven team player with strong sense of personal and business integrity, proven ability to learn quickly and recognize process improvements.
Solid experience in stakeholder management including vendor management – working with clients, external product and services vendors to fulfil project requirements.
---
Key Clients:
ASX
Big W
Alinta Energy
Cuscal Limited
HCL Australia – for CBA
Halifax Bank of Scotland
---
Key Achievements:
As Project Manager at ASX CHESS Replacement program (blockchain distributed ledger implementation behind the ASX settlement system), Sreekanth was responsible for managing the multiple streams – Environments & DBA, DevOps and Non-Functional testing. Sreekanth played a key role in finalising the scope of the streams, creating the roadmap for the streams' backlog by working with individual product owners, running daily stand-ups, facilitating sprint planning, attending the scrum of scrums and tracking the teams' plan to meet the program increment plans for 6 Program Increments (PIs). Sreekanth successfully delivered 10 new environments including Industry testing & production environments, deliverables for DevOps and Performance & Non-Functional testing for the program.
---
As Business Project Manager at Big W, Sreekanth has successfully delivered the Integrated Business Planning program. Sreekanth played a key role in vendor negotiations, defining the delivery approach, preparing and maintaining the integrated schedule, running business scrums, managing the vendors, WOW IT and change management. The scope of the program includes implementation of Merchandise Financial planning and Demand Planning systems. Both applications are SaaS (software as a service) based solutions and executed using agile and waterfall methodologies.
---
As Project Manager at Alinta Energy, which is undergoing a companywide transformational journey to uplift systems, process and people. Sreekanth delivered the business case for change for two streams – month end reporting, future proofing finance with more effective systems and process management for finance function. He set up and established the streams to implement upon the business case approval.
---
As Senior Project Manager at Cuscal Limited, Sreekanth managed a focussed team and delivered multiple projects up to $2M end to end. He facilitated the Agile Transition of his team and successfully delivered and managed projects involving real time payment processing through API's and Batch processing, Integration of acquiring clients through Switch and multiple complex core banking migrations and credit union mergers. Sreekanth successfully onboarded ApplePay to one of the leading Australian Banks and delivered the students reward points debit card program.
---
As Project manager at HCL Australia, Sreekanth led the delivery of multiple payment and digital projects at CBA using Agile principles. Sreekanth delivered the internal payments processing system using Open Payment Framework and Service delivery architecture and he was responsible for managing 40+ team members across two countries.
---
As Project Manager/Scrum Master at HCL Australia, Sreekanth successfully delivered onboarding of institutional lending products into CBA's CRM platform using Agile principles. This project required enhanced collaboration against moving dependencies with 4 downstream systems to ensure schedule obligations were met.
---
As Project Manager/Scrum Master at HCL Australia, Sreekanth delivered the generic payments framework and migration of Bankwest's direct entry payments into CBA on new architecture that satisfied its performance and quality targets.
---
As Project Manager at HCL Australia, Sreekanth was responsible for delivering the payments hub customisation for CBA as part of Online Corporate Payments retrofit and customisation of payments hub for processing loan payments.
---
As a Business Analyst at Halifax Bank of Scotland, Sreekanth was responsible for the delivery of requirement documents, functional specifications and coordinated and effectively communicated the change with stakeholders. He reviewed the design documents, test scenarios and validated the test results. As a developer, Sreekanth designed and developed the online statements for internet banking systems.
---
Other Team Members
Declan Boylan

General

2020-01-15T02:30:38+11:00

Gareth James

General

2021-01-19T11:29:58+11:00

Connie McKeage

Julius

2021-03-09T10:14:51+11:00

Michael Blomfield

Julius

2023-02-14T10:26:26+11:00

Temre Green

Julius

2022-11-23T10:52:41+11:00

Mike Stockley

Julius

2022-08-30T12:56:19+11:00

Julie Laoit

Julius

2022-07-19T09:10:59+11:00

Rob Thomsett

General

2023-01-31T17:26:36+11:00

Louise Ford

General

2020-01-15T03:08:18+11:00

Aaron Simonsen

Julius

2022-08-30T11:02:06+11:00

Alan Alehashemi

Julius

2022-07-19T09:07:40+11:00

Alex Jahan

Julius

2022-12-13T10:15:47+11:00

Alex Massie

General

2023-05-09T15:42:17+11:00

Alexander Rivkin

Julius

2023-03-28T15:40:59+11:00

Alexandra Marie Tan

Julius

2023-07-20T17:43:15+11:00

Ali Pahlavan

General

2023-08-03T11:39:33+11:00

Alisdair Brown

Julius

2022-08-30T09:51:38+11:00

Amanda Walker

Julius

2023-06-06T11:10:57+11:00

Anders Madsen

Julius

2022-08-02T17:55:11+11:00

Andrew Cheesman

Julius

2022-08-09T12:17:42+11:00

Andrew Coley

Julius

2021-12-21T12:36:47+11:00

Anish Joshi

Julius

2023-04-04T15:04:09+11:00

Ann Mica Mae Lim

Julius

2023-05-11T14:08:40+11:00

Anna Linfield-Kent

Julius

2023-03-14T16:25:51+11:00

Andrew Marshall

Julius

2023-08-29T14:02:36+11:00

Audrey Teh

Julius

2023-06-13T10:54:02+11:00

Barbara Read

General

2023-04-27T09:42:19+11:00

Bhavna Gupta

Julius

2023-08-25T16:07:45+11:00

Benn Salier

Julius

2021-07-06T13:45:00+11:00

Bita Bagheri

General

2023-08-02T22:15:49+11:00

Blake Dahlen

Julius

2023-07-20T13:58:11+11:00

Callum Dodd

Julius

2022-11-23T11:00:39+11:00

Caroline Lees

Julius

2023-01-17T10:29:22+11:00

Cathy Baldwin

General

2021-01-19T16:55:52+11:00

Chris Sykes

General

2022-05-26T12:50:02+11:00

Callum Barker

Julius

2023-09-15T10:54:00+11:00

Dave Rider

Julius

2022-02-04T01:57:49+11:00

David Johnson

General

2023-06-13T11:44:41+11:00

David Mansfield

Julius

2023-02-14T10:37:32+11:00

Deanna Edwards

Julius

2023-03-28T15:46:04+11:00

Derek Oldham

Julius

2023-05-09T15:38:58+11:00

Elise Kellond-Knight

Julius

2019-07-04T22:47:54+11:00

Eliza Johnson

Julius

2023-07-20T12:18:49+11:00

Ellen Misador

Julius

2023-07-20T15:42:42+11:00

Eugene O'Connell

Julius

2022-03-22T16:14:36+11:00

Fritzie Ligeralde

Julius

2021-08-17T15:41:14+11:00

Gilbert Wong

Julius

2023-09-28T10:05:22+11:00

Guru Swaminathan

General

2023-05-26T16:16:29+11:00

Hardik Lakhani

Julius

2022-03-08T16:33:18+11:00

Hayley Weir

Julius

2023-08-29T14:56:54+11:00

Helen Argitis

Julius

2022-05-26T12:13:35+11:00

Inggrid Yapari

Julius

2023-09-05T14:17:37+11:00

Ian Salvador

Julius

2022-06-14T17:51:51+11:00

Ian Thomson

Julius

2023-06-13T10:25:34+11:00

Jerry Cobb

General

2022-06-28T15:49:32+11:00

Joanna Carlos

Julius

2022-02-15T17:48:05+11:00

Jochebed Diaz

General

2023-07-27T15:46:01+11:00

Johaimah Garrido

Julius

2021-03-16T10:08:35+11:00

John Middlemist

Julius

2023-07-13T11:20:18+11:00

Jovilyn Magtoto

Julius

2022-08-02T13:27:08+11:00

Julia Nicole Justo

Julius

2023-02-23T08:34:34+11:00

Julius Labalan

Julius

2023-09-19T11:03:24+11:00

Katherine Whiteside

General

2022-11-30T17:42:36+11:00

Kunal Parikh

Julius

2022-01-25T11:49:10+11:00

Lauren Grouse

Julius

2023-06-15T15:40:06+11:00

Louigi Gardiola

Julius

2023-02-23T08:31:20+11:00

Louise White

General

2021-05-11T16:20:05+11:00

Maddison Schmid

Julius

2023-05-11T09:35:43+11:00

Mariam Kohani

Julius

2022-07-19T09:57:04+11:00

Marian Joyce Makalintal

Julius

2023-06-21T10:48:28+11:00

Marianne Dinsay

Julius

2023-02-23T08:32:42+11:00

Mark McAdam

General

2023-05-03T12:09:06+11:00

Mark Millen

Julius

2022-08-30T12:47:06+11:00

Matthew Knight

Julius

2023-02-23T08:32:48+11:00

Melanie Northrop

Julius

2023-01-31T17:06:41+11:00

Melody Framp

Julius

2023-06-13T11:17:39+11:00

Melody Tuazon

Julius

2023-05-09T15:59:40+11:00

Michael Bryant

General

2022-08-09T11:38:32+11:00

Mohammad Ramezani

General

2022-07-13T16:18:36+11:00

Nadja Schulze

Julius

2023-07-13T13:05:06+11:00

Nevil Cope

General

2022-08-30T14:24:26+11:00

Niall Burke

Julius

2022-10-11T13:16:07+11:00

Nick Rodwell

Julius

2023-06-13T10:21:33+11:00

Nicole Hatten

Julius

2023-07-04T16:34:47+11:00

Ninia Ortile

Julius

2022-10-11T14:26:40+11:00

Pablo Andres Cordova Baya

Julius

2023-06-21T10:48:54+11:00

Parastoo Mousavi

Julius

2022-12-13T10:24:00+11:00

Paul Kirschner

General

2022-02-04T02:26:06+11:00

Peter Boylan

General

2023-03-14T16:22:42+11:00

Peter Philpott

General

2022-11-08T10:05:47+11:00

Rachel Low

Julius

2023-09-18T12:34:26+11:00

Rahul Kaushal

Julius

2023-08-03T10:44:21+11:00

Rajiv Boddupalli

Julius

2022-12-13T09:44:21+11:00

Robert Caminiti

General

2020-10-07T04:02:43+11:00

Robert Crossman

General

2022-03-08T14:18:21+11:00

Rohini Verma

Julius

2021-04-13T12:23:02+11:00

Rohit Satija

Julius

2023-08-29T15:13:11+11:00

Roxane Montierro

Julius

2020-12-15T06:30:55+11:00

Sanjay Narayan

Julius

2023-02-14T11:09:04+11:00

Saurabh Kundi

Julius

2023-02-23T08:26:14+11:00

Shiraan Fernando

Julius

2023-03-14T15:07:49+11:00

Shruthi Srinivas

Julius

2023-08-25T12:02:31+11:00

Sreekanth Badam

Julius

2022-11-09T17:14:36+11:00

Stephen Curtis

Julius

2023-05-30T09:22:30+11:00

Simon Chrétien

Julius

2023-09-15T11:40:55+11:00

Tameka Yallop

General

2023-08-29T16:34:12+11:00

Tanvi Mahajan

Julius

2023-03-28T15:21:57+11:00

Thuc Linh Nguyen Phan

Julius

2023-05-30T09:39:47+11:00

Tony Calusic

Julius

2022-08-01T16:52:17+11:00

Vanessa Vella

General

2021-12-14T12:11:12+11:00

Vergil De Leon

Julius

2023-09-11T10:53:30+11:00

Winona Astian Thian

Julius

2023-02-23T08:34:19+11:00

Yanmin Chen

Julius

2023-09-28T10:13:11+11:00

Zach Barnetby

Julius

2023-06-16T17:32:20+11:00